Ann Martin and Caroline Young the co-authors of 'Tartan + Tweed' share their guide to buying tweed and tartan, with tips for choosing the right tartan and styling a kilt. They also tell us how to wear more tweed…
The Buyer's Guide to Tartan
Choosing a Tartan
From the outset we can dispel the myth that you need to be Scottish to wear tartan. While it's traditional to wear your own clan tartan, these rules have been greatly relaxed, so tartan can be worn by anyone. The rules of Highland dress are governed only by personal taste so choosing the design that catches your attention is advisable rather than searching for a genetic connection. However, a buyer's surname does provide a useful starting point, to help narrow the search for a preferred pattern.
Most tartans have a modern and an ancient version. For first-time buyers, there's a common misconception that ancient tartans are older than modern ones, but these names often refer to the colours rather than the age of the tartan.
It's the sett that identifies a tartan and there can be several variations of one design depending on the colours used. Hunting tartans are traditionally made up of greens, blues and browns and are only connected to certain clans. Armstrong or Campbell, for example, do not have Hunting tartans because their standard clan tartan is already in these colours. 
For formal occasions dress tartans are widely worn but there is no steadfast rule that other derivations of tartan such as hunting or modern cannot be worn. In this case white is traditionally a primary colour with standard tartans being altered to include extra white within their designs.
Types of Tartan 
Every tartan has a complex and often conflicting history, so it is not uncommon to confuse similar tartan designs. For example, the Black Watch and Campbell tartan appear to be one and the same, although the Campbell tartan has many deviations linked to various branches of the clan including Campbell of Cawdor, Campbell of Breadalbane and Campbell of Glenlyon, each possessing its own characteristics.
'Popular tartans include the MacQueen tartan, with its vivid red, black and yellow sett, is one of the most striking. Alexander McQueen often used a slight adaptation of the MacQueen tartan to signify Scottish rebellion against oppression following the Jacobite uprisings.  McQueen saw the tartan as a link to his own history, traced to the Isle of Skye, where the Clan MacQueen defended their land and family.' 
The Black Watch tartan has blue, green and black checks often worn by the Highland regiments on campaigns to defend the British colonies, and to fight in the First and Second World Wars. In fashion, Black Watch featured in the McQ autumn/winter 2012/2013 collection by Sarah Burton, with military-style coats and dresses that reflected the sett's armed forces connection. Kate Middleton wore a modified version of the Black Watch McQ coat on St Andrew's Day when visiting St Andrews University.
Stewart tartan has rock'n'roll status as a fabric worn by punks, pop and glam rock stars, and is probably the most recognizable tartan in the world. Stewart Tartan has been incorporated into fashion lines most notably by Vivienne Westwood who brought the punk meaning to the Stewart tartan, and has used it in collections throughout her career. 
The Balmoral tartan was created to complement the Royal Stewart and Hunting Stewart tartans used to decorate the interior of Queen Victoria and Prince Albert's home on the Balmoral estate. Designed by Prince Albert himself in 1853, the sett has a grey background (said to represent the granite found in Royal Deeside) and features red and black checks with black and white thread twisted together through the background to achieve a textured appearance. Traditionally the Balmoral tartan can only be worn by those of royal lineage and Queen Elizabeth II is often photographed in Balmoral tartan skirts.
Styling a Kilt
A standard-quality kilt is heavy, durable and traditionally 7.3 metres/8 yards in length. Tartan fabric tends to come in three weights and categories: light (312 grams/11 ounces); medium (368 grams/13 ounces); and heavy (454–482 grams/16–17 ounces).
Scrimping on quality is ill-advised when it comes to kilts so buy the best you can afford. Consider the level of workmanship involved in creating a high-quality kilt. Kilts are finely crafted products – from chalking the fabric, to hand-stitching pleats, attaching buckles and belt loops and sewing inner linings – every stage is significant and worth investing in. 
The most important factor to get right is the kilt's length when wearing a kilt traditionally. At its longest, the traditional kilt should reach to the top of the kneecap.You will note that the bottom of the kilt is the selvedge of the fabric meaning there is no hem to alter the length of the kilt after the fabric is cut. Bearing that in mind, the most crucial kilt measurement is from the hip bone to the top of the knee cap which should determine the kilt's length.
Traditionally, hose (socks) should be worn above the calf about 5-7 centimetres/ 2-3 inches below the lower knee. Hose are typically worn in muted colours of grey, navy, dark green and black but are also available in white. Underneath the fold of the hose, garter flashes are worn with the elastic tucked beneath the fold and the coloured fabric seen on the outside of the leg. On the feet, evening brogues or ghillie brogues are worn with long laces that tie around the ankles. Lastly the kilt pin is less functional than one might expect, existing for ornamentation alone and not meant to keep kilt flaps closed. Attached only to the front apron, the kilt pin should not snag the fabric or cause the corresponding side to dip lower than the rest of the kilt.
Sporrans are typically classified in three categories – day, semi-dress and dress – although the lines of distinction are rather blurred. Modern sporrans are large enough to hold a money clip for bills, space for a credit card and a coin purse and room for house or car keys. The sporran strap should be put through the loops at the back of the kilt, and the chains brought forward to attach them to the rings at the rear of the sporran. The hang of the sporran is adjusted by means of the rear strap and buckle to ensure that it's worn high and not midway down the front apron.
The sgian dubh (Gaelic for 'black knife') was once used by Highlanders as a means of self-defence and is the finishing touch to the kilt outfit (albeit an optional rather than mandatory addition). Purely ornamental, the modern sgian dubh has a stainless-steel blade and is tucked into the right sock with the handle within easy reach.
The Buyer's Guide to Tweed
Choosing a Tweed
Tweed is one of the most durable of fabrics, with its high-twist fibres creating a tough, impenetrable barrier and the lanolin in wool making it waterproof, it is ideal for harsh Scottish weather. A good-quality jacket made from tweed is also environmentally friendly as it is expected to last for decades, making it the type of clothing that can be passed on down through the generations.
Different regions of Scotland provide different types of tweed, which vary depending on the breed of sheep and the tightness of the weave.
Harris Tweed was traditionally coarser and less tightly woven than other tweeds, with a hairier, rougher quality. The colours are inspired by the beauty of the landscape of the Hebrides, and Harris Tweed is the only fabric to have protected status. 
Borders tweed has a light, smooth feel and the tight weave provides a thorn-proof fabric, which is why it was such a popular choice for country estates and outdoor sports. 
Shetland tweed is made from soft and delicate wool, making it a tight, thin tweed. 
Types of Tweed
Barleycorn tweeds are typically coarse and have a weave that produces the effect of barley kernels when viewed close-up.
Bird's-eye tweed has little points or flecks of contrasting twill, which can provide a colourful, lively texture.
Donegal tweed is a type of tweed produced in County Donegal, Ireland, and is dotted with flecks of colour at irregular intervals for a rough, speckled effect.
Estate tweeds are specially commissioned tweeds with a distinctive check, and they originally acted as a form of branding for a particular estate in the nineteenth century.
Gamekeeper tweed, a Borders tweed made from a cloth with a heavier weight, provided extra warmth and protection from the weather.
Glen check, or Prince of Wales check, consists of small and large checks in a windowpane design, and originally came from Glenurquhart in Inverness-shire. Favoured by the Duke of Windsor, it was hugely fashionable in the 1950s as an Ivy League style (think Don Draper from Mad Men). 
Gun club check takes its name from either an American east coast gun club, which took up the Coigach estate tweed in 1874 but adapted it with alternating dark lines and a pale line to create the contrasting checks.
Herringbone, also known as broken twill weave, one of the most popular patterns for tweed, consists of a fine v-shape or zigzag. Its name comes from the way the 'v' pattern looks like fish bones. 
Houndstooth originated in the Scottish Borders and is characterized by its modish abstract pattern that can look classic or rock n roll. Houndstooth can also be referred to as dogtooth and puppytooth – names that differentiate the size of the check, but it has an 
How to Wear Tweed
When choosing a tweed, think about what you want to do with it – is it to be worn outside, is it for an event or special occasion? You should also consider whether you will be wearing the tweed indoors, in which case you don't want it to be too heavy and warm.
The easiest way to wear tweed is by investing in a blazer that can be worn with your existing wardrobe. The simple combination of a tweed jacket with a cashmere jumper and dark wash jeans, is a foolproof and effortless way to wear the fabric. For a custom-made tweed jacket, consider how it will fit. Do you want it to be elegant and slim, or more robust? A long, well-cut herringbone coat looks great worn over dresses and skirts, or with a faux fur collar for extra warmth, while a shorter, close fitting Chanel-style jacket looks fantastic with jeans and a blouse. You could even go for a tweed cape – they're not just for Sherlock Holmes.
Delicate silks and cashmere worn with tweed helps to balance out its robustness, particularly if you pair a light weight top with a slim-fitting or A-line tweed skirt. Tweeds are traditionally worn in more muted colours so colourful touches, like a bright scarf, or a pair of statement shoes, make the fabric pop.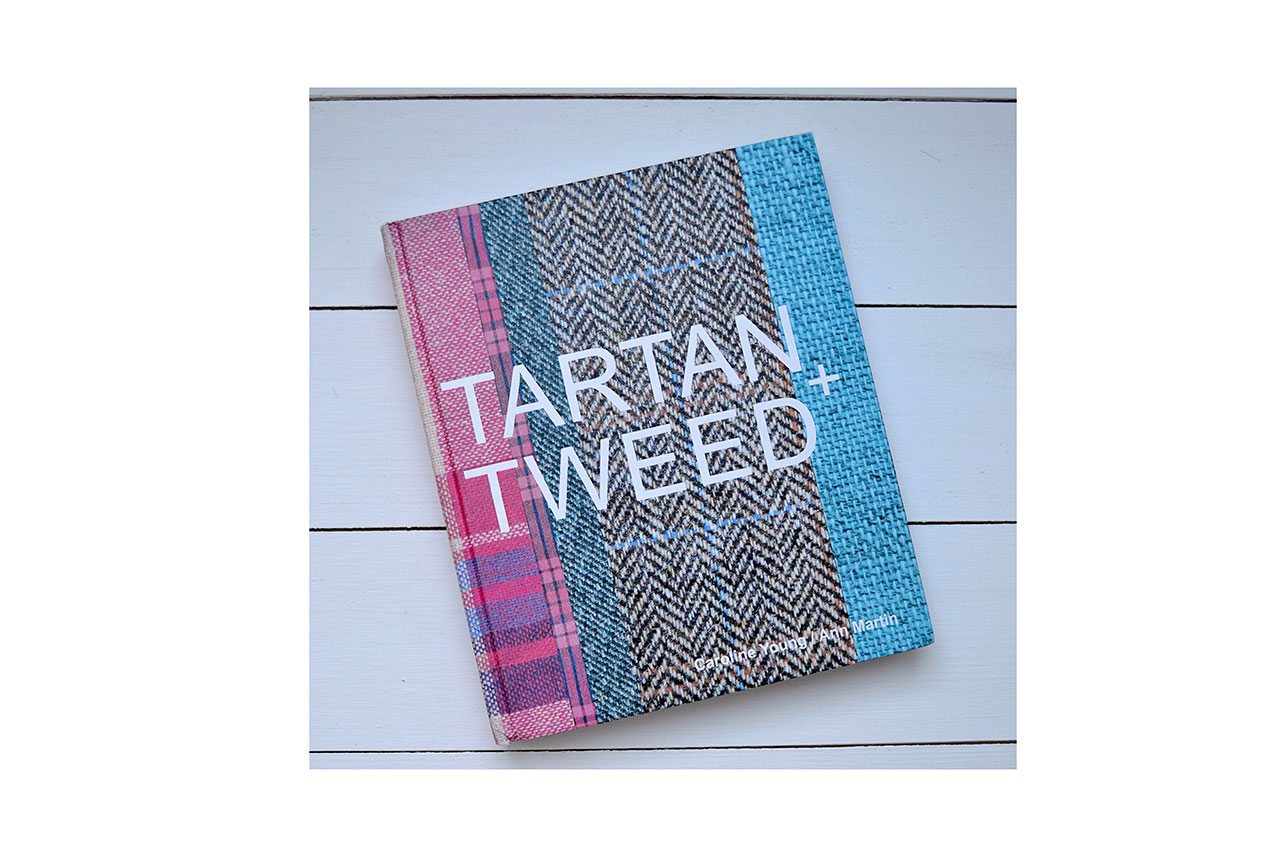 Extracts from Tartan + Tweed, by Ann Martin and Caroline Young (Frances Lincoln Publishing, Feb 2017).
MORE STYLE: A Guide to British Men's Style / London Fashion Week A/W '17: Trends to Know / Interview: Anna Harvey on Princess Diana's Style
---