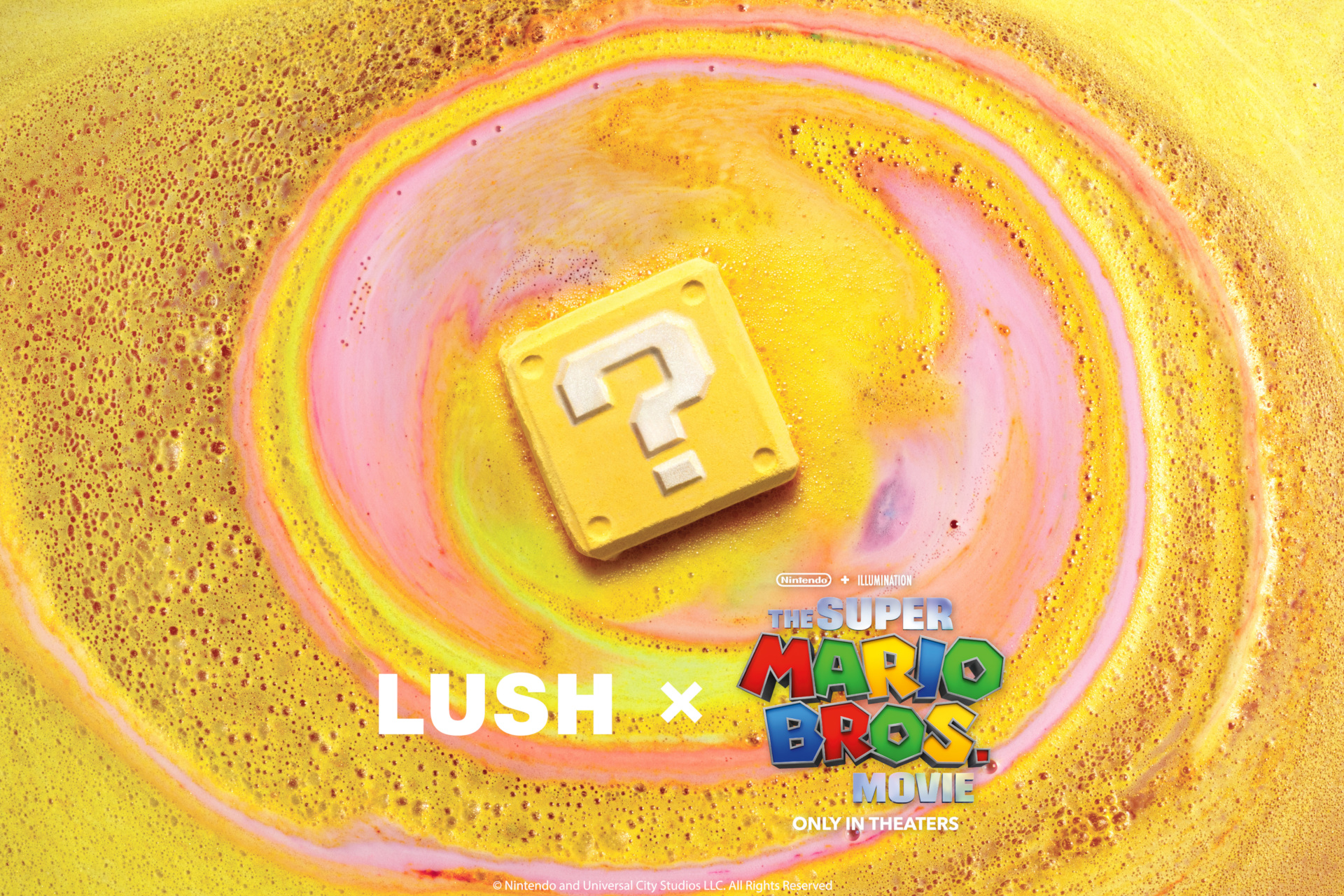 Here We Go! Lush Teams Up With Super Mario On New Beauty Range
It's time to power-up bathtime
Mamma mia – it seems we have another exciting collaboration on our hands. Ahead of its theatrical release, British beauty brand Lush has teamed up with The Super Mario Bros. Movie on a new range of products inspired by our favourite Nintendo characters. Read on for a look inside collection. Let's-a go!
Here We Go! Lush Teams Up With Super Mario On New Beauty Range
We're all fans of anything nostalgia-inducing. From flared jeans and vinyl records to dip dabs and polaroid cameras, we're a generation that can't get enough of the past. It should come as no surprise, then, when Lush announced a collaboration with Nintendo's most beloved characters, that we double-smashed the 'A' button (aka 'jumped') to see how the British retailer would reimagine the Mushroom Kingdom in bath bombs, shower gels and jellies.
The range, which is made up of eight items, is inspired by some of the most iconic characters and symbols from the Super Mario Bros. universe. Two new shower gels, named after titular characters Mario and Luigi, head up the collection: a red, cola-cube-scented bottle for Mario and a green, apple and rose fragranced gel for Luigi.
Everyone's favourite Gameboy heroine, Princess Peach, is the muse for two pieces in the collaboration: a juicy peach and pineapple body spray, and a fruity shower jelly filled with peach juice, soothing seaweed and mood-boosting litsea cubeba. Both are, of course, a Princess Peach-approved shade of pink.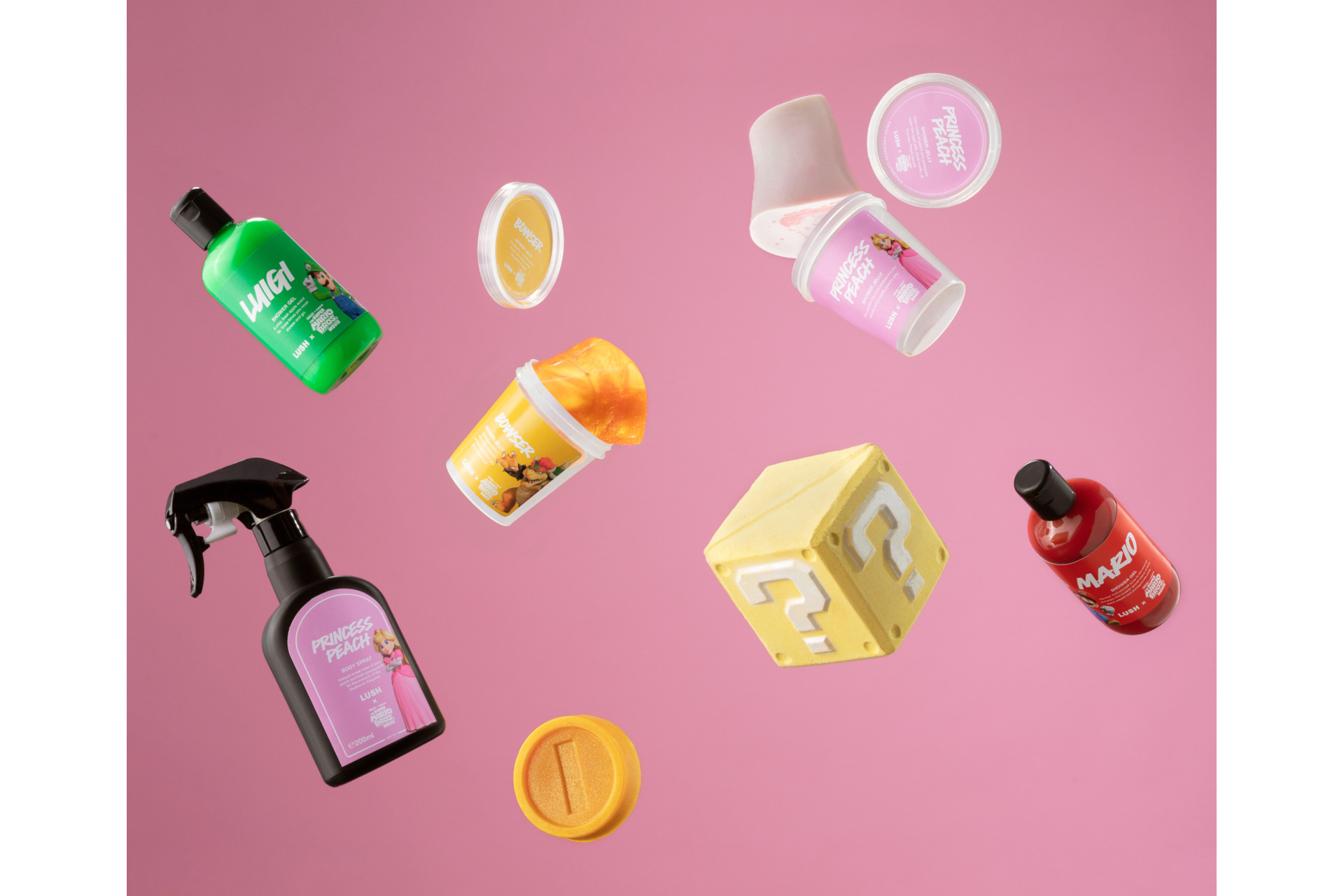 The last character to make the line-up is Bowser, who inspires a spicy shower jelly 'that could calm even the King of the Koopas'. With a blend of cinnamon leaf oil, zingy lime and sweet benzoin, this is a warming jelly befitting the fiery character.
Alongside these, Lush has also created a Gold Coin soap to rejuvenate weary adventurers, scented with the brand's much-loved 'Honey I Washed The Kids' fragrance, as well as a first-of-its-kind bath bomb. The Question Block bath bomb fizzes away in the bath to reveal a hidden collectable power-up soap inside; there are six to collect, from mushrooms and flowers to the legendary golden star, each with a unique fragrance and colour.
If more than one of these has piqued your interest, fear not. Lush is giving Super Mario fans the chance to build their own bespoke mystery gift boxes, packed with an assortment of your favourite items from the collection, which comes packaged in a yellow Question Block box.
Speaking on the collaboration, Stephanie Kraus at Universal Products and Experiences, said: 'We're thrilled with the Lush x The Super Mario Bros. Movie collaboration. The collection is innovative and iconic with surprise and delight elements inspired by the film, and we can't wait for the reaction from fans.'
Where Can I Shop The Lush x The Super Mario Bros. Movie Collection?
The Lush x Super Mario Bros, Movie collection is available to shop now, exclusively in Lush stores, and on the Lush app and website. lush.com
When Will The Super Mario Bros. Movie Be In Cinemas?
Nintendo + Illumination's The Super Mario Bros. Movie arrives in cinemas on 5 April 2023. While you wait, you can check out the trailer below:
Images courtesy of Lush