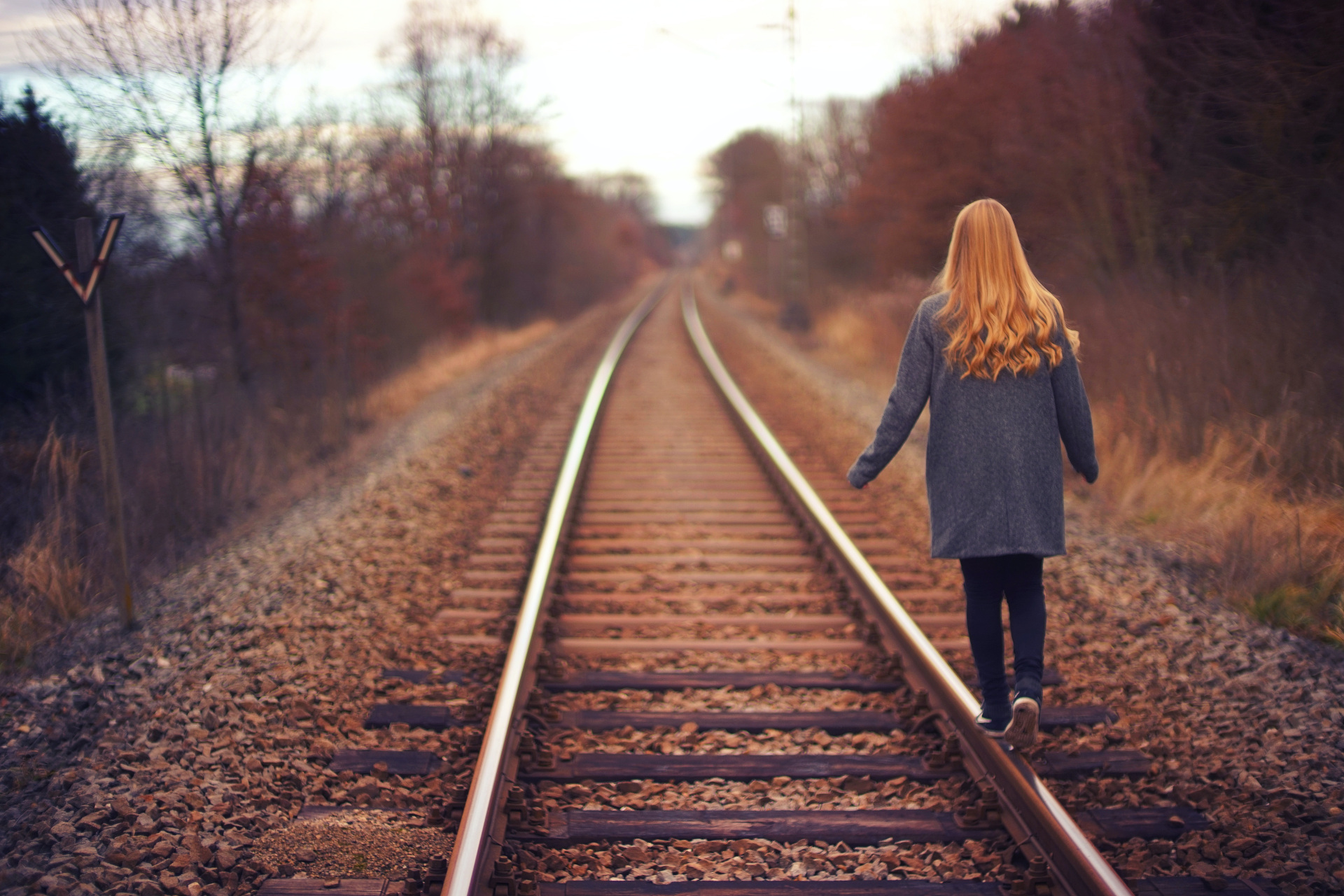 It's Pumpkin Spice Season – Here's How To Get Your Hair Involved
The autumnal spice mix making its way through salons
In the mood for a seasonal transition? Embrace the best bits of autumn with a new 'do, courtesy of the pumpkin spice hair trend. We ask the experts how to achieve those lush coppery tones.
What Is Pumpkin Spice Hair?
'Pumpkin spice is created using a blend of different spices (cinnamon, nutmeg, cloves and ginger) – and when it comes to pumpkin spice hair, you use the same method and combine a number of different hair colour tones,' says Suzie McGill, Artistic Director at Rainbow Room International. 'These include shades much like cinnamon, nutmeg, clove and ginger to create a beautiful multi tonal red hair hue. The beautiful warm shade adds warmth and a glow to the complexion and with so many different tones being placed throughout the hair, it also gives depth, dimension and shine.'
But where did the trend come from? Seasonal tones of red, copper and orange pop up around autumn every year, but the ongoing foodie-beauty trend has given pumpkin spice hair a recent boost. 'With it now being autumn season and pumpkin spice being everywhere at the moment (including in some of our favourite coffee shops) it's no wonder this hair colour is now trending,' adds Suzie. 'We've also noticed celebrities like Megan Fox and Kendall Jenner sporting copper hair looks over the last year and looking beautiful whilst doing so, encouraging many of us to want to try out the trend.'
How Can We Ask For Pumpkin Spice Hair At The Salon?
Chances are, you might not want to utter the words 'pumpkin spice' in a salon setting – and the flexibility of the trend means that you and your hairdresser might not have the same vision for the look, either. In this case, Suzie tells us it's best to be specific with what you want: 'When it comes to asking for this look in the salon, it's best to request a multi-dimensional or multi-tonal copper hue, with a gorgeous coppery red as the base and lighter and darker shades of auburn brown and strawberry blonde throughout.
'In simpler terms, a gorgeous full-head copper tinted base with added highlights and lowlights in complimentary red hues,' she continues. 'Be sure to also ask your hairdresser for the best base shade copper to suit you and that will be the most flattering for you, your skin tone and undertone.'
Who Does It Suit?
The short answer: everyone. 'This trend suits everyone, no matter your skin tone,' emphasises Suzie. Anyone can give this trend a go if they want to, really – it's just about finding the right selection of shades for you.
'It's important to take into consideration your undertone when opting for a copper hair colour and ensuring you pick the best shade that will work to flatter your undertone and create a gorgeous contrast,' explains Suzie. 'For example, for those with cool skin tones, lighter shades of auburn and strawberry blonde are most flattering, whereas for darker skin tones, richer shades including plum reds and cherry reds work best and look beautiful.'
The same goes for hair type – anyone can give pumpkin spice a go – but Suzie mentions that those thinner hair will benefit the most with this colour: 'This trend is also particularly great for those with thinner hair, as by adding a number of different tones through the hair, you can add depth and dimension and the illusion of fuller, thicker hair.'
Aftercare
Use Targeted Shampoos
'Coloured hair requires at home maintenance to keep the colour looking its best for as long as possible,' emphasises Suzie. 'I would always advise to use a shampoo and conditioner particularly targeted towards coloured hair, such as Schwarzkopf Professional BC Bonacure Color Freeze shampoo and conditioner. This will avoid hair colour from fading and keep strands looking healthy and shiny.'
Try Regular Hair Treatments
'Regular at home hair masks and treatments are also important in keeping your colour in as best a condition as possible and your hair nourished and full of shine,' says Suzie. You can browse our edit of the best hair masks here.
Avoid The Heat
And lastly, lay off the heat. 'Where possible, try to stay away from heated styling tools, which can cause colour fade,' advises Suzie. 'If you do need to use a heated styling tool, always use a hear protection spray to keep your colour protected and to give your hair an extra dose of moisture and shine.'
How Will The Trend Develop In The Future?
While some of us will quite happily switch things up for a taste of pumpkin spice, others aren't so keen to go full copper – so where can we strike a balance? 'For those who want a subtler take on the trend, pumpkin spice balayage is a great option,' suggests Suzie. 'With this colour technique, the tones are hand painted on to the hair and they are not taken all the way to the root like highlights or lowlights. You can keep your base colour and have tones of brown, red, copper and strawberry blonde painted on, enhancing and lifting your natural shade whilst keeping your root uncoloured to allow for less maintenance.'
10 Ideas: Pumpkin Spice Hair Inspiration
1.
2.
3.
4.
5.
6.
7.
8.
9.
10.
Featured image: Johannes Plenio, Unsplash