Designer William Yeoward has cancer and found the lack of joined-up information frustrating, so he started fundraising to develop an app. He tells C&TH his story.
The Conception
I am living with cancer, just as many are today and have been for a while. I have found my experience to be a test of my inner self.
After diagnosis and two surgeries I left hospital with my many emotions, (mainly confusion, and a dose of fear) in a mess. I arrived at my country place in Gloucestershire unsure and with information that wasn't clear. It's not that anyone wasn't helpful, informative or without care, it's simply that vital information seems to be everywhere but not in one place. This I find to be a common problem after diagnosis and not just for cancer patients.
I realised it would be ideal to have all the necessary information on my phone in the form of an app – swish with the finger and up comes your case: GP with vital contacts, surgeon, oncologist, pain doctor, dietitian to name but a few and, vitally, a helpline. Appointment schedules, outpatient appointments and who to call if you are worried, scared or just feeling low.
Screw Cancer
We all need clarity, we need to be in control in order to feel positive. This individual app doesn't exist. We have to create it and we think it would really make a difference. And so, 'Screw Cancer' was born.
We wanted to make fundraising fun and at the launch party we certainly achieved that. The theatrical spectacle was held at Ham Yard, which my dear friends Tim and Kit Kemp donated for the evening.
The party was a great success. We managed to raise well over half a million pounds. Since then we've increased that by probably another 50 per cent and I think that was all to do with us proving that fundraising could be fun. The combination of a fun fundraiser and an important subject which was being dealt with in a modern way is a lot to do with why Screw Cancer is motoring along and we have been spending the last couple of months talking to people about what they can do for us in the app department. I think the key to the app's success is to have a partner who can drive it forward and can take it from my germ of an idea and make it available in as many hospitals around the country as possible. This is our challenge. We are very blessed because we have a lot of interest in it and people have been very generous in supporting it.
"We all need clarity, we need to be in control in order to feel positive". 
So, we are building a stable foundation of trustees. In our minds we aim to have three. So far we have appointed Patrick Green, QC and we are interviewing two more imminently. The trustees will have the vision and drive to take it well beyond my initial concept.
Phase Two: The App
The next phase of Screw Cancer will be the placing the app with a developer and then getting it out there to the patient. This is not going to be a quick fix. The issue is that we have to find the interface between the app and all the different sources of people's health data as well as being able to share the data securely and safely.
I see the initial app very much as connectivity to one's nurses and specialists. I see it as a list of the email addresses and telephone numbers of the team who will help you through the journey that is cancer. So, in other words, rather than the detail, which is confusing for people, I think it is much better that we make it easy to connect to those who are going to make it happen. For example, if you were a bowel cancer patient, and I would like to stress that each cancer will have different requirements, you might have an Oncologist, GP, surgeon, dietician, nutritionist, cancer nurse, helpline and maybe a help centre. Through these one should be able to access all the people needed regarding one's condition.
What's on this week? Check out our culture diary
The Good News & the Bad News
So, it's exciting times. What's not very exciting is the number of new cases that are being discovered all the time. I also decided to put a small portion into The Imperial College but the reality is that there is a greater need for the app and I think I can make more of a difference with it than just by adding a tiny bit to something that is already huge.
In other words, I'm trying to do something that is new.
Along with the Screw Cancer slippers that I designed with Penelope Chilvers, we had Jean Touitou design a T-Shirt in collaboration with APC and made by Connolly. This was developed for the event as something those helping could both wear and sell on the night. We will do more collaborations like it next year with different items of clothing – I was thinking a belt.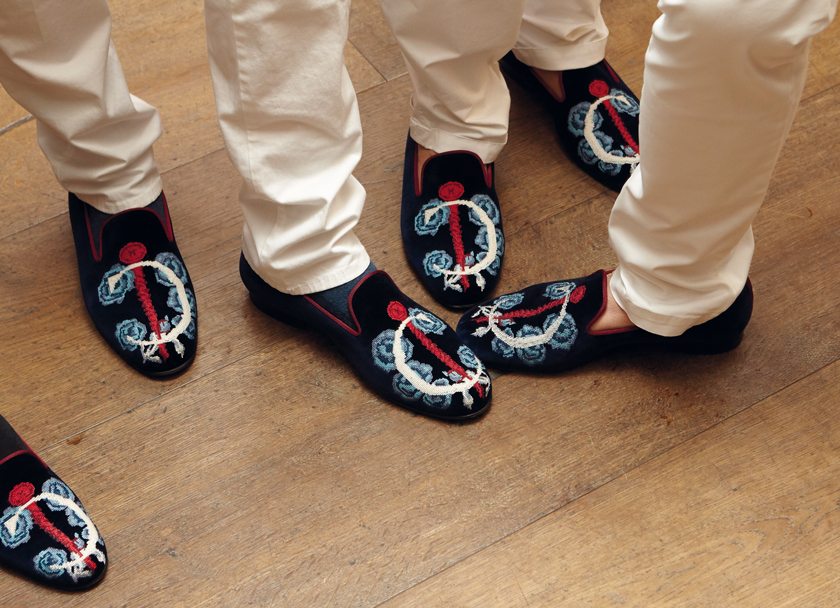 This stemmed from my relationship with Isabella Ettedgui, the widow of Joseph who owns Connelly, and her relationship with Jean from a long time ago. Her husband, Joseph, died of cancer 5 years ago and he was a great friend of mine so it is all wheels within wheels.
Blue and White and Other Stories
I am just about to launch my book, 'Blue and White and Other Stories' which will be published officially at the beginning of September and is a combination of work over the past, probably, 5 years. What sets it apart from being just another home book is that it is splattered with Instagram pages so occasionally there is a page with lots of images taken on my telephone from when I walk around. You have formal pages and then pages that are much more immediate telling the reader what William really thinks of when he thinks 'colour.' So, it might be a yellow car or my family's tanker business or a pile of gourds in the market in Aix en Provence. I think people now want to be much more connected with design. They are very interested in how things happen. As far as the decorating work is concerned it's lots of stories about lots of different things that have happened since I began.
I was diagnosed in November 2014. This book was written on chemotherapy which is why it is probably slightly less dull than it could have been.
My work is very varied. I've been in business for 35 years and so I have the confidence to be able to say 'This is what I do' and what I do is so broad that I'm not really pigeon holey.
Keeping Busy
I think if you can work through treatment, you should. I had a period of 18 months when I couldn't work. I didn't come to the studio, it was very difficult and incredibly frustrating although in reality, I was actually too ill to be frustrated. It just wasn't happening. I think the trick is a strong team and lots of support and understanding from your co-workers. I respect that they all did the best they could in a difficult situation, but now, thank god, the world is Even-Stevens and I'm here and as far as the business is concerned I've put in place all the people needed so that if something ghastly happened, I could now walk away with much less of a problem than I could have done 3 years ago.
How many times have you met people in their late 50s and they say I'm going to sell, it, get people in, have a freer life? Well I didn't have any choice and I've done everything which is good for me to survive as long as possible in this condition. The thing one can't have is stress and there is no stress in my life. It's all pushed away and I look great.
Finally, I have learnt through this journey that two things can never take over – one is denial and the other is negativity. My family and friends have been incredible and I am very, very blessed. I see the funny side of most things and thank god, I've been able to laugh at this.
This piece appeared in the October 2017 issue of Country & Town House. Subscribe here. 
---