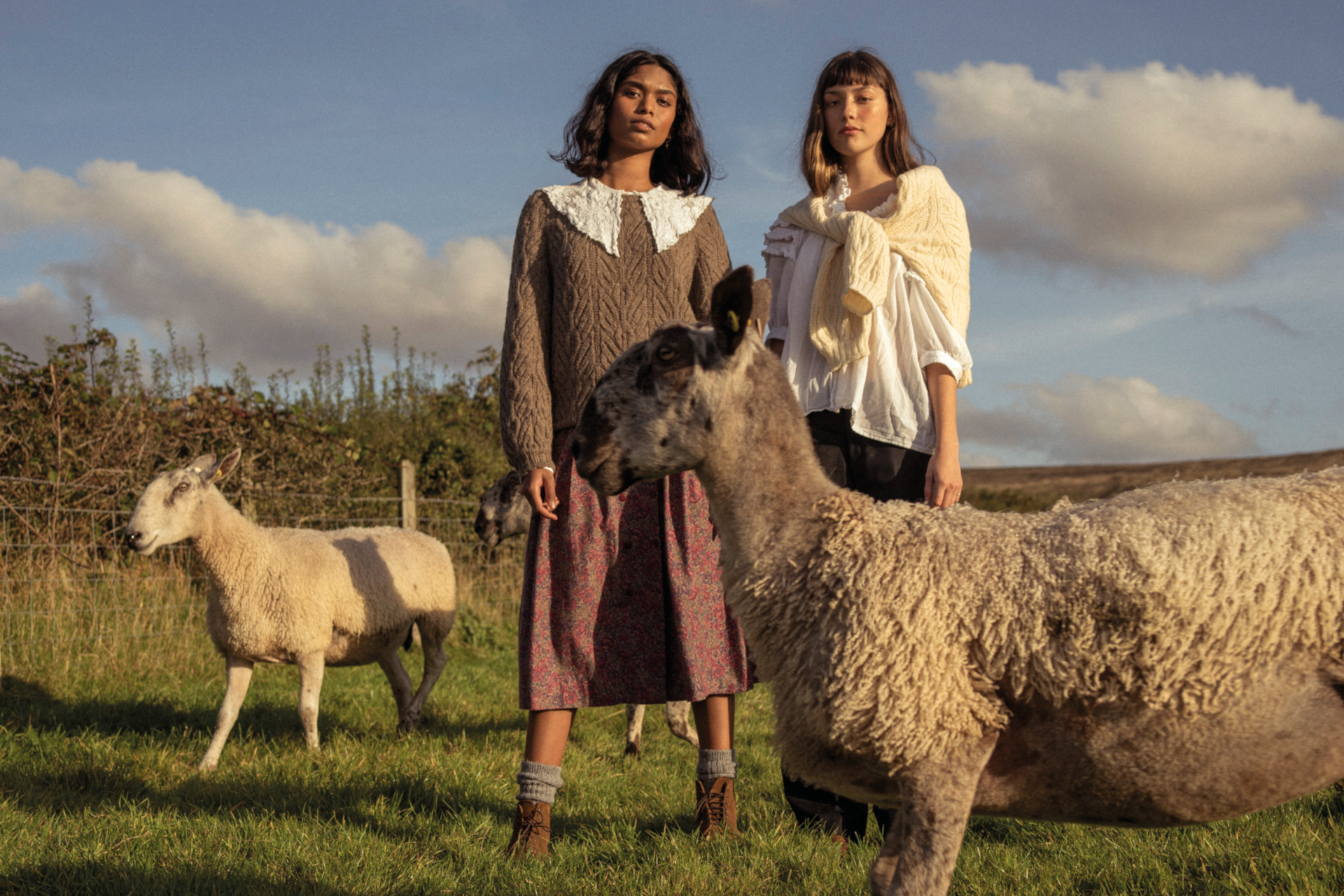 In Sheep's Clothing: The Wonders of Wool
---
'Wool is cool, sustainable, natural, biodegradable... it's the ULTIMATE in versatility'
Beatrice Aidin tells us why wool is the wonder fabric we need right now.
Victoria Beckham Teams Up with The Woolmark Company in New Collection
In Sheep's Clothing: The Wonders of Wool
At the Tokyo Olympics this year, Tom Daley not only wowed the crowds by winning both a gold and bronze medal, but also by being spotted in the competitors' stand with his needles in hand, knitting a cardigan and then a woollen pouch for his gold medal, as you do. And it's not just Tom – popular interest in this creative and calming craft soared as sharply as a needle during lockdown, with searches for knitting up 400 per cent on the Hobbycraft website.
Wool is cool – and is also one of the most sustainable materials we can use. The by-product of sheep shearing, it is an essential part of responsible animal husbandry: natural, biodegradable and long-lasting. It is the ultimate in versatility, used in carpets (one-in-nine British sheep produce the material for a Brinton carpet), as well as insulation, upholstery, bedding, fertiliser, cleaning up oil spills, in beauty products and, of course, clothing. Even car companies such as Volvo are eschewing traditional leather interiors and upholstering seats with wool.
In October, Victoria Beckham landed her first end-to-end traceable wool collection with 34 pieces for adults and children. Beckham worked with Woolmark, the Australian Merino wool marketing brand, and five Australian farmers to produce the yarns for the range, using natural dyes. The clothes are then made up in Italy. It's a step towards using more sustainable materials in her eponymous brand. 'We're a small business and our sustainable journey is ever-evolving,' Victoria says. 'We're proud of the steps we have taken but also know we need to do more, which is why partnering with The Woolmark Company has been such an incredible learning experience.'
While wool is undeniably a sustainable choice of material, a substantial carbon footprint is generated when it is imported from Australia. Meanwhile, Britain's 32.7 million sheep produce around 30 million kilos of fleece wool each year. This is what inspired Ruth Rands, the founder of Herd wool clothing, to launch her label – with the promise of just a 250-mile journey between sourcing the wool and spinning the yarn, to production in the north-east of England.
'I knew nothing about sheep and wool but was living in California which has a very local approach to production, so there's already a soil-to-garment ethos when it comes to making clothes – which are also dyed locally so there's money going back into the local community,' Ruth explains. 'When we came back to Gloucestershire in 2019, I looked at British wool from an academic perspective and wondered why we were importing wool from Australia and what made Merino wool so special.'
Working her way through the 60 different breeds of sheep in the UK, Ruth discovered the wonderfully monikered Bluefaced Leicester (so-called because the purest of the breed have a tinge of blue on their faces). While their hair thickness scores 25 on the 'micron' count compared with just one for Merino sheep, therefore producing a less fine and soft yarn than Merino, Ruth defends its quality: 'It is a luxury fibre which has a great shine to it,' she explains. And after just one year in business, Herd has won acclaim from the Prince of Wales.
House of Sustainability, a new slow fashion brand that makes snuggly knits right here in England, from 100 per cent British wool, also praises the properties of the Bluefaced Leicester. John Smedley has also introduced British wool to its collections, which can be traced back to the individual sheep.
There's also Hyht (an Old English word that means 'hope', 'expectation' and 'trust'), launched by Caroline Fay-Fright to celebrate ethically-sourced British wool and local craftsmanship. 'Hyht is built on the principles of slow fashion and challenging consumerism when it comes to our clothes,' Caroline explains. 'Public understanding about local food has started to shift in the last 20 years – we see it with local markets and 25-mile restaurant menus [where all produce is sourced within 25 miles]. We're far from this way of thinking when it comes to the clothes we wear. Hyht wants to change this – working with materials like British wool (which has seen prices unravelling since the 1950s, when synthetic fibres, like nylon and polyester, flooded the market) to make garments that are as local as your five-mile farm shop.'
For premium designer threads like Beckham's, though, it seems Merino is the only option, despite its carbon footprint. British brand Sunspel has attempted to find a solution using British wool, without much success. 'We tried in the past spinning the wool of a few British breeds but it's still too rough and coarse compared with cashmere or Merino and just doesn't sit comfortably next to the skin,' explains creative director David Telfer. 'We do use British wool for outerwear such as coats, but import Merino wool from South America and have it spun in Scotland because the softness in the water keeps the yarn soft.'
Bamford is challenging the status quo, however, having just launched a 50-strong collection made from its very own flock of Merino sheep at Daylesford Farm in Gloucestershire. From wool to first wear, the entire process is based right here in the UK, with the raw product travelling to Manchester to be spun into yarn at Gledhill, before the end product is knitted in Annan, Scotland. All in all, the total carbon footprint takes in 400 miles.
'Our aim at both Bamford and Daylesford has always been to minimise our environmental impact and give back to nature where we can,' explains founder Carole Bamford. 'The homegrown Merino project has allowed us to take that vision one step further: to create a product with a fully traceable profile that not only eradicates waste and has a positive impact on the climate, landscape and airways – but also unites Daylesford's expertise in sustainable, organic farming with Bamford's skill in designing knitwear. This is a project I am so proud to be spearheading. It is knitwear with a story – a story you can truly trace.'
But for the average British sheep farmer working with normal wool, the situation at the moment is untenable. 'The wool market is a disaster,' says third-generation farmer John Stott in Lancashire. 'It would pay the rent on the farm in my father's day and 20 years ago a fleece would get you £7 (£12 in 2021). Today, I get 50 pence and the clipper costs £1.50. A lot of people aren't sending the wool to British Wool but burying it to biodegrade because it's not worth the cost to transport it.'
Could the beauty industry help? Lanolin, sourced from the oil in fleeces that waterproofs sheep's coats, is a perfect winter skin ingredient, protecting sore and chapped skin while allowing it to breathe, which prevents clogged pores. It is found in super-premium brand Augustinus Bader products The Cream and Lanolips, as well as the new Bertioli bathing and breathing collection at Thyme, which uses locally produced wool for pouches and wash mitts for its 3-in-1 Hair & Body Bar and Super Conditioning Hair & Body Bars. The wool used in the mitt not only exfoliates but naturally wicks water and is antibacterial and self-cleaning.
So, while using wool is to be applauded for its amazing, manifold benefits, let's try harder to do something for the British wool produced on our own shores. Not only would a reinvigoration of the local wool economy help British sheep farmers, it would also help cut down those destructive carbon emissions in our fashion industry.
Featured image: Herd