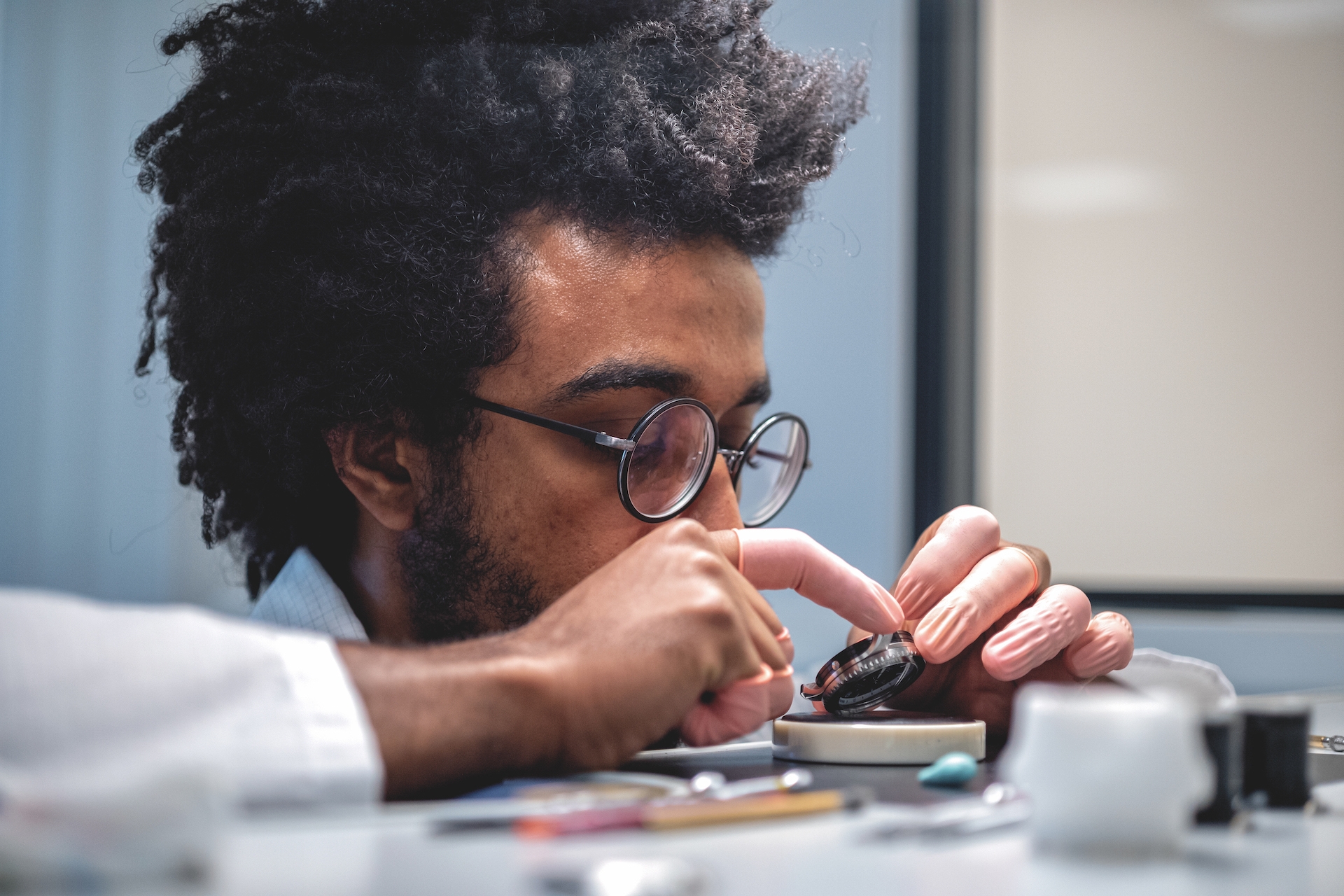 The New Stars of British Watchmaking
---
Meet the home-grown talent taking on the Swiss giants
British watchmaking is going from strength to strength, says Timothy Barber.
The Best of British Style – Fashion, Beauty, Brands & More
The Home-Grown Heroes of British Watchmaking
This year watch company Fears celebrates its 175th anniversary, an impressive landmark. Though, as managing director Nicholas Bowman-Scargill points out, it's not all been plain sailing. Fears only just survived the Great Recession – in 1940 its headquarters in Bristol was destroyed by German bombers – and last year Bowman-Scargill, great-great-great-grandson of founder Edwin Fear, spent time stacking supermarket shelves having cut his own salary to keep paying his three employees during lockdown. The experience gave him some sharp historical perspective.
'I was trying to steer Fears through the pandemic, as my ancestors had steered it through crises. I sense that this is my bit of the story. Fears is bigger than me and I want to ensure it will outlive me.' For four decades Fears didn't exist. Killed off by the rise of quartz watches in the 1970s, it was revived in 2016 by Bowman-Scargill, producing small runs of elegant watches inspired by past designs. The latest, the Archival 1930 (£3,500), brings a chic rectangular number from 1930 back to life, using new old -stock Swiss movements.
The story of Fears is that of the British watch industry. It thrived in the Victorian era, declined in the 20th century and eventually vanished. But now it has ticked back into life, through creativity and entrepreneurial zeal. For a growing number of buyers tired of Switzerland's usual suspects, small players like Vertex, Schofield, Pinion, Farer and Alsta offer a different, distinctively British flavour: the green shoots of a modern British watch industry are becoming blooming flowers.
The biggest is in Henley-on-Thames, where a curving glass edifice known as The Wing announces the new manufacturing HQ of Bremont, Britain's largest luxury watchmaker by far. Since the early 2000s Bremont has grown into a powerhouse that can invest £20 million in a state-of-the-art facility designed to produce tens of thousands of watches like the MB Savanna (£4,595), its latest ultra-rugged timepiece.
The Wing houses workshops and watchmakers for the assembly, testing and servicing of Bremont watches, along with precision machining for an increasing number of components, including movement parts. The company is targeting major growth in its engineering capacity, with movement making the long-term objective, and further developments on that front are expected this month.
'It's a milestone, but it's not the end goal,' says co-founder Nick English. 'We've upped our game, but we still aim to bring back watchmaking and the knowledge base to this country, with a brand that can compete globally.'
While Bremont has the scale, most in Britain's vibrant industry are, like Fears, small, design-forward ventures with growth powered by the internet. Perth-based Marloe Watch Company, for instance, started life on crowd-funding platform Kickstarter; several years later, its crisp designs and affordability have established it. The latest Solent range (£349) is, as the name suggests, inspired by nautical culture, taking design cues from the wind-direction instruments and diagrams that those used to yachting around Cowes will recognise.
More urban is Bamford London, the project of George Bamford – scion of the JCB family and, via his Mayfair design business, customisation partner for some of Switzerland's biggest watch brands. Once a side project, Bamford London has, he says, grown significantly during the pandemic, as many indie brands report. Its recently launched chronograph, the B347 (£2,500), with carbon fibre case and two-tone dial, mixes classic and contemporary influences with panache. 'People are looking for something different, distinctive and priced realistically,' says Bamford. 'I'm in awe of what people like Bremont have done, and there's such a breadth of talent in Britain.'
As evidence, turn to Glasgow's anOrdain, which has mastered the art of hand-making vitreous enamel dials, one of watchmaking's most venerated decorative forms, fused with starkly modernist design. Its studio is home to watchmakers, designers and enamellers producing vibrant styles like the Model 1 Fumé (£2,100), at only a fraction of a Swiss equivalent.
Nor is Bremont the only British company releasing their own movement – you wait decades for this grail of true watchmaking, and three come along at once. Norwich-based Garrick Watchmakers has been quietly building capacity (plus a new workshop and showroom) and launches its second in-house movement this month. Beautiful watches start at £4,995 for a Swiss-powered S4 – the case, hands and dial are all made and finished by Garrick personnel. In Birmingham, married couple Rebecca and Craig Struthers use antique tools to craft highly refined, bespoke watches powered by vintage movements (from around £16,500), but the first watches using their own hand-made movement known as Project 248, several years in development, reach clients this year.
They follow in the wake of Roger W Smith, the Isle of Man-based horologist whose watches are sought by global collectors and are booming on the aftermarket (a watch Smith made for the jeweller Theo Fennell in 2005 was recently auctioned for an eye-watering $600,000-plus). Smith is now chairing a new trade body to raise awareness of the UK watch industry, the Alliance of British Watch and Clock Makers.
The Alliance is also being spearheaded by Mike France, CEO of very accessible British watch company Christopher Ward, which launched the first watch brand to be sold exclusively online, and trumpets its British-designed, Swiss-made credentials – it even has its own Swiss factory. France recognises that watchmaking in the UK at real scale may never come but points out that the home-grown watch industry, as represented by this growing armada of inventive, quirky and creative players across all prices, styles and crafts, is something to shout about. 'We have real skills here, tremendous heritage and entrepreneurial genius,' he says. 'It's a small but fast-growing sector that recently didn't exist. We're trying to forge a path, and it's more likely to happen together than separately.'