Thinking about popping the question and looking for a unique engagement ring designed especially for your other half? A bespoke engagement ring is just the ticket. Country and Town House ask four industry experts from De Beers, Van Cleef & Arpels, Tessa Packard London and Hattie Rickards London for their advice on buying a bespoke engagement ring… 
How should you begin when commissioning an engagement ring?
Be brave, the best diamond is the one that sparkles the most. The one that your partner will never want to take off.
First step. If planning a surprise proposal, you must first discover your partner's ring size for their engagement finger.  There is nothing worse than a ring that is too small, so err on the side of caution, as proposing is hard enough.
Your next step is to ascertain which diamond shape you or your partner would prefer. Customers tend to be divided into two camps: round edged or sharp edged 'people'. Round edged diamonds consist of Round Brilliants, Ovals, Pear Shapes, Marquises, Heart Shapes and Cushion cuts. Sharp edged diamonds consist of Emerald cuts, Classic or Square and Princess cuts.
Remember, choosing a loose diamond is harder than choosing one that is already set.
Having narrowed your choice, the focus is now on designs for these round or straight edged diamonds. If you are choosing without your partner present, it's best to keep things simple so that it can be easily modified at a later stage. In an ideal world, you want to get it absolutely right and find the ring that your partner will love and never want to change.
Can you talk us through the four C's (colour, cut, clarity and carat)?
The 4 C's, however important, only describe what the diamond is when compared with the sample stones of one particular diamond grading laboratory. Nevertheless, Cut, Clarity, Carat Weight and Colour are the four characteristics which determine the cost of most diamonds.
Cut is the most important, not just the shape of the diamond, because it controls the beauty and the sparkle of the diamond and how much visual excitement you feel when you move it with your hand.
Whist cut proportions are important, what is crucial is the true alignment of all of the 57 individual facets. Diamonds which have been cut for weight, not beauty, may have excellent proportions and excellent symmetry, but imperfect facet alignment, so the sparkle is disappointingly weak.
Clarity refers to the number and size of the internal inclusions which are visible under x 10 magnification, a jeweller's eyeglass is usually x 10 magnification.
The fewer number of small inclusions the rarer the diamond, from Internally Flawless to VS1 qualities, however, they should be invisible to the naked eye without an eyeglass.
Carat Weight is the weight of the diamond measured in carats. One carat is divided into 100 "points". For example, a diamond of 50 points weighs 0.5 carats. The diamond becomes much more expensive as the carat weight increases.
Colour is not a quality, only a degree of rarity and beauty can be discovered in all of the 23 different shades of colour described by the Gemological Institute of America (GIA). The rarest diamond colour is colourless D colour and the least rare colour before Fancy Colour is X. The cost of colour varies with its relative rarity. De Beers selects for beauty and so offers many more shades of colour than its competitors, giving its customers the chance to choose a much bigger diamond for their budget if that is preferable.
What shapes do you think work particularly well for engagement rings?
It all depends on the taste of the clients… some prefer classical mountings, some others prefer very creative. At Van Cleef & Arpels, we can meet very different tastes, from classic to very creative ones; from the timeless brilliance of the Bonheur solitaire to the graceful curves of the Boucle model.
Do you see any emerging trends in engagement rings for this year?
We can definitely see a comeback of coloured gemstones today. Van Cleef & Arpels remains true to its tradition of Pierres de Caractère: sapphires, rubies and emeralds are evaluated by our expert gemologists for their objective characteristics, but also for their inner fire, vivacity, and charm. Transcending objective criteria, their selection is testimony to an encounter, a secret alchemy that is entirely unique.
Tessa Packard, Founder and Creative Director of Tessa Packard Jewellery London, says don't worry if you're short of ideas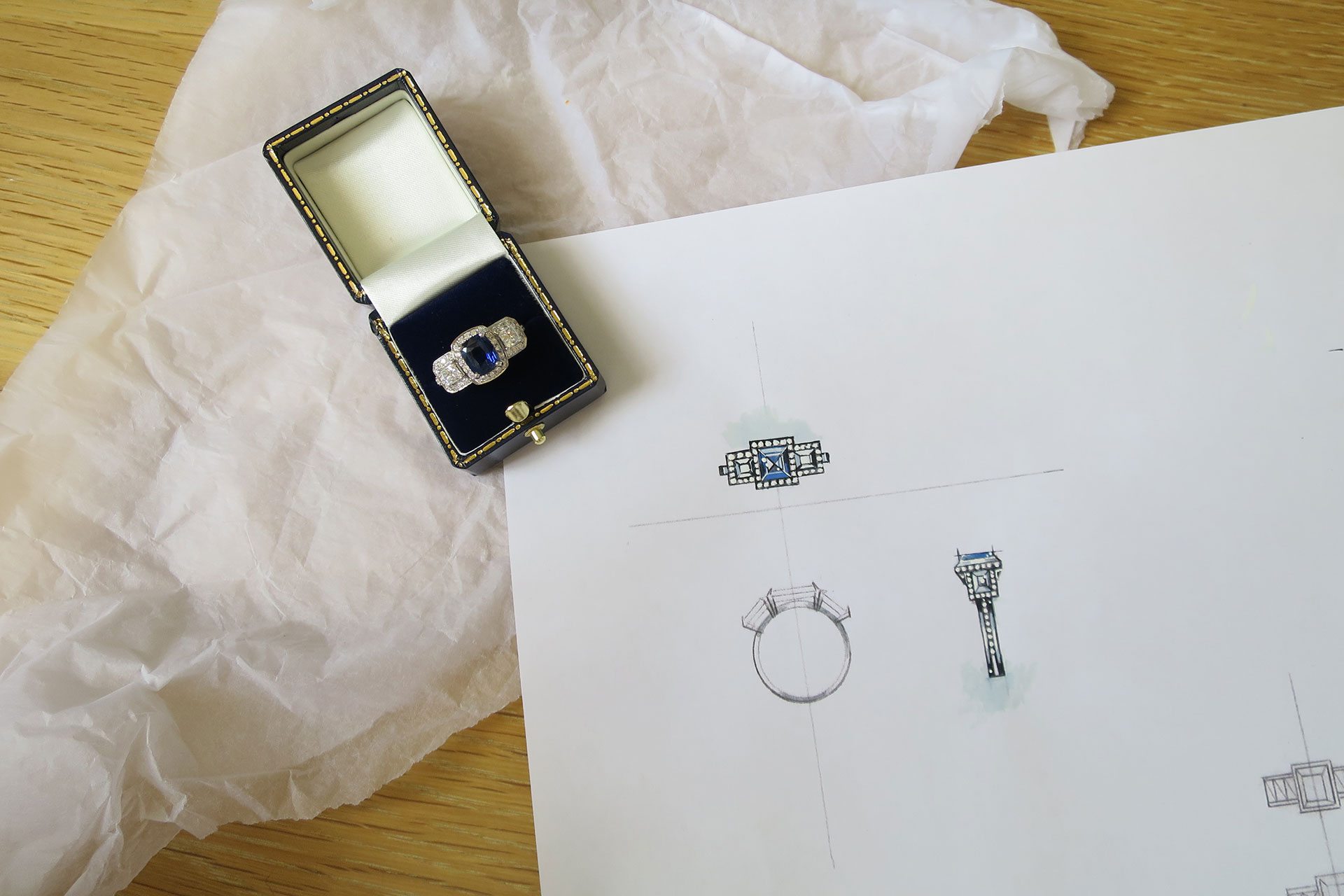 If you have no clue where to begin with your bespoke ring where do you send clients for inspiration?
Ultimately, I think it is the responsibility of the jewellery designer to bring inspiration and ingenuity to the table, not the client. Some clients do start the bespoke process with a very clear picture in their head of what sort of ring they want, and arguably of course this does facilitate the design process in the early stages. But many clients have no idea what style, shape or stone they are looking for and in these cases the internet can be a good place for them to find some sort of reference point.
What styles, cuts or gems are popular with your engagement rings?
The brilliant cut, the cushion and emerald cut are all very popular; blue sapphires, white diamonds and emeralds are likewise the stones we see requested most frequently when it comes to engagement rings.
Favourite ring setting and cut?
I do think that the rub-over setting is massively under-used when it comes to engagement rings and personally I prefer it to the more generic claw setting. When done elegantly a rub-over setting gives a ring real gravitas and substance. A favourite cut is pretty much impossible to call, but I would probably say that anything heart-shaped is a real no-go in my books.
Hattie Rickards, founder and Creative Director of Hattie Rickards Jewellery London, advises you to be honest
When designing a bespoke engagement ring, what are the key things to bear in mind?
The beauty of a bespoke engagement ring – rather than an off-the-shelf piece – is that it should tell a uniquely personal story about the bride.  So more than anything, the key to a successful commission is to have an open and honest conversation at all times.
It's important for me as a designer to always respect the intimacy of the commission.  This is a piece they will wear for life, and is commissioned to celebrate the most romantic day of their lives together.  This might mean we land the right design on the first round, or it might mean we take many months of iterating and sometimes completely changing tact.  The only goal for me as the designer is to ensure that the end product is even better than they originally anticipated.  That is the measure of success.
On a more practical level, I'm always keen to ensure that no matter how design-led or untraditional a piece may be, that it remains timeless.  Whatever you incorporate, you want to still be loving it when you're 85 years old!
Budget is of course important.  It's always best to agree on this with the designer from the outset, that way they can work towards giving you the best value for the money available.
If you were designing a ring for yourself, what would you choose?
I have already been fortunate enough to design an engagement ring for myself and the more I wear it (4 years and counting) the more I love it!  I set out purposely to create a piece of design with my own ring, not a traditional engagement ring.  I also wanted to incorporate the diamonds from my late mother's ring.  The end product is a shape that is very three dimensional with a central row of diamonds flanked by hand-cut ruby and sapphire baguettes to add colour.
Best bit of advice you could give to someone thinking about commissioning a bespoke piece/engagement ring?
Just go on and do it.  It is hugely satisfying, ultimately much more personal than off-the-shelf, and, once you've started the process, much less scary and expensive than you originally thought.
---