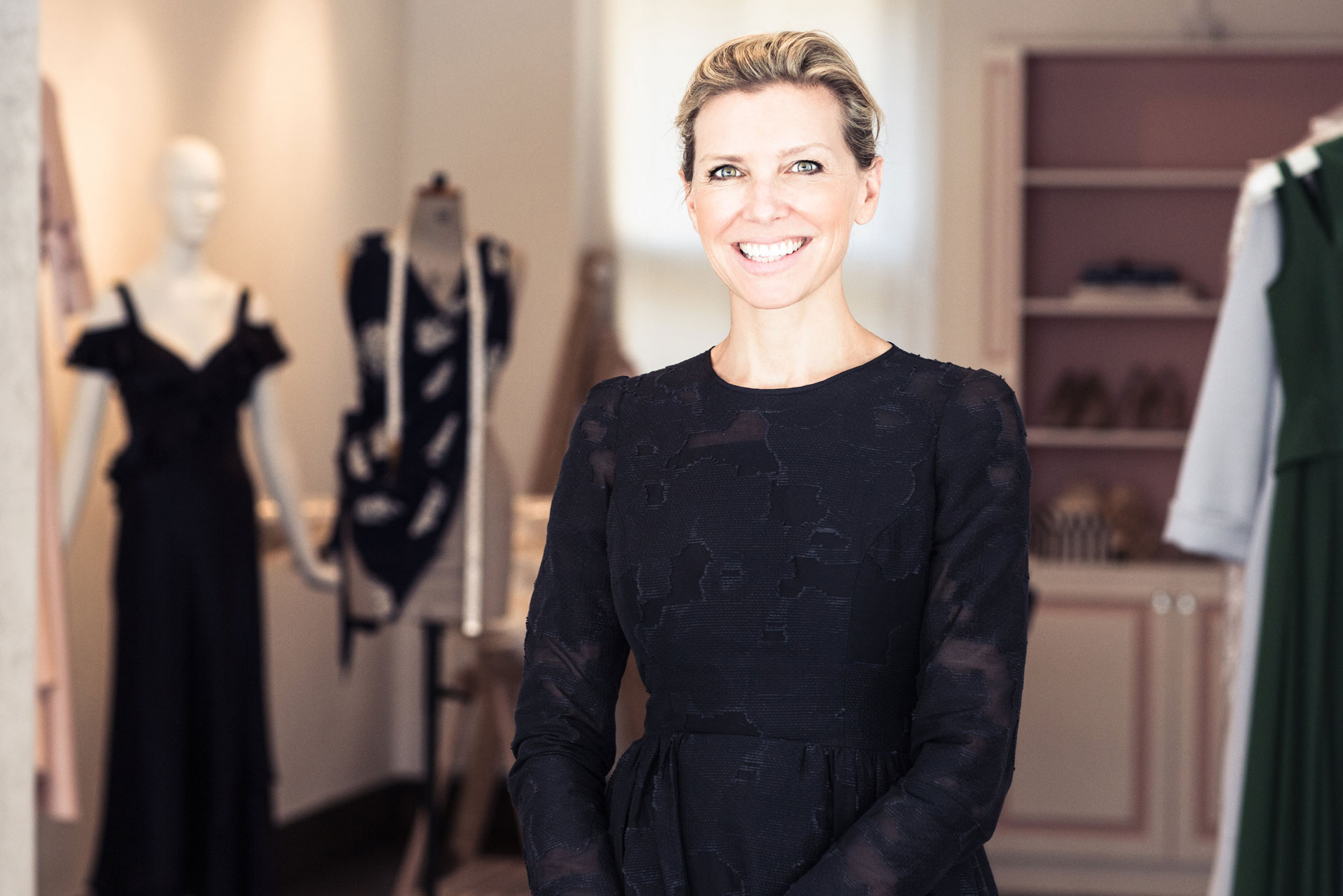 My Style: Suzannah
Suzannah's style rules
The British designer Suzannah creates beautiful luxury dresses and womenswear for all important event dressing and beyond. She spent lockdown learning how to up her sustainability game.
What event did you most miss dressing up for since everything was cancelled and why?
As a big racing fan, I love going to Royal Ascot each year, so was devastated to see it cancelled. One of the main aspects of my fashion business is dressing women for the five-day event. I design beautiful outfits for my collection and work with the best British milliners to create looks from head to hem each year. I love joining in the glamour and fun, and meeting up with clients and friends in the Royal Enclosure. It is the height of the social season for me and I'm happy to toast a year in style with a glass a champagne and some amazing food.
What do you find stressful about event dressing? Any tips?
It's really great to research the event you are dressing for. I would suggest scrolling Instagram or Pinterest to search for outfits based around similar events, or the same event from a previous year, so you can get the feeling and the dynamic. I would then adapt if to suit your own style. I always take a pared back, understated look as I feel more comfortable that way. I always wear simple, well cut modern clothes that flatter me and look chic, I then accessorise and elevate my look with statement earrings, a good hat and fantastic shoes depending where I am going.
What can we expect to see in your A/W'20 collection?
Beautiful dress coats, versatile skirts and statement tops which can be played around for events or worn as daywear. I have played with velvets and rich jacquards this season and highlighted the slick clean lines with super-sized bows.
What event are you most looking forward to dressing up for now?
I am looking forward to dressing up to go out to dinner with my husband! I have also planned cocktails with my best girl friends. Along with most others, I have been meeting friends for walks in the park, and so I cannot wait to put on great dress, do my hair properly and head out.
What's your everyday uniform?
I am an entrepreneur and business owner first and foremost, but as the owner of a fashion company I have a varied day. I am also a mum to a seven-year-old girl. My everyday uniform has to be versatile, easy but chic. Usually I will wear one of my signature tea dresses with smart trainers and a simple knit or jacket. The tea dresses can look very polished yet are super easy to wear. They do not crease and are really light. A simple knit and trainers can dress them down for the school run or a jacket and heels can elevate it for clients or an impromtu business appointment. I always have good sunglasses, a bright lipstick and a smart handbag.
Whose style do you really admire?
Olivia Palermo. Simple chic, semi-formal, polished and utterly effortless.
Are you still working from home? If so, can you share any lifestyle hacks you've learned over the past months?
I am now working from home two days a week. I have been around for my daughter throughout lockdown, home-schooling her and running the business alongside. I have built up a lovely routine and now owe it to her – and me – to maintain some of this incredible balance. I also realised how focussed and extremely productive I can be working outside of my normal business premises. I can be more considered and strategic about my work from a distance. I get proper head space to create and focus. It is very exciting.
I have achieved a lot during lockdown, including completing an online course run by the London College of Fashion on sustainability, and now I am excited to introduce more sustainable elements into my business. I also transferred all my pattern cutting systems from manual to digital, so we could save space, time and emissions from couriers. I had to think of a way to gain more space in our atelier so the team could work safely and an easier way to get my patterns to those working in their home studios. So that has been my hack. Thinking ahead and opening barriers to what is possible!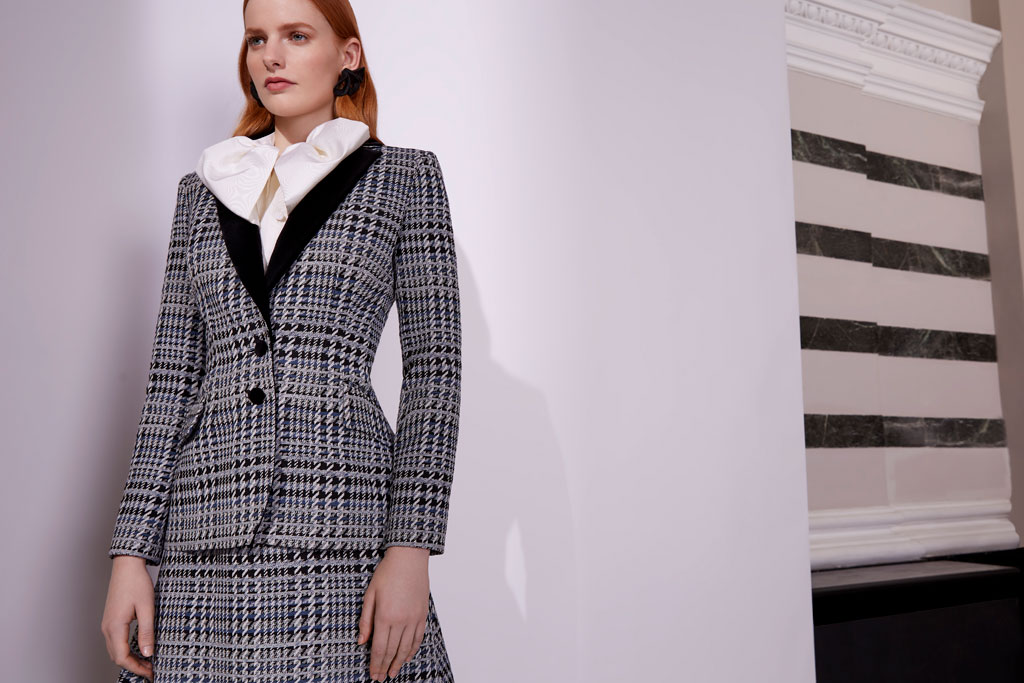 When it comes to personal life hacks, I discovered the FIIT app! Amazing yoga, cardio and strength programmes that I could stream through my TV to do a 25 or 40-minute workout each day. This absolutely got me through each day – I need exercise. I normally go to the gym or swim, and this app enabled me to keep up my fitness at a really good level. I could choose each day whether I need a simple stretch out and mind relaxation session or a harder intense cardio session by the amazing trainer Adrienne Herbert.
Any secret services you can share with us?
Yes. I have a beauty brightening serum by By Terry which live by; it's a brightening serum for the skin. You can wear it under foundation to even out your skin with a glow. I have also used this on my legs – it just gives uplift and a bit of finesse. It's almost like brushing on a subtle layer of dewy fake-tan.
Fine Jewellery to Invest In Now
Power dressing?
By Terry Sweet Flamenco bright lipstick, Aquazurra shoes, beautiful luxury sustainable sunglasses by Bird and a great Celine handbag.
Summer holiday essentials?
An amazing straw hat and a floral Zimmermann swimsuit. This summer I bought a hat from Ellurpi.
What's your dress down style?
Olivia Von Halle pyjama bottoms and a simple white Jil Sander T-shirt. My jewellery passion at the moment is for unique fine gold earrings. I am coveting a pair by Francesca Villa. They are described as 'beauty mismatched' – which I would perfectly describe my Sunday lounge style.
Finishing touches:
My favourite perfume is Cecile, by To the Fairest. It is the most amazing scent and utterly me. I know the parfumeur personally as we have a similar passion for vintage clothes and worked together to find inspiration for my collection. The Cecile perfume is a combination of bergamot and cloves. It makes me feel good and almost powerful.
Country walk: where do you like walking and what's your get-up?
I love country walks. We often seek out different areas of the British countryside at the weekend and tend to choose a different trail each Sunday. I love Hampshire in particular. I have missed going to the RHS sites over lockdown though. My favourite walk is around Wisley at the weekend. Wherever I go I am armed with a camera. I am utterly obsessed with flowers. I snap away and take inspiration for my textiles. We often recreate florals into textile art from my country walks. As for what I'm wearing, my go-to is APC. I love their cotton trousers – they have a simplified French-boy style and fit which suits my figure. I usually combine them with a printed top or a statement knit or sweatshirt. I recently bought one from Stella McCartney. I always wear pretty jewellery as it makes me feel feminine.
Under the radar labels you can share with us?
I love New York label Khaite, Bird for sustainable eyewear and jeweller Maria Black for my earring obsession.
Favourite online retailers and why?
Net-a-Porter, it's so quick and easy; Sniph for unique fragrances; 1stDibs for vintage clothes, art and unique jewellery, and Vestiare Collective for pre-loved.
Style cheats
Bright coral lipstick, which is so flattering to the skin, wakes up your look and adds a layer of polish to a casual outfit in an emergency!
MORE MY STYLE:
Alice Temperley / Anya Hindmarch / Pandora Sykes