From buying straight from the catwalk to buying straight from a video; shoppable films could be the future of e-commerce.
Always the innovator, Christopher Bailey shook up the fashion industry when he announced in February that Burberry's S/S'16 collection would be entirely and immediately shoppable. Clothes that could be ordered straight from the catwalk? This was indeed a seismic change for the fashion industry, which has always kept spectators waiting six months for garments to hit the rails. In New York, we have already seen the likes of Ralph Lauren, Tommy Hilfiger and Tom Ford adopt the see now-buy now method. But many of the designers have stuck with tradition, leaving the fashion industry, and more specifically fashion week, in a bit of disarray.
After the 'see now, buy now' debate rocked the fashion week catwalks, many discerning bystanders were left asking: what next or indeed what now?
Shoppable films
It seems only fitting that other mediums would follow. Cue the shoppable film. Although the runway remains the main stage for designers showcasing their work, fashion films are still an important vehicle for brands to convey their own story and immerse viewers in their unique aesthetic.
And in the same way that designers like Burberry and Tom Ford, are injecting immediacy into their catwalk shows through the 'see now, buy now' model, shoppers are actively encouraged to watch what they buy through moving image too. That is, once you see an item you desire on film, you can simply click on it and buy rather than trawl through the brand's extensive catalogue.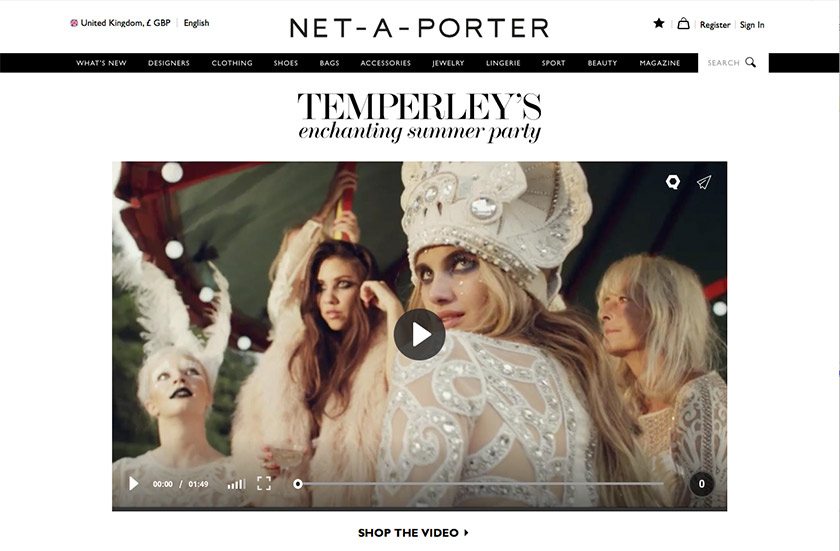 Luxe boho brand Temperley London was one of the first to engage with shoppers' immediate impulses through a sumptuous film for Net-a-Porter, directed by Alice Temperley herself. Temperley's Enchanting Summer Party had viewers lusting over the garments on show while furiously clicking on their screens to bag them thanks to video platform Cinematique's touchable tech.
The Ted Baker treatment
Now Ted Baker has thrown its hat into the ring with Mission Impeccable. The story: T.E.D., enigmatic leader of his eponymous agency, deploys his best agents to prevent a spectacular couture catastrophe. The tagline: 'Spy it. Click it. Buy It'. The film brought in big names and big tech for the project, which rolled out teasing trailers and Instagram posts ahead of its launch this month.
Ted Baker called in two big 'G's – Guy Ritchie, who acted as executive producer and Google, which lent the brand its voice search functionality to further enhance audience engagement and the retail experience.
Taking cinematic inspiration from the espionage genre and elevating the shoppable video to cinematic heights, directors Crown & Owls position the clothes as the heroes of the story, all of which can be purchased through Tedbaker.com, exclusive UK partner Selfridges.com and US partner Nordstrom.com.
Strip away the techie add-ons and shoppable elements, and Mission Impeccable, like all successful fashion video campaigns, is an immensely watchable film short in its own right. As Craig Smith, Global Brand Communication Director, explains, 'it doesn't matter if a shoppable ad is 15 seconds or 15 minutes, if it isn't compelling enough content then people won't engage.'
The same rule must be applied to the clothes too, whether they are wafting down the London Fashion Week catwalk, or draped on the protagonist of an epic fashion film. The product must be as fashion forward as the campaign behind it and brands are clearly pushing the envelope more now than ever; which is great news for fashion spectators, who are best kept on their toes.
READ MORE: Shop our daily The Luxury List for must-have fashion, beauty and interiors buys
READ MORE: The October issue of Country & Town House is out now
---