Talking About Rental Revolution
---
Could renting fashion save the global wardrobe?
Lucy Siegle sits down with the founder of By Rotation, Eshita Kabra-Davies, to discuss the brewing rental revolution. 
Buy a copy of Great British Brands 2022 here
Talking About Rental Revolution
Over the last five years fashion has rightly endured a reputational pummelling when it comes to sustainability. From the declining lifespan of clothes and the lightning metabolism of fashion consumerism – exemplified by swipe-and-tap social shopping on Instagram – to the increased reliance on petroleum-based synthetic fibres in order to produce 100 billion-plus new garments every year (only for them to be slung in the bin after a handful of wears), the industry has gained a dismal reputation. In short, this is one industry in need of an ecological saviour.
Hands up if you expected that saviour to be found in renting other people's fashion buys? I did not. For (lazy) verification I checked my own 2011 book To Die For: is Fashion Wearing Out the World? A decade old this year, this was once considered the, ahem, cutting-edge word on sustainable fashion. Hmmm, rewearing, mending, swapping, upcycling, remodelling (old clothes), deadstock design and thrifting etc all come highly recommended, but there is scant mention of 'renting'.
Of course, there's always been formal hire for men. In the newspaper archives I find a 1936 report of a New York tailors asking men being fitted for wedding suits to leave their prospective brides at home; whereas the man could be fitted quickly for a suit rental, the woman would want him to try on every piece of inventory. 'They'd like 'em to look like Clarke Gable but for the most part they don't,' said the assistant. I also once attempted to hire a formal dress from somewhere in Chelsea, before being horrified by the restrictions and deposit and going off to Top Shop for a sequinned spandexy number instead (likely still clogging a landfill somewhere).
Some 20 years on, I'm back in a posh London location looking to rent an outfit. This time it's via Zoom, and I'm scouting the virtual pop-up Marylebone showroom of By Rotation, a peer-to-peer rental app. The founder and self-confessed clothing rental obsessive, Eshita Kabra-Davies, is showing me around. There are rails with a few 'managed' collections from celebrities like Stacey Dooley, where the rental fee is donated to charity. But usually this is a peer-to-peer service via the By Rotation app. So wait, what's with the bricks and mortar? 'We were offered this place by the estate landlord for a while,' explains Eshita, who grew up in Singapore, where she went to the mall every day, but is now leading a circular-fashion revolution. 'We think of this as a common room for By Rotation, where we do lots of great events. We had a wonderful launch here with over 400 women. It was an amazing night, I can still see it now!' she says half-closing her eyes, 'and the drink spillage on the carpet! It was so nice to meet our community in person.'
Eshita mentions the By Rotation community a lot. A former investment banker, with an elevated sense of personal style (I quickly became addicted to her Instagram posts) she had no background in the fashion industry – but was determined to create a tech-first company (it's all about the app and the community) that also addresses fashion's massive waste problems. 'For me the most sustainable piece of clothing you can wear is already in your wardrobe, or it's in someone else's wardrobe. Unfortunately, my sister and my mom don't live in the same country or continent as me and a lot of my friends are not the same size. So I think building the app has been amazing for me to meet a lot of like-minded women who might be in a different city.'
By Rotation launched five months before Covid and lockdown hit the country. I can't quite imagine the terror but, relentlessly upbeat, Eshita finds the positive. 'It was actually a great time for us to build our community and get people to list their wardrobes on the app', she says. 'Everyone was talking about Marie Kondo since they were face to face with all the stuff they'd amassed. And, you know, we had a very captive audience, digitally, when it came to the lockdowns.'
At this point there are over 150,000 on the By Rotation app, predominantly women and largely millennials, but increasingly Gen Z. The average amount paid by a renter per loan is £45 to £50. By Rotation takes 15 per cent from the lender and 15 per cent from the renter. The app joins a flourishing UK ecosystem of fashion rental that seems to be in the ascendancy. Brands include My Wardrobe HQ, which last year attracted the ex-Whistles CEO, Jane Shepherdson as Chair (she has said she wants renting clothes to be 'as commonplace as renting a car'); Onloan, a subscription model that works in direct partnership with brands, (as opposed to the peer-to-peer model), through which you can rent two or four pieces a month for £69 or £99; HURR, which is available at Selfridges; and Hirestreet, which recently achieved a high street first by teaming up with M&S.
There are also accessory-specific sites for renting super-high-end handbags, such as the subscription service from Cocoon. The very idea of rental seems to be on a bit of a roll as the stigma of on-loan melts away. All platforms reported a surge after Carrie Symonds rented a bell-sleeved gown by Christos Costarellos for her wedding to Boris Johnson last May. It was £2,830 to buy but borrowed by her for £45 a day from My Wardrobe HQ. By 2030, around the time the UK is supposed to hit Net Zero, analysts predict the UK clothing rental market will reach £2.3 billion.
Fashion rental has burst onto the fashion scene carrying all the promise and thrills and spills of the circular economy. The circular economy squares up to the huge problem of overconsumption and overproduction and then draws a different shape. Almost everything we consume at the moment is from the linear economy and the social and environmental impacts (not just carbon emissions but also water pollution and land-use change, which contributes to species loss) are devastating. This is driving the climate and nature crisis. Everything we consume in this system involves raw materials that must be mined, grown or cracked from petroleum. To add insult to injury, those resources are on single-track journeys to become waste (some of it indestructible), pushed onto the market with no plan for how long they will be in service or how they will eventually be disposed of. In a fashion context, an estimated 87 per cent of all the fibre used to produce clothing ends up as waste.
The circular economy is a different system with different outcomes. Essentially resources stop becoming waste and are continuously regenerated or circulated to be used again. This works well with precious metals, for example, which can be reclaimed and reused without loss of fundamental characteristics. Clothing is harder to reclaim in this way, partly because it is increasingly formed from blended fibres, which include synthetics that are difficult to recycle, and also because it can be hard to retrieve clothes from a linear system. In common with other things, including furniture, clothing lends itself to the sharing economy (part of the circular economy) where products are continuously circulated in order to maximise use.
It's easy to see, from this argument, that keeping better quality clothes in circulation could add up to a big leap forwards. But not everybody is convinced. A study by Finnish researchers from LUT University, published in May 2021, caused a huge stir when it declared that renting clothes had the highest climate impact of all clothing behaviours. I think the polite response to this is that there were some eccentricities in the data. The researchers used a pair of denim jeans as their rental subject (almost nobody rents jeans). The study was also modelled on each rented item being collected by car, whereas most companies claim to use other delivery methods: By Rotation sends garments by post; Onloan uses carbon-neutral delivery service DPD; My Wardrobe HQ uses cycle couriers and electric vans; HURR at Selfridges and My Wardrobe HQ at Harrods rely on most customers arriving on foot (normally using public transport). Similar assumptions were made around dry cleaning. Rental platforms said the study did not reflect the reality of the rental system.
What's exciting from my point of view is that rental creates the potential for a different sort of fashion consumer (although I hate calling us 'consumers' because we are humans and global citizens with agency). At the moment even conscientious shoppers are trapped in a linear system that is rubbish in a number of different ways. For starters it lacks nuance. Every time you buy something made in a linear system (also known as take-make-waste) you are sending a signal to the market to make more. You might be dying inside, knowing your fast-fashion purchase has a horrible impact on the planet; you might want to let them know you're buying it with many reservations; but the signal the brand gets is a huge thumbs-up sign. If you carry on buying, the linear economy carries on growing. Yikes!
So, I'm personally rather excited to enter the era of the super-renter or super-lender. In By Rotation parlance it's the Super Rotator, who lends and rents her (or his) wardrobe. 'Some of our top lenders are happy for cash to stay within the app and use it towards rentals instead of cashing it out into their bank accounts,' says Eshita, 'One of the things I love about our app is that users are not influencers and celebrities and stylists, but regular, working professionals. One of our Super Rotators is a mother of twins, in her 40s. She's a maths teacher and just received an OBE. Of course, she wore a rented piece to collect it and looked incredible.'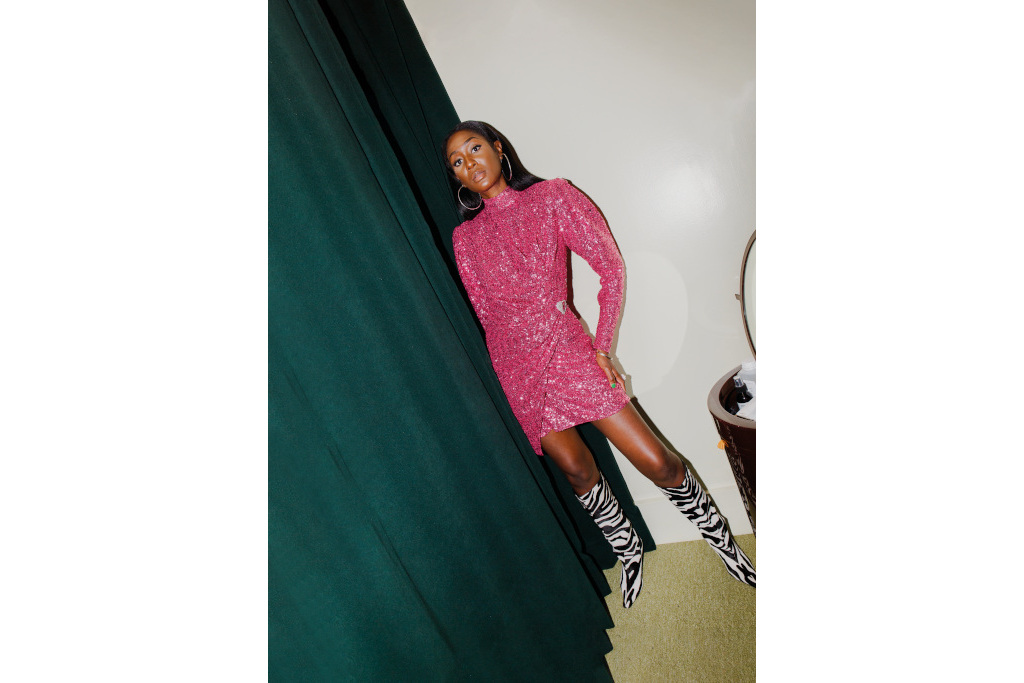 I'm determined to take a leaf out of this Super Rotator's book. I'm a mere dabbler in rented fashion. During lockdown, when I chaired a panel for the UN Ocean Dialogues online, I rented a swanprint blouse from Stella McCartney. It was a much-needed fashion moment, at a fraction of the cost. I ask Eshita, who also loans her own pieces out, what is her hardest-working piece? 'Currently it's my Saloni green dress, which I bought at the end of June because I wanted to wear something green and there aren't many dresses my size on the app.' She's a very small size and bought the green dress at an outlet store for £340. 'I've rented it 24 times for £58 each time (£70 with service fee, including postage and cleaning). I have another rental for it on Monday. I love seeing very different women to me wearing it for different occasions and seeing how they style it. The other item I have that does well on the app is a Jacquemus Le Chiquito bag. It's impractical, silly, cute and very Instagrammable.'
Then she looks quite pleased, 'It's also rewarding when people approve of your style. I think that is what's interesting about the app. I have no background in fashion myself and I didn't even know what a buyer did, but you don't really need to know on By Rotation. You quickly gain a good sense of how your piece is doing. If it's had over 1000 views but no rentals, you might decide the price is too high. The user is completely in control. On our app, we're showing you what people are actually renting and adding to their wardrobes. The top lenders end up being the buyers in effect, because they are the ones with the cool style!'
Not only could fashion rental take the heat off the planet, it could also, finally, democratise style.
Featured image: Eshita Kabra-Davies, founder of rental service By Rotation