This arty city-port and birthplace of impressionism is celebrating its 500th anniversary.  Gilly Pickup goes along to find out what Le Havre – in English it means 'the harbour' –  has to offer the weekend visitor…
Le Havre in northern France was almost completely flattened during World War II by RAF bombers in their attempt to rid the town of its German invaders. Enter architect Auguste Perret who was given the job of rebuilding the city so that more than 40,000 people could be rehomed.
Perret was a fan of concrete. He said 'concrete is stone that we craft, far prettier and nobler than natural stone'.  Besides that, it was cheap and given the circumstances at the time, his brief was to do the best he could with very little.  He was a stickler for uniformity and believed that by using concrete he could achieve this; his planning required detailed calculations so that the side of every building would be a precise 6.24m to enable ease and speed of construction. When it was all finished, though it meant the locals were no longer homeless, not everyone liked Perret's controversial creation. In fact, many were horrified at this upstart concrete city which had risen like a phoenix from the ashes.
However, people began to see his designs differently in 2005 when the city centre was awarded UNESCO Heritage status for its 'innovative utilisation of concrete's potential'.  Perret's work was referred to as 'structural classicism' and these days the locals are rightly proud of their city.
The Weekender: 48 Hours in Florence
Visit
For fans of beaches and sea air, Le Havre's mile-long pebble beach with its rows of beach huts offers opportunities for sailing, windsurfing and kayaking.  Normally the huts are white, but Dutch artist Karel Martins was given permission to add coloured stripes to them in this anniversary year. The promenade is ideal for strolling and lined with pop-up bars, restaurants and little shops selling candyfloss and raffia sunhats.
Les Halles, a bustling covered market, has masses of stalls packed with the freshest breads, local ciders, earthy wines, shiny tomatoes, huge oysters, bowls of crunchy green olives and stacks of hale and hearty cheeses in bright displays of creamy white, orange and blue.
Explore one – or indeed, several – of the city's 96 green spaces and parks. The Japanese Garden, opened in 1992, was a gift from the Japanese port of Osaka after the cities were twinned. It's petite but pretty with lots of tinkling fountains and a wonderful feeling of tranquillity. Another interesting green space is the Hanging Garden with its fabulous sea views.  This former military base is divided into areas dedicated to botanist explorers and their discoveries. The greenhouses are a gardener's dream, full of unusual and aromatic plants.
UK Travel: The C&TH Guide to Henley
See
St Joseph's Church has an enormous concrete bell tower which reaches up to poke the sky. Go in and sit down  – on a reclaimed cinema seat, no less –  it's almost guaranteed that as you soak up the peaceful atmosphere you will be mesmerised by the tower's stained glass windows, all 12,768 kaleidoscopic panes of them.  It has little in the way of decoration, leaving the concrete walls exposed.  Rebuilt in the 1950s after being bombed to smithereens, this is another example of Perret's work, though one that he did not live to see completed.
The church has also joined in the artistic celebrations with a huge red whirlpool structure which hangs in its centre. It was created from yarn by Japanese artist Chiharu Shiota.
And Perret is the star of the show again with another of the town's main attractions, this time a reproduction of one of his first apartments. Entering the bright and airy open-plan flat you are whisked back to the 1950s with mass-produced flat-pack furniture, a record player, typewriter, child's rocking horse and labour-saving devices including a fridge and vacuum cleaner, which in those days were revolutionary. Clothing and hats from the period also hang on rails.
The city lost most of its historic buildings during World War II, but one survivor is the interesting 18th-century Shipowner's House (La Maison-Musée de l'Armateur). Its owner was wealthy merchant Martin-Pierre Foache who used it as his offices and as a winter home for his family. The five-storey house, now also a museum, is built around a central light shaft.  Pictures, furniture and curiosities aplenty give an insight into the family's lifestyle.
If art is your thing, head along to the Andre Malraux Museum of Modern Art or 'MuMa'.  It houses the second largest collection of Impressionist works in France – the first is the Museum D'Orsay in Paris if you're wondering. Monet spent his early years in Le Havre and his depiction of the harbour, Impression, Sunrise, gave its name to the movement. In this, the city's anniversary year, MuMa is staging special exhibitions, one of which the 'Clair-Obscur' continues until the end of August. This exhibition features work by Pierre and Gilles, a couple who forged a romantic and artistic partnership forty years ago and who have had Madonna and Jean-Paul Gaultier sit for them.
Eat
Expect to be spoiled for choice with a glut of tempting restaurants in Le Havre, especially if you're a seafood fan. Centrally located, the classically-styled Le Grignot offers glorious seafood platters and a terrace for al fresco eating when the sun comes out.
Two Michelin-starred restaurant Jean-Luc Tartarin offers a prix-fixe menu and a classy atmosphere.  Menus change regularly and food, pricey as you'd expect, is excellent, as befits a Michelin starred restaurant.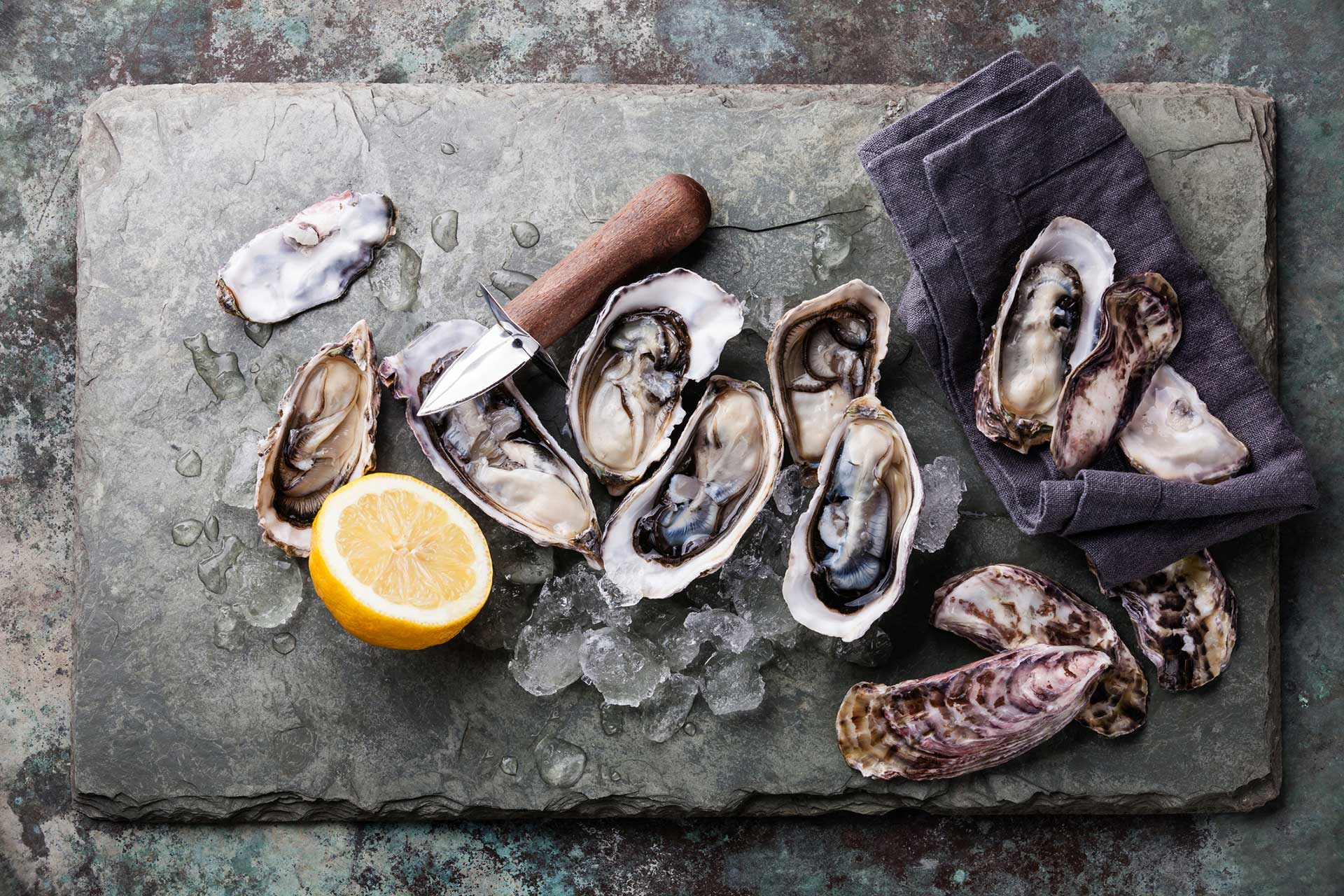 Le Grand Large is where to grab a window table and luxuriate in the sea views while sipping wine and eating tastebud-tickling food. Their shrimp skewers with citrus are super-delicious as is their homemade fish soup with garlic croutons and cheese.  Meat eaters could do worse than opt for the beef tenderloin with pepper sauce and chunky homemade fries.
Forego breakfast if you intend to lunch at Le Bistrot des Halles, near the covered market.  Portions are huge, waiters are pleasant and the food is well cooked and tasty.  If you order crème brûlée, it is flambéed with a flourish at your table. Bon appetit!
Stay
For a touch of class Hotel Spa Pasino is the place to go. As well as a trendy brasserie serving fab food, there is a sauna, steam room, hammam, indoor pool, beauty salon and gym.  Those who like gambling will enjoy visiting the hotel's casino.
Boutique Hotel Vent d'Ouest directly opposite St Joseph's church has a restaurant just made for relaxing, a small spa and super-comfortable, individually designed rooms.  This hotel gets top marks for being friendly, chic and cosy.
For further information on Le Havre and Normandy visit lehavretourisme.com and normandy-tourism.org.
Brittany Ferries has two daily sailings from Portsmouth to Le Havre. Journey time is 5½ hours (day) and 8 hours (overnight).
---