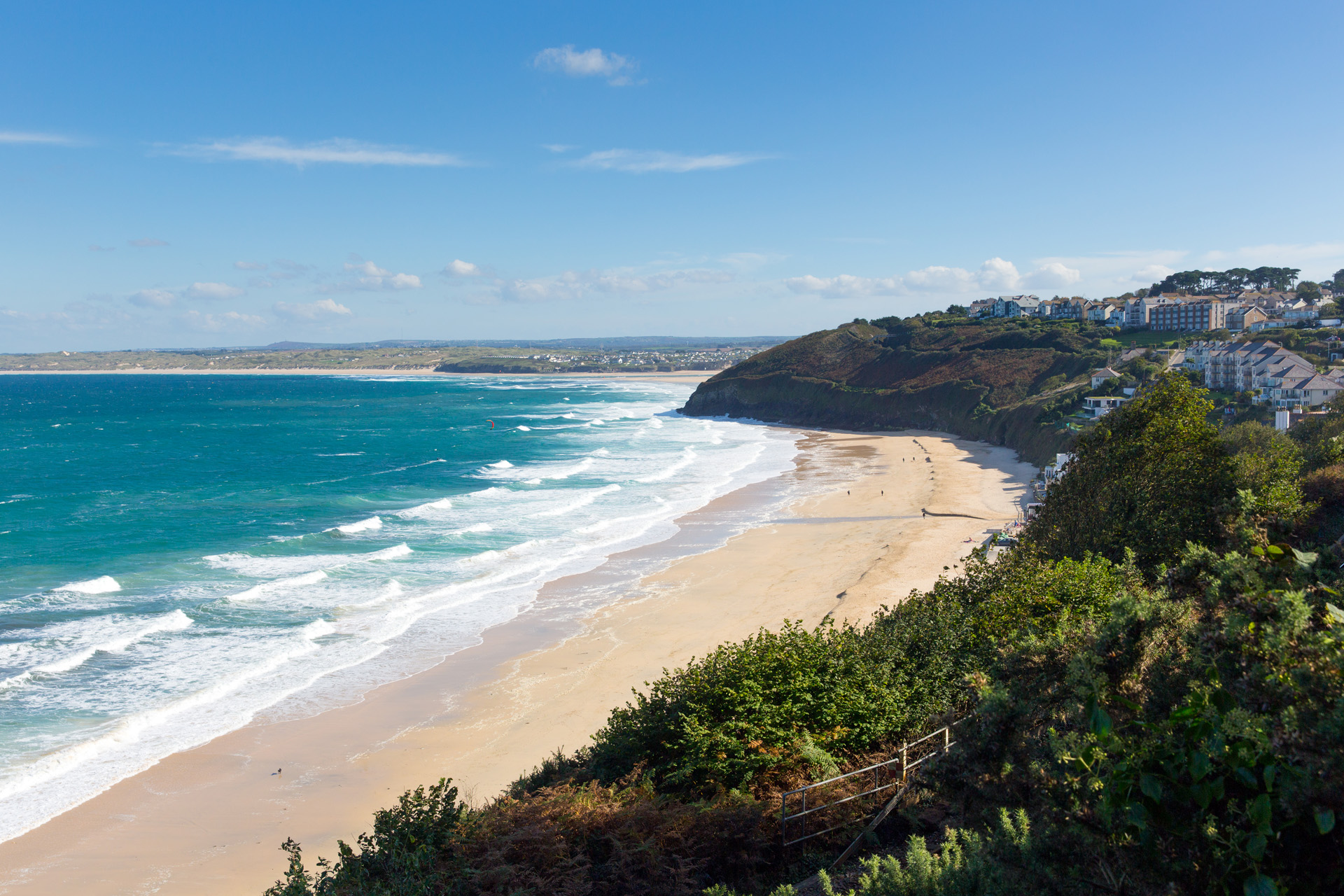 The Most Beautiful Beaches In Cornwall To Add To Your Bucket List
---
We do love to be beside the seaside...
There are countless reasons to take a trip to Cornwall, with magnificent beaches definitely near the top of the list – though many of these are perilously overcrowded in the summer months. But Cornwall in autumn is equally magnificent – here are some gorgeous beaches in Cornwall to visit if you make the trip – now, or for your bucket list next year.
Read the C&TH Responsible Tourism Guide
The Most Beautiful Beaches In Cornwall To Add To Your Bucket List
Porthcurno Beach, Land's End
Meaning 'pinnacle cove', Porthcurno is a pretty village with a secluded beach, 2.5 miles south east of Land's End and situated on the South West Coast Path. With a turquoise sea, soft white sand and shelter from the surrounding cliff faces. Nearby, make sure you visit the spectacular open-air Minack Theatre, perched on the cliffs. Look familiar? Porthcurno (alias: Nampara Cove) was used as a filming location in Poldark.
Summerleaze Beach, Bude
Contrary to the name, Summerleaze is buzzy year-round due to its close proximity to the popular Bude. With a wide sandy beach and stretch of ocean with bobbing fishing boats, it's not hard to see why. Setting Summerleaze apart from other beaches in Cornwall, it has a 1930s sea pool hidden at the foot of the cliffs. Part man-made, part natural rock pool, the saltwater pool is completely submerged at high tide, but emerges triumphant at low tide, filled with fresh water.
Polzeath Beach, St. Minver
On Cornwall's Atlantic coast, Polzeath beach is spacious – with plenty of golden sand ideal for sandcastle building and hole digging – and a hotpot for surfers. Wildlife lovers should beeline here: dolphins are some times spotted among the glistening waves.
Kingsand Beach, Rame Peninsula
This small, shingle beach on the remote Rame Peninsula backs onto the pretty Kingsand village with its iconic clocktower – built to commemorate King George V's coronation, and almost destroyed in 2014's winter storms. For most of the year, this sheltered beach is quiet, with plenty of rockpools, lovely views of Plymouth Sound and ships coming and going, and full of walkers pre- or post-drink at one of the nearby pubs.
Carbis Bay Beach, St. Ives
The idyllic Cornish village of St. Ives hosts its very own Tate gallery, a picturesque harbour and azure waters. Head one mile to the east to Carbis Bay (host of 2021's G7 summit) for the best of the best: calm Atlantic waters ideal for families and swimming, sub-tropical plants, and stunning views. Make sure you check into Carbis Bay Hotel for a private slice of sand.
Porth Joke Beach, Newquay
Accessible only on foot, Porth Joke beach (known locally as Polly Joke) is one of the best beaches in Cornwall if you're seeking seclusion, despite its close location to the ever-popular Newquay. A 15 minute walk from the nearest carpark, traverse over grassy headlands to this deep cove with caves ripe for exploring and plenty of rockpools, too.
Porthtowan Beach, St. Agnes
Rightly situated in an Area of Natural Beauty, Porthtowan Beach showcases the best of Cornwall's rocky coastline, with spectacular cliff views stretching long into the distance. Joining up with Chapel Porth's beach at low tide, Porthtowan is one of the loveliest beaches in Cornwall for a long walk on milder days, with plenty of space for family games of rounders, too.
Kynance Cove, Lizard Peninsula
A list of the most beautiful beaches in Cornwall isn't complete without the diamond in the crown: Kynance Cove. Loved by Alfred, Lord Tennyson and regarded not just as one of the UK's best beaches but as one of the most beautiful beaches in the world, Kynance Cove boasts fairytale scenery: white sand, mossy stacks, turquoise waters, and shimmering serpentine rocks. Make the most of it with the two-mile, scenic walk that takes you all the way to Lizard Point, the UK's southerly-most point.
Featured Image: Carbis Bay (c) Getty.