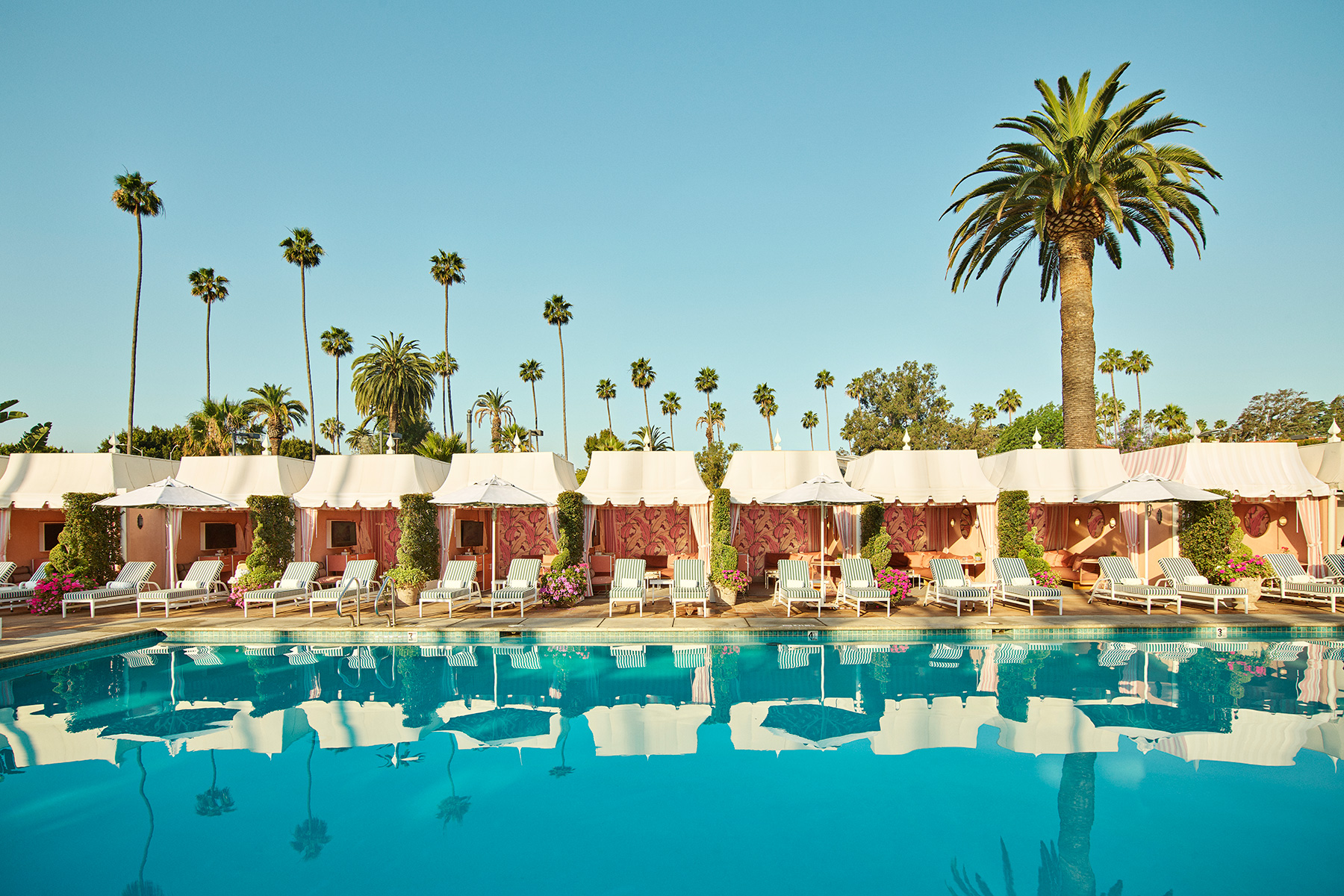 Check Out The New Poolside At The Beverly Hills Hotel
---
A new design inspired by old Hollywood...
The Beverly Hills Hotel is giving travellers another reason to put it at the top of their post-covid bucket list. 
It's the place where Frank Sinatra drank, Elizabeth Taylor honeymooned, and The Eagles were inspired to write 'Hotel California'. Now the iconic Beverly Hills Hotel – famous for hosting movies stars and millionaires since 1912 – has a chic new poolside celebrating old Hollywood glam.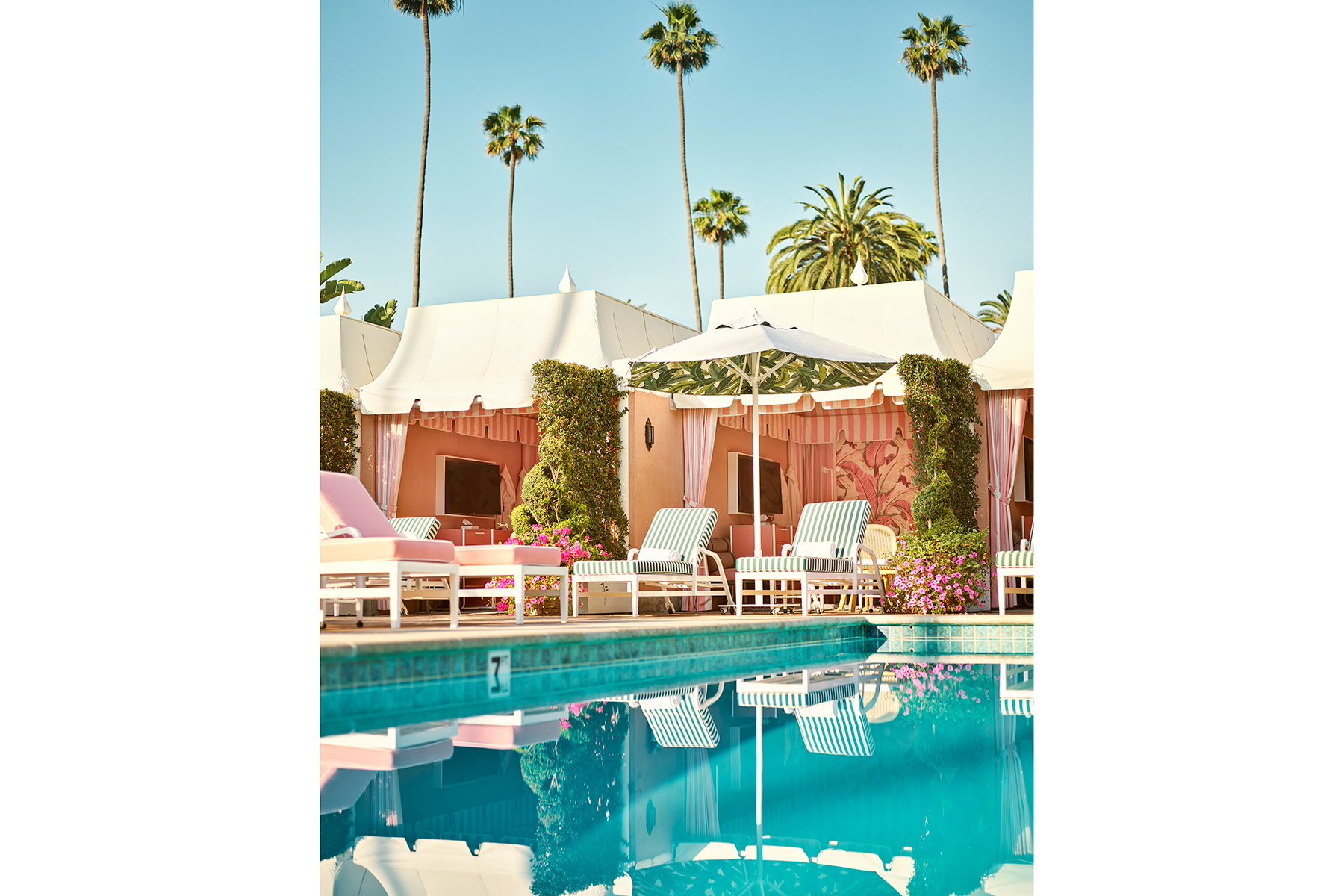 'The Pink Palace', as it is known, has teamed up with world renowned interior design firm Champalimaud to restore all eleven of the hotel's legendary cabanas. These poolside retreats – where Fred Astaire one read the morning paper – now feature the iconic Martinique banana wallpaper seen elsewhere in the hotel, and are open to a new generation of guests looking to relax in style.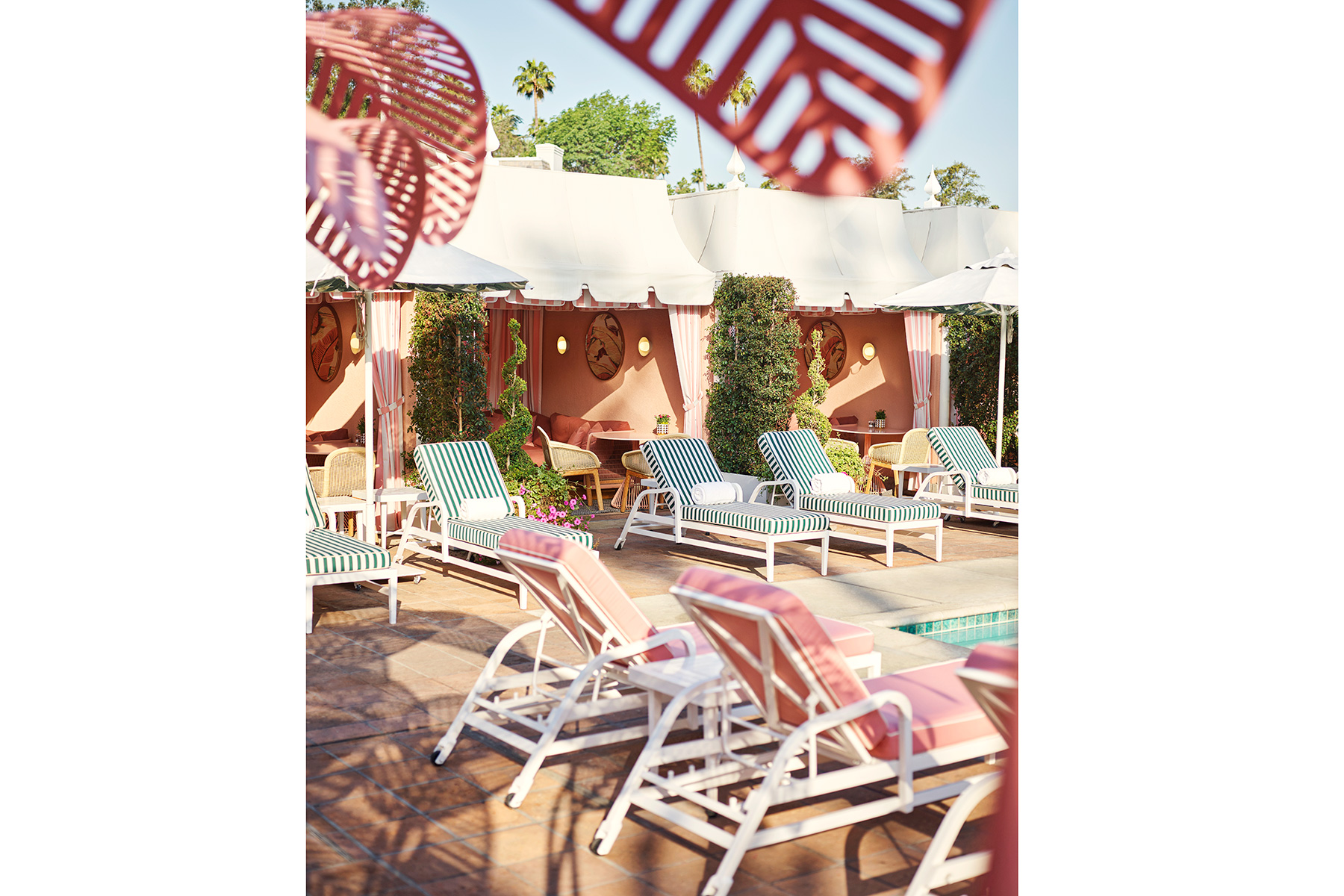 The wallpaper, with it's distinctive leaves, has developed a kind of celebrity status of its own. It hasn't been installed since the 1940s, when it was first used to decorate the hotel's hallways and Fountain Coffee room. Makers CW Stockwell dipped into their archives to design the new pink colourway especially for Beverly Hills' cabanas.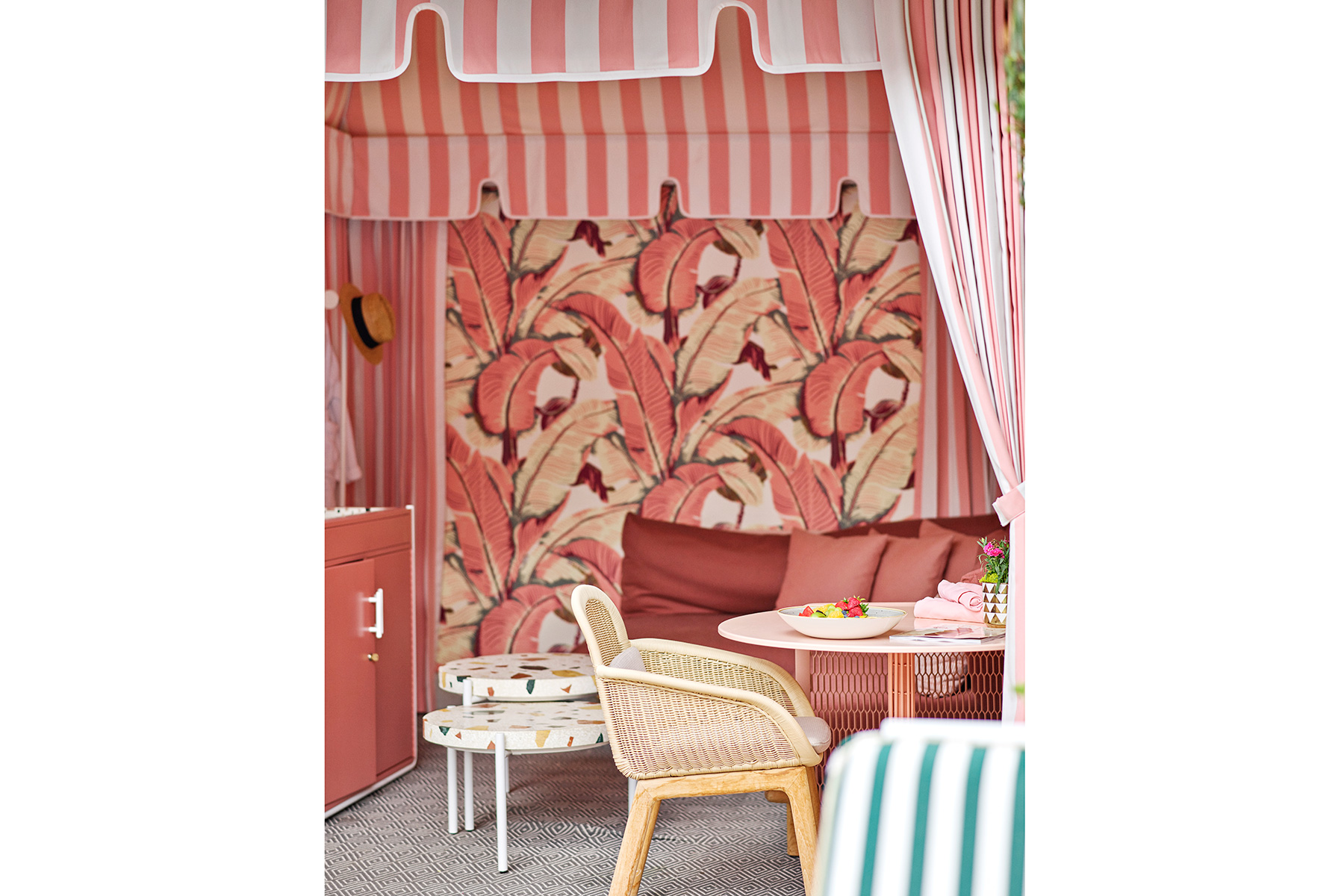 Alongside the new wallpaper will feature candy striped pink awnings, flat screen TVs, basket weave chairs, and peach furniture from local LA Designer Bend. The result? Old Hollywood glamour at its finest, and a fitting tribute to the hotel's mythology.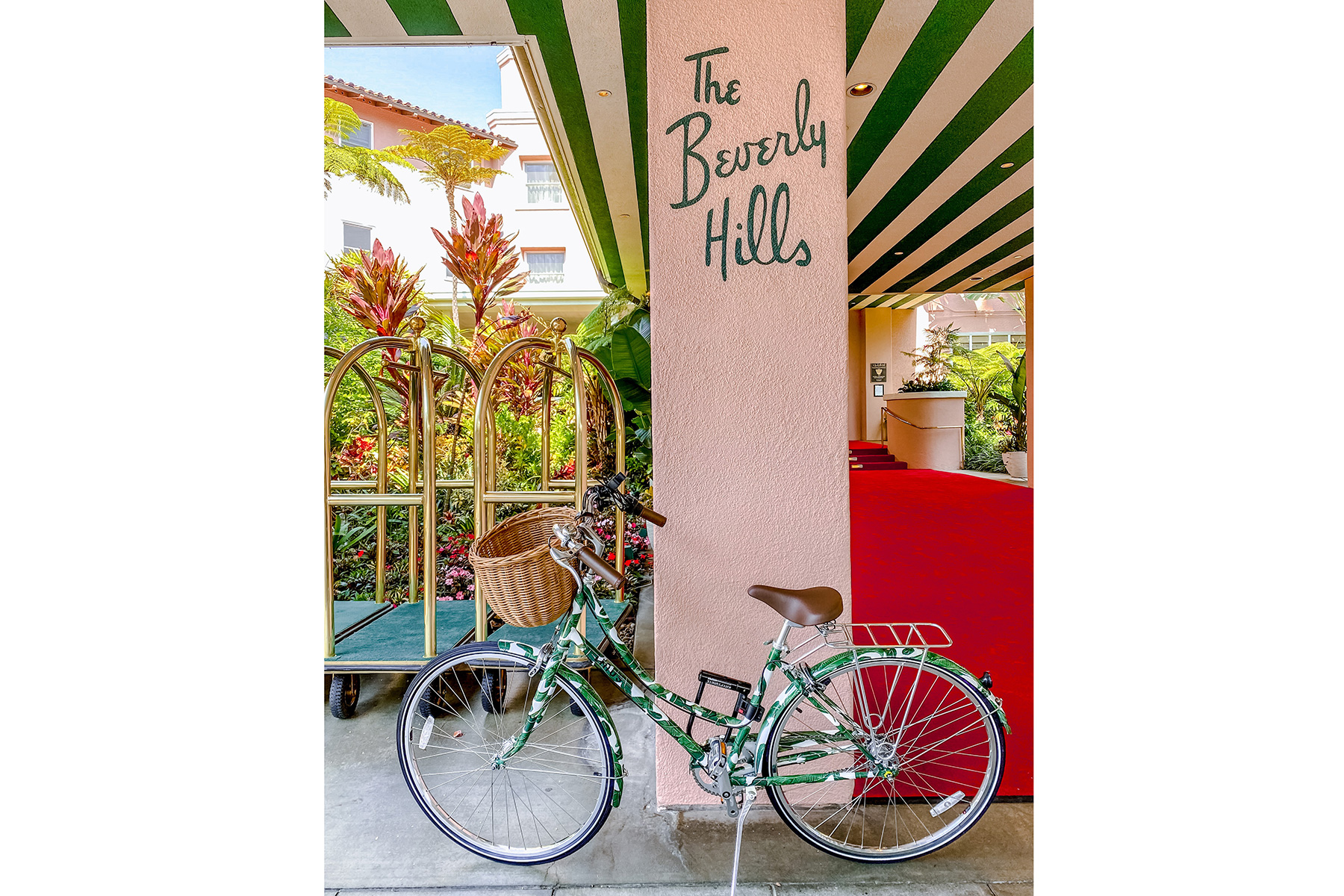 'What distinguishes The Beverly Hills Hotel from all other is its magic history,' said Alexandra Champalimaud, Founder & CEO of Champalimaud Design. 'Through time it has been the destination of movie stars and socialites, kings and queens. And there is a particularly strong culture around the swimming pool and cabanas. You sit with your family, surrounded by beauty and laughter, and you watch as the amazing show goes on.' Sounds divine.
The hotel has also introduced a new bike programme. If guests get bored of lounging around like Hollywood starlets, they can now hop on to the saddle of a bespoke Linus banana leaf bicycle for two hours a day, free of charge. For the avid celeb spotter, the bikes are also available to purchase in the hotel gift shop.
Book It:
The Beverly Hills Hotel pool and cabanas are open to hotel-guests from 7am – 10pm daily. To book, visit dorchestercollection.com
More:
Best Hotels in London  /  Best Lidos and Outdoor Swimming Pools in London / Hotels Are Back! (And There's So Much To Choose From)