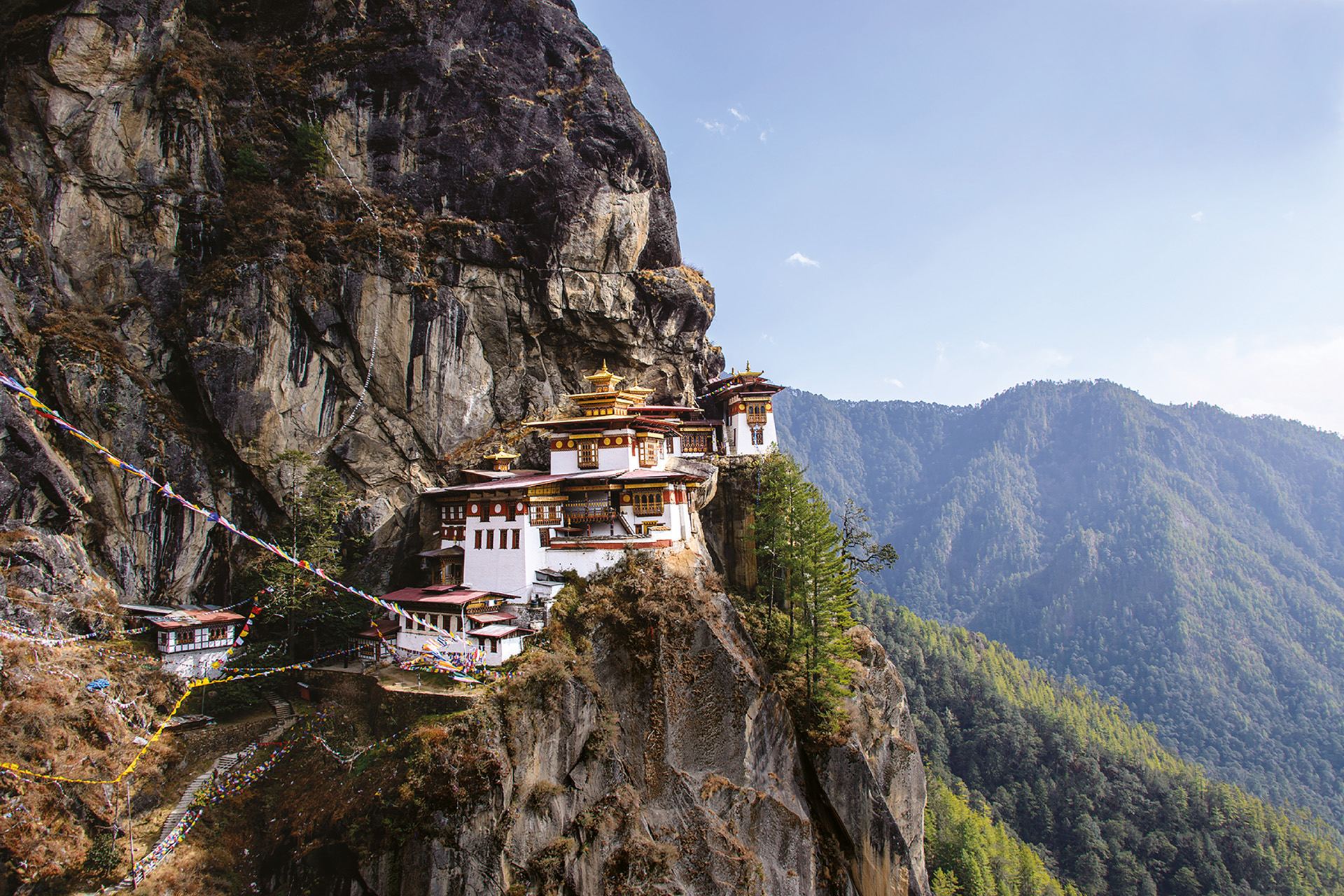 Bhutan: A Song of Old and New
Lauren Ho fulfils her dream of visiting Bhutan
Lauren Ho fulfils a dream of visiting Bhutan, a bastion of responsible tourism – and magically intoxicating to boot.
Read the C&TH Guide to Responsible Tourism
Bhutan: A Song of Old and New
Ever since my backpacking days, over 20 years ago now, I've been obsessed with visiting Bhutan. I remember standing in front of the massive world map I'd stuck to my bedroom wall and plotting my route throughout South East Asia when I came across this tiny landlocked country sandwiched between Tibet and India. Of course, this being the height of the Lonely Planet guidebook days, I immediately took myself to Stanfords, a wonderland of a bookshop in Covent Garden filled to the brim with glorious travel literature, guidebooks and maps, to find out more.
What I discovered only fuelled my desire to visit this magical place, with its alluring mountainous landscape and traditional Buddhist culture. What I also discovered is that the country prides itself on its sustainable approach to tourism where foreign visitors need to pay a daily tariff – sadly unaffordable for a backpacker on a shoestring budget.
Two decades later, my life as a travel writer finally got me to Bhutan. A short three-hour day flight from Bangkok, I was bursting with the thrill of this upcoming adventure as the morning sun streamed through my window and I watched, captivated, as we soared above the rifts, valleys and peaks of the Himalayas below.
Officially called the Kingdom of Bhutan, this postage stamp of a country is about six times smaller than the UK, with a population of around just 700,000 people. Arriving at Paro International Airport is like stepping back in time, the main terminal, a traditional building with its elaborately painted intricate woodwork, charmingly perched against a beguiling mountain backdrop. All the locals are dressed in traditional clothing – ankle-length kiras for women and knee-length ghos for men – including our guide Tashi and our driver Nima, who enthusiastically greet us by placing a khata around our necks. Silken in fabric and white in colour, Tashi explains this scarf is used for many reasons from welcoming someone to gestures of condolences. 'It is a multi-purpose expression of goodwill,' he says.
Settling ourselves into the back seat of their car, Tashi continues: 'The plan is to drive east from Paro to Gangtey and then to make our way back to Paro through Punakha and Thimphu.' Although only about 170km away, the drive is a slow four- and-a-half hours to Gangtey, owing not only to the 50km speed limit, but also to the winding roads that go up and down the mountains and along deep river-cut valleys. As we depart Paro, we motor alongside a dry, pebble-strewn riverbed and a landscape of soaring, rocky mountains lined with colourful prayer flags and dotted with stupas – commemorative monuments – and traditional villages. During the drive, Tashi chats leisurely about Bhutan, answering my many questions. 'Our political system is a constitutional monarchy,' he begins. 'The adult literacy rate is around 70 percent, but it is increasing as it is mandatory for all children to attend school now, and we have free education as well as healthcare.'
As we ascend and descend through the mountains, the weather and landscape change continuously, the higher regions a lush thicket of silver birch, chestnut and cypress trees, flecked with colourful magnolia, rhododendron and primrose flowers, the spring-like appearance at odds with the sharp mountain air and intermittent rainfall.
At 3,000 metres, Gangtey is the highest point of our trip and the altitude is immediately apparent on our arrival at Six Senses, as we breathlessly climb the stairs to the lodge. Perched on the western slopes of the Black Mountains, the property is a cosy and calming timber affair with just eight rooms and one two-bedroom suite, which has sublime views overlooking Phobjikha Valley and the mountains beyond. Here, people come to see the rare black-necked cranes as they arrive from Tibet during the winter season, but outside of that, the region draws you in with its incredible surroundings. One morning, with the fresh scent of pine wafting through the air, we set off on a gentle meander through the forest. As the early morning sun poured golden light onto the lush tree-cloaked hills before us, we passed by a sweep of farmland scattered with traditional homes, their ornate wooden window frames intricately hand-painted with colourful symbols and patterns. 'Art is part of daily life in Bhutan,' says Tashi. 'Traditional painting is one of the 13 arts and crafts of Bhutan, which also includes wood carving, calligraphy and bronze casting among others. There are only two schools that teach this – one in Thimphu and one in eastern Bhutan.'
The final stop of our journey was the loveliest. Back in Paro, after spending time visiting the fortresses – or dzongs – monasteries and Buddhist sites in both Punakha and Thimphu, we arrived at Amankora, where a short walk through a forest over a thick carpet of pine needles quietly reveals the lodge. Built in the style of a traditional dzong, the 24-suite property is hidden amid pine trees and flowing mountain streams on the edge of Balakha village with wonderful views of Jhomolhari, one of Bhutan's highest mountains. An atmospheric end to our Bhutanese trail, it is the ideal base from which to explore Paro, the local surrounding villages and of course Tiger's Nest monastery, the country's most iconic landmark.
And so, on our last morning, under a vast dome of sky thickening with creamy cumulus clouds, we set off on the four-mile round trip, slowly climbing our way uphill along a steep and craggy pathway through pristine pine tree forests and stretches of verdant flora. As the clouds started to disperse and beams of sunlight cut through the trees, we trekked further uphill, before finally catching a glimpse of this sacred 17th-century monastery, miraculously perched on the side of a cliff, 900 metres above the sweeping emerald-green valley below. Bar the odd tourist, the journey was a quiet one – I assume partly due to the tourist tariff recently increasing to $200 a day – giving us time to reflect on our time spent in this beautiful destination. A country like no other, it was isolated from the world until 1974, TV was only introduced in 1999, giant protective penises are painted on many houses, its national animal is the takin – a kind of hybrid between a goat and an antelope – and chillies are served as a main dish, rather than a condiment. It's a magical country that has preserved its traditional Buddhist culture, but far from being frozen in time it is a unique blend of ancient and modern that certainly gives pause for thought about its reputation as one of the happiest countries in the world.
BOOK IT
Red Savannah offers an eight-night package in Bhutan from £12,533 per person. Includes eight nights' accommodation: two nights at Six Senses Gangtey, two nights at Six Senses Punakha, two nights at Amankora Thimphu, two nights at Amankora Paro, the services of a private guide and driver throughout, daily activities, the daily Sustainable Development Fee, return international flights on Qatar Airways to Kathmandu and Drukair to Paro in Economy Class (+44 (0)1242 787800, redsavannah.com).
For more information, visit bhutan.travel