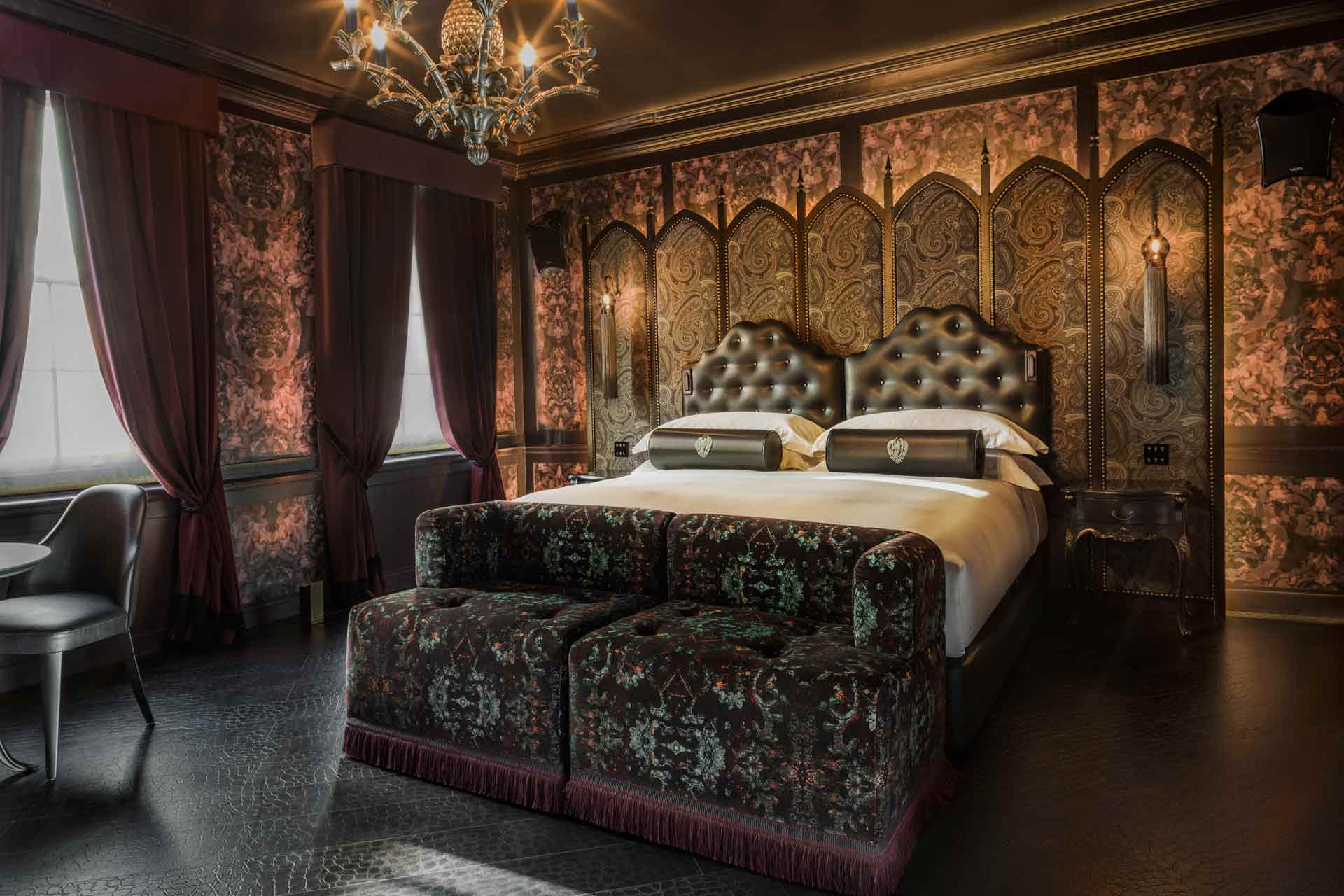 Chateau Denmark Review: The Hotel That Never Sleeps
We've found the ultimate London party pad (just don't expect to get any sleep)
It's notoriously difficult for a new London hotel to really make its mark, dozens pop up each year and only one or two cause a genuine buzz. But the rooms at the new concept hotel Chateau Denmark scream 'notoriety', with punk rock echoing through the buildings and reverberating from the street's famous musical past (with an after-shudder still humming across the Grade II listed building's single-glazed windows). So, what sets Chateau Denmark apart from the crowd? Almost everything, discovers Rebecca Cox…
Chateau Denmark Review
STAY
The rooms and apartments are scattered across Denmark Street to create a dotted boutique bolthole of 55 rooms, split between 'sessions rooms' of three tiers and standalone apartments in Grade II listed townhouses. Music is at the heart of the venture, staying true to the heritage of this famous Soho street, where the Rolling Stones recorded, the Sex Pistols lived and David Bowie imagined some of his finest creations. You won't find rooms like these anywhere else in London – at least, nowhere you can pay to stay. Taylor Howes was behind the ostentatious design, with statement furniture (think graffitied beds and blood-red bathtubs) elevated with a superlative attention to detail; skulled studs on the headboard, twisting reptilian cupboard handles, fireplaces carved with snakes and gargoyles. The All The Sinners apartment is an ode to The Rolling Stones' Sympathy For The Devil and is a dimly lit black and red boudoir with an enormous 'maxibar' stocked with premium liquors and champagnes in the same room as the equally huge bath tub. The wardrobe is styled as a Catholic confessional, but rest assured it contains nothing but space for your clothes and hair tools for touch-up.
Arriving at Chateau Denmark is also unlike any other London hotel; apparently there is a reception, but our stay started with a greeting from our BTLR (the Chateau's modern take on a classic butler service) Freddie in the street, dressed in purple tailcoat and generally an unmissable presence. Throughout your stay, you'll have a BTLR on hand to assist you with your every need, whether it's mixing a cocktail at your in-room bar (you should get out the tub for this) or popping out to source you some much-needed morning-after carbs before your departure.
DO
Speaking of 'morning after', let us return to the 'night before'. When in Soho, it would be rude not to immerse yourself in all that this lively borough has to offer, although bringing the party to you is a distinct possibility, too. If you're staying in one of the apartments, the bars are fully stocked for revellers, the TV is packed with outstanding punk party playlists and your BTLR is on hand to assist with drink mixing. You can buzz guests up to your room, and since the streets of Soho remain alive until the wee hours (with little in the way of noise insulation), an if-you-can't-beat-them-join-them approach is best. The hotel's on-site bar and music venue (underground and sure to be a big pull come summer) in the Now Building are yet to open their doors, but the outpost of the Chinese-inspired Tattu restaurant is now serving.
EAT
Alongside Tattu you have dozens, if not hundreds, of the city's most appealing dining venues to choose from on your doorstep, and you can always order in, if you can't bear to leave your temporary rock'n'roll crash pad. The maxibar is also stocked with a selection of premium snacks, stocked, we infer, to best accompany the booze-heavy in-room offering. With 30+ full bottles of liquor and an additional 30+ wine options, we wouldn't recommend drinking the bar dry, not least because the maxibar prices match the room rates. You can't put a price on a decent Soho cocktail though, and the service at Chateau Denmark is truly unbeatable.
THE FINAL WORD
There are hundreds of thousands of hotel rooms in London, and choosing the right one for you means examining what you want from your stay. A relaxing, restoring spa break? A sight-seeing central site? A West-London luxe bolthole? A trendy East London hang out? A decent night's sleep? You'll find none of these at Chateau Denmark, but it's not as simple as the noisy neighbourhood. These rooms and apartments were designed for rock'n'roll. Listening to rock'n'roll and soaking up musical history; for a taste of the rock'n'roll life itself. So, if you've ever dreamed of throwing a hotel party worthy of the Stones or dreamt of crashing the Sex Pistols' post-show revelry, check in to Chateau Denmark and live out your rock icon dreams. Just be sure to book a recovery hotel for the night after.
BOOK
Session Room rates start from £510 | Apartments rates start from £660 | Long stay rates are available on request | chateaudenmark.com
Enjoyed our Chateau Denmark review? Read our story about the opening