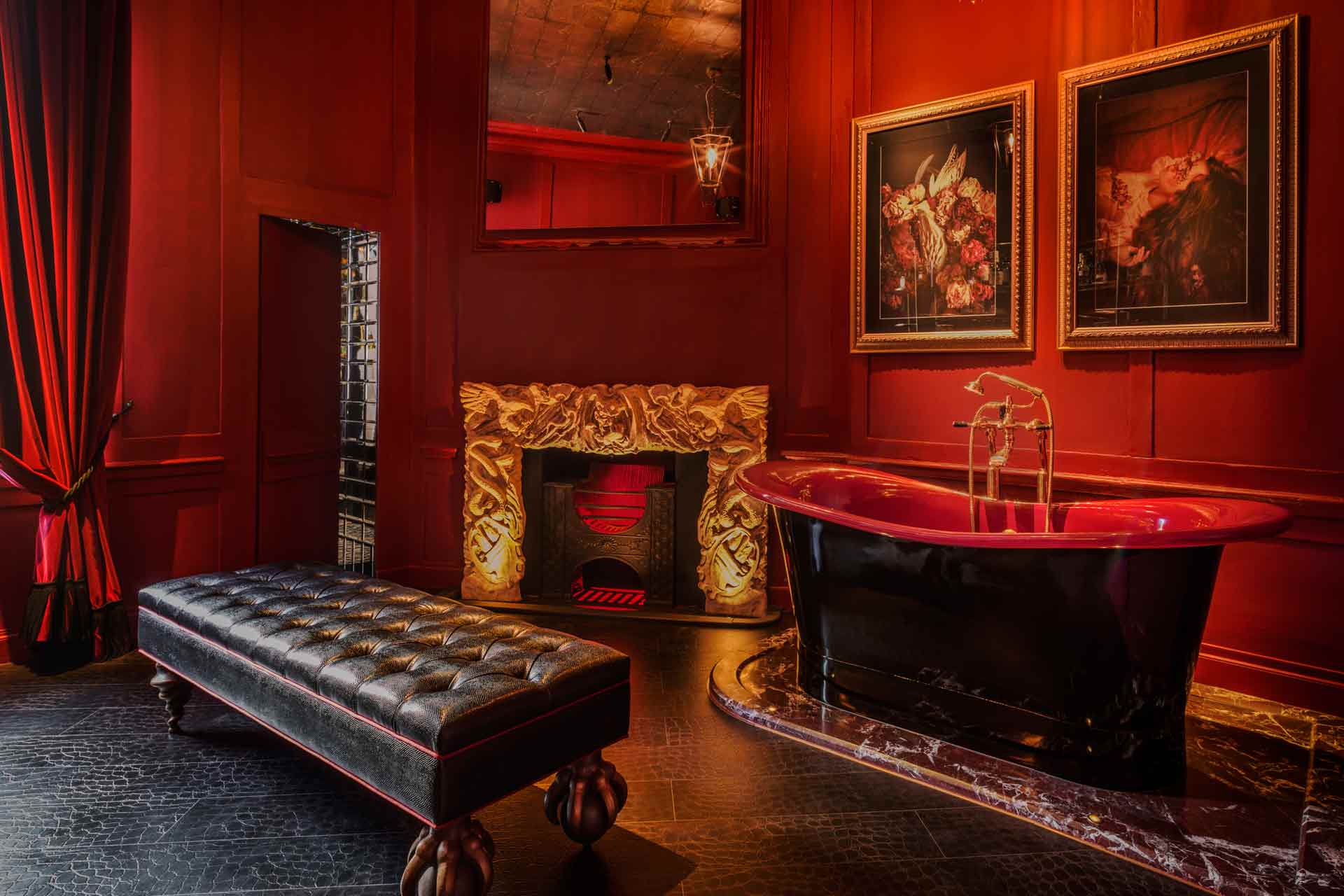 Will Chateau Denmark Be Soho's Most Rock 'N' Roll Hotel?
Sleep in the building where the Stones recorded their first album
This is not another chandelier-clad, marble-bathroom-ed, white-walled central London luxury hotel. Punk rock pulses throughout Soho's latest opening, Chateau Denmark, where vintage gothic meets modern psychedelia with interiors from the award-winning Taylor Howes. Intrigued? Here's what to expect…
Chateau Denmark, Soho
Opening on 4 April 2022, Chateau Denmark is a new and independent brand set across 16 buildings, with 55 Session Rooms and Apartments featuring distinct designs inspired by the rebellious spirit of Soho. Operated by Carrie Wicks' CAW Ventures with interiors from the award-winning Taylor Howes, the property will capture an old-world aesthetic bound with modern times.
Session Rooms in The Now Building, accessed through Denmark Place, will be tiered in Superior, Luxury or Deluxe categories. Think gold-trimmed, graffitied signature beds and full-blown psychedelia with bold colours and tactile rounded furnishings (relaxing, no?). Deluxe rooms will also feature a 'kitchenette maxi-bar', for ultimate entertaining.
Not grand enough? Check into one of the apartments, located in a collection of Grade II listed townhouses, a mews house and mansion buildings along Denmark Street. Starting from 35 sqm, expect original timber beams, dark panelling, a sculpted fireplace opposite the roll-top, red-lined bathtub on a marble plinth. There will be a full-size maxi-bar and concealed doorways leading to powder rooms along with paisley patterned headboards, plus narrow nooks and restricted door heights, retaining each buildings' heritage status. While long luxurious baths and cosy early nights amongst dark and sumptuous surrounding appeal, these rooms and apartments seem to invite debauchery; walking in the footsteps of rock 'n' roll greats it would be rude not to.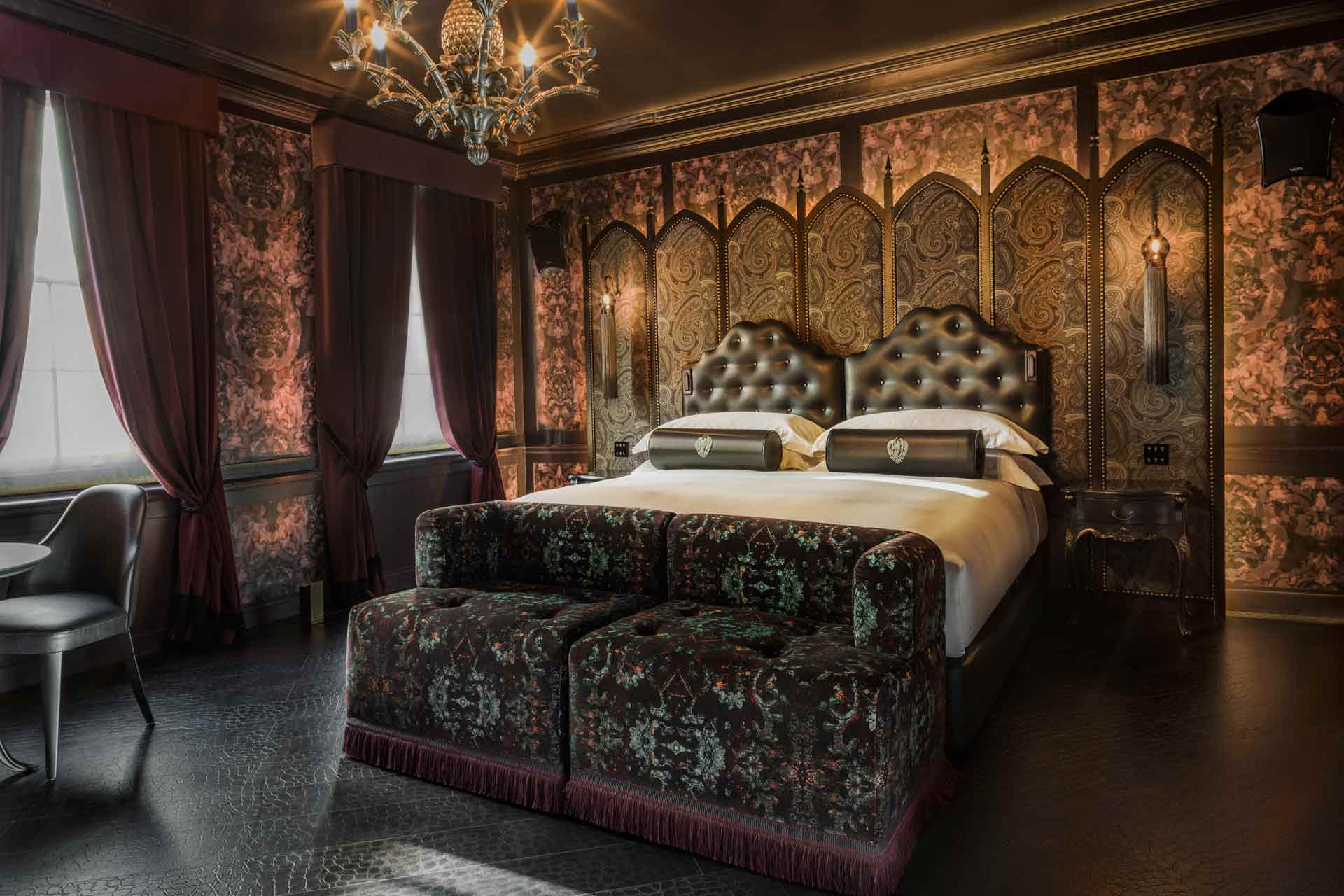 Music History
The apartments are housed in some of the buildings that helped change the course of the British music scene. Sleep in the building where the Stones recorded their first album, where Bowie hung out with Vince Taylor along with Lou Reed plus Chrissie Hynde and Vivienne Westwood have passed through.
The Now Building's top floor will be home to independent restaurant group Tattu's first London site, with cuisine inspired by traditional Chinese flavours and ingredients. Additionally, throughout 2022, Denmark Street will see the arrival of Chateau Denmark's lounge bar and basement club, plus a fitness and wellness space, shops, a recording studio and venues where guests will have privileged access to view, party, or perform at one of the three live spaces. Let the good times roll.
BOOK:
Session Room rates start from £510 | Apartments rates start from £660 | Long stay rates are available on request | chateaudenmark.com
The UK's Hottest Hotel Openings