Gilly Pickup travels to Kazakhstan, the land of snow leopards, garlic and the worlds coolest and quirkiest city, Astana…
It's the land where garlic and apples originated and is abundant in wildlife – red bears, snow leopards and antelopes all call this home. This is the world's largest landlocked country, a wealthy oil state and tourist-friendly. Its shiny, ultra-modern capital city brims with futuristic buildings. Welcome to Kazakhstan.
Full of Apples
First things first though, and for those who are not quite sure just where Kazakhstan is, it shares a border with Russia, China and some of the other 'stans' – Krygyzstan, Uzbekistan and a bit of Turkmenistan.
I had arrived in the country's former capital, Almaty – which means 'full of apples'. Framed by the jagged, snow-capped peaks of the Zailysky-Alatau mountains and close to the Chinese border, this is Kazakhstan's biggest city and the country's cultural and financial centre, with swathes of lush parks and broad boulevards. The city's historic heart, with its merchant houses and glut of old churches, is home to the Green Bazaar indoor market, a bustling hive of activity from morning until night. A dizzying array of food stuff is piled high on stalls – aromatic spices, nuts and dried fruits jostle for space beside yellow, orange and white cheeses, medicinal herbs and glossy, slightly honey-flavoured wild apples. Vendors are friendly and offer generous samples to taste, but when I try to take photos I am met with stern looks. I am told that photography inside is forbidden, a hangover from the days of Soviet rule.
But it's a different story when I venture inside the ornate, jewel box-like interior of the city's Russian Orthodox Zenkov Cathedral, where I can take pictures to my heart's delight. This golden-spired, wooden building is a colourful showstopper in the leafy surroundings of Panfilov Park. The park itself is home to a Soviet-style war memorial and eternal flame in memory of the regiment of Kazakh soldiers who fought to defend Moscow in World War II. Rather bizarrely it is a popular, trendy venue for wedding party photo shoots.
In the Mountains
Once I've got my bearings, I venture out of town one day to Medeo winter sports complex, whose name comes from Almaty's early settlers, an ancient nomadic tribe. Famed for its ice skating rink, the world's highest, it brushes the clouds at over 5,500ft above sea level. From here, gondolas trundle gently up the fir tree-clad slopes to Shymbulak ski resort; don't look down during the ride if you're not keen on heights. It's popular with visitors, even those not participating in any sports and buzzes with souvenir shops and restaurants. I choose a restaurant called Chalet for lunch. With friendly staff and mountain vistas, it proves the ideal place to mellow out al fresco in the thin sunlight while enjoying a lunch of thick, creamy lentil soup and a huge Caesar salad. Woolly blankets are provided to wrap yourself in if you're feeling chilly.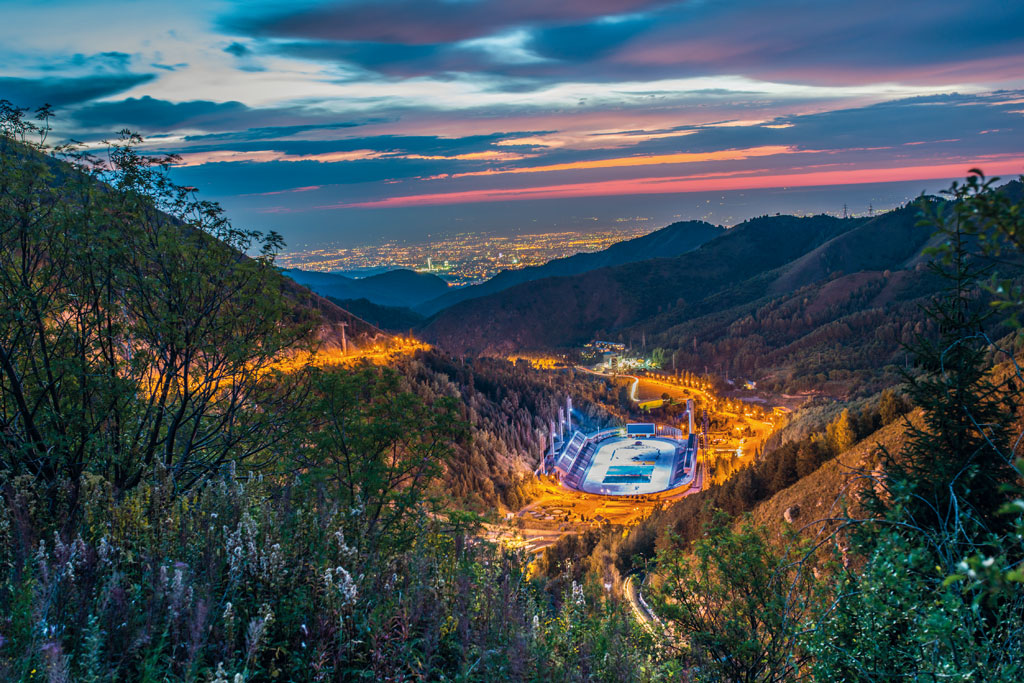 A one-and-a-half-hour flight away from Almaty lies Astana, Kakazkhstan's other significant city. Since 1997 it has been the country's purpose-built capital, along the lines of Canberra. It wasn't hard to find a name for it – in the local language, 'Astana' means 'capital'. Peering from the Air Astana plane window, all I can see after Almaty disappears from view is flat nothingness, stretching into who-knows-where. Then, just as I begin to think I'll never see civilisation again, Astana rises from the barren steppe, making a brazen appearance with its wide, traffic-filled highways and oddly shaped buildings, some poking the sky.
British architect, Norman Foster, is responsible for some of the amazing structures here including the Khan Shatyr shopping mall and entertainment centre, a huge, transparent, tent-shaped structure containing a merry hub of shops, theatres, a monorail and restaurants. On the top floor it even has a beach resort, with swathes of sand imported from Dubai.
Shapes & Sizes
Another of Foster's works is the pyramid-shaped Palace of Peace and Reconciliation, a conference centre and home to an underground opera house. One hundred and thirty doves painted on the stained glass apex represent the number of nationalities living in Kazakhstan and because Astana's temperature ranges from 35°C-plus in summer to-40°C in winter, two sides of the pyramid are on roller bearings to allow for contraction and expansion. Some of the crazier buildings have nicknames, a towering yellow office block is 'the banana', while a circular blue building is 'the dog bowl'. The Bayterek Tower, designed by the country's president, Nursultan Nazarbayev, resembles a 300ft high football trophy. Only in Astana.
But if you tire of city life, Kazakhstan's wide open spaces, mountains, deserts, lakes and the largest dry steppe region on earth are just crying out to be explored. The Tamgaly region is where the distant past pops up with thousands of Iron Age rock carvings, while the Baikonur Cosmodrome in the country's south is where first ever spaceman Yuri Gagarin was launched into space in 1961. Akzhayik Nature Reserve, a wetland habitat for migratory birds, is home to pink flamingos, pelicans, spoonbills and ibis while the river delta hosts the endangered Russian beluga sturgeon, sought-after for its caviar eggs. Kazakhstan's abundant wildlife also includes the Steppe Eagle, a symbol of the country which appears on the national flag.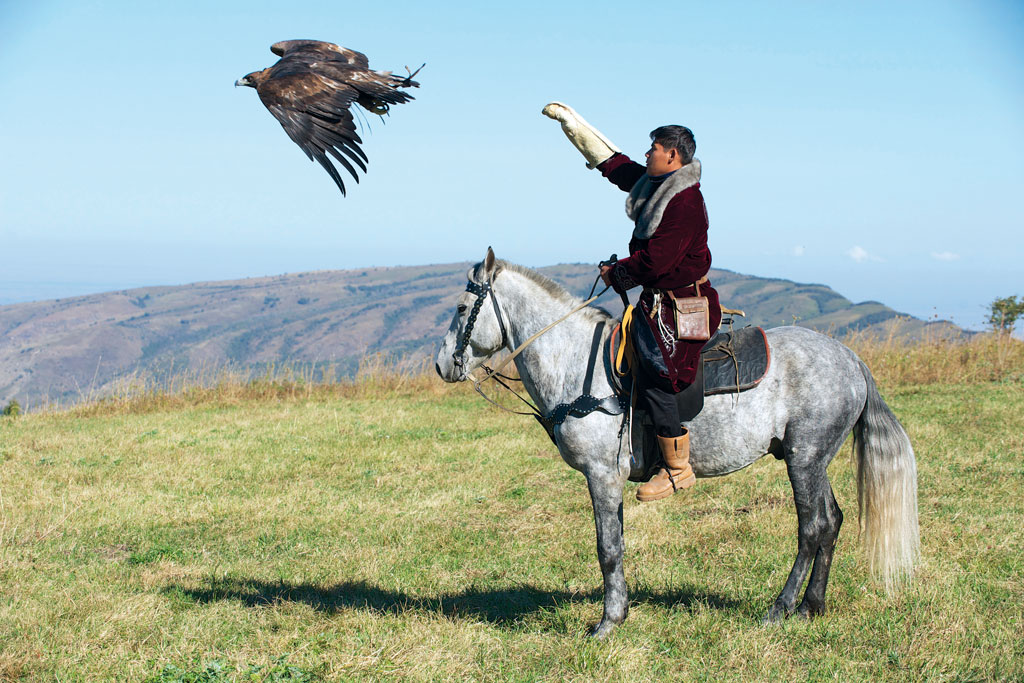 This unique, friendly country is so vast that several visits are necessary to make even a dent. During my short stay, I only managed to skim the surface which, of course, provides me with another reason to return.
Book It
Air Astana offers direct flight from Heathrow Airport from £495 return. Air Astana Holidays can add stop-over transfers and accommodation to make up a complete package. Three nights in Almaty and three in Astana with flights from London, transfers and hotels on a B&B basis costs from £816pp.
MORE TRAVEL: The C&TH Guide to Jaipur | 48 Hours in Copenhagen | A Local's Guide to The South of France
---