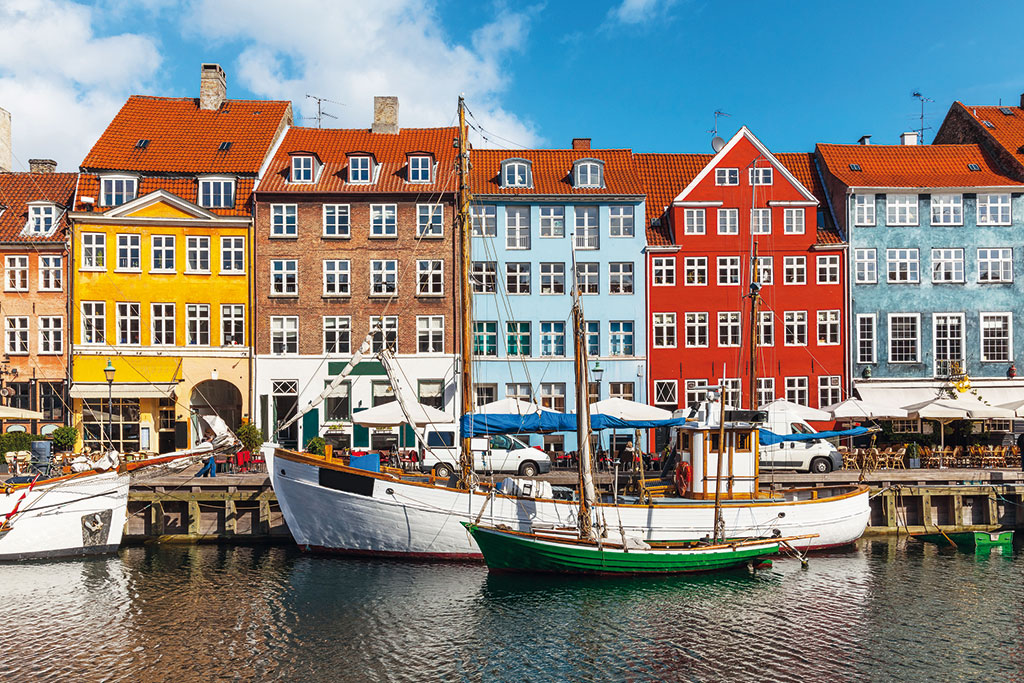 The Weekender: 48 Hours in Copenhagen
---
Pack cashmere and credit cards for a coolly glamorous and green winter weekend
Copenhagen has fabulous food and design at its coolly beating heart, say Mary Lussiana and Caroline Phillips
Copenhagen Travel Guide 2022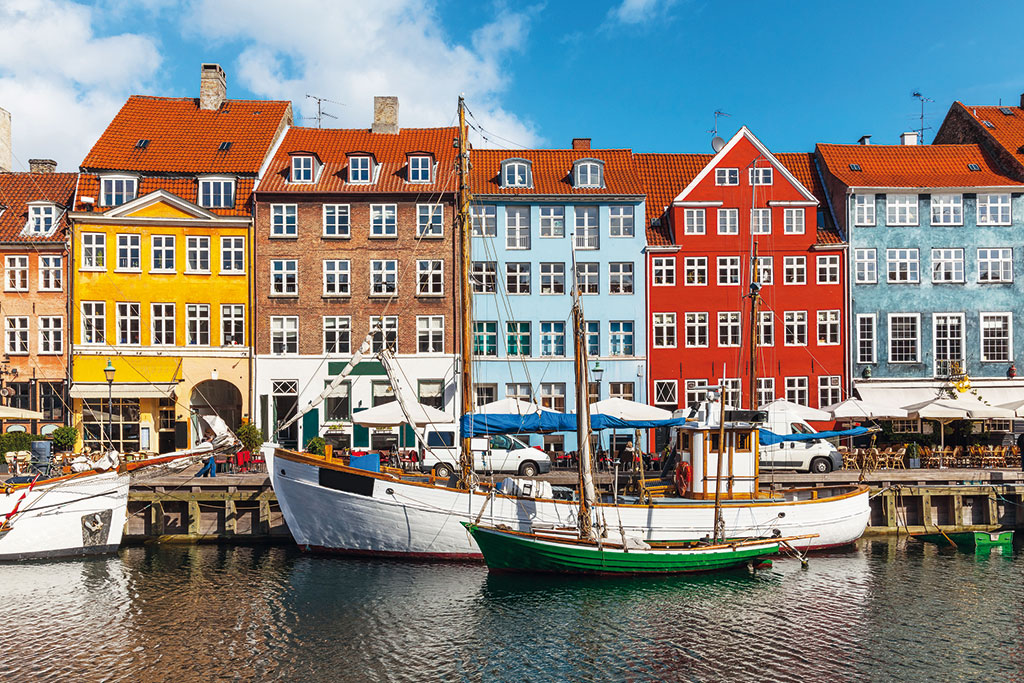 Spring seems like the perfect time of year to explore Copenhagen, best seen on foot or by bike, leaving the newish City Circle Line loop of the metro, a decade in the making, for residents who see the city's beauty all the time. Although, as Ingrid, who had recently moved there told me, 'I still feel like I am seeing Copenhagen properly for the first time, as high green walls covering the construction cloaked so many of its finest squares and palaces for so long.'
'The last decade has also seen the whole city being re-orientated towards the harbour,' New Zealander Jeni, a writer now based in Copenhagen told me over coffee at the imposing Villa Copenhagen which opened in 2020. 'The harbour has been cleaned up and the Inner Harbour Bridge constructed near the coloured houses of Nyhaven to connect to the island of Christianshavn and beyond.  It took so long to be completed that its nickname of 'The Kissing Bridge' (allotted because its two sides meet) became 'The Missing Bridge'.
VISIT
Nyhaven is a good place to start, especially if the sun is shining on the 17th century, multi-coloured merchant's houses making them look their photographic best.  Hans Christian Anderson wrote his first fairy tales on the 'shady' side of the canal at no 20 (such a cold house in winter that his landlady's children poured water on the floor to make ice slides) but moved to the sunny side to spend 20 years at no 67.  At the end of the canal is the palatial 17th century Kunsthal Charlottenborg which hosts contemporary art exhibitions. The typically patinated copper roof is part of the DNA of Copenhagen.  But for an art fix, journey outside the capital to the Louisiana Museum of Modern Art which sits in a beautiful landscape on the shores of Humlebæk. It has an extensive permanent collection of modern and contemporary art covering the last 70 years.
STAY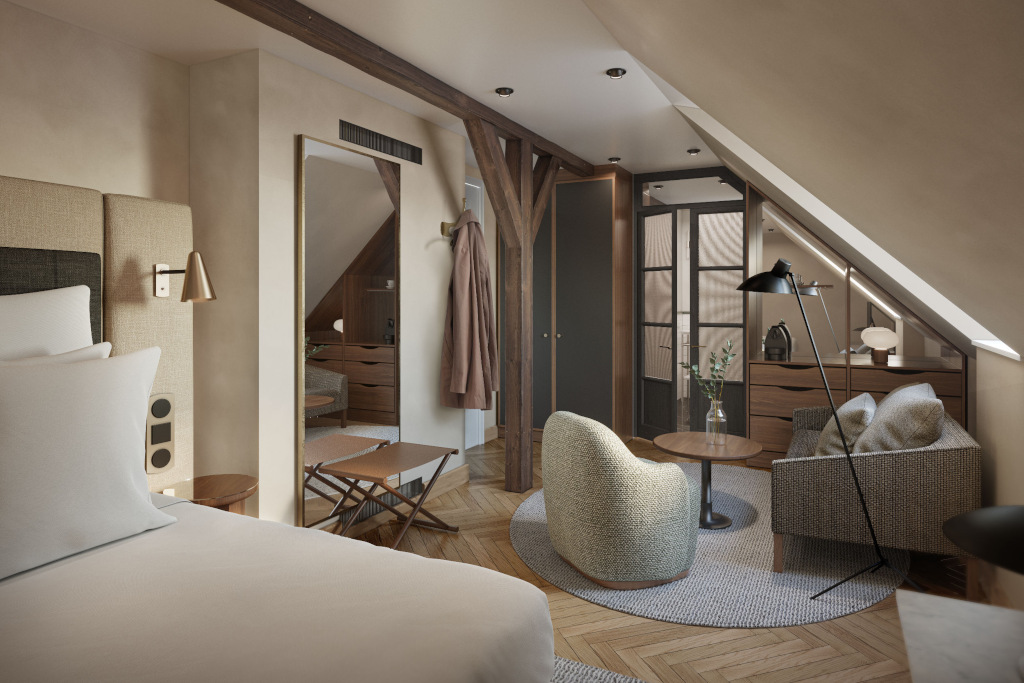 Opened in 2020 the Villa Copenhagen was built in 1912 as the Danish Post and Telegraph Office.  Its grand, red-brick, neo-baroque façade looks across to the Tivoli Gardens and the vibrant cocktail bars of Vesterbro beyond.  Upstairs, 381 rooms, courtesy of London-based Universal Design Studio, are essays in spartan Scandi-chic with their white-on-white décor, high ceilings, wood detail, perfectly placed lights and seriously comfortable beds under pictures by Bente Stokke, whilst seekers of luxury should opt for one of the nine suites. Bathrooms come with herringbone floors, power showers and SKOG, calm of the boreal forest lotions and potions whose aroma conjures up the pine needles, fir cones, and birch sap scents of the Danish landscape.  A sleek rooftop pool is the icing on the cake.
Alternatively, there's Hotel Sanders, opened in 2018 by the dishy, former prima ballerina, Alexander Kølpin who converted it from three townhouses into one elegant gem of a hotel not far from picture-postcard Nyhavn. The atmosphere inside is warm and calm; the design a mix of Danish and Asian with rattan, bamboo, wood and earthy textures and colours and appeals to those who love a Soho House type vibe.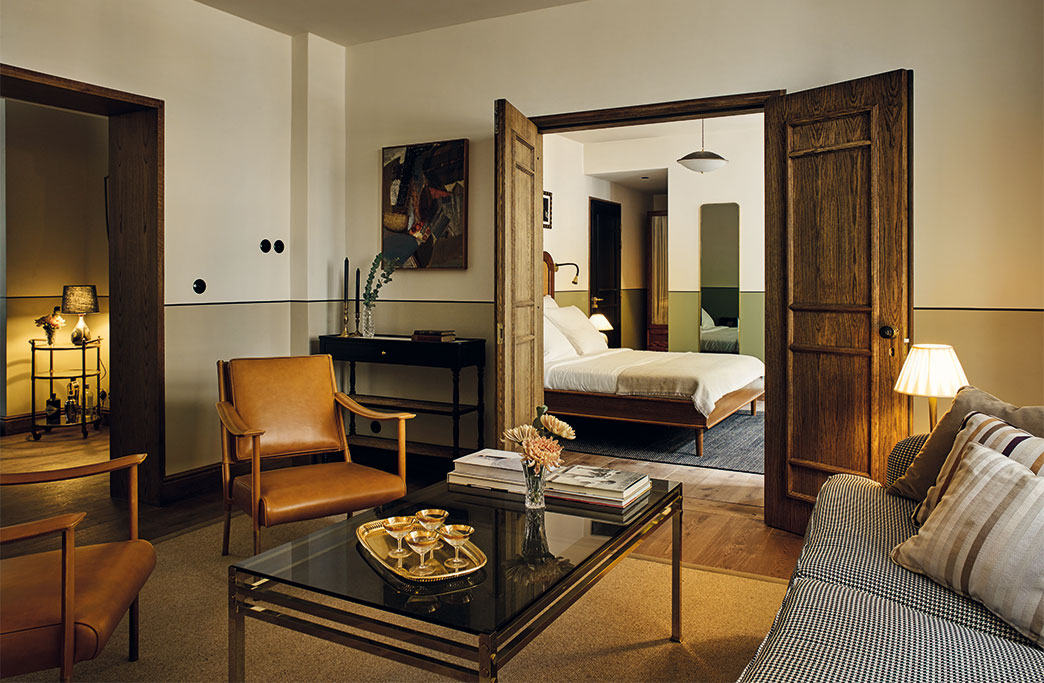 EAT
Copenhagen is the ultimate city for foodies with no shortage of Michelin-starred or San Pellegrino's 50 best restaurants to indulge in but also hip coffee bars and enticing little bakeries which seem to be on every corner – don't miss the street food market on Paper Island, every stall offering something mouthwatering. The ooh-ah two Michelin star AOC restaurantaoc.dk is a must, and worth a book rather than a paragraph. The restaurant's located in a historic mansion's cellar vault with big contemporary art. You'll snack on reindeer moss from Iceland dipped into fermented cep through to lamb tartare with pickled ramson flowers sandwiched in crispy panko. Then launch into the theatre of the meal proper, with waiters grating Iceland wasabi on shark's fin and offering picture-and-taste-bud perfect dishes, sometimes from an ice cup or a nest of hay. Expect a three-hour bravura performance and super slick service —and just leave tummy space for the sublime parfait of rhubarb and rosehip. Don't miss the carefully chosen, interesting wines, and the carrot with thyme and redcurrant juice is to die for. 2000DKR a head (around £243).Do eat at BARR on the waterfront (the original venue of NOMA), which serves what they call 'Northern Sea Cuisine', think glazed cod tail with pickled flowers, in cosy surroundings with an outstanding beer menu.
But whatever you do don't miss a visit to Jordnær where Chef Eric Vildgaard delivers pitch-perfect cooking. The dazzling 18 courses that danced out of the kitchen had me trembling in anticipation on the edge of my seat in a similar fashion to a Nordic Noir but with a much more appetising subject matter. From the signature, deep-fried rosette waffle topped with caviar to the raw shrimps with wasabi and dill to the finish on a note of white chocolate it was a journey of pure inspiring pleasure, enhanced by charming Tina, Eric's wife who is a very elegant front of house.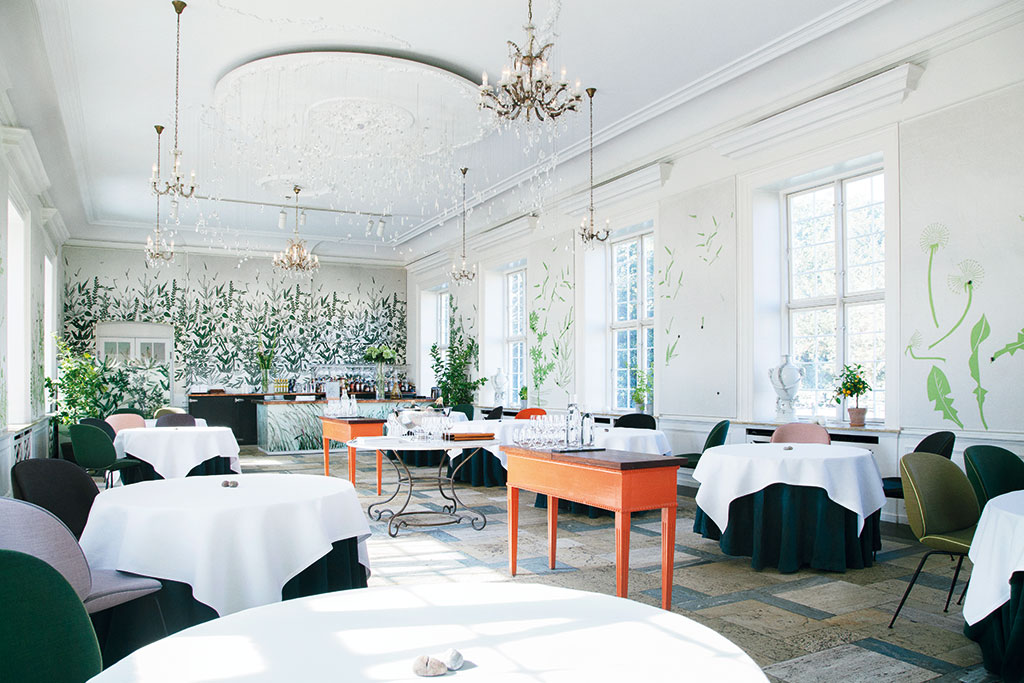 Mielcke & Hurtigkarl, where every beautiful dish is inspired by some element of the restaurant's Botanical Garden location, is also a place where you won't put a foodie step wrong.
DO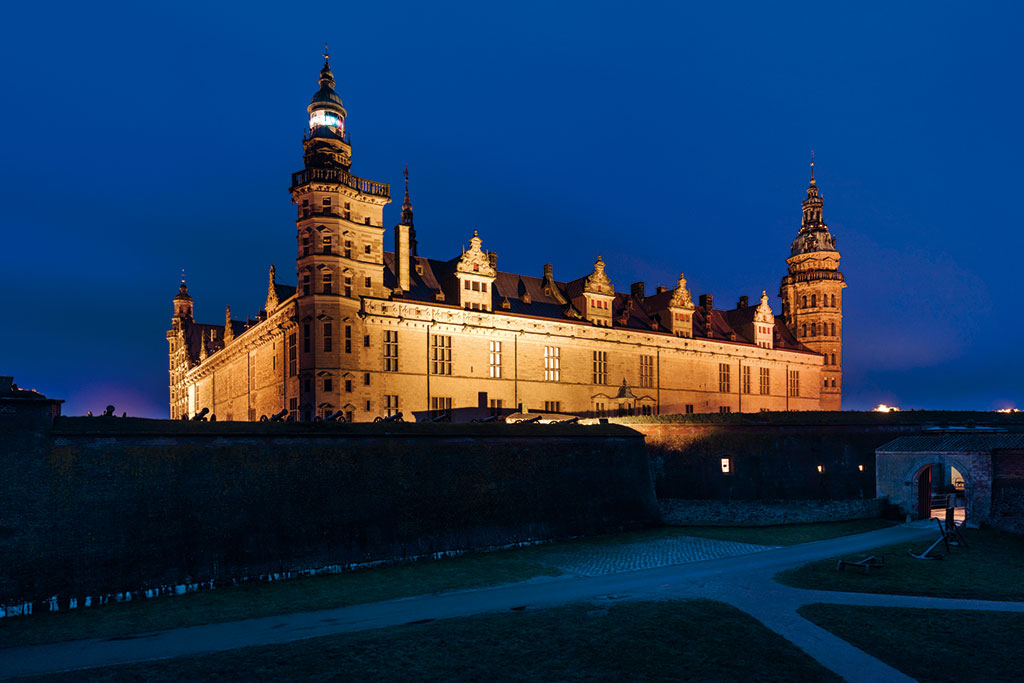 The Design Museum (reopening in June 22) is a triumph of Scandi cool – its shop and café are worth it alone. For an out of town trip, take a train to Kronborg Castle to visit Hamlet's mythical Elsinore. Whatever you do, jump on a bike (electric, if you don't fancy the workout); it must be one of the safest cycling cities in the world and you really are king of the road.
Book a bike tour with effervescent Phoebe at Nova Fairy Tales and you'll be getting a handle on the historic sites (the Royal Library's a winner) and everything from taxes (180% on a new car) to skinny dipping (cool to do it in the canal).Don't miss Hey Captain heycaptain.dk a relaxed and casual new initiative (the antithesis of big commercial boats with their multi-lingual commentaries): it's like boating with a mate. You'll learn from charming boatman Cameron about his pin-up, Queen Margrethe (who 'smokes 40 fags a day and speaks 12 languages') and see CopenHill, the capital's spectacular and innovative —the world's first —waste to energy plant that uses steam to burn. It's topped with a hiking trail and an artificial green ski slope that opened in time for the 19-20 season. The ski hill, designed by Bjarke Ingels Group, sits in the city's emerging Refshaleoen neighborhood. If you want to party (max 8 and take your own picnic) and to be your own tour guide, tiller a GoBoat (no licence required), and float anywhere from the Queen's castle, Amalienborg to hippy freetown Christiana. Built partly from recycled plastic bottles and powered by solar, water and wind energy, everything's silent as a taxidermy mermaid —unless you bag a spot at one of the company's waterborne concert performances. It's so small that you can zip (at 2mph) through areas other boats can't access.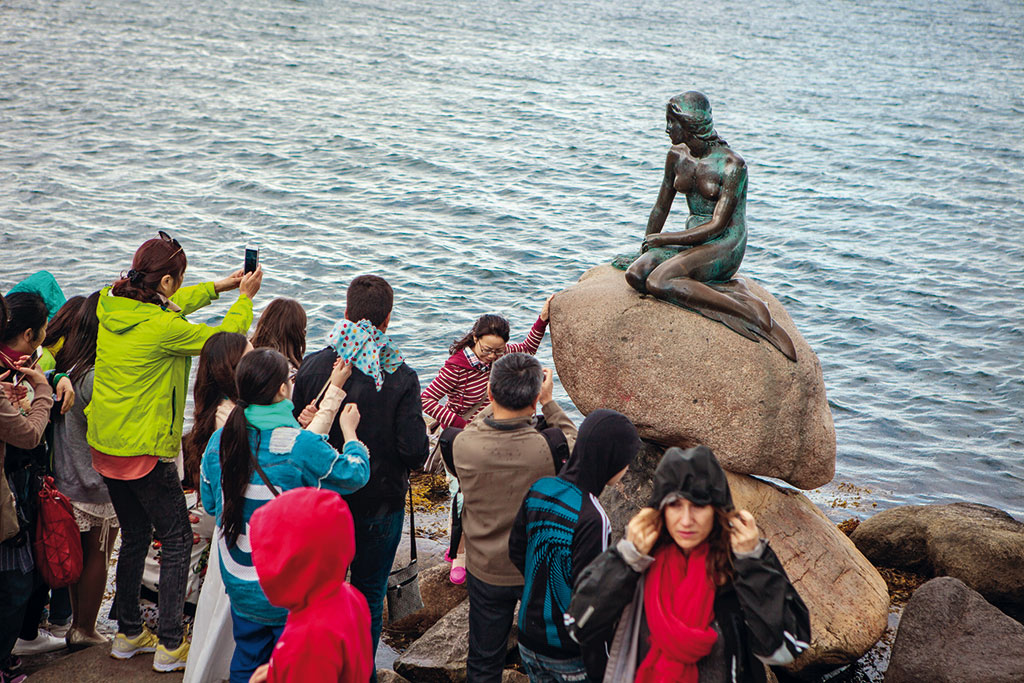 Plus, you can visit all the places you need to get to in 48 hours with ease, from the selfie opportunity with the Little Mermaid perched on the water's edge (smaller than you think but should be on your ticklist) to the second-oldest operating amusement park in the world, Tivoli Gardens for some retro thrills and spills.
BUY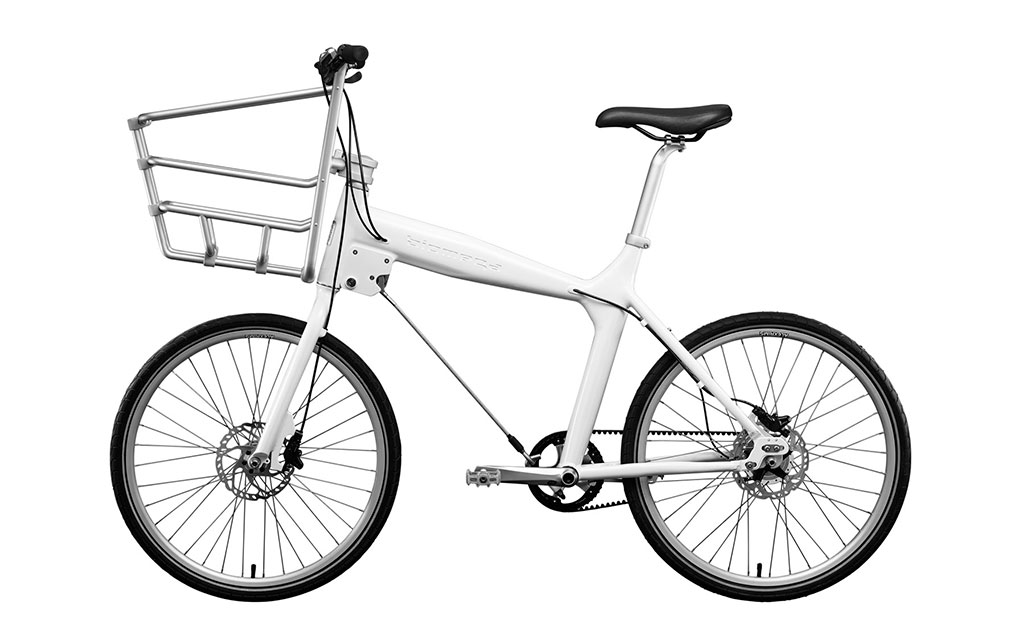 Copenhagen is famous for design and while the Design Museum is still closed for renovation there are plenty of shops where you can get a fix. Try Ilsum Bolighus and Hay House to see what is trending but lighting by Louis Poulsen, vases by Dottir and textiles by Elvang Denmark are all worthy of being brought home. There are also Ganni knits from the 'postmodern' outlet store on Christianshavn, Georg Jensen Torun bangles and if you really get into the whole biking thing, look up Jens Martin Skibsted's company Biomega for the sleekest in bike and accessory design.
READ MORE: 48 Hours in Corsica | 48 Hours in Amsterdam | 48 Hours in Florence | The Ultimate Paris Travel Guide: See, Eat, Do, Stay