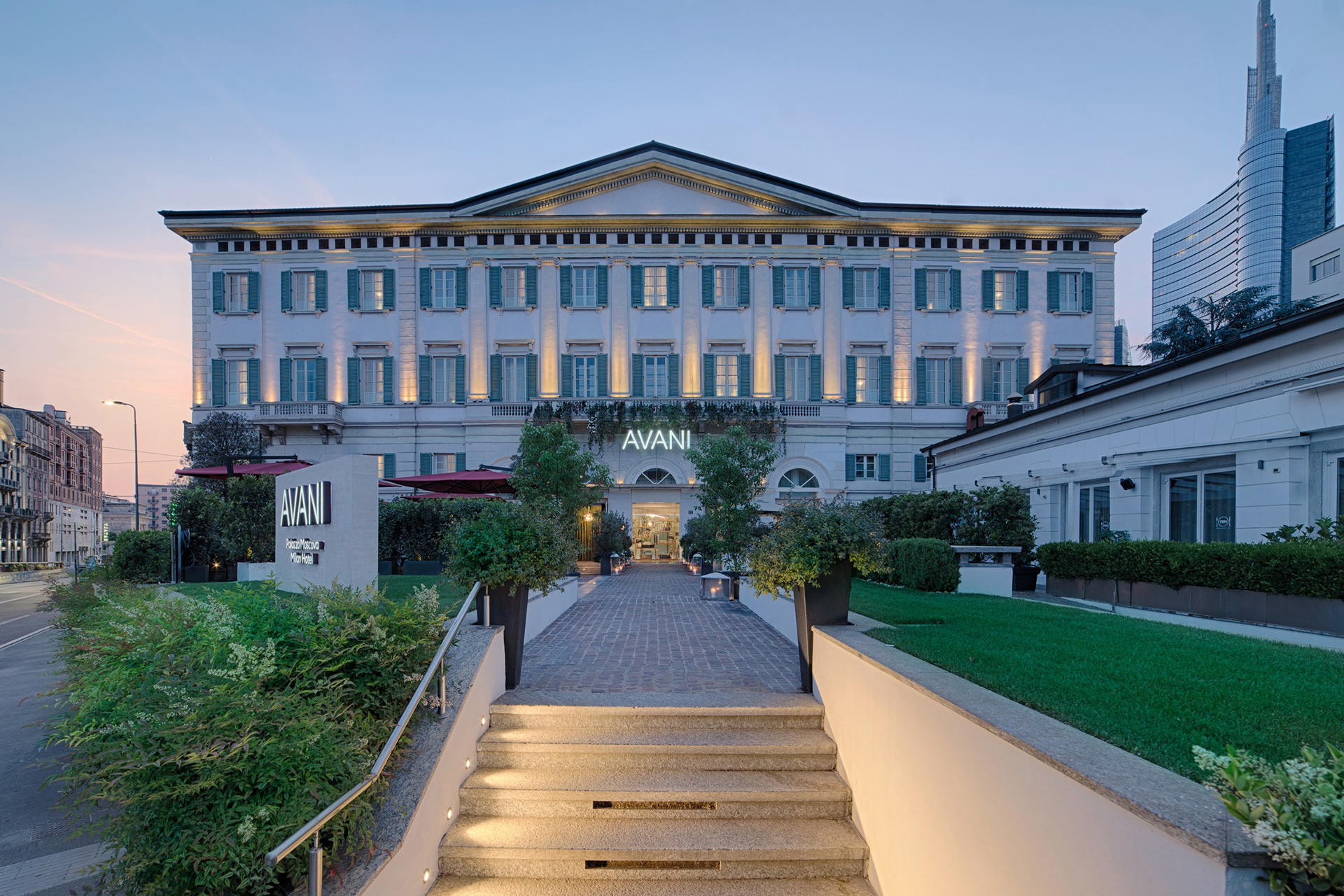 From Grey To Green: Milan's Burgeoning Eco-Credentials May Surprise You
Despite Milan's smoggy reputation, there are pockets of colour to be found
By Sarah Rodrigues  | 2 months ago
Cut through the smog and you'll find that Milan is a greener, brighter city than you might have expected, writes Sarah Rodrigues.
Read the C&TH Guide to Responsible Tourism
From Grey To Green: The C&TH Guide To Milan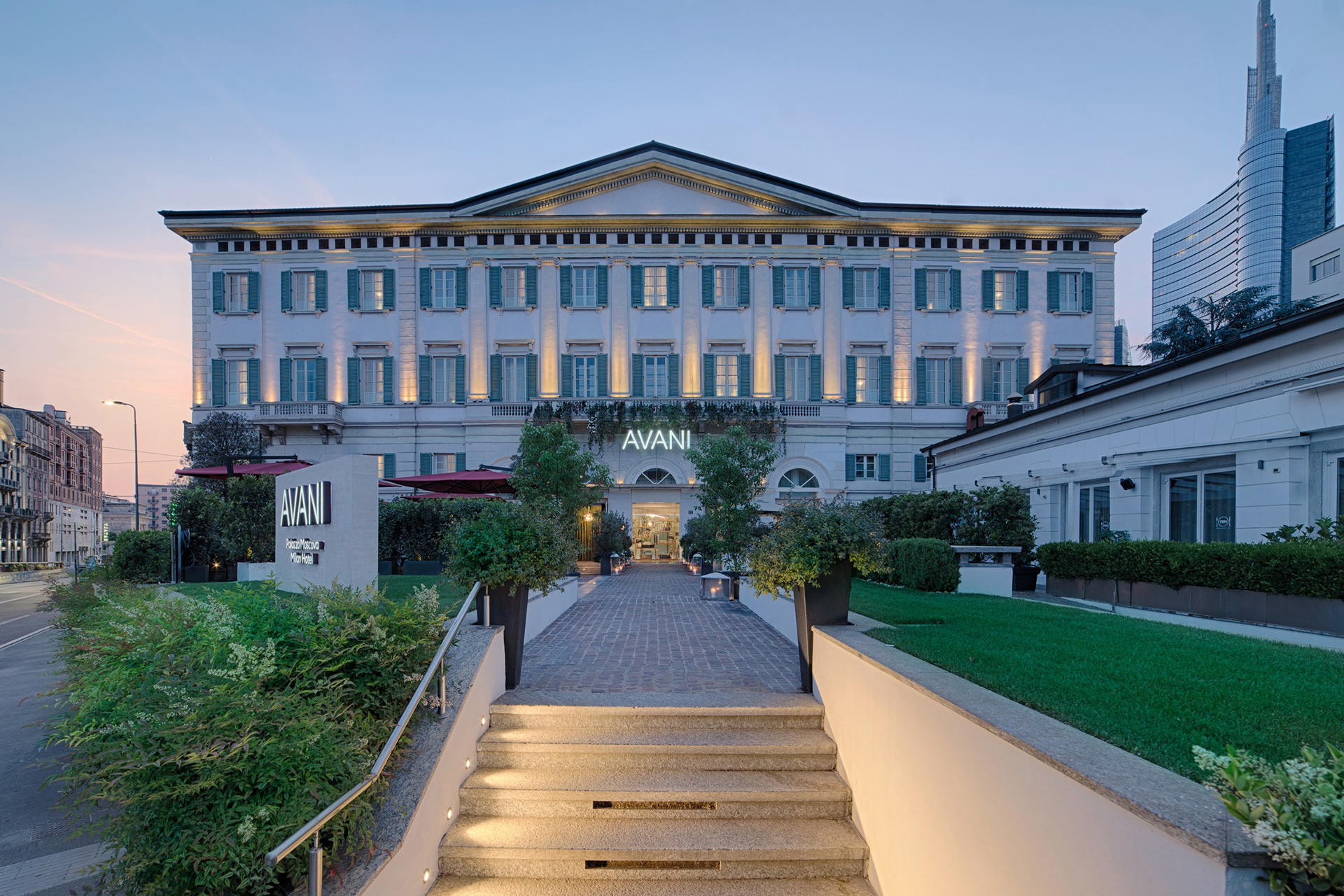 'Sometimes, nature wins,' smiles Federico, our impossibly dapper driver, who has been driving us around Milan in his lovingly restored 1971 Fiat 500. We're standing outside Villa Zanoletti, which is also known as Villa Mozart, thanks to the street – Via Mozart – on which it occupies Number 9. 
It's not just that the four-storey building, built in the 1920s, is enveloped in – indeed, almost obscured by – a thick  cloak of ivy, through which barred windows peek, appearing almost meltingly Dali-esque: it's also the undulations in the pavement, through which roots are slowly but determinedly forcing their way into the Milanese sunshine. 
Earlier on our drive, we'd gawped at the biophilic design of Bosco Verticale, a twin-tower project conceived and actualised by Stefano Boeri, along with Gianandrea Barreca and Giovanni La Varra of Boeri Studios. Completed in 2014, it was the first of its kind: a creative marriage of urban accommodation and biological habitats, inspired by ivy-clad buildings such as Villa Zanoletti, with the addition of irregularly protruding balconies housing hundreds – indeed, thousands – of trees, shrubs and plants. 
Milan has, traditionally, been saddled with a reputation of greyness and industrialism. Its 'fashion capital' badge, which seems as though it should be accompanied by a dazzle of colour and the gloss of glamour, has more readily translated into bleak, industrial façades – cocoons from which the fashionable creations emerge, like butterflies, onto the catwalks. Highrises punctuate the sky in a manner that, while not oppressive, is markedly different from how the skylines of the nearby cities of Turin, Bologna and Verona, spiked here and there only with spires, present.
At the beginning of 2023, a report from Italian environmental watchdog Legambiente named Milan as one of the country's 'smog capitals.' As in London, a Low Emission Zone (LEZ) has been introduced to prevent high-polluting vehicles from entering an area comprising almost ¾ of the city. 
Yet these relatively recent initiatives only scratch the surface of ways a stay in one of Italy's most industrial cities can be enjoyed in a more eco-conscious manner. Despite its smoggy reputation, there are pockets of colour – local, architectural, and sustainable – to be found. 
STAY
New Life For An Old Station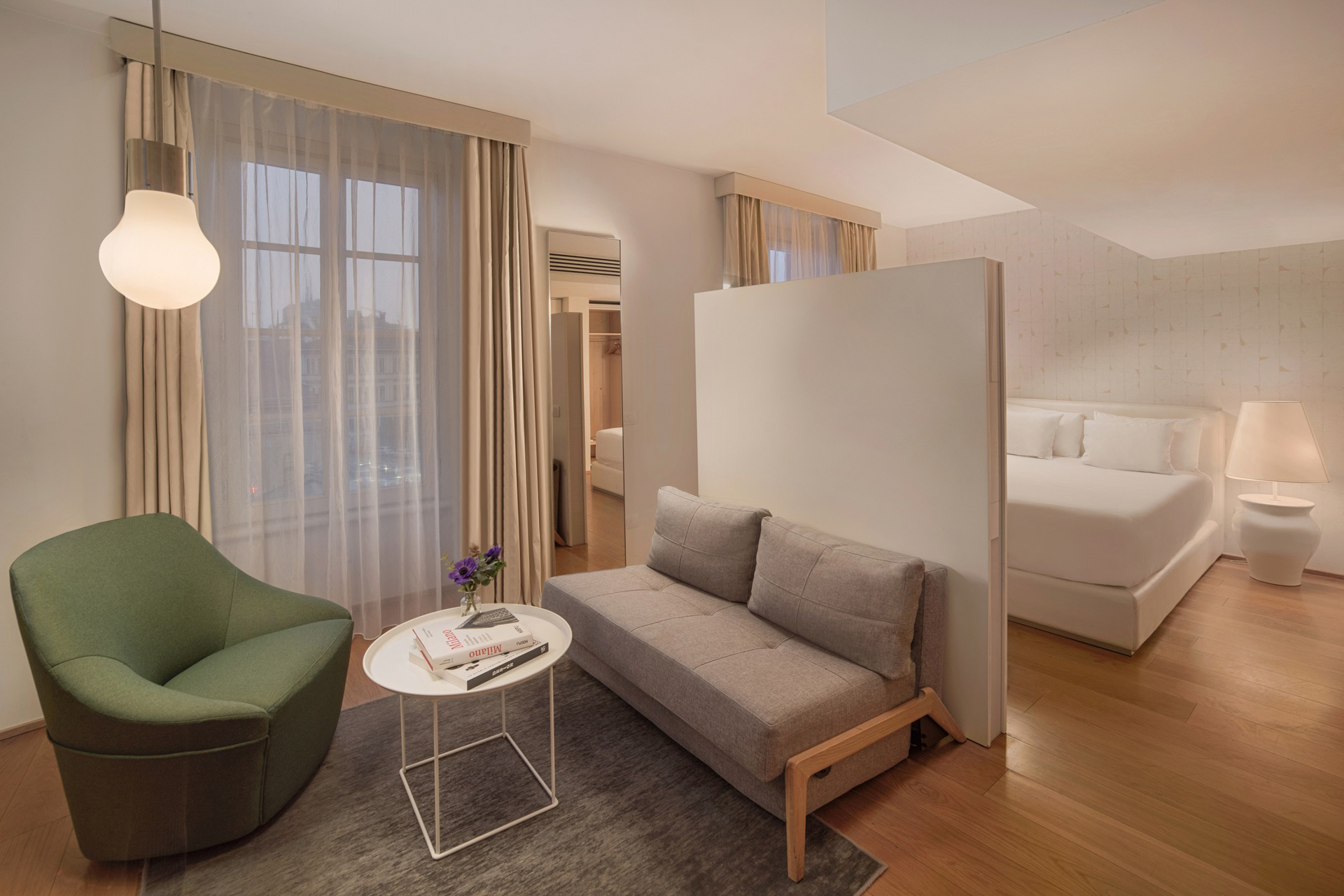 Our hotel, the newly-opened Avani Palazzo Moscova Milan, part of the Avani chain, nods to this. Aside from its broader commitment to sustainability (the group signed to the UNESCO Sustainable Travel Pledge in 2022) there's also the fact that this new, Milanese incarnation of the brand occupies a gorgeously stately neoclassical building, the original purpose of which was to house the city's first railway station – rail, of course, being the climate-conscious traveller's preferred mode of transport. Even now, the hotel's location, less than 10 minutes' walk from Garibaldi Station, makes it an ideal place from which to explore Milan between city stays, whether in Italy or neighbouring countries. 
Housing 65 comfortable, beautifully decorated rooms, with all the contemporary convenience of WiFi and TV, the hotel is not without a repurposed charm that goes even beyond the building's previous incarnation. In the foyer, old steamer trunks form decorative elements alongside a flower-swathed dressmaker's mannequin, acknowledging the property's former use as an HQ for fashion house Moschino. On the landing windowsills, trailing plants froth from open suitcases. The bar, just to the left of the entrance, is a glamorous confection of high, gilded stools; an array of brightly-coloured, backlit bottles and richly textured surfaces. At the hotel's restaurant, Forte Milano, freshly caught (and almost embarrassingly moreish) fish is prepared daily. I can safely declare – and this is saying something – that I've never slurped oysters as enthusiastically. 
EAT
Eating With Locals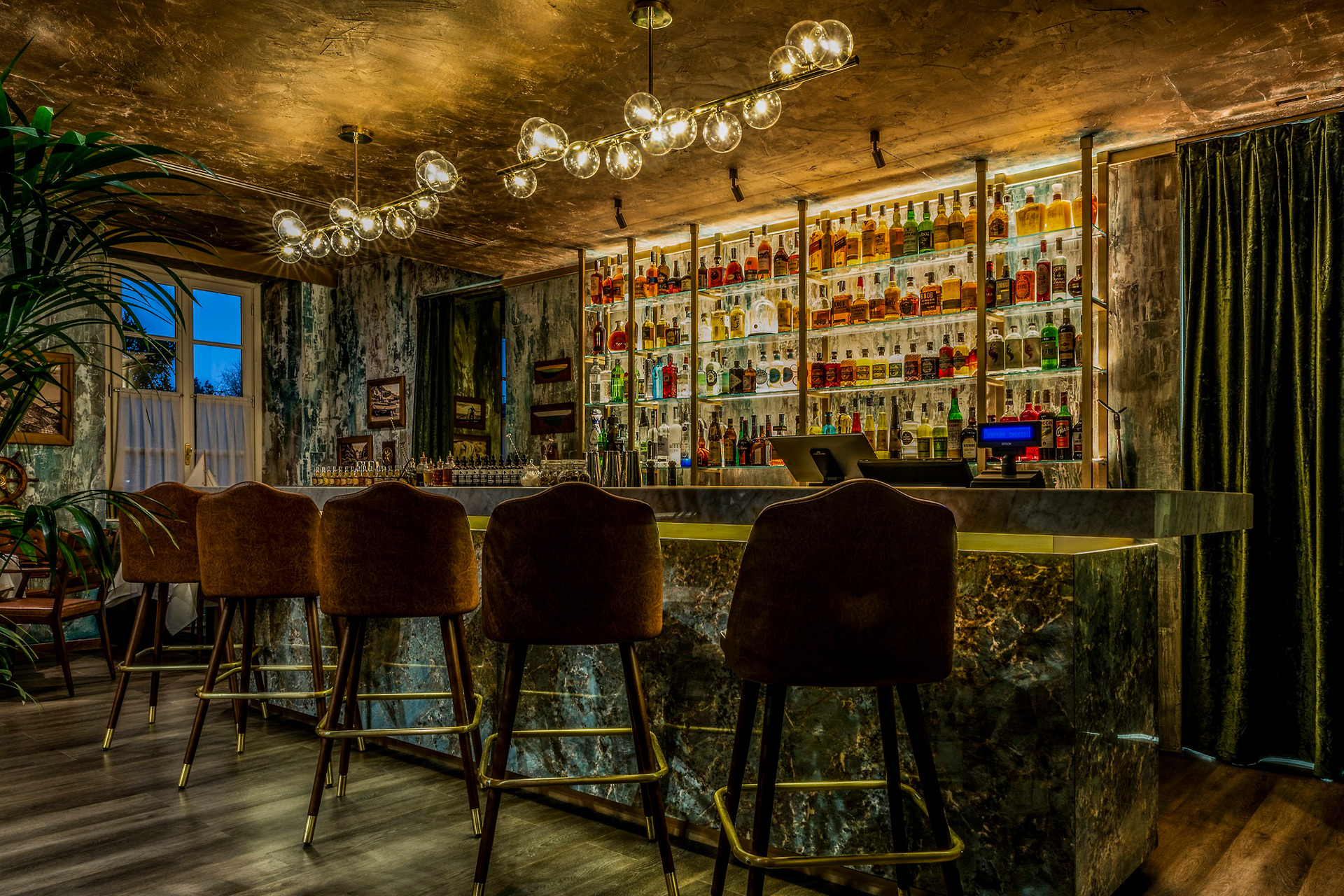 We are in for just of much a treat the following night, at the thoughtfully curated apartment of @home.cooking.milan, an experience arranged, as the Fiat tour was, by Avani Palazzo Moscova. Surrounded by a group of strangers, supper-club style, we're treated to course after course of food that's as simple and unpretentious as it is delicious and locally-sourced. Each is accompanied by a natural wine, and introduced by our hosts, Valentina and Marco, with some background as to provenance and relevance. 
"I'll try anything … mostly," says Ken, an unabashedly carnivorous American guest, looking somewhat suspiciously at the delicately plated morsels he's served (you really do eat with your eyes here – Valentina, although Italian, grew up in Japan, while Marco is from Sardinia, and the delicate fusion of cultures is apparent in the presentation of every course). Sure enough, it's not long before Ken's mouth is kissy-lipped in approval. "I really enjoyed that last thing that was a vegetable!" he exclaims: progress, despite the fact that he has no idea what that vegetable was.
These local and authentic insights into a city as seemingly impenetrable as Milan feel like something of a gift, and one that the Avani, through its guest experiences (which include, of course 'nonna approved' pasta-making classes) is adept at giving. Strolling through the Navigli District, its canal drawing a watery line between rows of restaurants and bars, we see nonnas with string bags full of produce and wish they'd invite us to dine with them, although the risotto alla Milanese (rich and creamy with broth, starch and cheese, and bright and earthy with saffron) that we eat at Trattoria Milanese dulls the FOMO admirably. 
DO
Tides Of Change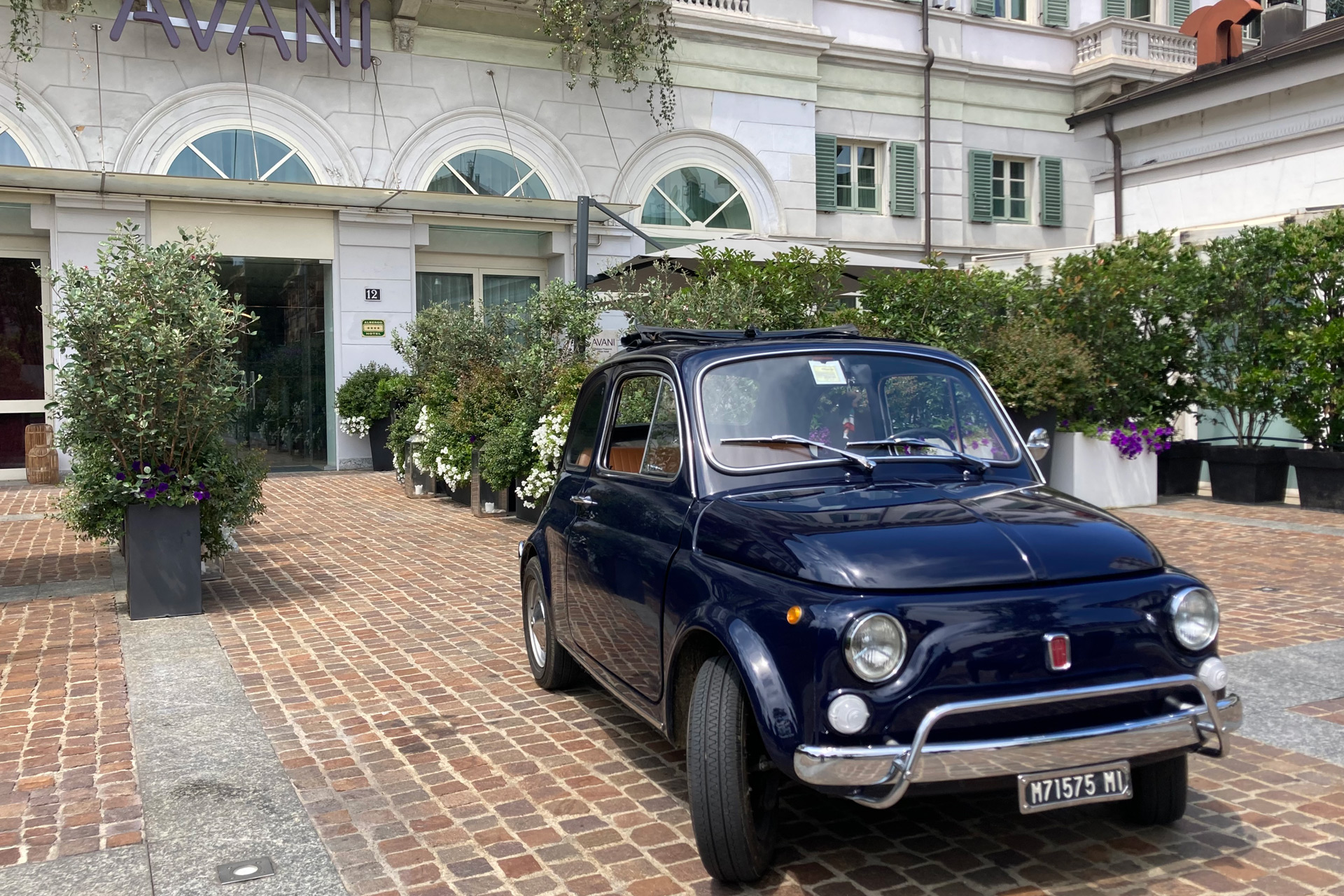 It's rarely recognised that this area of Milan was once criscrossed with manmade canals, created to develop the potential for trade – and therefore affluence – of this landlocked city. Navigli is one of the last vestiges of this past; most of the other waterways have been obliterated by modernization, buried by highrises and tarmac. As intoxicating as the colour and life that the neighbourhood brings to this city is, knowing about these lost canals makes the experience of sitting by the water with a Negroni, or crossing the bridge to explore the dining options on the opposite bank, even more precious. 
Yet even though these watery channels have been lost to the city, the notion of a bleak business-scape has, over the past years, been mitigated by ambitious greening projects. At the foot of the Bosco Verticale, we wander through the huge (3,500 square metre) Biblioteca degli Alberi, (the Library of Trees), which was inaugurated in 2018, replacing an expanse of grey in the business district. A series of circular forests woven through with paths and home to thousands of plants and trees, it is, quite literally, a lung.
Near the Santa Maria delle Grazie – home to Leonardo da Vinci's 'The Last Supper', which the artist completed 525 years ago this year, lies La Vigna di Leonardo (Leonardo's Vineyard). Restored to its former lushness in 2015, the vineyard, which was gifted to the artist in 1498 as 'thank you' for creating the masterpiece, produces fantastically quaffable wines from an oasis-like setting, while the exterior of its Renaissance mansion drips with greenery. Meanwhile, an urban greening project called Forestami has pledged to plant 3 million trees in the city by 2030, absorbing millions of tons of carbon dioxide annually. Space for the project will be found on flat rooftops, and in disused railyards and carparks. 
Carbon-Friendly Exploration
And indeed, if the cycle activists campaigning for zero-emission mobility in cities have their way, fewer carparks will be needed. Although urban bike-sharing, via BikeMI, has had a presence in the city since 2008, Milan currently ranks in the top ten of the most congested cities in the world, and there is mounting pressure on the municipality to make improvements to urban planning and invest in a car-free future. But even if two wheels aren't your thing, Milan is, as we discovered, wonderfully walkable – and, failing that, there are 18 different tramlines and 33 routes which make exploring even the outer reaches of the city easy, economical and eco-friendly.
With so much beyond the Duomo, the Galleria Vittorio Emanuele II and the 'fashion quadrangle' to explore (Via Lincoln, a former workers' village, with its rainbow façades – reminiscent of Burano – is a must-see) they're tracks worth making – especially when you can return to the Avani's luscious spa (complete with emotional showers) or simply melt into the evening with an Aperol on the terrace. 
BOOK IT
Avani Double Rooms at Avani Palazzo Moscova Milan start from €233 (approx. £199) per room, per night based on two sharing. Includes breakfast and taxes. 
Guest experiences, including the Fiat 500 drive and @home.cooking.milan, can be arranged by the hotel at an additional cost.