Inhale the cleanest air in the world and stay at some fabulous hotels while doing so in Tasmania, a wild, rugged island tucked away at the bottom of the map. By Rosalyn Wikeley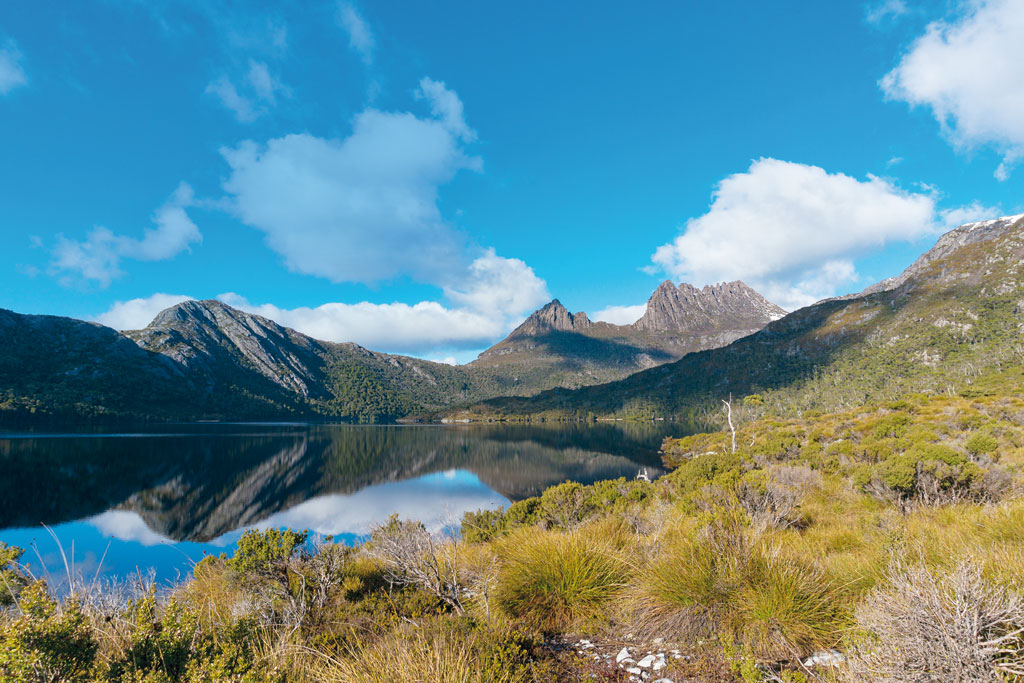 Tasmania, the exotic drip of land off mainland Australia roughly the size of Ireland, is becoming a far-flung destination in its own right. Teeming with bizarre wildlife, prehistoric landscapes and white sandy beaches, a burgeoning gastronomic and cultural scene adds an exciting new dimension to this enchanting island. If you think the Scottish Highlands are beautiful, think again…
First though, you need some recuperation time in Sydney to get over your jet lag, for at least a couple of nights. Situated in Kings Cross, Sydney's bohemian heartland, the Larmont Sydney by Lancemore overlooks a labyrinth of fancy cafés, shops and bars to eye up while R&R remains priority. The hotel is a contemporary refuge, decadent where it matters: plump (if not obese) pillows, enormous walk-in rain showers, American-proportioned plasma screens, all without the uptight frills of a fancy hotel (don their meaty dressing gowns in the lobby without being frowned at). Here, it's all about in-house yoga classes, hearty breakfast-in-bed and memory mattresses. Doubles from £123.
Once you've reset your body clock, head to the swanky champagne bar at Sofitel overlooking Darling Harbour or Sydney Opera House's al fresco option to toast your arrival and circadian rhythms.
Launceston
Tasmania's second major city is wrapped in prehistoric landscape. The city of Launceston seems locked in Victoriana (it was settled by the British in 1806) but some impressive design and gastronomic edges have emerged recently. Hatherley Birrell Collection typifies this with a series of design-led boutique 'lodges' atop the yesteryear city. The couple behind this bohemian estate have used their design panache honed from architectural careers to create a series of self-catered marvels. Oriental touches (kimonos over white robes) blend into writer's retreat interiors, but it's the dazzling ceiling of stars unmarred by pollution, best seen from your outdoor stone bath, that reminds you how far you are from home. Doubles from £142.
In town, you'll find juicy Tasmanian steaks at Black Cow and dishes with ingredients you won't understand, but are nonetheless delicious, at renovated mill Stillwater. Feeling active? Hike the epic Cataract Gorge; for something more sybaritic, go wine tasting in the Tamar Valley with Valleybrook Wine on Wheels Tours.
The Central Highlands
This is the land of a thousand lakes, with a vista so breathtaking, it's hard to focus on the road ahead. Explore it on foot or by electric bike and keep your eyes peeled for snakes, platypus and 'tassie' devils. The aptly-named Thousand Lakes Lodge sits in a remote, rugged stretch of this World Heritage Site, a Bond villain's lair submerged in the wind-blasted tundra. Originally built in the 1980s as an Antarctic training facility, the lodge soon fell into disrepair, only to be salvaged from the demolition list by V8 Supercar racing star Marcos Ambrose. Its layout and aesthetics are an ode to its original Antarctic brief, but with the requisite trappings of a luxury bolthole. A communal spirit pervades with shared dining amid alpine comforts of a roaring fire and hearty menu (think rump steak and chocolate pud). The real luxury though are those inescapable windows that pull guests' eyes and thoughts to the flora and fauna outdoors. This hauntingly beautiful landscape, with its orange hues, scattered lakes and mossy tundra, falls somewhere between the Scottish Highlands and Mars. Doubles from £149.
Hobart
The cooler clime and seafood-rich waters give Tasmania a gastronomic edge over the mainland and Hobart is at the epicentre with restaurants such as The Glass House for refined waterfront tapas and Pigeon Hole for its fresh farm produce leading the charge. Along the historic harbour lies MACq 01, a slick, 'storytelling' hotel with swanky rooms and an excellent seafood restaurant. Think Mad Men by the sea – contemporary glamour paired with an intriguing narrative – each room an ode to a character from Tasmania's tumultuous past. Doubles from £244. 
There's plenty to keep you busy. East Coast Cruises head to Maria island to spot seal, dolphin and flying fish or take a hike along the historic Pipeline Track up Mount Wellington to glimpse pademelons, platypus and echidna.
Book it
The Ultimate Travel Company organises bespoke Tasmanian adventures, including flights via Sydney or Melbourne. 020 3733 5001.
MORE TRAVEL: The C&TH Guide to Jaipur | 48 Hours in Copenhagen | A Local's Guide to The South of France
---