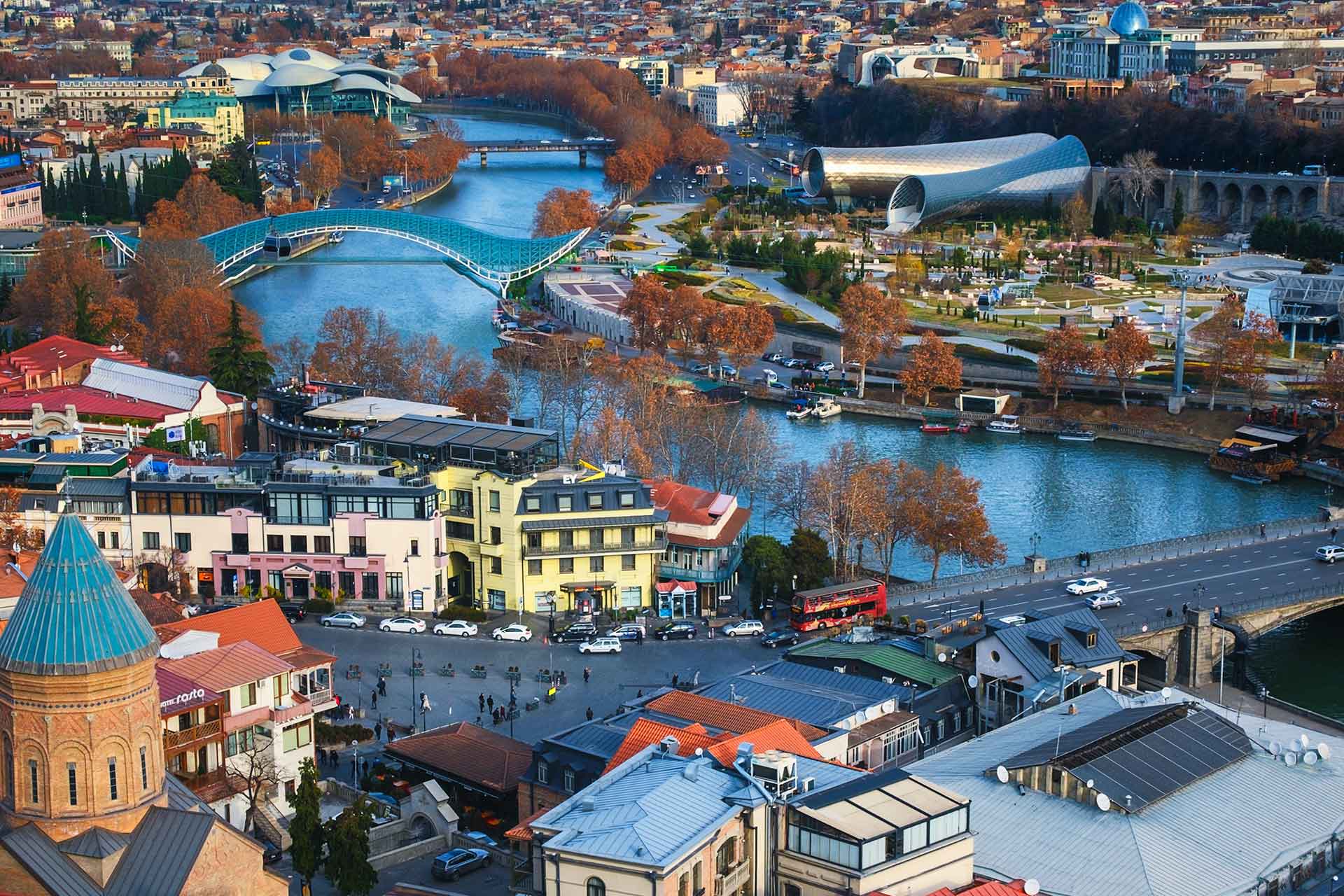 Katrine Levin's Guide To Tbilisi
---
Artist Katrine Levin sets off on a cultural discovery of Tbilisi in Georgia, signposting where to stay, where to eat and what to do, both on and off the beaten track  
Georgia is a country of rich history, natural beauty, and warm welcome. Situated at a strategic crossroads of trade between East and West and perilously close to the expanse of Turkey and Russia, this small and largely Christian country has been fought over for centuries, surviving Persian, Byzantine, Arab, Turkish, Mongol, Iranian, and Russian control (accounting for the fascinating architecture) while preserving its unique cultural identity.
Artistic expression is at the heart of Georgia and is seen in every aspect of life. Many of Tbilisi's parks and leafy avenues lined with sculptures and concept design stores are named for famous composers, writers, and directors. A hotbed of creativity and originality, contemporary Tbilisi brims with life, inspiration, and a strong sense of identity.
The best time to visit is September, when the weather is less humid but still warm and the famous grape harvesting season begins. As of this writing, with a few exceptions Georgia is accepting foreign travellers (PCR test required if not fully vaccinated); but check your country's regulations as you may need to budget time for a quarantine upon your return (UK has Georgia on the red list).
Where To Stay
There is luxury for every taste, from upscale international brands to the unique design-concept boutique hotels each with a distinctive blend of art, style, history and luxury.
Rooms: for Bohemian old-world charm
The whimsical and ultra-luxurious design boutique hotel Rooms in the traditional bohemian Vera Quarter offers old world ambiance and upscale accommodation amidst leafy avenues and 19th century facades. Evoking the belle epoque and inspired by Georgia's period architecture and décor with vintage lighting and dark wooden floorboards contrasted with edgy contemporary furniture and art, Rooms merges tradition and innovation for a feeling unique to Tbilisi, that of falling through time while stepping into the future.
True to the building's origins as a publishing house and Tbilisi's designation as UNESCO's world book capital for 2021, the intimate lobby opens into an impressive library of vintage books; browse at leisure from your Eames chair next to a cosy period fireplace topped by striking contemporary art.
Spread over five floors, each room type has a separate character with tasteful period touches complete with a freestanding clawfoot brass tub and a retro rotary dial telephone; top-floor suites offer views from private terraces over Tbilisi's rooftops. For something different with a touch of the familiar, the hotel's excellent European-Georgian fusion restaurant serves innovative cuisine prepared from locally sourced ingredients. In the evening, the chic high-end cocktail bar mixes superior cocktails under ambient lighting and is a great place to relax with friends and spot the city's artistic elite. The staff is employed from local art and design schools; the service is impeccable and always with the warm Georgian smile.
Rooms is the brainchild of Adjara Group, a leading force in Georgia's cultural revival. With all aspects of the hotel's unique design and art collection commissioned from local talent, it is an unforgettable experience of upscale contemporary Georgia.
BOOK IT: Doubles from £120 a night
Stamba: industrial chic with a literary twist
Across a design-centric courtyard from Rooms is its award-winning sister hotel Stamba which shares its sibling's philosophy but not its style. Converted from a landmark brutalist Soviet-era printing press, this architectural and design marvel wraps concrete in light, space and creature comforts.
The triple height lobby is jaw-dropping, exposing massive concrete and metal beams along which reams of paper were once transported from the press; the austerity is softened with light wooden floorboards, soft leather couches, and a sea of books filling the length and height of the soothingly-coloured dark-blue walls. It's understandable if you don't want to leave the lobby but try to proceed to your room; among the several types, each has a unique character whether it be exposed brick walls and crystal chandeliers or white-washed concrete with a personal library filled with object d'art juxtaposed with deep pile carpets – here too, clawfoot brass tubs add a retro touch. All rooms offer decadent luxuries, hi-fi stereos, and superpowered espresso machines.
The hotel's many gems include a record library, a 200-square-metre (seven-levels high) indoor vertical farm which supplies the hotel with organic produce, and an in-house chocolaterie. There is also a roasterie, an uber-chic retro cocktail bar reminiscent of a '60s diner, a hip cafeteria-style restaurant serving international cuisine, and an indoor courtyard serving organic breakfasts in the morning and transforming into a music and events hub at night. And if you're in the mood to discover local talent without leaving the premises, one wing of the hotel is dedicated to free studio spaces for artists and designers. (Opened in
BOOK IT: Doubles from £210 per night
The opposite of a boutique hotel but worth a mention is the distinctly shaped 30-story glass tower of the Biltmore Hotel Tbilisi (a luxury brand of UAE-based Dhabi Group) which opened to fanfare (literally) in 2016 and is Tbilisi's tallest building. Centrally located on Tbilisi's main Rustavelli Avenue (think NYC's 5th Avenue but with cooler architecture), you are steps away from museums, cafes, restaurants, high-end shops, the Georgian National Opera Theatre, and the Tbilisi Opera House, to name a few.
An opulent lobby with sweeping staircases, vaulted ceilings, polished marble floors and crystal chandeliers as well as six restaurants, a spa and health club with an indoor swimming pool, a ballroom, and spacious rooms with state-of-the-art facilities await you. A definite highlight is the rooftop restaurant and bar with expansive views of the city skyline (check it out at night, when the city and its many landmarks are lit up).
The hotel's architecture – which still splits local opinion due to its dominance of the city skyline – is an intriguing marriage with the past. A glass walkway connects the opulence of the tower to a 1938 Soviet-era landmark building that, ironically, once served as the Institute of Marxism and Leninism. Check out the Auditorium, a one-of-a-kind historic amphitheatre where the Georgian Parliament met in 1995 to sign the first constitution of Georgia – now restored and transformed into a dining and entertainment venue.
BOOK IT: doubles from £130 night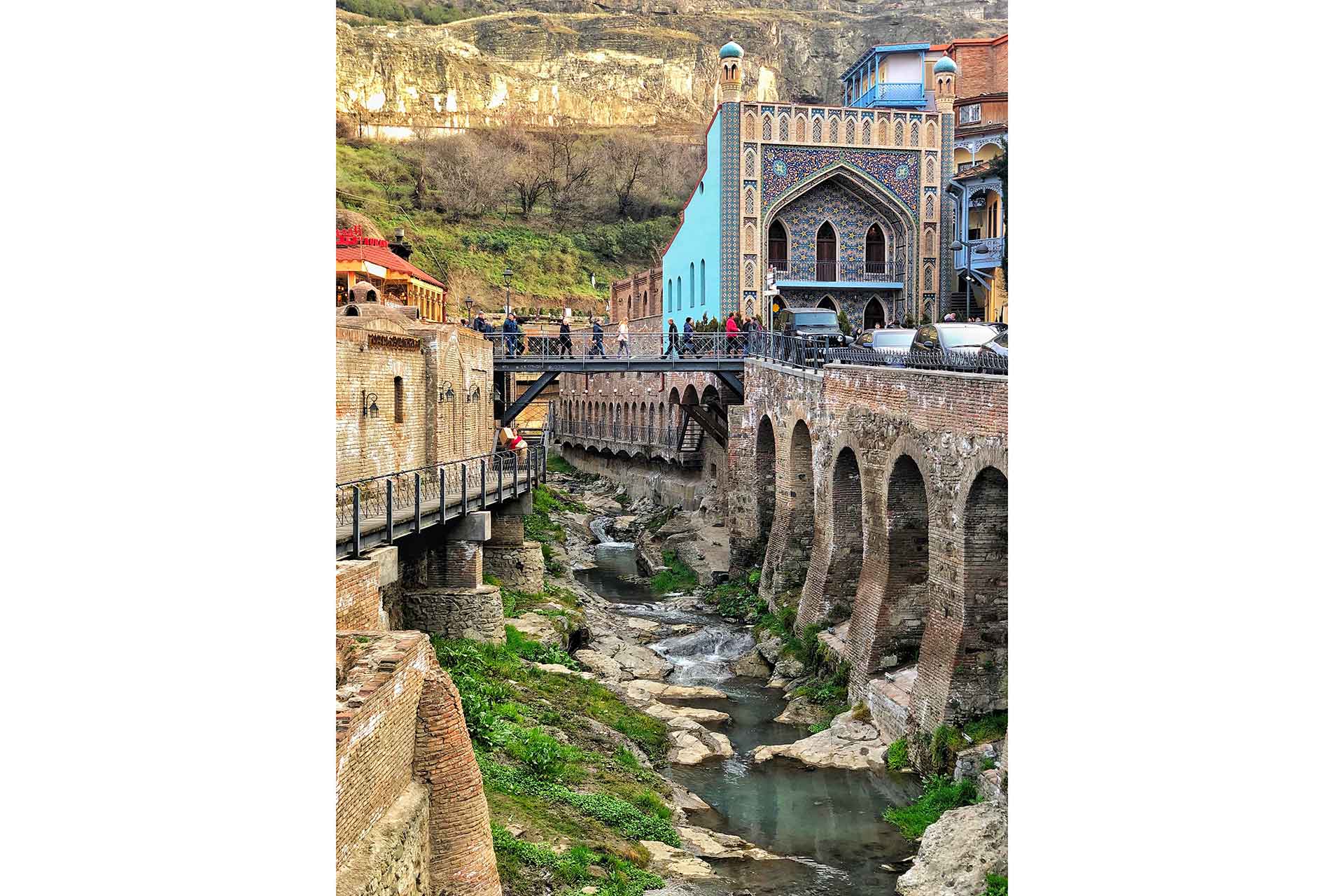 On Rustavelli Avenue, with the Tbilisi Opera and the iconic Freedom Square on its doorstep, the quirky Shota @ Rustaveli marries art with elegant design and creature comforts. Relax in the pool and sauna or check out the restaurant and wine shop.
BOOK IT: doubles from £80 per night
For a more traditionally elegant option on Rustavelli Avenue is the five-star Tbilisi Marriott Hotel in a landmark Renaissance-Baroque-style building that dates back to 1911 and was once the residence of Mikael Aramyants, an Armenian oil magnate, financier, industrialist and philanthropist. Period details are preserved inside and out, with the crystal-chandelier-lit atrium leading to the Majestic Bar & Lounge, the ideal spot to linger over sumptuous pastries and craft cocktails. Luxurious rooms arranged over five floors boast sleek marble bathrooms, luxury bedding, and scenic city views; there is also a fine restaurant and a 24-hour fitness centre.
BOOK IT: doubles from £137 per night
Moxy Tbilisi Hotel: digital nomads head to the Left Bank
Moxy Tbilisi Hotel offers its own brand of contemporary concept design for the digital nomad (you'd never guess it's by Marriott). The surprisingly affordable rooms (starting at just £59/night) offer understated elegance, sleek bathrooms with deluxe bath products, and high-tech amenities including screencasting and built-in USB ports. The lively lobby mixes futuristic design with art deco chairs, vintage art objects, and glass bubble meeting areas equipped with Apple computers. Grab a local brew or an espresso martini at the lounge over conversation with a friend or a board-game or two, or sample authentic Georgian cuisine at the hotel's restaurant before heading out. There is no gym but the friendly staff will arrange jogging trips for the active lifestyle.
From your central location on the vibrant Saarbruecken Square on the left bank of the Mtkvari river, you are steps away from Tbilisi's famous Dry Bridge art and antique open market and a stroll away from Old Tbilisi and Rustavelli Avenue.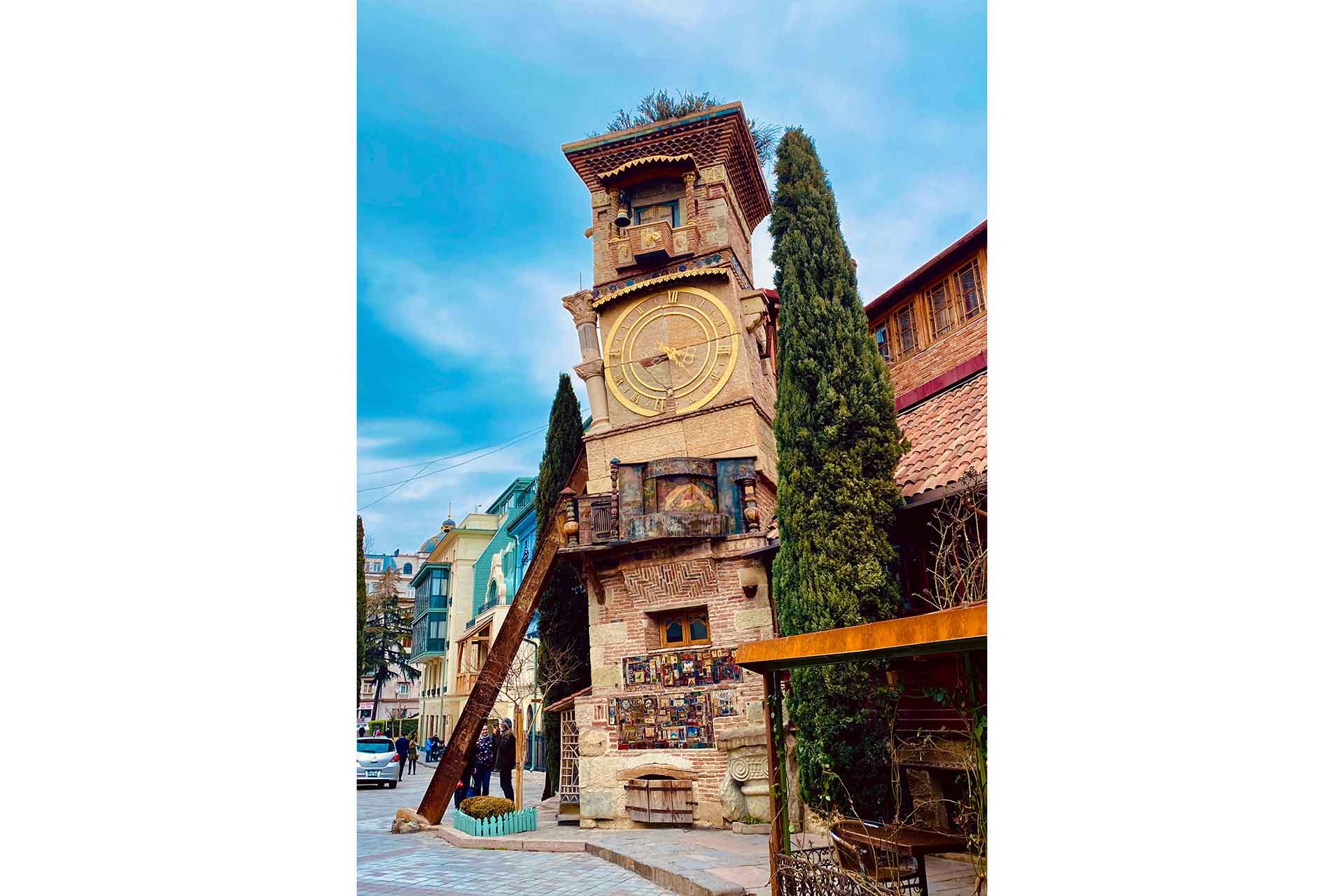 Winner of the World Luxury Boutique Hotel Awards, the classically-styled, 13-room Vinotel Boutique Hotel is nestled in a 19th-century former wine trader's house with traditional ornamental balconies and stained glass windows. A highlight for the wine enthusiast is the historical arched brick wine cellar with a vast selection of Georgian wines that can be sampled under the guidance of a professional sommelier.
Perched on the left embankment of the Mtkvari River on a picturesque cobble stone street, Vinotel Boutique Hotel is at the gateway of the historical Avlabari district (about a 10-minute walk from the central Freedom Square and Rustavelli Avenue). No need to rush back to the centre – take a stroll to enjoy the area's unique and varied architecture, browse its many shops, and linger in the charming pedestrian quarter where colourful cafes serve strong Georgian coffee in the morning and – you guessed it – heady Georgian wine at night.
BOOK IT: Doubles from £80 per night night
What to Do in Tbilisi
Tbilisi is brimming with art, culture, historical monuments, and architectural gems. Host to the annual international Tbilisi Art Fair, the Tbilisi Architecture Bienniel, the Tbilisi Photo Festival, and the Tbilisi Fashion Week, Tbilisi offers a plethora of art exhibitions across all styles and ages in numerous museums and galleries; opera, philharmonic, ballet, extraordinary national Sukhishvili ballet, and fashion and design-concept boutiques. With so much to explore, there is something for everyone. Here are just a few highlights.
Visit Museums and Galleries
Don't miss the Simon Janashia Museum of Georgia (a well-curated collection of aretefacts dating from the Paleolithic period to the Middle Ages), the National Gallery (see works by Pirosmani, Gudiashvili and other iconic 20th century Georgian artists), the Lado Gudiashvili Foundation Hall (housing a notable collection of 19-20th-century Georgian art), the Stalin Underground Printing Press Museum (a 1904 communist press hidden in tunnels underneath a nondescript crumbling building); and the Georgian Museum of Fine Arts (a unique stone and glass structure built to house one of the largest private collections in the world, with a room dedicated to one of Georgia's greatest living artists, Levan Lagidze).
Among Tbilisi's many art galleries a definite highlight is a stop by the Lagidze Gallery at 23 Paliashvili Street at the heart of the upscale Vake Quarter – walk in after 5pm (they start late) and you'll receive a warm welcome and will probably catch the master himself working in his studio at the back.
Go to the Tbilisi Opera House
On Rustavelli Avenue and home to both opera and ballet is the Tbilisi Opera House whose recently restored European exterior and sumptuous mosaic and stained-glass Moorish Revival interior was once hailed by Alexandre Dumas as the most delightful hall he had seen in his entire life. The opera productions are quite extraordinary as well.
Explore A Unique Antiques Flea Market
Browse the famously quirky Dry Bridge open-air antiques market (so called because the bridge no longer spans water) for Soviet-era memorabilia from toys to teacups, traditional clothing, and even contemporary artworks. Once a hot spot to pick up objects d'art for a song, you can still spot a genuine antique if you know what to look for and it is a fun treasure hunt for a unique souvenir or two.
Browse Fashion Boutiques
With edgy, original designs and a thriving fashion week, Tbilisi has recently joined New York, London, Milan, and Paris as the hotspot of fashion. Among its superstars is Tamuna Ingorovka whose female-led atelier (on 7 Bambis Rigi Street in the Old Town) dressed Lady Gaga and is hailed as 'a splendidly chic designer brand' by New York's V Magazine.
Relax in a Sulphur Bath
Legend has it that Tbilisi, meaning 'warm' in Georgian, was founded in the 5th century by King Vakhtang Gorgasali I of Iberia who while hunting with his falcon witnessed the healing powers of the hot sulphur waters and ordered a city to be built on the spot. Experience for yourself the magic of the sulphur springs at the Orbeliani baths whose stunning mosaic-clad Islamic façade dates back to the 17th century; try a kisa (an extensive scrub down) in a private room replete with refreshments.
The Architecture, Sculpture and Character of Tbilisi's Quarters
Tbilisi's diverse architecture reflects its rich history. Start on Rustaveli Avenue, the city's main artery named after the medieval Georgian poet, Shota Rustaveli. Beginning at Freedom Square which dates back to 1918, its Eastern Orthodox, Moorish, Soviet, Art Nouveau, and striking contemporary architecture houses the Parliament of Georgia, theatres, museums, the Tbilisi Opera House, Parisian-style cafes and upscale shops.
The cobble stone streets of the pedestrianised Old Town are lined with restored Moorish houses adorned with traditional Persian balconies. Charming and innovatively designed cafes – some of which transform into hopping night spots as the sun sets – are a seamless blend of traditional and contemporary. In the centre of the Old Town is a much loved bronze statue of a Tamada – the toastmaster – modelled after an ancient Colchian statuette. Also not to be missed is the whimsical leaning Clock Tower, built in 2007-11 by the renowned Georgian puppeteer and writer, Rezo Gabriadze, flanked by his puppet theatre and a delicious cafe.
By contrast, the cobblestone streets of the pedestrianised Old Town are lined with restored traditional houses with carved-wood Persian balconies. Charming and innovatively designed cafes – some of which transform into hopping night spots as the sun sets – are a seamless blend of traditional and contemporary. In the centre of the Old Town is a much loved bronze statue of a Tamada – the toastmaster – modelled after an ancient Colchian statuette. Also not to be missed is the whimsical leaning Clock Tower, built in 2007-11 by the renowned Georgian puppeteer and writer, Rezo Gabriadze, flanked by his puppet theatre and a delicious cafe. nStroll to the Botanical Gardens and don't forget to look up for views of the 4th century Narikala fortress.
Stroll through the leafy streets of the bohemian Vera Quarter (home to Rooms and Stamba hotels) to find 19th century facades and edgy concept stores interspersed with historic backstreets hiding traditional courtyards and relax in Vera Park amidst 61 species of plants.
Take a funicular to the top of Sololaki hill for the panoramic views and the 20-metre aluminium statue of Mother Georgia who welcomes friends with a bowl of wine in one hand and warns off enemies with a sword in the other. Explore Sololaki street where little bars, authentic restaurants and artisan shops are nestled in traditional houses and then walk down to Mtatsmida Park stopping by the historical cemetery at the Pantheon along the way.
Cross the distinctly shaped Bridge of Peace – where whimsical sculptures are poised to jump into the water – to the river's left bank and stroll down Aghmashenebeli Avenue in the historic Marjanishvili Quarter (named after an iconic theatre director) to enjoy Art Nouveau architecture, French bakeries, and a pedestrianised section with colourful cafes, wine bars, and souvenir shops.
Try Something Different
On the left bank, in the hip Marjanishvili Quarter, Fabrika is a former Soviet era sewing factory converted into a trendy urban hotspot and multi-functional space with a young-and-hip atmosphere and minimalistic design. Check out the cafes in the inner courtyard, browse the artists' studios, come for the rooftop yoga class, or check out the film lab.
Tbilisi is renowned for its electronic music scene that has doubled as the means to social change and a greater acceptance of previously marginalised communities. Check out Bassiani, widely considered the world's best techno club, on Akaki Tsereteli Avenue – reserve well ahead of time as it gets full fast.
Take a Day Trip
The Jvari Monastery, located about 20km north of Tbilisi in Mtskheta, is a UNESCO World Heritage site. Built atop mount Jvari at the confluence of the Mtkvari and Aragvi rivers, the monastery is a fine example of traditional Georgian architecture set in a spectacular landscape with jaw dropping views of the valley below. Catch an Uber or Yandex or sign up for a tour – not to be missed. For a longer trip out, Kaheti – Georgia's wine region – is well worth the treck.
Where to Eat
Georgian cuisine is legendary and rightfully so; one of the many joys of travelling to Tbilisi is, well, eating. Away from the obvious tourist traps the city's many traditional restaurants do not disappoint, Shavi Lomi being one of the best and even offering a new trend, Georgian craft beer. This said, in a city where food is elevated to an artform, here are some highlights for the Epicurean seeking the best of innovative Georgian-fusion.
Keto and Kote
A panoramic view of Tbilisi opens as you approach, a welcome reward for finding this oasis in the labyrinth of narrow streets winding up the hill in the traditional Vera Quarter. Keto and Kote (named after characters in Georgia's favourite comic opera) is the brainchild of Ramaz Gemiashvili, one of Tbilisi's leading chefs, serving exceptional Georgian-fusion cuisine in a traditional 19th century mansion that was once home to Bagrationi Princes. Try the delectable dolma (stuffed wine leaves – your tastebuds will thank you), the tender khinkali (think Shanghai dumplings but much smaller), the succulent pkhali (a delicious mix of chopped spinach/beets, herbs, and ground walnuts), and the mouth-watering khachapuri (Georgia's signature cheese-stuffed bread that Chef Gemiashvili gets just right). Whatever you choose will wow the palette and don't leave without dessert – the pastry chef's Napoleon will keep you coming back for more. Ask the sommelier for a pairing of Georgia's best vintages from the exceptional wine list. Did I say lunch? On a warm summer evening, request a table in the garden and watch the sparkling lights of Tbilisi below you, and don't be surprised if the neighbouring table bursts into traditional Georgian song. Reservations are a must and do reserve well in advance.
Chveni
At the beginning of the pedestrian area of the historic and ever-more-trendy Marjianishvili Quarter is celebrity-Chef Guram Baghdoshvili's latest venture – Chveni. Meaning 'ours' in Georgian, everything in this whimsical restaurant is as welcoming as the name suggests, with subtle details from Georgia's past and present cleverly arranged throughout the garden and interior. Bringing a modern take on contemporary Georgian dishes, Chef Guram (who prepared food for three Georgian presidents and presents a popular cooking show on Georgian TV) infuses everything – from the decor to the zesty culinary creations – with a healthy dose of his upbeat and charismatic personality. Chveni is a place to laugh copiously and open your hearts and pallets to innovative new flavours. After dinner you can venture out to the wine bars on your doorstep or better yet – keep your seat, keep smiling, and enjoy the creative cocktails in the garden bar.
Lily Vanili
For a sweet boost to get you through a packed schedule of must-sees, Tbilisi's locally-run extension of London's famed Lily Vanili bakery serves delicious interpretations of traditional favourties. Savour the superbly decadent honey cake, medok, over strong Georgian coffee (don't say Turkish!) or linger over a luscious cappuccino and éclair in the cozy space on Abashidze street. You can burn off your newfound energy by browsing the area's edgy concept stores and fashion boutiques.
g.Vino
Georgia has Europe's oldest wine-making tradition, dating back 8,000 years – put in perspective, this predates the Iron Age. Head to g.Vino, one of Tbilisi's top wine bars, and take a flight of Georgia's distinctive whites and reds, and unique amber wines (made by fermenting white grapes on their skins), all aged in traditional qvevri (huge clay vessels buried underground).
Katrine Levin curates art from places less explored. She regularly exhibits new work online and in London and New York. Her next exhibition, featuring the work of Levan Lagidze, will be held in November in Mayfair, London. katrinelevingalleries.com
Read More: