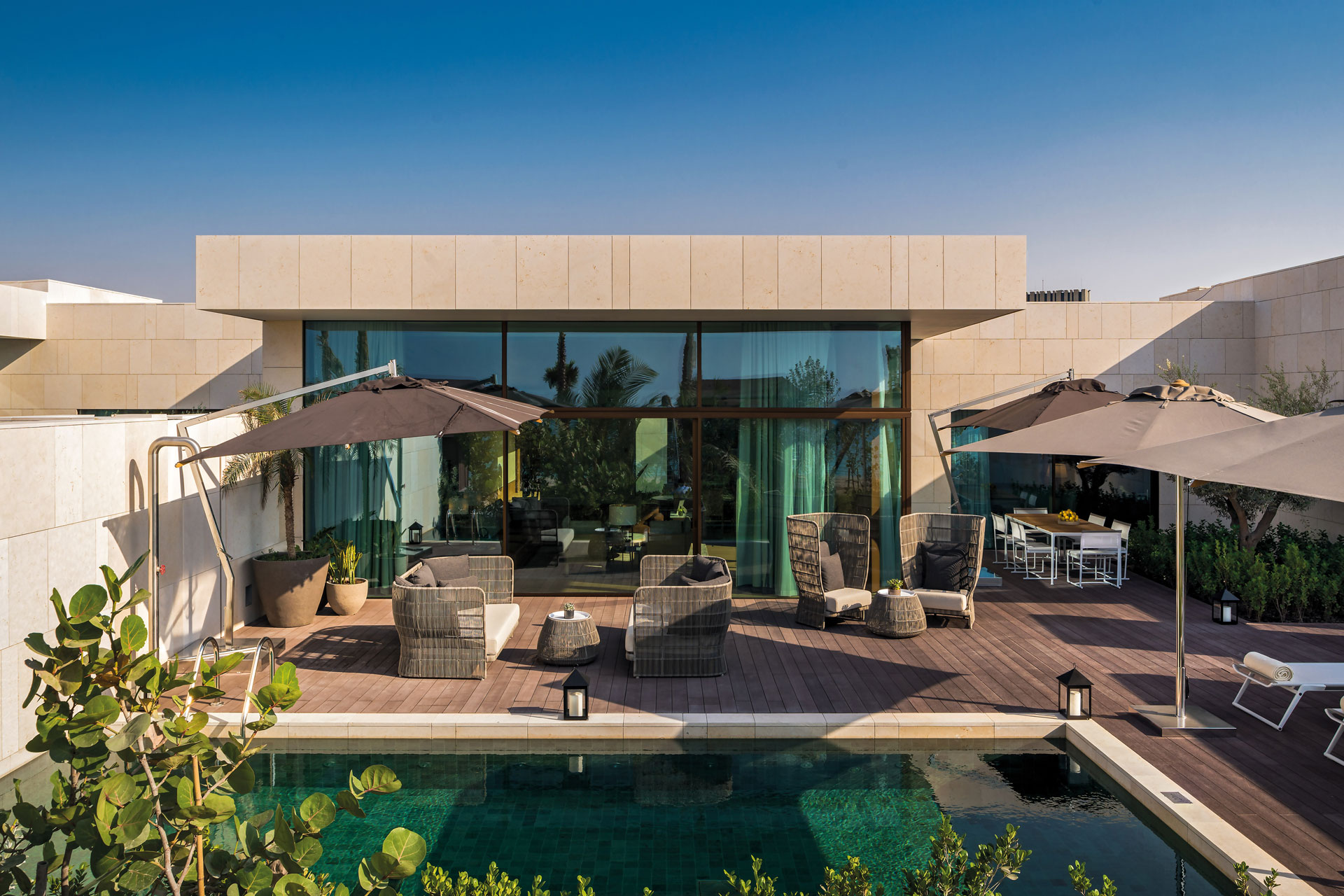 Hotel Review: Bulgari Resort Dubai
---
Italian luxury prevails over the Arabian city on a seahorse-shaped island
Across a 300-metre bridge from the centre of the city is the Bulgari Resort Dubai. Georgie Bentley-Buckle checked into the Mediterranean-style island, designed entirely by renowned Italian architects Antonio Citterio Patricia Viel.
Hotel Review: Bulgari Resort Dubai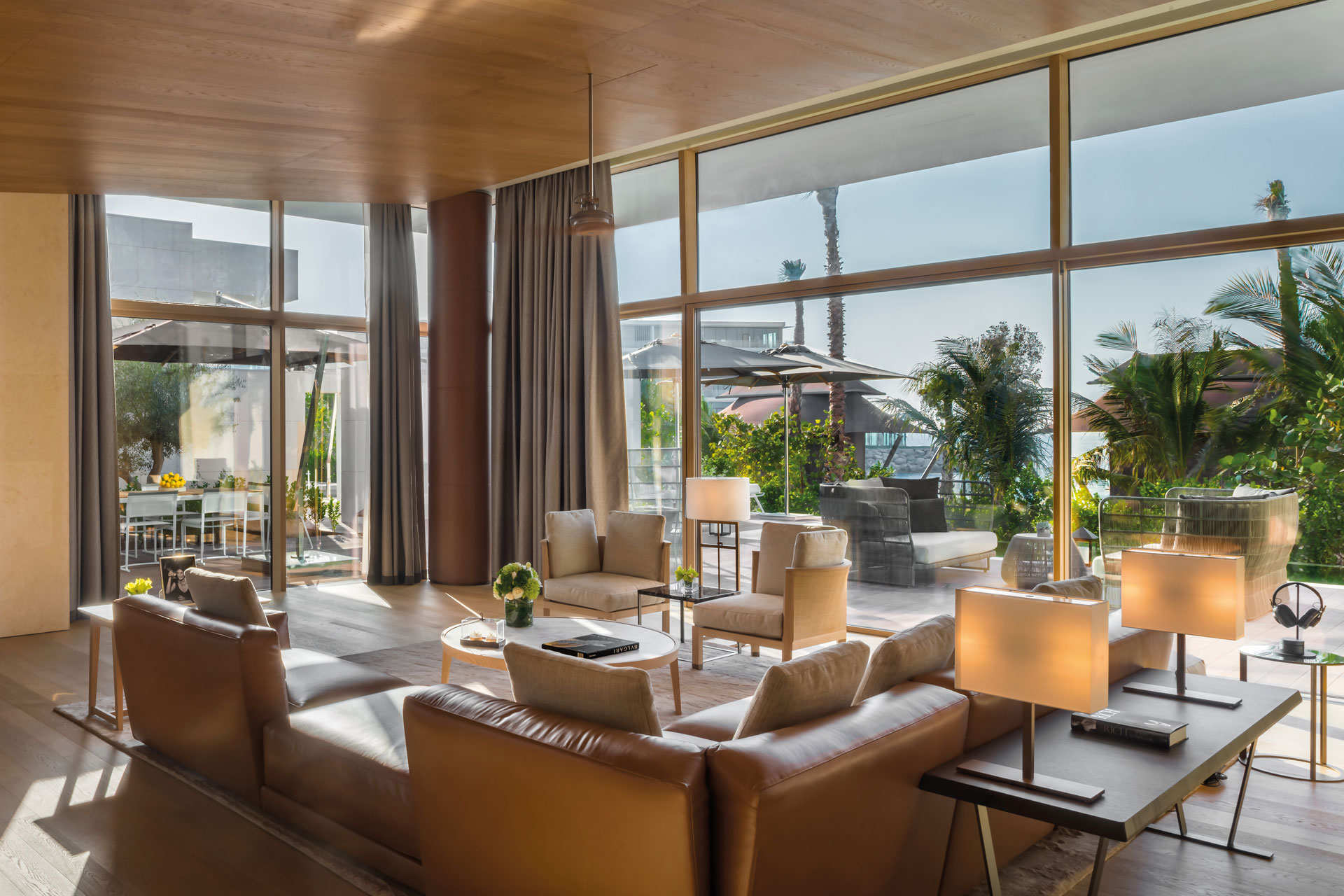 STAY
Stay, sail to or settle at Bulgari Resort Dubai, one of the world's few hotels to include 173 sea-facing apartments, 15 private mansions, and Bulgari's first-ever marina and yacht club. Dubai is a city of firsts, from the world's tallest building to the largest fountains. The Bulgari group decided to follow suit with its 158,000 square-metre property – a first of its kind for the brand.
At the heart of the Bulgari development lies the hotel with a sweeping bay and private beach. Details throughout exceed the credentials for luxury hospitality. Personalised leather embossed bags on arrival, for instance, or bottles of cooling Evian spray to ensure you remain calm and collected alongside its entourage of yachts.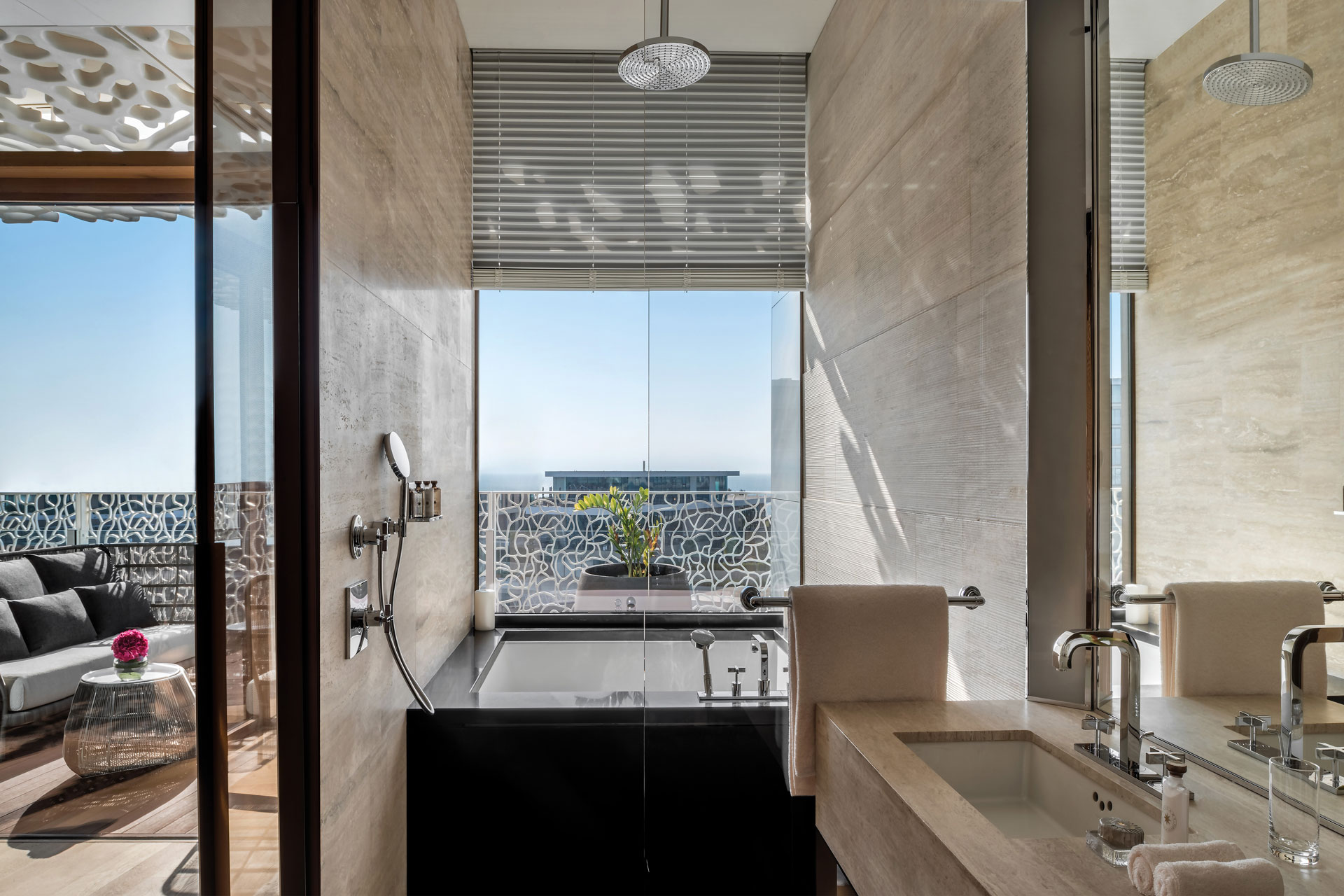 Unless you purchase a residence yourself, check in to one of the hotel's 101 rooms and suites, or one of the 20 villas with pool, garden and sea views. Designed by renowned Italian architectural firm Antonio Citterio Patricia Viel, the hotel's exterior is a coral-like creation, crafted with the same detail and precision of a Bulgari jewel. Meanwhile, interiors and exteriors are designed in honour of Bulgari's Italian heritage; a blend of contemporary architecture, subtly embellished with Middle Eastern touches.
DO
Being situated on a private island has many advantages, one being you can slip easily between city and beach life. Here you'll find the hotel's expansive private beach club inclusive of a kids' club, water sports such as paddle boarding and kayaking, and 13 private cabanas, each fitted with a private bathroom, fridge and outdoor deck. Next door is the suitably opulent pool made with thousands of hand-laid tiles inspired by vintage Bulgari brooches from the 1920s with 18 emerald green poolside cabanas.
A buggy ride around Bulgari's first-ever marina will lead you to its yacht club. A vintage, nautical aesthetic offers a voyage back in time to an Italian coastal harbour village, connected to its private marina which can moor up to 46 boats. The members' lounge features cream leather seats reminiscent of Riva yachts with crafted teak wood, while outside the peaceful pool is lined elegantly with large cabanas, complete with 'press for assistance' buttons.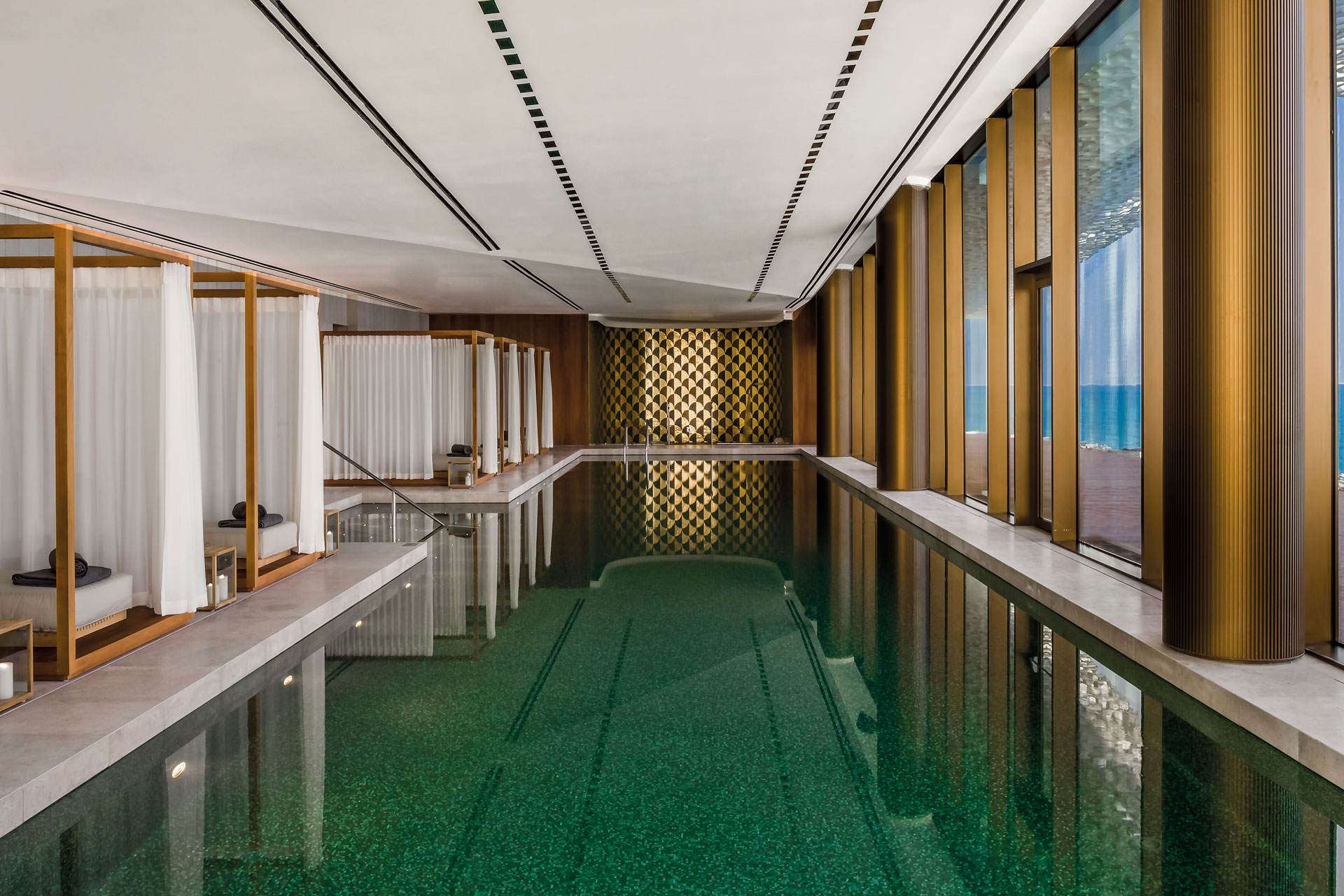 Hidden on the ground floor of the hotel is the 1,700 square-metre luxurious spa. There's an indoor pool, a hammam and a round-the-clock fitness centre, with high-quality products such as La Mer, Maroc Maroc and Amala used throughout the treatments. For super spa-goers is the signature three-hour 'BVLGARI Royal Lulur' treatment. An exotic blend of therapies for couples, it offers the full works, inclusive of a full-body polish and exfoliation, algae mask, reflexology and four-hand massage. Meanwhile, inspired by traditions of Turkey is the 41 square-metre hammam, made with Afyon marble and depicting Iranian green onyx stonework.
EAT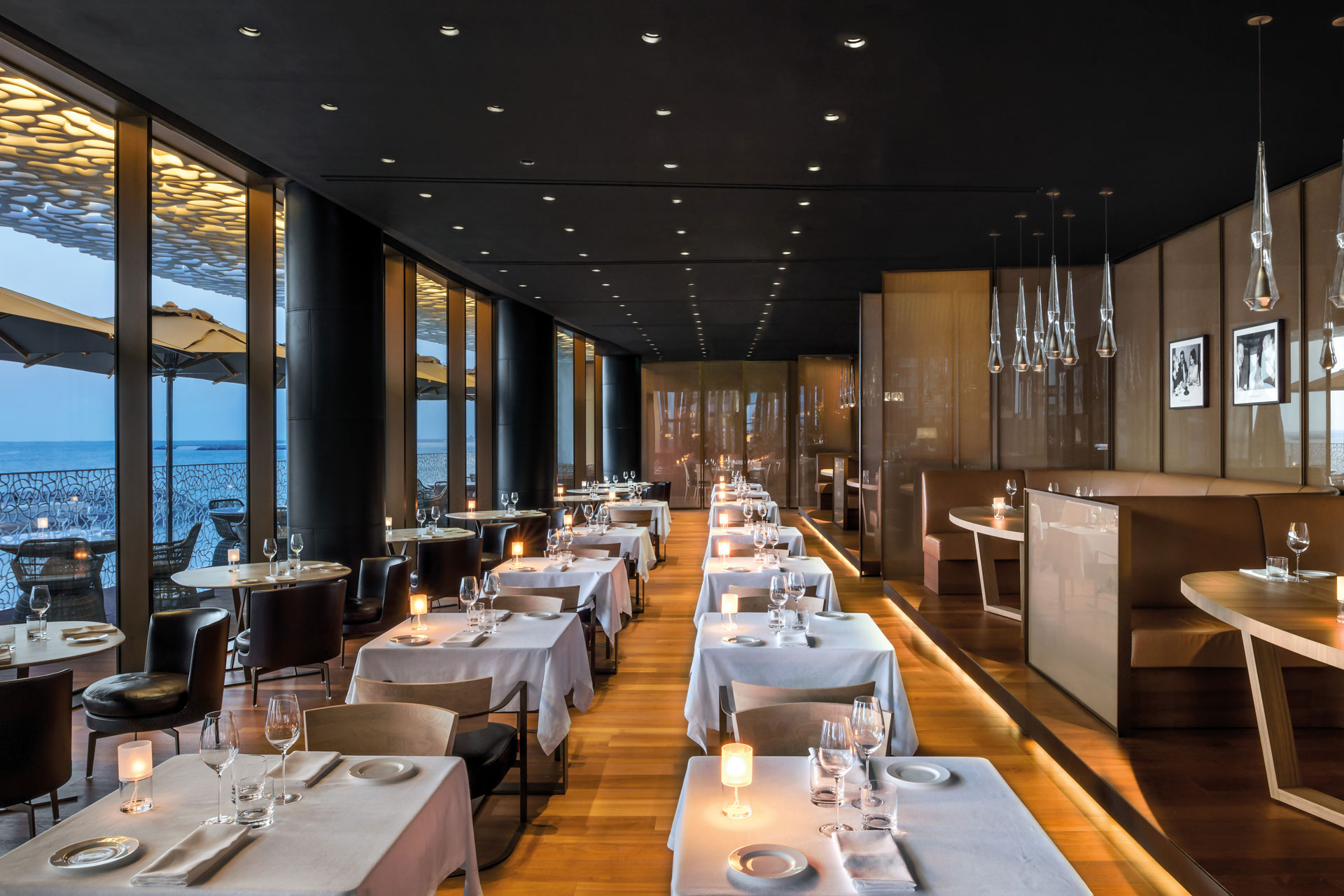 Unsurprisingly, fine Italian cuisine leads at Bulgari Resort Dubai, notably at Il Ristorante Niko Romito, positioned overlooking the marina where the moored boats light up each evening. Michelin-starred chef Niko Romito has created a menu that is a celebration of 'Made In Italy', personally training the restaurant's resident chef Giacomo Amicucci. Everything here is quintessentially Italian, with a menu that offers a grand tour of the country, from the wine and cocktails to the Italian staff. Highlights from the menu include marinated beef carpaccio, homemade spinach and ricotta tortelli with butter and sage, whole baked turbot and the classic tiramisù.
Across the water at the yacht club, Italian delicacies can also be devoured. Specialising in fish and seafood, a high-class vintage vibe with a nautical palette of royal blue and white sets a striking scene for flutes of dry prosecco. Delicacies include John Dory fish with artichokes and pistachio, and Cardinali pasta filled with lobster, tomatoes and ginger. Meanwhile between the pool and the beach is La Spiaggia, the perfect lunchtime spot offering a variety of international food and drink during the day, including perfect club sandwiches and bottles of chilled dry rosé wine.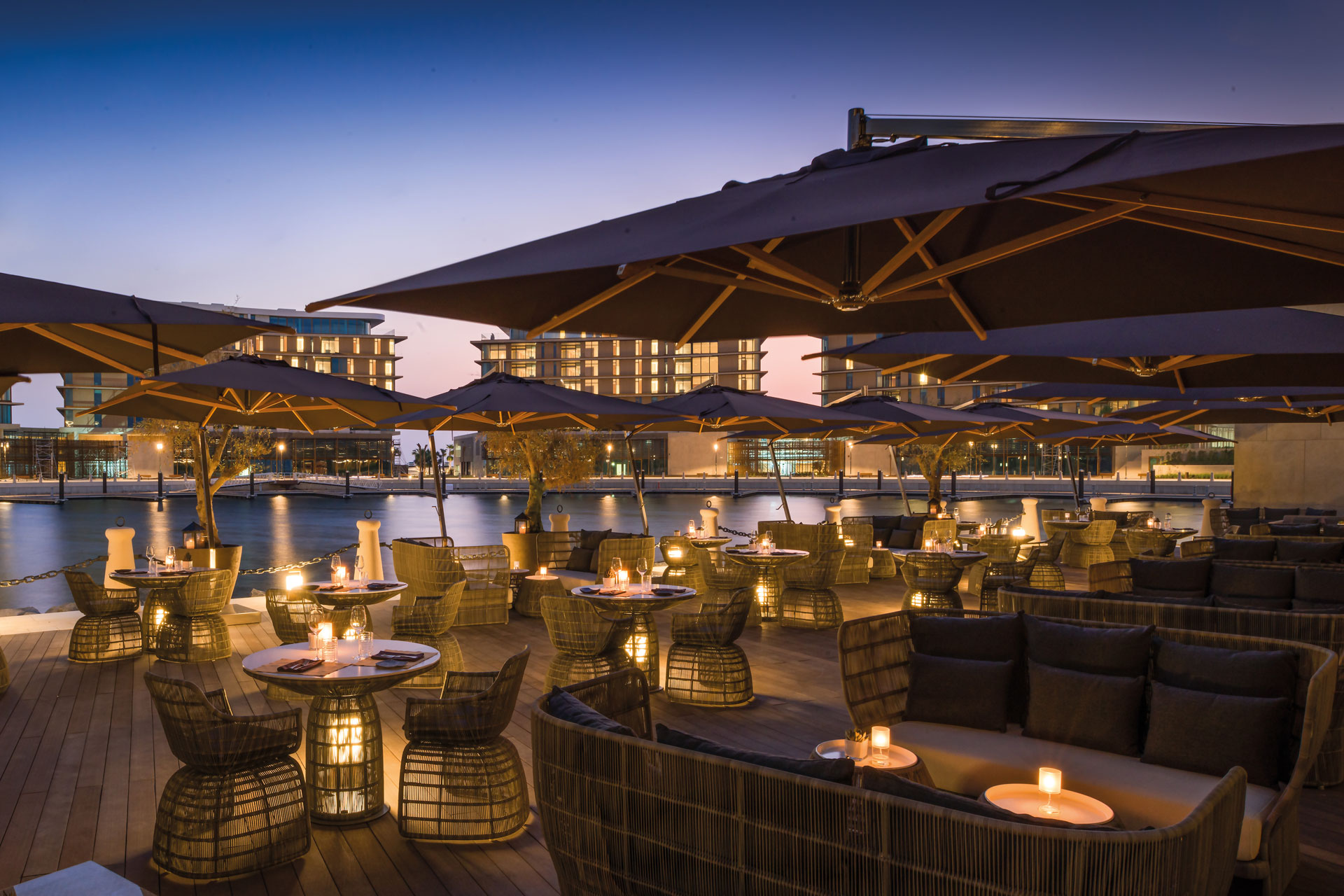 On the flip side, with just nine seats overlooking Dubai's skyline is the intimate Japanese restaurant Hōseki. Japanese chef Masahiro Sugiyama – who boasts over 157 years of family sushi heritage – offers guests is the two-hour Omakase experience, AKA 'I leave it to you'. Here he crafts a culinary journey for his diners, charmingly, to showcase an 'unspoken bond between the guest and the chef'.
Lastly, rounding things off with where you'd start your day is Il Café on the marina deck terrace. Where the impressive Bulgari breakfast is served (or lunch for that matter), the breakfast menu offers everything you could wish for among Italian sculpted woods, a white stone floor and Venetian blinds.
BOOK
Book online at bulgarihotels.com
MORE DUBAI HOTEL REVIEWS: