After years of living in central London, working in the unscrupulous music press and dating rock stars, Julie Reid's hedonistic urban life was brought to an abrupt end after falling pregnant and deciding to move to a small seaside town in Devon…
Her pictures present a tongue-in-cheek version of what it's like to go from being a cultured, single city girl to being plunged into the depths of the countryside with children, trying to retain some sophisticated glamour while dealing with mud, hedges and brass bands… Here she talks about her inspiration behind each photograph.
Cabs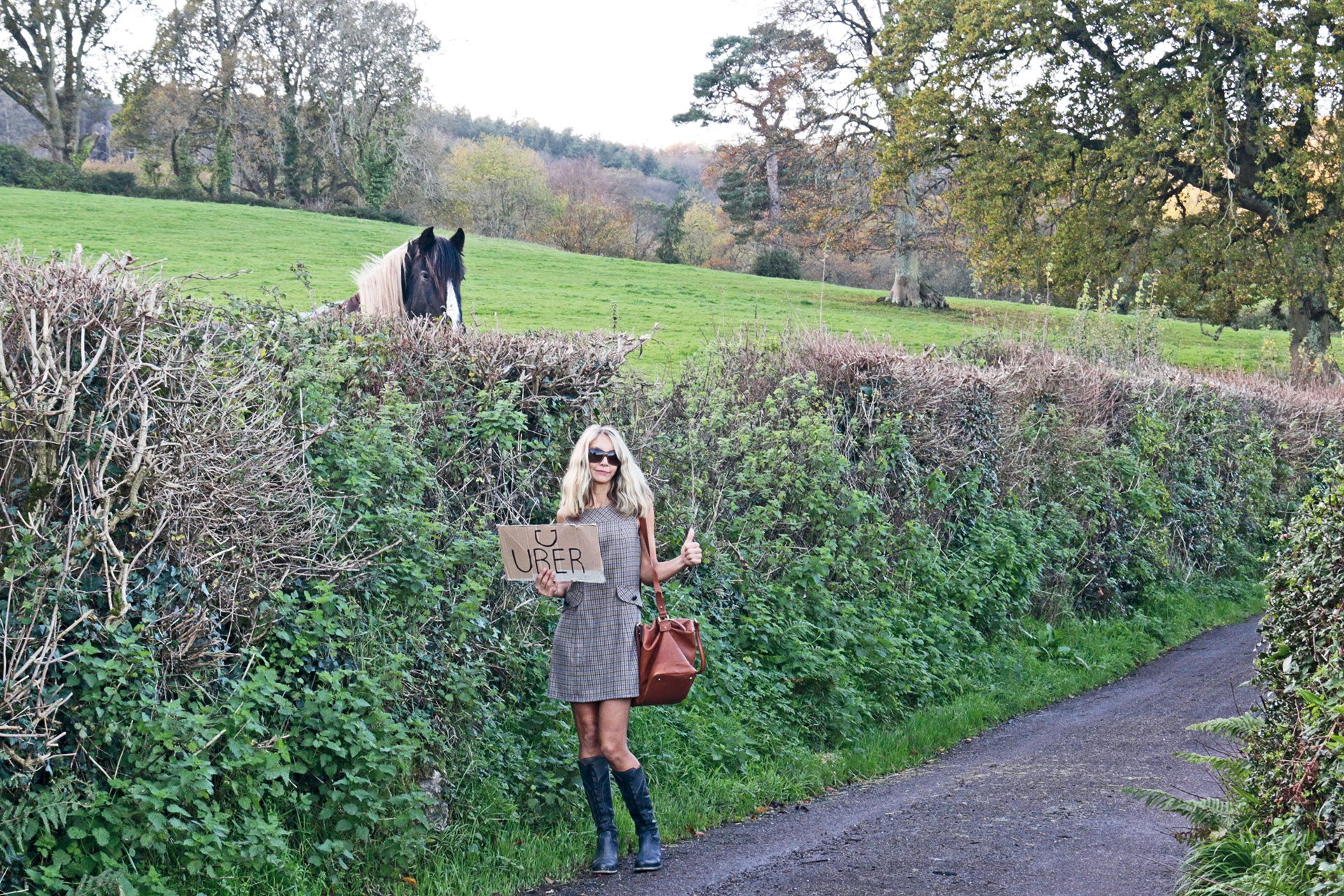 So, here I am, I have to get to Exeter Station by 11am to get the train to Paddington so I can be in Knightsbridge to see my eyebrow lady (can't trust anyone here!) by 3pm. Tried to get a cab but there is only one in the village and that gets booked up 3 weeks in advance. I just need an Uber. Why can't I get an Uber? How come nobody here knows what I am talking about? I thought Ubers were ubiquitous!
The anxiety-inducing situation when you are stranded in a country field, being surreptitiously observed by a smirking horse, and all you can think is, how the hell do the people around here ever get their eyebrows done without an Uber?
Red Boat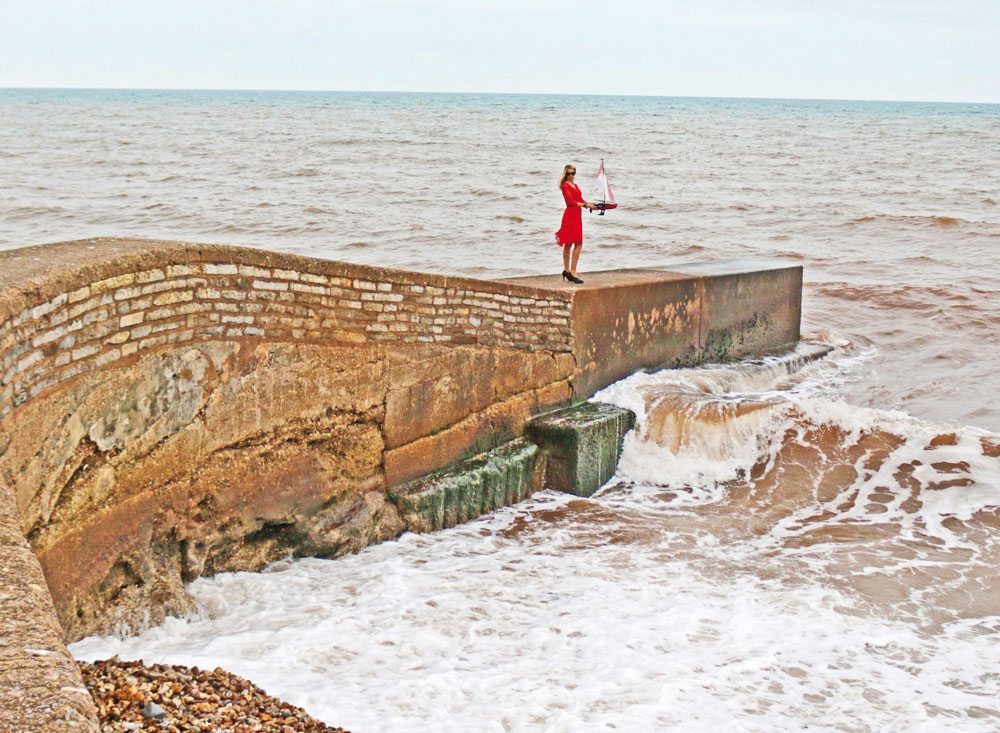 There is a vastness in the countryside and by the sea, that can be quite overwhelming and liberating at the same time. In the city I never noticed the sky, it was always the lights and high buildings that hijacked the view.  In the country, one notices it over everything else, the change in the colours, the cloud formations, the stars. Going for a walk in the country you are much more exposed to the elements, the wind and rough seas, in contrast to the enclosed, manicured parks in the city with their boating, and duck ponds. I tried to represent this by taking my toy boat down to sail in the water, however, it's a turbulent sea which will obviously tear the boat upon contact, while I am being dishevelled in my prim dress by the open wind. Both unprepared, and succumbing to the full force of nature.
Pink Tunnel
My daughters want to go out with their scooters and bikes, get dirty in the forest, and go camping. As a city girl, this doesn't appeal to me much, mainly because of spiders and other creatures lurking behind leaves waiting to attack me. Every walk in the woods has me anxiously surveying what's above me in case there are dangling insects about to fling their decrepit, spindly arms into my face.
The girls want to climb trees and explore tunnels and I am left holding the scooters in my coordinated clothes trying not to get covered in muck (again). It gets to the point where I wonder what percentage of my life has been wasted trying to get mud off our shoes, clothes and toys. Is it really worth all the turmoil just for a breath of fresh country air?
Ghetto Blaster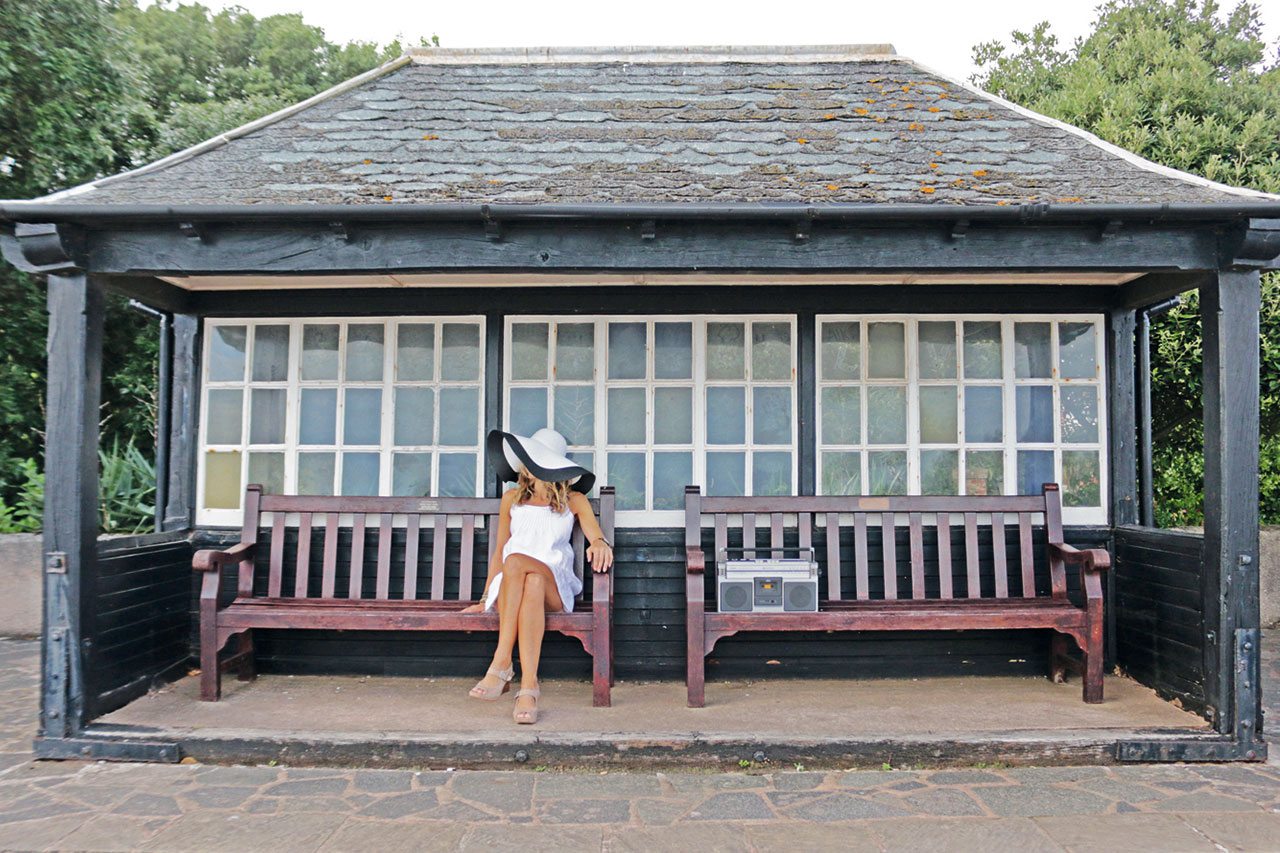 There is a feeling of quaintness in small seaside towns in Devon. Quite often they feel lost in some bygone age, and have a slightly jaded remoteness to them. Sidmouth is well kept and quite genteel, no betting shops, penny arcades or fast food chains. Brass bands play in the park on summer evenings, and people come to listen and picnic serenely. It's all very refined, but sometimes it feels a bit too complacent and I have the urge to bring some discordant urban music to the local botanical gardens. A bit like a reverse Fitzcarraldo, I have the need to enlighten the natives to a more primal sound.  The Ghetto blaster somehow represents loud inner city beats better than other music players, and it matches the windows on the rain shelter rather well.
Hat at Beach
In summer the tourists come. What if my pleasant local stretch of sand where I could go and read Country and Town House in peace, suddenly transforms into a heaving mass of oily bodies, flying cricket balls, tents, and inflatable sea vessels? There are so many people, dogs, and barbecues that I don't even attempt to find a space between the beach-breaks that people have frenziedly hammered into the sand to mark out their territory. It really gets beyond anything civilised so I just stand and watch the view, imagining myself to be in a Seurat painting hanging in the Tate.
Gardening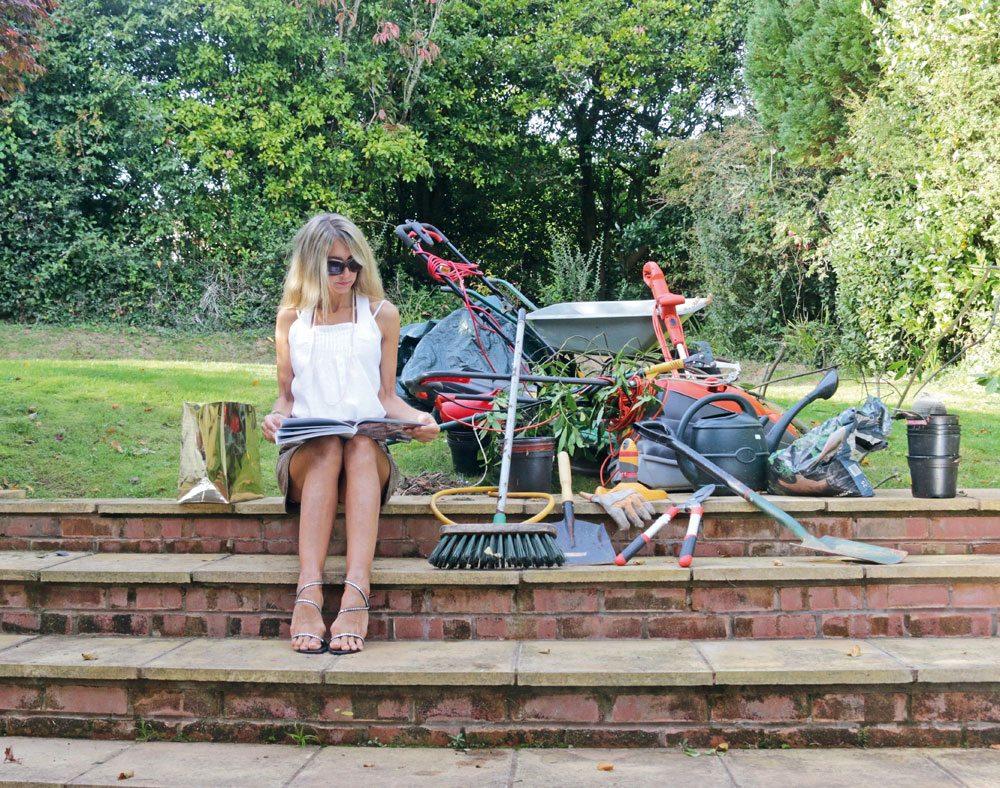 Don't get me started! What do all these things do?? It seems far too complicated to even contemplate. I had a potted cactus in my London flat, which deflated after a week, so I've since given up trying to nurture anything green.  It's much more pleasant sitting reading Country and Town House, and anyway, if I tried anything remotely agricultural my heels would get stuck in the ground. I am just hoping someone with a lot of muscles and knowledge of how to work these orange machines and giant scissors will come and take over. I like a nice tidy garden I just cannot understand how it manages to get that way.
Painting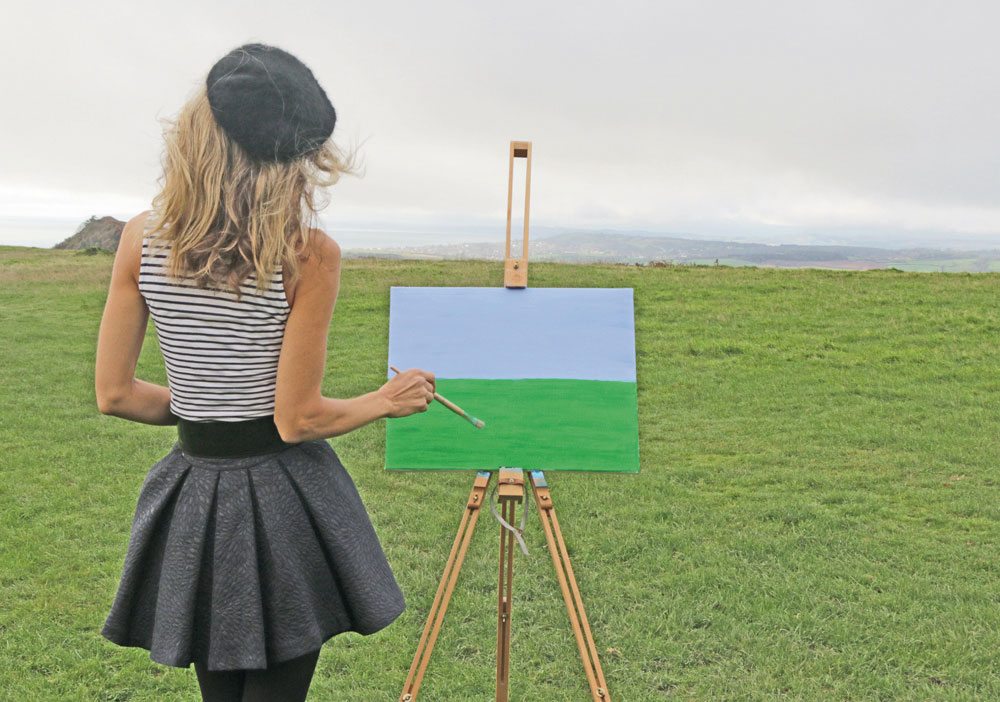 The typical idyllic countryside setting tends to be portrayed in pictures as sweeping farmlands, frolicking animals and abundant trees. As a city girl, I am presenting my view of the countryside as simply green and blue. I think without spending the time observing the countryside and getting involved in what makes it beautiful, the intricacies of nature, the distant views the wildlife, it could be presented from this rather reductionist point of view. Coming from the city where everything is so large, flashy and obvious, you don't have to sit down and look for anything to appreciate it, it's forced upon you, therefore, once in the country it may all just seem like grass and sky.
Enough Scooting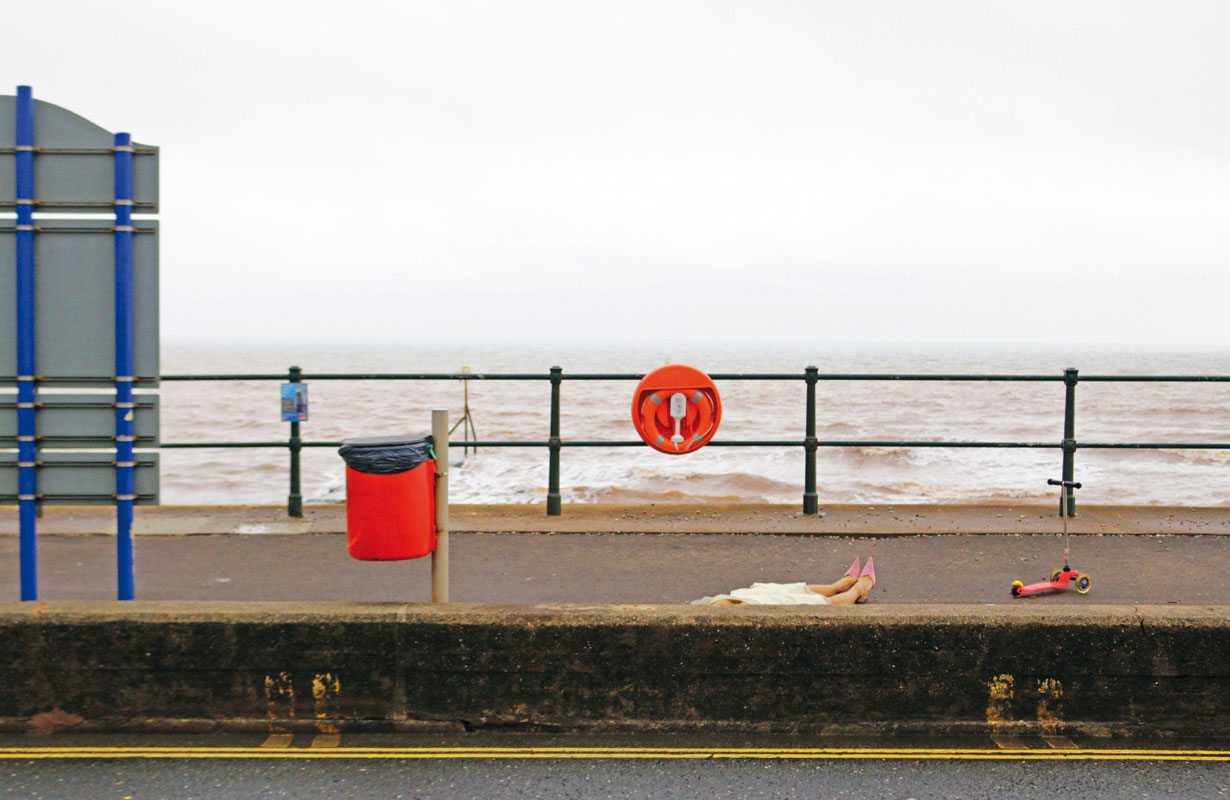 The kids love to go scooting at the seafront, and I am left to run after them, whizzing up and down for what seems like hours on end, until I become so tired, cold and bored that I lose the will to live. Then, suddenly, they'll abandon their scooters and run off to some hidden place, prompting me to frantically search every inch of the beach. Fearing the worst, I'll start calling the RNLI. Then the kids reappear carrying fistfuls of heavy stones, which they put in my tote bag, and insist on taking home. This is the point where I wonder how I got from drinking Manhattans in Mayfair hotels with the likes of Rod Stewart to wearily staggering up a wet and windy street dragging half of a Devon beach in my handbag.
For more of Julie Reid's antics, visit londondevongirl.com
MORE TRAVEL: Have you seen our Hotel of the Week? /  10 of the Best Homestays in London
---