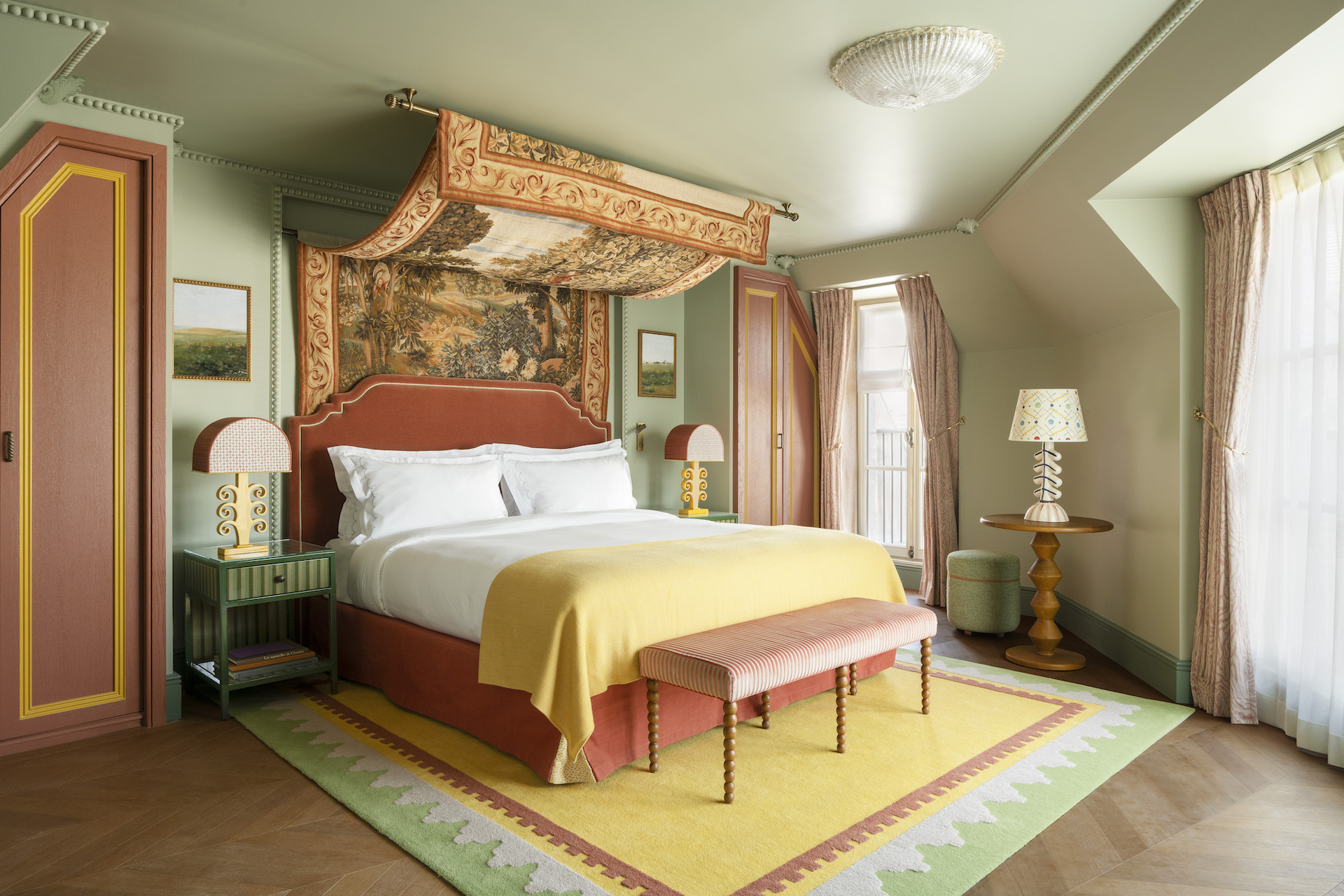 Le Grand Mazarin: Paris's Flamboyant New Hotel Makes a Fabulous Base
More is more
Le Marais's trendy shopping streets have become the cosmopolitan heart of Paris in recent years. At the centre of them is a dashing new hotel, Le Grand Mazarin, which recently opened to a hefty amount of buzz in the French capital. It's the latest venture of Maisons Pariente, a family hotel brand that specialises in the kind of warm, dynamic boutique escapes that are stuffed with warmth and personality. 
Read the C&TH Responsible Tourism Guide
Review: Le Grand Mazarin, Paris
STAY
It's hard to be a Paris hotel: how can you possibly compete with the splendour offered in the streets outside? Nobody wants to hide in their room when visiting the City of Lights.
But with Le Grand Mazarin the team at Maisons Pariente decided to create their own kind of spectacle. They enlisted interior designer Martin Brudnizki – renowned for his more-is-more flamboyant style – to decorate the 61 rooms and suites, as well as the restaurant Boubalé, and the basement cabaret bar. He's infused each space with lavish fabrications, eclectic patterns, and humorous touches, combined with vintage furniture and specially commissioned pieces from French craftspeople, who turned their attention to everything from the ornate chandeliers to the vibrant rugs carpeting the parquet floors.
Each of the bedrooms is like a beautifully thought-through dollshouse, with classical pieces – tapestries, cabinets, side-tables – reimagined with bold colour and lashings of detail, from frilled chair skirts to statement lamps. Altogether, it shouldn't work – and yet it really, really does. 
In the basement, the hidden jewel box swimming pool has been decorated with frescoes by Jacques Merle, who was inspired by the myth of Narcissus for his swirling, dreamlike designs. Another artist, Sophie Pega, in turn created 12 'windows' in the hotel's garden courtyard, each featuring an image inspired by tarot cards. 
EAT
Also richly decked out by Brudnizki is Boubalé, the hotel's restaurant. It's helmed by acclaimed Israeli chef Assaf Granit, whose restaurant Shabour received a Michelin star in 2021 – he also has 12 restaurants in Jerusalem, his hometown, three in London and four others in Paris.
Boubalé pays homage to the Ashkenazi cuisine of Assaf's childhood, reinventing for modern Parisian palettes. The resulting menu is punchy and warming, with goulash and dumplings served alongside matza ball soup, creamy polenta and parmesan, roasted beetroots, and 'Like a Jewish Wedding', a flaky pastry parcel stuffed with potato, emmental and comté cheese. Delicious and impeccably presented, it's all washed down by unusual wines from small terroirs in Eastern Europe. 
DO
Alongside Boubalé there's also a chic cocktail bar, serving up a menu of unusual cocktails that play on the flavours and ingredients found in the restaurant next door. Plus, downstairs there's The Secret Cabaret, with a line-up of unique performers to light up the early hours of the night – no mobile phones allowed. 
The next day, guests can recover in the hotel's treatment room under the hands of Anne Cali, a well-known Parisian massage therapist who's renowned for her lymphatic drainage and anti-cellulite magic.
Le Grand Mazarin is also at the heart of the bustling Marais district, a stone's throw from Notre-Dame and Ile Saint Louis. Nearby there's cultural hotspots like the Picasso museum and the Pompidou Centre to explore, plus shopping at concept boutique Merci and luxury department store La Samaritaine. 
THE FINAL WORD
Le Grand Mazarin makes a fabulous base for visiting Paris. Although it's warm and welcoming, and the rooms full of charm and colour, it understands that you'll probably be spending most of your time exploring the beautiful French capital – it's why you're visiting, after all. But for the moments in between all the galleries and cafes and shops, it's just ideal – relax in the exquisite pool, enjoy an aperitif in the bar, and book a table for a night to savour at Boubalé. 
BOOK IT
Rooms from €690 a night B&B. legrandmazarin.com
GETTING THERE
There's no question that the best way to travel to Paris from the UK is via Eurostar: a quick check-in, a journey of only 2.5 hours, and you're in the heart of Paris, ready to enjoy your visit. Plus, just one flight has the same carbon emissions of 14 Eurostar journeys. It's a no-brainer. eurostar.com