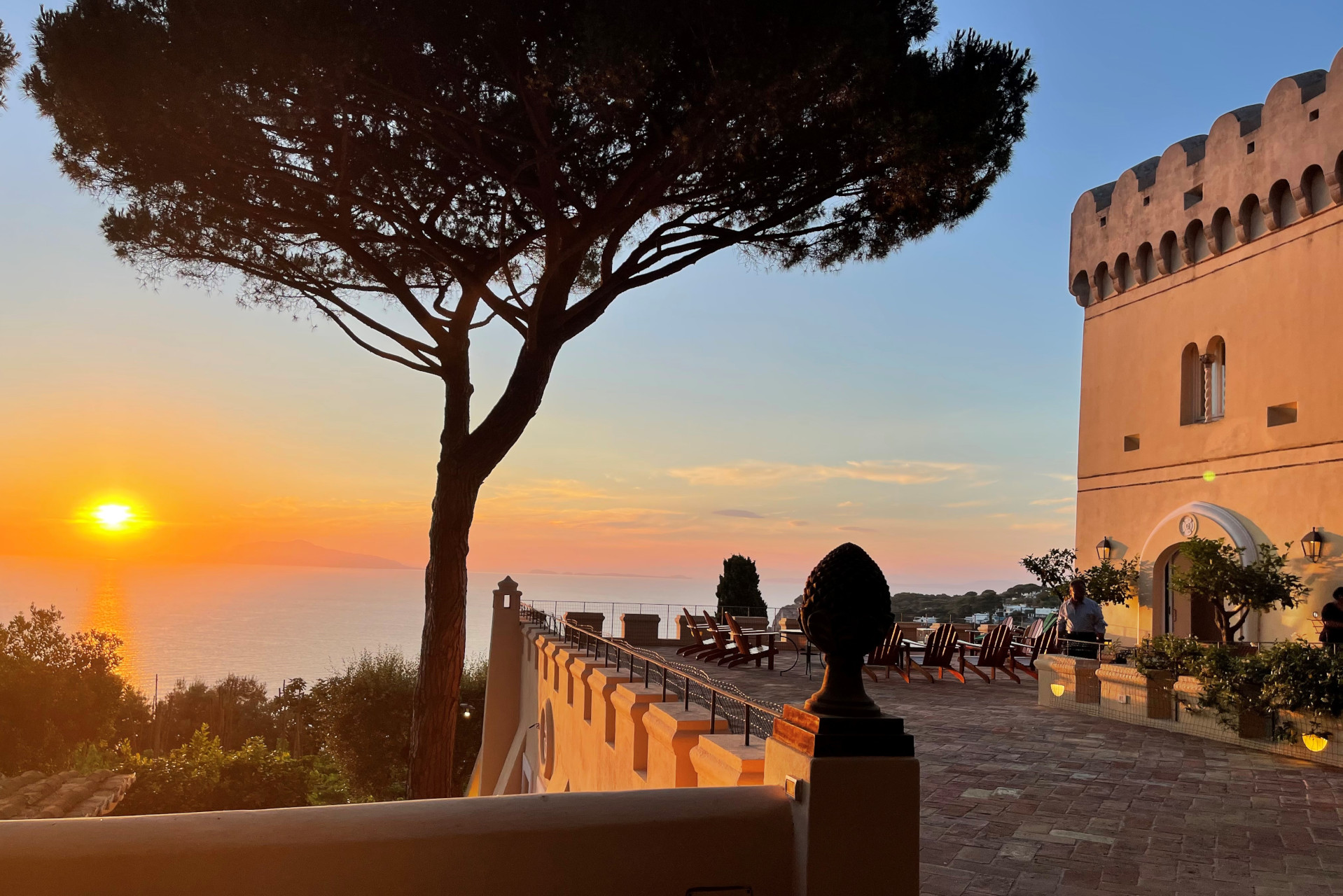 Dee Ocleppo Hilfiger's Mediterranean Diary
---
The fashion designer and entrepreneur on where to eat, sleep and have the best adventure
Craving a holiday? Same. Somewhere we're dying to visit is the sparkling shores of the Mediterranean. From sailing and swimming to the best places for pizza, designer Dee Ocleppo Hilfiger shares her favourite spots in the Mediterranean.
3 Mediterranean-inspired Salads For Summer
Meet Dee Ocleppo Hilfiger
A powerhouse in the fashion industry, Dee Ocleppo Hilfiger has been a household name since her breakthrough as a model aged sixteen. Since then, Dee has launched her own namesake brand (a favourite for the likes of Pippa Middleton, Olivia Palermo, and Beyoncé), taken on the role of Creative Director of Judith Leiber, served as Event Leadership for the Breast Cancer Research Foundation, and travelled the world with her husband, Tommy Hilfiger.
Now Dee looks back on some of favourite memories of the Mediterranean, a special place where she and the family have spent multiple holidays. Read on for Dee's Mediterranean diary for tips on where to go, eat, stay, and enjoy the best bits of the summer.
Dee Ocleppo Hilfiger's Mediterranean Diary
1. Concettina ai Tre Santi
When you are in Naples you must stop for a pizza at Concettina ai Tre Santi. It is an absolute must when in the city! The quality of the simple ingredients, the flavours and the authenticity is what gives you a great experience. The Oliva Family have run the Pizzeria for many decades, it is so amazing to feel the homely atmosphere here. Do not forget to order some frittatine and montanatrine to share with your guests at the table – it is the best way to start a dinner with a glass of wine.
2. La Mezzatorre Hotel and Thermal Spa
We love to sail around the coast, and I can never miss my seasonal appointment at La Mezzatorre Hotel and Thermal Spa when I am in Ischia. The natural location is impressive as it sits above a private bay, with the two charming beach towns Lacco Ameno and Forio just a few minutes away. I love to walk around and smell the mixed aromas of lemon trees, oleanders and bougainvilleas.
The sea view, the nature and all the elements around me when I travel are huge inspirations for my collections. I am a big fan of vintage cinema and it is so fascinating that Visconti lived here.
3. Nives Linen shop
Nives Linen shop in Portofino is one of my favourite shops. I love to shop local in traditional yet unique places. For me, artisanal skills and craftmanship are very important elements that we must support and celebrate. I love their selection of natural fibres, the poplin and linen – there is a freshness and crisp sensation when you touch the fabrics. I am a person that is obsessed with the fine details, and the care and precision of how things are made. The delicate embroidery on the linen almost resembles small renaissance paintings.
4. Cala Gonone
An enchanted place for anchorage and the beach is Cala Gonone in Sardinia. The island offers an incredible selection of amazing places, but it is the east coast with its mix of rare panoramic views and exotic surroundings that makes you surrender to its raw beauty. Do not forget to visit the Grotta del Bue Marino, the natural caves on the cliffs and take a dip in the deep blue water of Cala Goloritze. Every time I am in Sardinia, I feel like I am living an exotic adventure.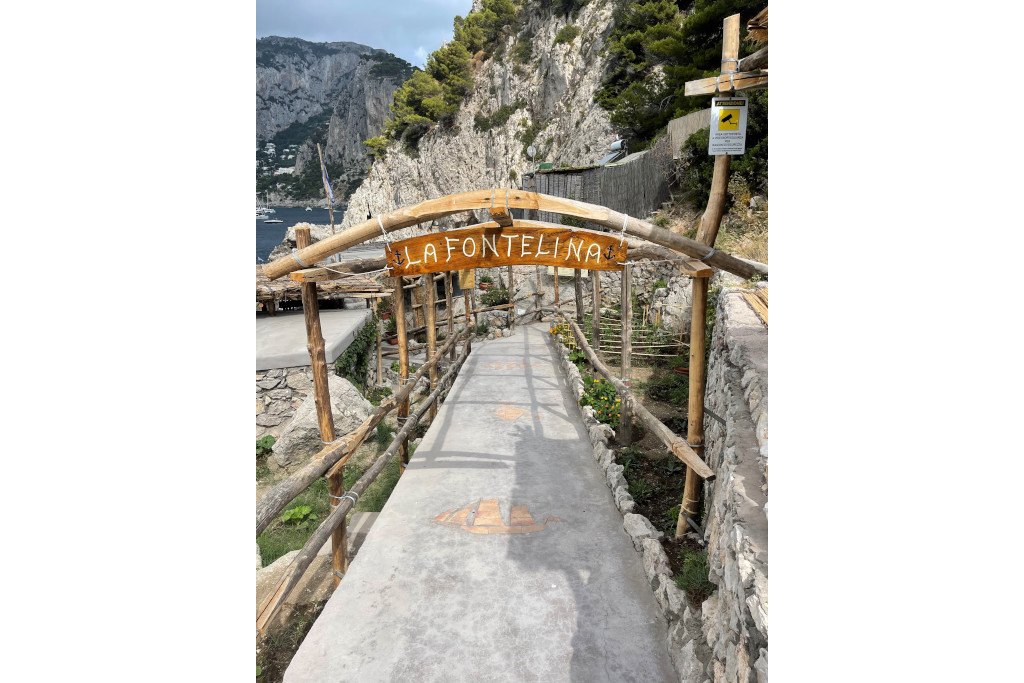 5. Conca del Sogno
One of the many delights of the Amalfi coast is the gastronomic experiences. My all-time favourite lunch spot is Conca Del Sogno in Nerano which is an incredible place where you can try the best delicacies of the area with a menu that is created purely from seasonal produce.  For me, being with all my family is my perfect moment. It is very important to be all together around the table, enjoying delicious food and sharing laughter and smiles with my loved ones. During your lunch at Conca del Sogno, make sure to order the Zucchini Pasta and a sgroppino at the end of the meal.
6. Fiore
When I am in Capri, after a refreshing pit stop for the best ice-cream at Buonocore Gelateria, I head straight to Fiore, a fantastic store where you can design your own dresses and sandals. There is no sign on the door, so this is really Capri's best kept secret! I love shopping and I love accessories, for that I have my own brand. I am passionate about quality and the 'Made in Italy' feature is one of the key elements of my collections. It is so amazing to see how the artisanal skills have been handed down through generations, and to see the local business be an example of excellence all around the world. Every season when I visit, I love to add new pieces to my private collection. Fiore is a wonderful place for gifts, and I would buy unique presents here for my friends. When I return home, everyone is always so intrigued and curious about my new purchases.
7. La Scogliera
A must stop for a sunny lunch or a romantic dinner at sunset is La Scogliera in La Maddalena Island which offers the most magical sea view. I can only explain La Maddalena Island by listing out a plethora of blue tones…sapphire, cobalt, navy, prussian, aquamarine, turquoise… it is really the place where the sea merges with the sky. I absolutely adore to arrive by boat with the maestrale wind in my hair. The cuisine is a mix of Mediterranean flavours with a rich and refined modern twist. Take a moment to also visit the Pink Beach, la spiaggia rosa, in the Budelli Island. If you are travelling with young children, a visit to the Garibaldi house in the Caprera Island for a historical moment will keep them quiet.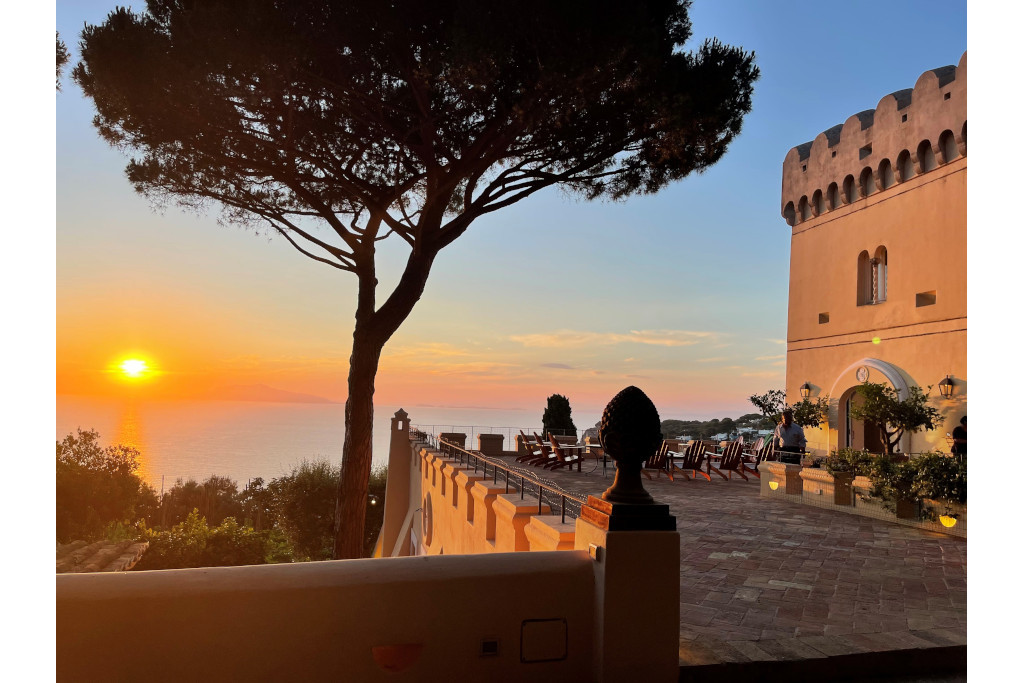 8. Hotel Il San Pietro
The Terrace of the Hotel Il San Pietro in Positano is iconic and an absolutely beautiful spot for a Aperitivo. I like to sip a refreshing Bellini as the sun dips behind the rolling coastline. I am deeply passionate about design and architecture and the hotel has an incredible selection of beautiful décor and interiors that creates a magical atmosphere. Overlooking Positano, Praiano, and Li Galli islands, you are fully immersed in a garden…  all you need is someone to sing you a serenata.
9. Sperone Beach
One of my favourite spots for a swim is Sperone Beach in Bonifacio – a stop that cannot be missed. Sailing in the Mediterranean gives you the opportunity to be a cosmopolite – in less than 30 minutes from La Maddalena you are immersed in the French way of life and when you arrive, the Buongiorno immediately becomes Bonjour! Bonifacio is a picturesque little town that conserve a Mediterranean style mixed with incredible nature. From the white sandy beaches, granite rocks and Mediterranean bushes, Sperone beach is exactly the synthesis of these elements.
10. Elisabetta Zorzet
Porto Cervo has the most magnificent shops, but my favourite is a super special store called Elisabetta Zorzet. Here you will find the most wonderful and unique silver pieces, all with a sense of extravagance to them which is truly mesmerising. I love the sophisticated selection of design, antiquity, and the incredible curation of items that the store offers. It is very easy to spend hours here just browsing.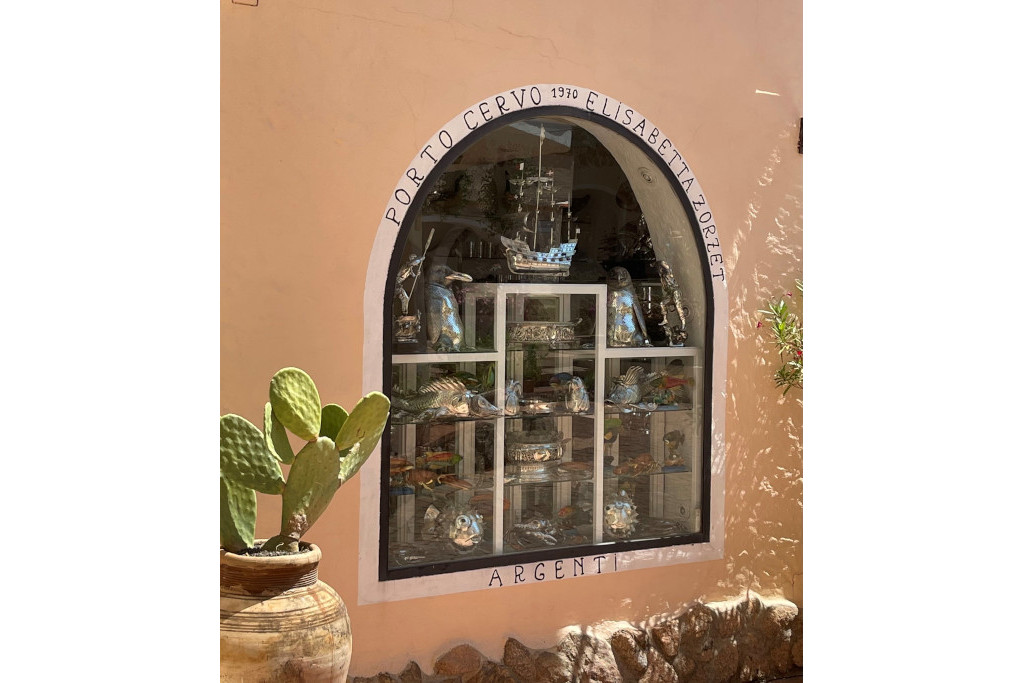 Our days in Sardinia are always the authentic summer days of our holidays. Porto Cervo is also a place where we casually meet friends that are also yachting and holidaying in the area. We would swim together at Capriccioli beach or spend an afternoon perusing the street market in San Pantaleo before ending the day having a drink at the Cala di Volpe Hotel – my tequila sour is always fantastic!