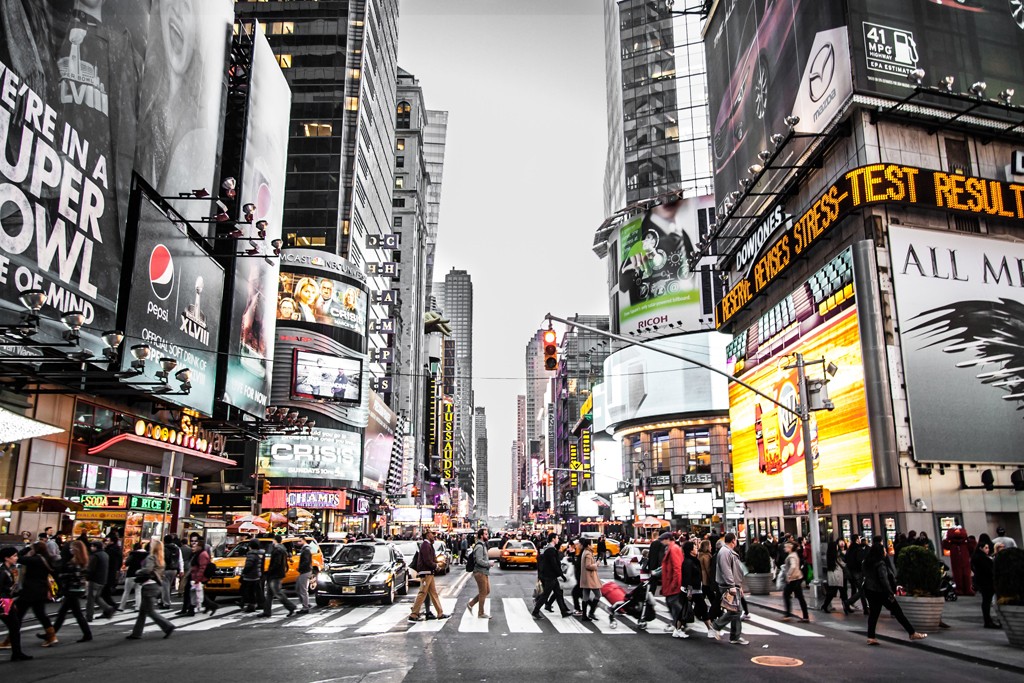 Midtown New York Area Guide
---
The best places to stay, eat, shop and play in Midtown New York…
Midtown takes you back in time to the Gilded Age of New York and is home to many of the city's iconic attractions – Broadway! Times Square! Madison Square Garden! St Patrick's Church! Expectedly, it is the most touristy part of Manhattan so expect crowds at all times of the day, remember this is the city that never sleeps – however, it is an area drenched in history and bucket list sites so take a deep breath as you go to pound the pavements, absorb in all the chaos and the lights and remember to look up through all the skyscrapers. There are surprises to see at every twist and turn. Lallie Fraser guides us through the best places to stay, eat, shop and play in Midtown New York…
Midtown New York Area Guide
STAY
The Chatwal is completely unassuming from the outside on busy West 44th Street lined with theatres. Enter the heavenly scented lobby into the Art Deco Lounge and be transported back in time. This is one of the Broadway stars favourite hotels to stay at with some of the rooms not even listed on the hotels website. On the tenth floor are four individual suites which can be booked as a quartet to be become The Barrymore Suite, named after the acting great (and grandfather of Drew). The building is one of the last remaining buildings standing in the city by renowned architect, Stanford White, in that was redesigned immaculately in 2010 by Thierry Despont. The room furniture is a subtle celebration of the old-fashioned Louis Vuitton style trunk giving a sartorial elegance. thechatwalny.com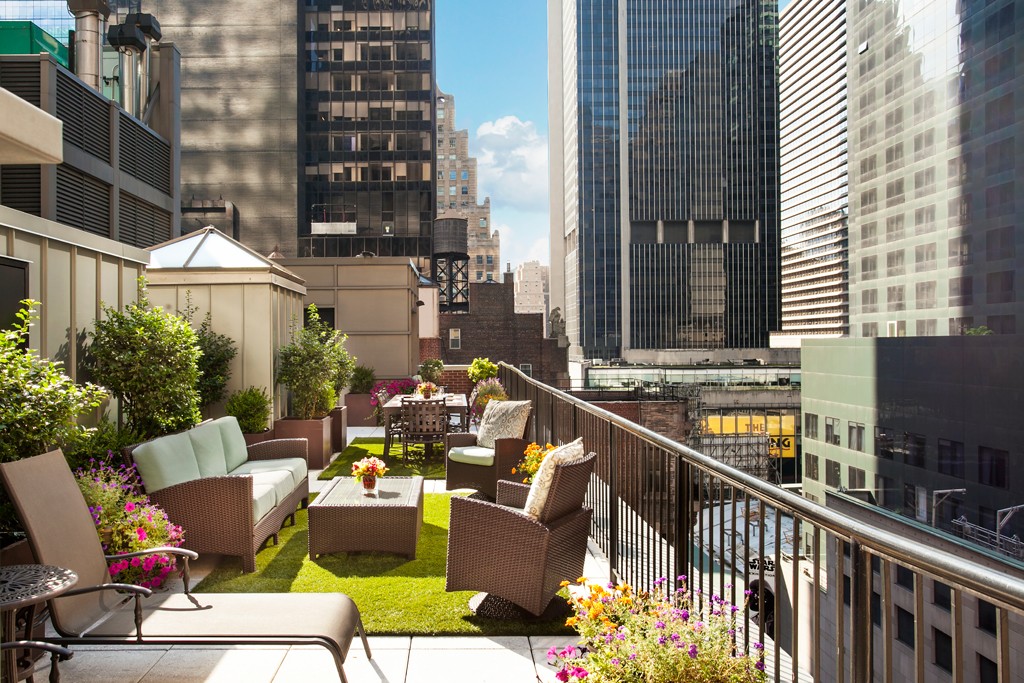 BEST BARS
The Rum House
With one of the biggest rum selections in the city, relax into The Rum House, enjoy a cocktail or two and enjoy the live jazz that is on most nights. The Rum Old Fashioned is particularly good. 228 West 47th St | therumhousenyc.com
The Monkey Bar
An iconic bar that sits at the ground floor of the Hotel Elysée that was bought and brought back to its former glory in 2009 by friends to the stars and former Vanity Fair editor, Graydon Carter. Check out the mural paying homage to the great Jazz Age figures who once sailed through the saloon doors. Great place for lunch or cocktails. 60 East 54th St | monkeybarnewyork.com
Valerie
In its own words, Valerie's essence belongs to the past and has aspirations for the future, much like New York herself. Fun and stylish spot – try one of their signature gin cocktails. 45 West 45th St | valerienewyorkcity.com
BEST RESTAURANTS
The Whitby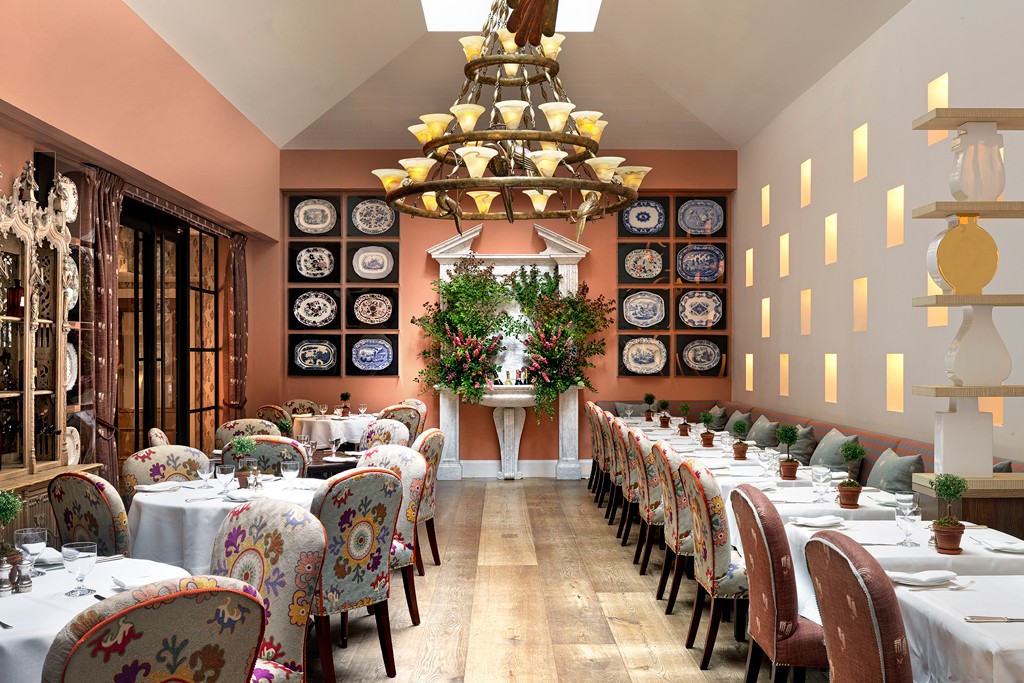 The Whitby is Tim and Kit Kemp's second New York Firmdale hotel following the success of their Downtown Crosby Street Hotel. Located in upper Midtown amongst the heavy-hitters of the luxury hotel scene in the city (a stone's throw from The Plaza and The Ritz-Carlton), the hotel and bar are (of course) amongst the chicest in NYC. The restaurant and bar have a friendly, laid-back vibe (we were treated to live jazz on our Friday night visit) with a delicious seasonal menu by Head Chef Anthony Paris. Try the perfectly-cooked tuna or the tasty Tandoori style branzino, but whatever you do, don't forget to add a side of mac and cheese. 18 W 56th Street | firmdalehotels.com
The Lambs Club
The Lambs Club takes its name from America's first professional theatrical club. Organised in 1874 by a group of actors and enthusiasts, the Lambs took their name from a similar group in London, which flourished from 1869-1879, in the name of drama critic and essayist Charles Lamb. Now it is a grand old room, with huge open fire place when the weather calls for it and fantastic spot for a pre or post show dinner. 132 West 44th Street | thelambsclub.com
The Deco Food + Drink
Midtown New York's newest food hall, bar and event space The Deco Food + Drink was founded by first time restaurateur Doris Huang as a toast to New York with eight diverse, family-owned vendor concepts (from Afghan and Italian to Hawaiian). Drawing on the rich history of the Garment District, The Deco transports patrons to the glamour of 1920s NYC thanks to its chic geometric tile patterns and color palette of blues with brass and white accents – atypical of traditional food hall designs. 231 West 39th Street | thedeconewyork.com
The Modern
New York is very good at putting destination restaurants in their museums. The Modern is a perfect example of this – a  two-Michelin starred, contemporary American restaurant situated at the MoMa overlooking the Sculpture Garden. The dishes are works of modern art on their own! 9 W 53rd St | themodernnyc.com
WHAT TO DO IN MIDTOWN NEW YORK
See A Show
A trip to New York is complete with a trip to Broadway to see one of the dazzling shows. The Tina Turner Musical is a current sell out telling the story of how this music goddess rewrote the rules of music in her 40's after a harrowing relationship with former husband and stage partner, Ike.
Basketball
Heading to Madison Square Garden to watch a basketball game is also a must to indulge in a very American pastime – buy a hot dog, watch out for the kiss cam, try and understand the rules – it's a bonkers and memorable experience.
If you have set things you know you want to do in New York it's advisable to book your tickets in advance to make sure you don't miss out. Pre-book with AttractionTickets.com to  guarantee the best deal on tickets as well as the best seats.
MoMa
Often referenced as one of the most influential art museums in the world and has a constant rotation of dymanic and thought provoking exhibitions alongside the impressive permanent exhibitions. Check out the Dorothea Lange: Words & Pictures exhibition on until 9th May, a celebration of the documentary photographers work and life. 11 W 53rd St | moma.org