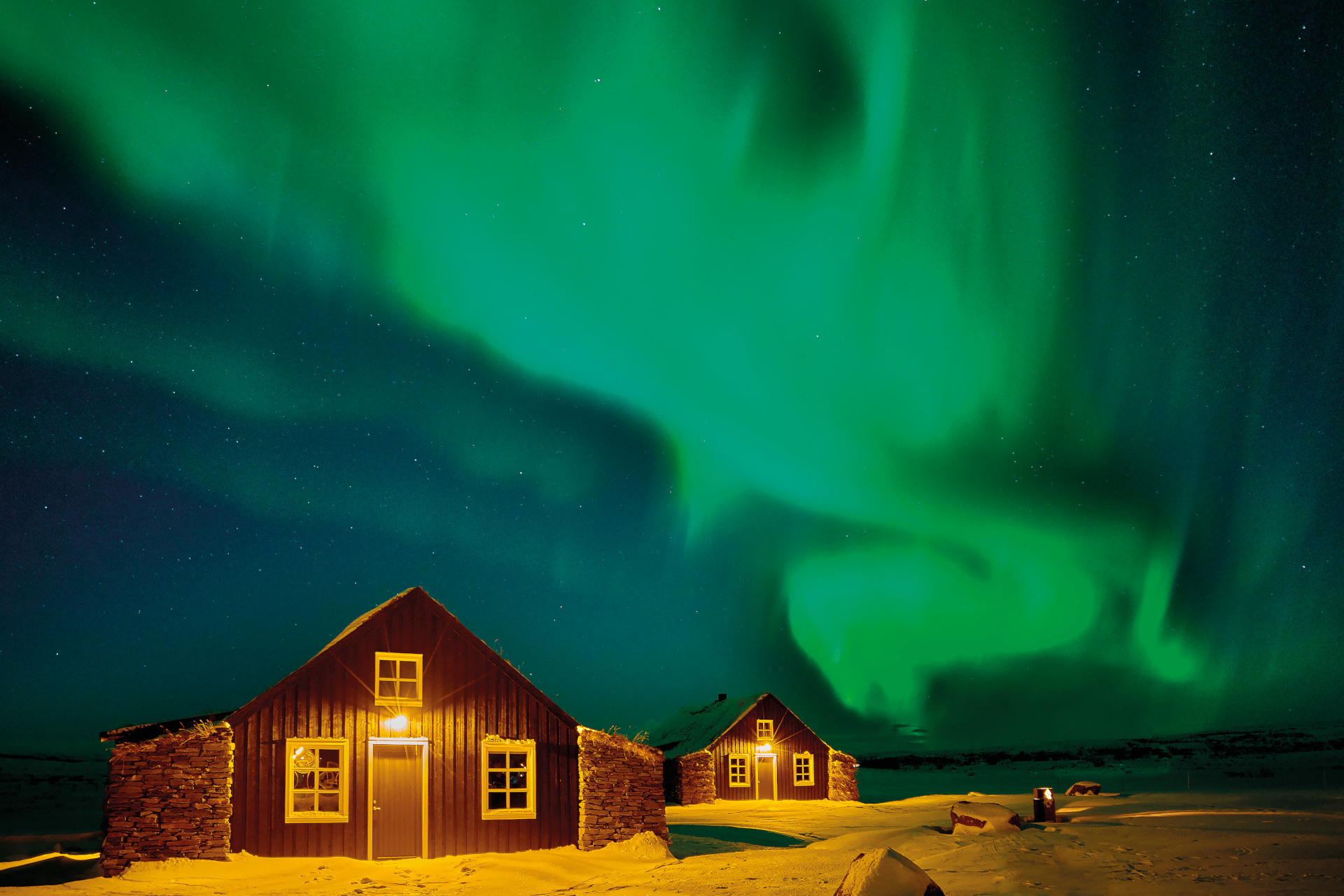 Nature Therapy: Iceland
'Nature is, indeed, a tonic for the soul'
Lauren Ho sails into polar waters in search of Iceland's wild side
Buy the Jan/Feb '22 Issue here
Nature Therapy: Iceland
With the pandemic putting even more focus on our health and wellbeing, many of us are seeking refuge amid nature in far-flung destinations. Which is why one cloudy summer morning I find myself in Iceland. It's nine in the morning, and anchored in one of the many fjords that fracture the country's remote north-western coast, the air, a cool ten degrees, is still; the calm, slate-blue waters stretch to a tranquil shore that immediately rises, broadening into a steep, moss-carpeted mountain slope.
It's my first morning of a three-day journey aboard MV Nansen Explorer, an expedition vessel that plies the icy seas of the polar regions, visiting remote destinations from Antarctica to Greenland. I'd boarded the previous evening in Reykjavik for a sailing that will head north along the remote Westfjords, to the country's northernmost region, just outside the Arctic Circle.
The ship is owned and operated by Nansen Polar Expeditions, with its excursions managed by EYOS, best known for arranging extraordinary superyacht expeditions to some of the world's most extreme destinations. Expectations, then, were high.
To start with, she is beautiful. Solidly utilitarian on the outside, quietly luxurious on the inside, her Scandinavian-inspired interiors are marked by a focus on simple lines, natural materials, carefully considered lighting, and muted hues. The seven cabins are thoughtfully considered and some, like the Owner's Suite, have newly modified floor-to-ceiling windows that let in copious amounts of natural light. There is a gym and a dining room on deck two, while the cosy lounge on deck three is smartly configured for socialising in small or larger groups.
This all comes together to provide a base for days spent immersing ourselves in a programme of skilfully planned excursions that focus on Iceland's extraordinary landscape. The country's constantly evolving topography is the result of rumbling volcanoes, bubbling hot springs, erupting geysers and shifting tectonic plates. This has combined to shape a medley of otherworldly, moss-covered lava fields, soaring mountains, glittering glaciers, thundering waterfalls, and vast river-cut valleys. In the summer, the almost neon-green landscape is blanketed with springy moss and a smattering of wild crowberries, blueberries, fluffy cotton flowers and the purple hues of Arctic thyme.
That afternoon, the sun peeking from behind the clouds, we paddled on serene waters in kayaks to the mouth of the magnificent Dynjandi waterfall where, kitted up in drysuits, we walked to the top eddy pool for a dip against the roar of the falling water. Back on board, evening activity tended to begin around the bar, while supper, served in the dining room, was usually a three-course affair, focusing on robust dishes like salmon with leeks and Icelandic potatoes or hearty Norwegian fish soup. One evening, as the light began to fade from the sky, we made an impromptu landing at a nearby fjord, where we ended the day – in true Icelandic style – with a soak in the steaming waters of the Reykjafjarðarlaug natural hot pool.
Our last day on board, at the northern edge of the country, was also the most exhilarating. In the morning, under a flat, grey sky, we disembarked on the blustery shores of Hesteyri, an abandoned village – deserted since the 1950s due to the inhospitable climate – that's nudged up against rugged, snow-capped peaks on the water's edge of Hornstrandir Nature Reserve. Here, we ambled among desolate buildings, amid a sweep of Arctic Angelica and burbling streams, and then along the windswept coast past curious seals towards a disused whaling station.
Later that afternoon, we hopped into the zodiacs with the hope of spotting the last of the Arctic puffins, most of which, by this time of the year, had already set off for the winter to the Labrador Sea. As the clouds began to disperse, their gentle churning mirrored in the calm, inky waters, the reflection unexpectedly shattered in what felt like an orchestrated finale as a humpback whale emerged in all its magnificent glory, with a spectacular half-hour performance of full breaches, tail slapping, spy-hopping, fin waving and tail-fluke diving, flawlessly illuminated by the sparkle of the late afternoon sun. On a high, we sped back to the waiting ship where, evening cocktails in hand, we chattered excitedly, sharing pictures of our never-to-be-forgotten whale encounter.
Back on dry land, I made my way upcountry, east of Reykjavik, towards Torfhús Retreat, a discreet property hidden among 50 acres of sprawling farmland, adjacent to the Golden Circle. The hotel literally blends into the landscape, its series of timber and stone houses, inspired by traditional Viking architecture, topped with living turf roofs. Anchored by a main langhús, which houses the reception and the restaurant, it is here that I am warmly welcomed by the owners, Sigi and Alex, who join me for supper. The dining room itself is a rustic space with repurposed timber walls, tables and chairs, shaggy sheepskin throws and large windows that frame picture-perfect views of the wild, windswept landscape outside. Over dishes like Icelandic langoustine and delicious slow-cooked beef short ribs, Alex and Siggi are keen to note that the retreat is just that – a sanctuary to be used as a base for exploring the area's breath-taking natural wonders.
And so, over the next couple of days, we buggy along dusty backroads, bouncing past stretches of moss-covered lava fields, which unfurl under big skies, eventually sloping upwards to soaring mountainscape vistas. We hop along the Golden Circle tourist trail, visiting sights like the epic Gullfoss waterfall and the erupting Strokkur geyser, but we also head off the beaten path, past gushing rivers, through burbling streams and to staggering waterfalls, like Háifoss, which cascades spectacularly down a majestic 130-metre-high cliff, into a deep river-cut valley.
Evenings are spent immersed in my private geothermal-heated basalt stone pool. Against a sprawling backdrop of bleak, windswept views and the formidable Langjökull glacier beyond, I reflect on Iceland's truly wondrous landscape and am reminded that nature is, indeed, a tonic for the soul.
BOOK IT
Lauren was a guest of EYOS, Nansen Polar Expeditions and Torfhús Retreat.
Nansen Polar Expeditions
Available to charter, with prices starting from €295,000 per week, all inclusive. Single-cabin departures are also available to book, for themed itineraries to Greenland and Antarctica in 2022, with prices starting from €30,500 for a 12-night expedition, all inclusive. eyos.com
Torfhús Retreat
Rates start from €600 for a one-bedroom Torfbaer suite based on two people sharing including breakfast and lunch. torfhus.is
Images: Nansen Polar Expeditions © John Cotton
READ MORE
Top Travel Trends 2022: Where to Go & How to Do It