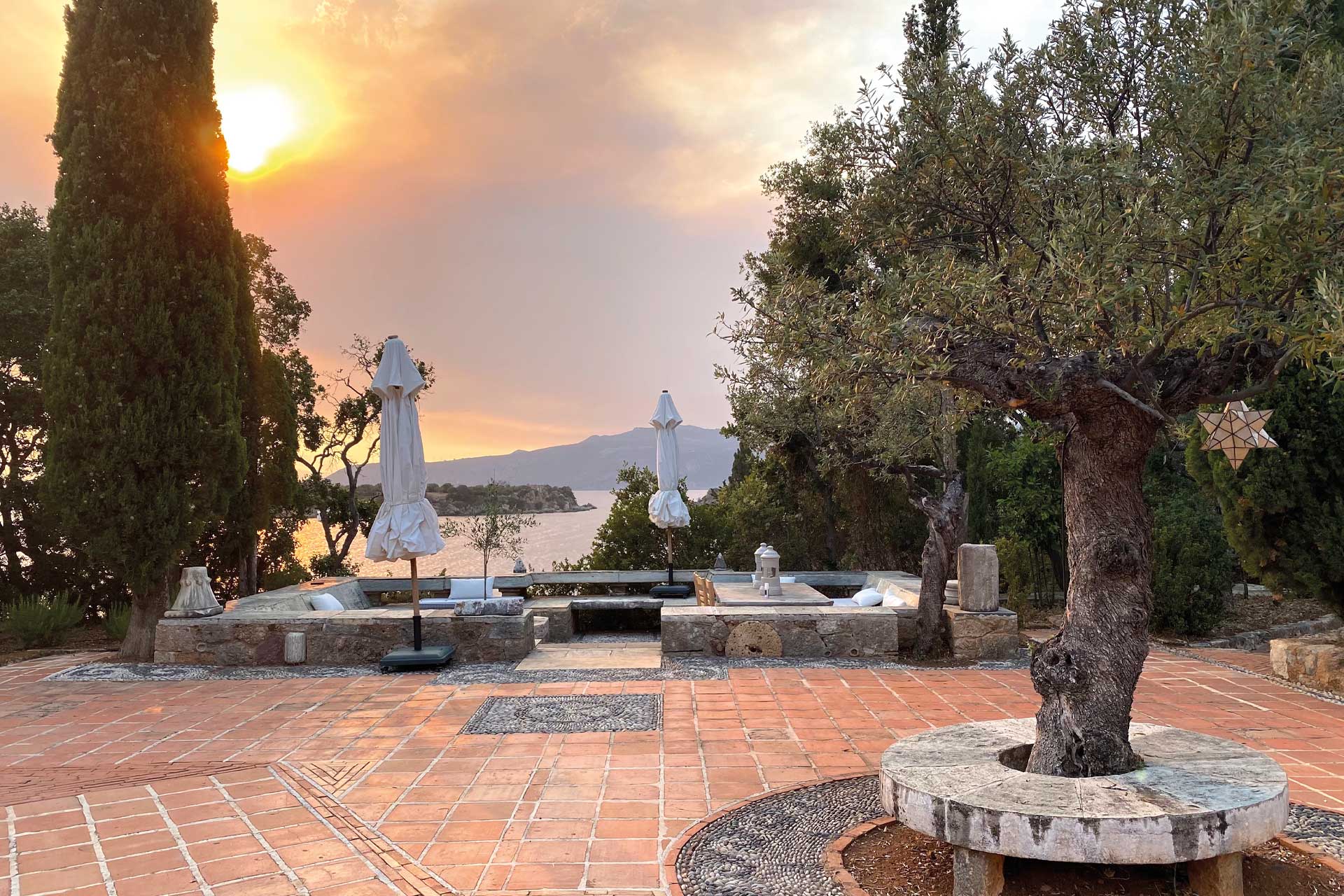 Inside Patrick Leigh Fermour's home in Mani, Greece
---
Escape to Mani, Greece, in the home of one of the world's most famous travel writers.
Emma Inglis follows in the footsteps of acclaimed travel writer Patrick Leigh Fermor at his exquisite home in the Mani, Greece.
Staying in the former home of Sir Patrick Leigh Fermor, war hero, polymath and arguably the world's greatest travel writer, is a glorious delight if you are a fan of the well-loved Grecophile. Designed and built in the 1960s by Leigh Fermor and his wife Joan in an olive grove overlooking a secluded bay in the Mani, the property still manages to evoke its famous creator. While many houses morph into new identities when their makers move on, the Leigh Fermor house, now managed under the auspices of the Benaki Museum, is little changed.
The house remains crammed full of Paddy (as his friends called him) and Joan's books, paintings – the most valuable have been replaced with facsimiles – ceramics, old photographs and objets d'art. Everywhere you look are details curated by the couple, a kaleidoscope of artistic references gathered from their travels: a fireplace modelled on one that Paddy had seen in Romania; a pebbled terrace based on a design from Olympia; a huge, circular marble dining table inlaid with motifs copied from one in a Verona church. It takes little imagination to picture the elegant sitting room that Sir John Betjeman described as 'one of the rooms of the world', filled with artists, poets, royalty and writers, all taking inspiration from their erudite hosts.
As a Leigh Fermor fan, I am giddy with excitement to be staying here, the guest of friends who have rented it for a week during summer. It is everything that I want it to be and more. I knew from photos that the house was beautiful, but I am unprepared for its idyllic setting in a bower of cypress trees, where cicadas endlessly drum and scrape, and the way the house opens itself up to an enormous sweep of clear blue Aegean Sea and sky.
Little wonder that Leigh Fermor was smitten when he came across the plot of land near the seaside village of Kardamyli in 1962. He described walking down to 'a gently sloping world of the utmost magical beauty'. After nearly two years of negotiation, Paddy and Joan signed the contract for the plot. In the years that followed 'the loose-limbed monastery cum farmhouse' took shape. Its creation took time. The house would not be completed until the end of the 1960s.
Paddy's journey 'from the snake-belts and the bat oil' of his regimented British boarding school to Peloponnese's wild and rugged coast was one of lively adventure and derring-do. As an 18-year-old he walked from the Hook of Holland to Constantinople (now Istanbul), sleeping in hayricks and castles, and falling in love with a Romanian princess en route. Some 40 years later he wrote two books about it: A Time of Gifts and Between the Woods and the Water.
His European walk ended in 1934 but Paddy resumed his travels a few weeks later going to Mount Athos in Greece, where he experienced Greek hospitality for the first time. When in 1940 the British Army Intelligence Corps were looking for officers with a knowledge of Greek, Paddy, now aged 25, jumped at the chance to become an agent of the Special Operations Executive (SOE). His audacious kidnapping of a German commander in Crete, General Kreipe, saw him return home to a Distinguished Service Order and a film version of his exploits, with Dirk Bogarde playing him as a handsome black-shirted resistance leader.
After the war he worked for a short time in Athens at the British Institute and travelled extensively in and around Greece. That Paddy would soon create a home in this country that had made such an impression on him had a certain inevitability about it.
After a few days here – savouring Paddy's descriptive writing, nearly, but not quite, swimming out to the little island known as Merope (Paddy swam out to and round it every day, well into his 80s), whiling away scorching afternoons in shady crescent-shaped nooks, chatting, laughing, eating, drinking – my friends and I set out exploring.
The Mani is separated from the rest of Greece by the towering Taygetus mountains and feels like another world, a reclusive patch of land where medieval towers and craggy coastline mix with hundreds of Orthodox Christian churches and silvery vistas of gnarled and half-hollow olive trees. We stroll around Kardamyli, a pretty village of bougainvillea and vine-draped houses, and visit its medieval heart of fortified tower houses and a small museum. We eat at his former housekeeper's taverna, Lela's, overlooking the bay. One day we take a boat down to picture-postcard Limeni for lunch at fish taverna Takis, where our fresh octopus is cleaned into the sea, attracting a huge loggerhead turtle. Mostly, though, we stay in, loathe to leave the Leigh Fermor's enchanting home.
In 1996, Paddy and Joan made the decision to bequeath the house to the Benaki Museum. Leigh Fermor specified that he wanted his home to be used as a writers' retreat and, acknowledging that this would be expensive, granted permission for it to be rented in summer months. Seven years later, Joan passed away after a fall at the house. Paddy soldiered on. On 9 June 2011, he left Greece for the last time. He was 96. He died in England the following day and was buried beside his beloved Joan. On his gravestone is an inscription in Greek: 'In addition, he was that best of all things, Hellenic.'
BOOK IT
Exclusive villa rental costs around £25,000 for the week (sleeps 10) and includes breakfast, daily cleaning and concierge service. ariahotels.gr
READ MORE:
Island-Hopping in Greece with The MarBella Collection / 6 Family-Friendly Greek Getaways