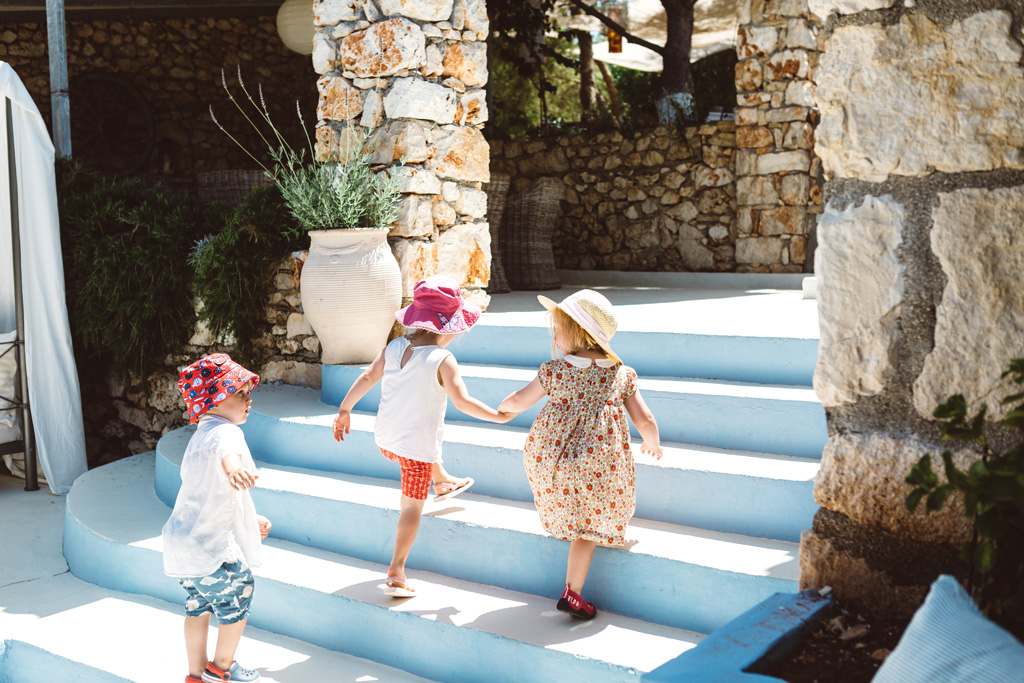 6 Family-Friendly Greek Getaways
Plan your perfect Greek getaway with our guide to the best child-friendly resorts & escapes
Planning ahead for the summer? How about a little Greek getaway with the family? Kids are notoriously easy to please. Bucket, spade, sand: sorted. Adults with kids on the other hand; a far more finicky crowd. If you're thinking about going Greek for your next family holiday, we've found four options sure to keep both camps happy. Choose from boutique luxury, sprawling resorts and cosy villas and find the best luxury family friendly holidays in Greece with our guide…
Latest travel advice from gov.uk / Family
Best Family Friendly Holidays in Greece
Club Life: The Peligoni Club, Zakynthos
WHAT
Lighting up the quiet north-eastern coast of Zakynthos for more than 30 years, The Peligoni Club is the perfect combination of picture-perfect white-washed cliff-top lounging and can't-sit-still fun to keep younger guests (and the young-at-heart) occupied. It has the rare capacity to please both those travelling with and without kids, offering all-level watersports, multiple lounging areas and options, varied excursions and evening entertainment. It caters to a variety of budgets, too, with off-site accommodation options (all with free transfers to and from the club) ranging from deluxe villas to cheap and cheerful (but cute and cosy) B&Bs. Just don't give your kids free-reign at the milkshake bar with your club card…
WHAT'S IN IT FOR KIDS
For the youngest visitors there is a creche with experienced staff and a relaxed drop-in atmosphere so you can enjoy an hour's rest here and there without worrying. The kids' club keeps little people happy with fun and games, treasure hunts, discos and tepee movie-watching sessions, while older children right through to teenagers can enjoy watersports and get to know each other at activity sessions and party nights.
WHAT'S IN IT FOR YOU
With multiple childcare options available you might want to kick back and read a book on the white-washed decking or check out the treatment options at the spa, but for more active guests a watersports membership is well worth the upgrade so you can sail, kayak or windsurf your way to (temporary) freedom. The on-site, off-site nature of a beach club holiday means you can check out more of the surrounding area, and club staff are more than willing to suggest local restaurants, bars and attractions so you can broaden your horizons. But for creatures of habit the menu at the club has something for everyone, from crowd-pleasing pizzas and teenage-friendly fare to zingy salads and sumptuous seafood. The place feels like home in a matter of hours, which could explain why so many guests return year after year.
Featured image (top): The Peligoni Club, Zakynthos, copyright Nick Isden
BOOK IT
The Peligoni Club offers accommodation for all sizes of groups. Guests can stay in B&B's, cottages or private villas with individual pools. For more information about membership rates and to book visit peligoni.com | 0208 740 3001
Gold Star Family Friendly Holidays in Greece: Costa Navarino
WHAT
Located in Messinia, at the very south of the mainland, Costa Navarino is nestled in one of the most unspoiled and breath-taking landscapes to be found in this part of the world. With ecotourism at its heart, the resort upholds incredibly high standards of environmental and social responsibility throughout, and spans across two 5-star deluxe hotels. Check in to The Westin Resort for a week (or more) for the perfect balance of relaxation and entertainment. When it comes to family friendly holidays in Greece, you've hit the jackpot.
WHAT'S IN IT FOR KIDS?
With two large outdoor pools plus an impressive aquapark, they'll have no shortage of places to swim. At the Sandcastle and Cocoon club, there are recreational and educational programs for children from 4 months to 12 years, where they can stay and play all day while you get some work (/ahem, sun worshipping) done. Other activities include basketball, tennis, climbing and racing; and did we mention the enormous beach they can run riot on?
WHAT'S IN IT FOR YOU?
While they're making friends at the Sandcastle Club, you can relax on the beach, by the pool or check into the spa. Nearby Pylos has a beautiful little castle to explore, plus a bustling harbour and some interesting shops (including an excellent cheese shop where you should pick up some cheese and figs to take home). Opt for a room with a private pool so you can relax in peace while the little ones nap or play. There are endless dining options on site, so fussy eaters are kept happy and there's ample variety for all the family. Treat yourself to a beach-side Barbouni lunch of delicious calamari and Greek salad with a cocktail or two while the kids enjoy the sun, sea and sand.
BOOK IT
Visit Red Savannah (01242 787800 www.redsavannah.com) for more information and to book. 
The best family-friendly festivals for 2019
Boutique Beach Break: Santa Marina Resort & Villas, Mykonos
WHAT
Travelling with kids in tow doesn't mean you have to downgrade on style. Santa Marina Resort & Villas is fresh from a three-year multi-million Euro refurbishment and is located on a secluded peninsula 3km from the bustling Mykonos town; it's the only resort on the island with its own private beach. There's also a stunning infinity seawater pool, a family-friendly infinity pool and the island's biggest (and most luxurious) spa.
WHAT'S IN IT FOR KIDS?
Forget kids' clubs and plastic pool floats, at Santa Marina, the family-friendly Greek holiday offerings blend seamlessly into the luxe resort. There's a playground on site to keep children three and up entertained, should they tire of the shallow, crystal-clear waters on the private beach. The pool by the Colonial Pool Restaurant & Bar is specially designed to be safe for little ones, so you can enjoy a drink or bite to eat while you watch them enjoy the water.
WHAT'S IN IT FOR YOU?
Aside from the glorious sea-water infinity pool and cabana-lined private beach, there's the world-class Ginkgo Spa on site where you can enjoy a range of treatments including a Swedish massage that's second to none. There are nine suites amongst the 101 rooms and suites that have stunning private pools, plus family-sized villas for you and the family to enjoy some privacy when you need it. Along with the Colonial bar and restaurant serving fresh local flavours, the resort is home to the world's very first Buddha-Bar Beach. Pick from signature cocktails and the renowned Pan Asian menu and enjoy visiting mixologists and top DJs that draw visitors from the rest of the island and passing yachts. The on-site Reef Boutique is the perfect shopping break when you tire of sun-worshipping, too.
BOOK IT
Visit www.santa-marina.gr for more information and to book. 
Sani Resort, Halkidiki, Greece
By Elisa Bray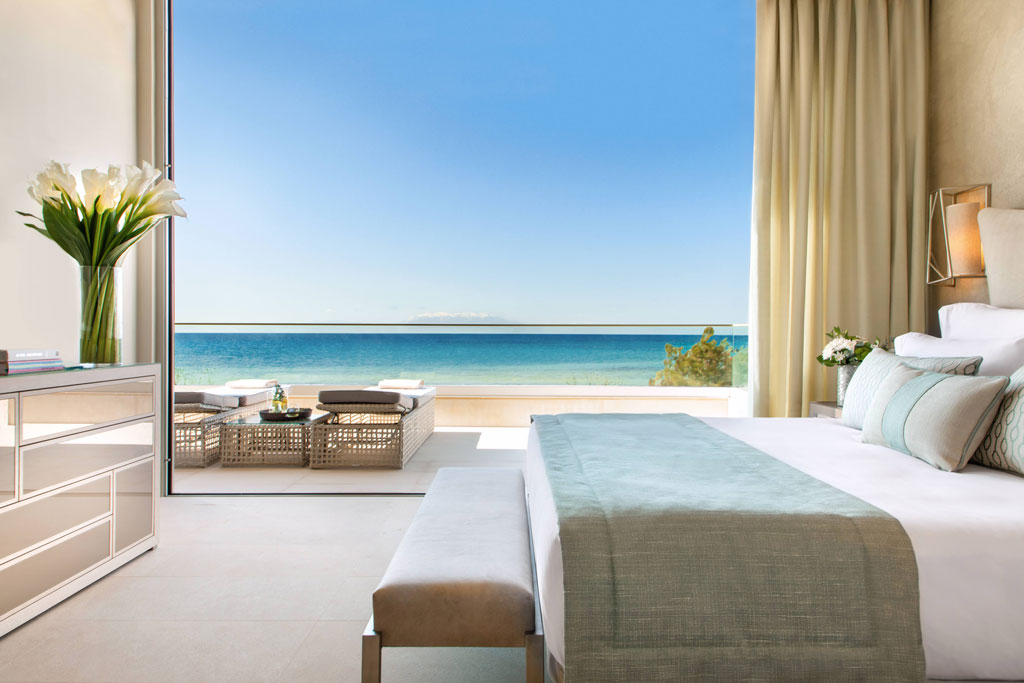 WHAT
The five 5-star hotels of Sani Resort sprawl over 1000 acres of lush ecological reserve in the Greek mainland's Halkidiki. They range from the lowest-entry Sani Beach, best for young families with its onsite facilities, to the exclusive Sani Asturias. Sani Dunes welcomes children, but has a more adult vibe. Golf buggies help tired families make their way around the spacious hotel plots, and shuttle buses transport guests across the resort. The new green drive across the resort means pop-up events, from June to August, dedicated to nature: star-studying, eco-markets, and local produce tastings. If you're looking for quality, pampered family time and much-needed relaxation, this resort is a dream.
WHAT'S IN IT FOR KIDS?
With the sandy-floored playgrounds, heated pools and a splash pool that's brand new this year, littlest guests won't be bored. Three of the five resorts have their own kids' creches and clubs (Sani Beach, Sani Club and Sani Porto, which also caters for guests from Sani Asterias and Sani Dunes), providing UK Ofsted-approved childcare for children from four months. Sani Beach has the best on-site facilities for children, and the largest beach area – the soft white sands of Bousoulas beach stretch four miles – with gentle turquoise waters. Budding footballers can take classes with the Chelsea FC Foundation. Teenagers will love the new adventure park and the O-zone house that's open until 10pm.
Mealtimes are easy, with high chairs, plastic plates and cutlery on demand, and, with nutritional guru Annabel Karmel onboard, children's menus offer much more than the usual chicken/burger/fish and chips; think colourful quesadillas and mini Med-inspired dishes such as Greek salads. Watch out for the cute ice cream van popping up through the resort to dispense complimentary treats.
WHAT'S IN IT FOR YOU?
You'll find the ideal balance of family and couple time here. Some suites include private pools – ideal for taking a swim while children nap. Parents rejoice at the beach "babewatch" facility where babysitters amuse children for 30 minutes so they can take a relaxed dip in the sea. Or, while the children are busy at the Kids' Club or mini disco, book yourself treatments at the spa (there's one at each resort), relax by the infinity pools or take part in activities: daily morning yoga and pilates classes; forest walks to see some of the 200-odd bird species found here; and for the more active, lessons at the new Rafa Nadal Tennis Centre. Take a chauffeur-driven Volvo ride to enjoy the pine-filled forest, pretty painted churches and coast beyond the resort's boundaries. High-end shopping and restaurants are to be found at the marina.
Sani Resort is heaven for foodies, with a dine-around programme allowing guests to sample the many restaurants offering everything from Greek (Vosporos) to Japanese (Katsu); the blue-and-white-styled taverna Ouzerie at Sani Club is a delightful sea-facing spot to enjoy traditional, mouthwatering local delicacies such as fluffy fried zucchini balls with tzatziki and grilled octopus with fava beans puree. Best for romantic dates are Over Water and Fresco, both of which boast Michelin-star chefs, while the annual Sani Gourmet festival in May features top chefs from around the world. The weekly "White Parties" on Bousoulas beach are the perfect spot for a cocktail.
BOOK IT
Visit Olympic Holidays (www.olympicholidays.com; 020 8492 6868) for more information and to book. 
Villa Break: Villa Athalia, Bright Blue Villas
WHAT
Bright Blue Villas has a collection of stunning luxury private holiday villas, which all make for superb family friendly holidays in Greece, the perfect choice for when you want complete privacy but don't want to skip out on five-star service. Villa Athalia in Paros is located directly on the waterfront of Chryssi Akti, making it the perfect beach house to soak up some Mediterranean sun. Just a few steps off the long stretch of the sparkling fine golden sand, the kids are just steps away from a day of beach fun.
WHAT'S IN IT FOR KIDS?
The ultimate escape for beach-lovers, the luxury beach house is located right off Golden Beach, so your little ones can walk barefoot straight onto the sand. The villa sleeps eight, with three en-suite bathrooms and a guest house, so it's a great option for that big family break where the kids can entertain each other while you enjoy some downtime. The large private pool should satisfy water babies, too.
WHAT'S IN IT FOR YOU?
Adults and kids alike can make the most of the country's best windsurfing and kitesurfing facilities on Golden Beach, but if that's not your thing, the sparkling sands are the perfect spot for a book and a cocktail. The villa itself is surrounded by olive, pomegranate and fig trees and cultivates its own vineyard and small aromatic plants garden; it will feel like a real Greek home away from home by the end of your stay.
BOOK IT
Visit brightbluevillas.com for more information and to book. 
Spa Heaven: Blue Palace, a Luxury Collection Resort, Elounda, Crete
WHAT
This five-star family-run resort is beautifully positioned between the fishing village of Plaka and Crete's Elounda Beach. Perfect for a relaxing resort break or as a base to explore the nearby National Monument Spinalonga Island, Blue Palace, a Luxury Collection Resort, Elounda, Crete, overlooks the Aegean Sea with its own private beach.
WHAT'S IN IT FOR KIDS?
The kids will want to get stuck into the Kids Club on-site, in between checking out the seven food and drinks outlets conveniently positioned around the resort. And for older kids there is the traditional Grecian caique boat ideal for family excursions, not to mention a total of 142 pools on-site (70% of the hotel's rooms have a private pool). Definitely one of the chicest options when it comes to family friendly holidays in Greece.
WHAT'S IN IT FOR YOU?
You'll want to check out the award-winning Elounda Spa & Thalassotherapy while the kids are at the Kids Club. In fact, if they're eight or older, they'll be able to join you as the resort offers a Young Travellers Collection with bespoke spa treatments for children.
BOOK IT
Visit bluepalaceresort.gr for more information and to book. 
Planning a staycation? Check out the very best British & Irish Hotels in our Guide