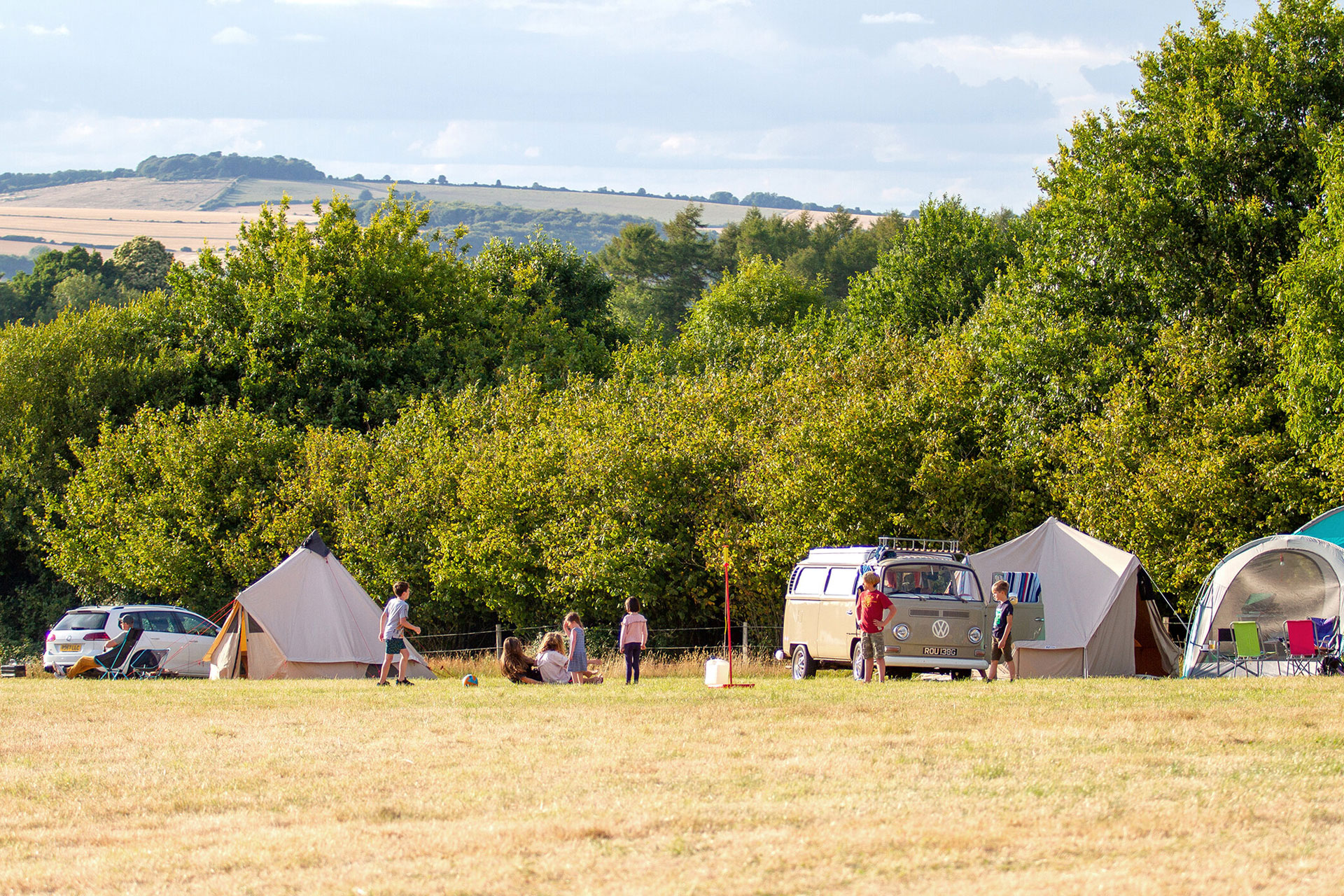 Review: Harry's Field Glamping, New Forest
---
When you wake at 4.18am in a freezing, light-filled tent to the sound of the dawn chorus, deafeningly loud and punctuated by the occasional donkey bray, resist the urge to plug in your headphones, pull your cover over your head and roll over. At 4.22am, the cuckoo will join for a brief and rare solo and you'll be thankful that you were conscious for this glorious musical performance. The Great British summer of camping is underway. But if you were designed for the finer things in life, only glamping will do. Rebecca Cox checks in to a bell tent at Harry's Field in the New Forest, to assess the situation.
Harry's Field Campsite Glamping Review: New Forest
STAY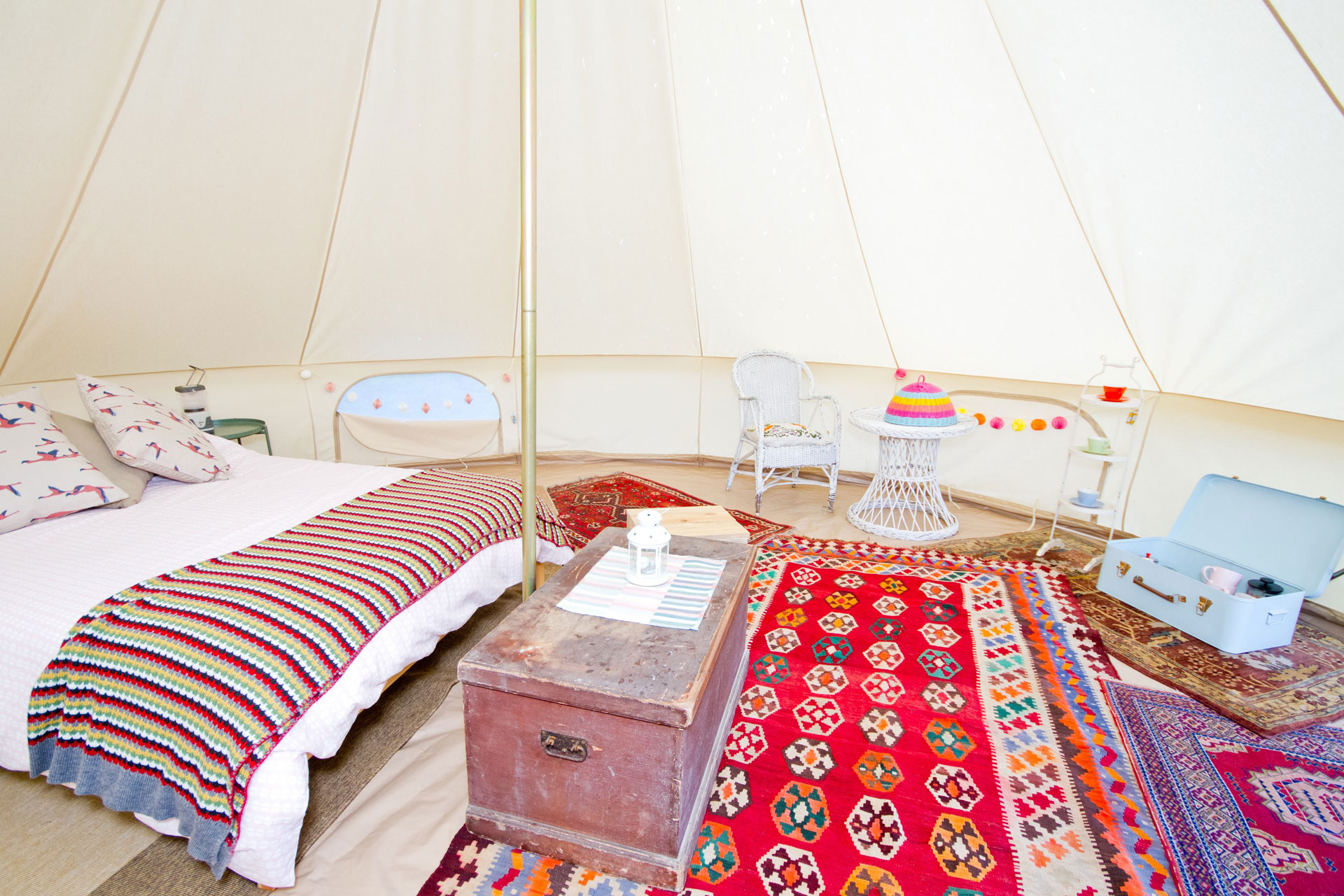 Harry's Field campsite offers a selection of fully furnished bell tents for a glamping experience in the heart of the New Forest. You'll arrive to a ready-erected, perfectly clean and tidy bell tent adorned with solar-powered festoon lanterns and styled with vintage bohemian furniture plus a games table and a chest for storing your things. The pitches come complete with everything you need, including a fully equipped cooking area and a fire pit. The cooking area is the outdoor kitchen of childhood dreams, everything hanging on hooks, a stove all set up and ready to use with a kettle, teabags and sugar, (because what else does a Brit need to ensure all remains calm?) and all the pots and pans you'll need for alfresco cooking. Inside your tent is a comfy double bed with a heavy duvet and pillows to keep you warm on crisp (read: freezing) English summer nights. So, that's sleeping, cooking and cosying covered; you can simply rock up with a bag of clothes for layering, swimwear and towels, any food you want for your stay (more on this later) and a frisbee or a football to occasionally throw at the kids to keep them happy. There are hot showers and flushing loos a stone's throw away and the neighbouring field (for non-glampers or as they'll put it, 'real campers') is only small so we never witnessed a queue for either.
EAT
Is it just us, or does camping make anyone else incredibly hungry? When faced with sitting in a field for hours at a time, decent snacks to occupy and good meals to look forward to are a must. You'll want to pay a visit to the nearby Hockey Farm Shop to stock up on supplies, mostly locally sourced, and meat for the BBQ should you be planning one. We stuck to the rules of glamping and largely allowed others to feed us; The Forester's Arms is next door to the camp and offers decent pub grub, while The (tiny) Royal Oak at Fritham is a favourite for locals. The Potting Shed Café at Hyde is a great mid-walk lunch spot. If you're lucky, Hot Turtle Pizza may pitch up in the field producing delicious wood fired pizzas to order. Ordering is done the day before and slots fill up fast, a testament to the quality. Don't forget to pack your marshmallows for the fire pit, which will be waiting for you on your first night.
DO
There are endless walks straight from the camp, of varying degrees of difficulty, some suitable for kids and some best combined with a short drive to shorten them for tired legs. There are lakes, rivers and streams in the area to explore, perfect for wild swimming or paddling, and locals are more than happy to point you in the direction of hidden wonders or favourite spots. Hengistbury Head beach is a 20-40 minute drive away (traffic-dependent, assume 40 in the summer) and well worth an early rise for a walk around the wildlife-rich headland offering beautiful views and plenty of opportunities to see rare birds. The beach here is enormous – walk far enough in either direction and you can find a stretch to yourself.
The Forest itself is a joy to just exist in, with wild horses and donkeys wandering through the lanes and visiting the campsite to say hello to excitable children happy to be visiting this walk-in petting zoo. Throw in the possibility that your kids, should you have brought them, may have made friends that they want to play ball with from dawn until dusk and you might find yourself struggling to leave the campsite at all. And with a comfortable chair to read in, a cup of tea in hand and the sound of birdsong overhead (quieter, thankfully, than their first chorus of the day), things could be a lot worse.
THE FINAL WORD
When you've experienced a mid-storm tent collapse and slept in a car on a clifftop with a four-year-old in a Fiat 500, a blanket ban on camping is the only sensible option. But when it looks like this, it's enough to restore faith in the great outdoors vacation. Glamping at Harry's Field might just become an annual pilgrimage; happy campers guaranteed.
BOOK
Glamping in a bell tent at Harry's starts at £335 for two nights sleeping up to four people. For more information visit newforestcampsite.com/glamping | Pitches at Harry's start at £20 plus £9/£4 an adult/child and the campsite seasons run from 9th July – 30th August 2021. newforestcampsite.com