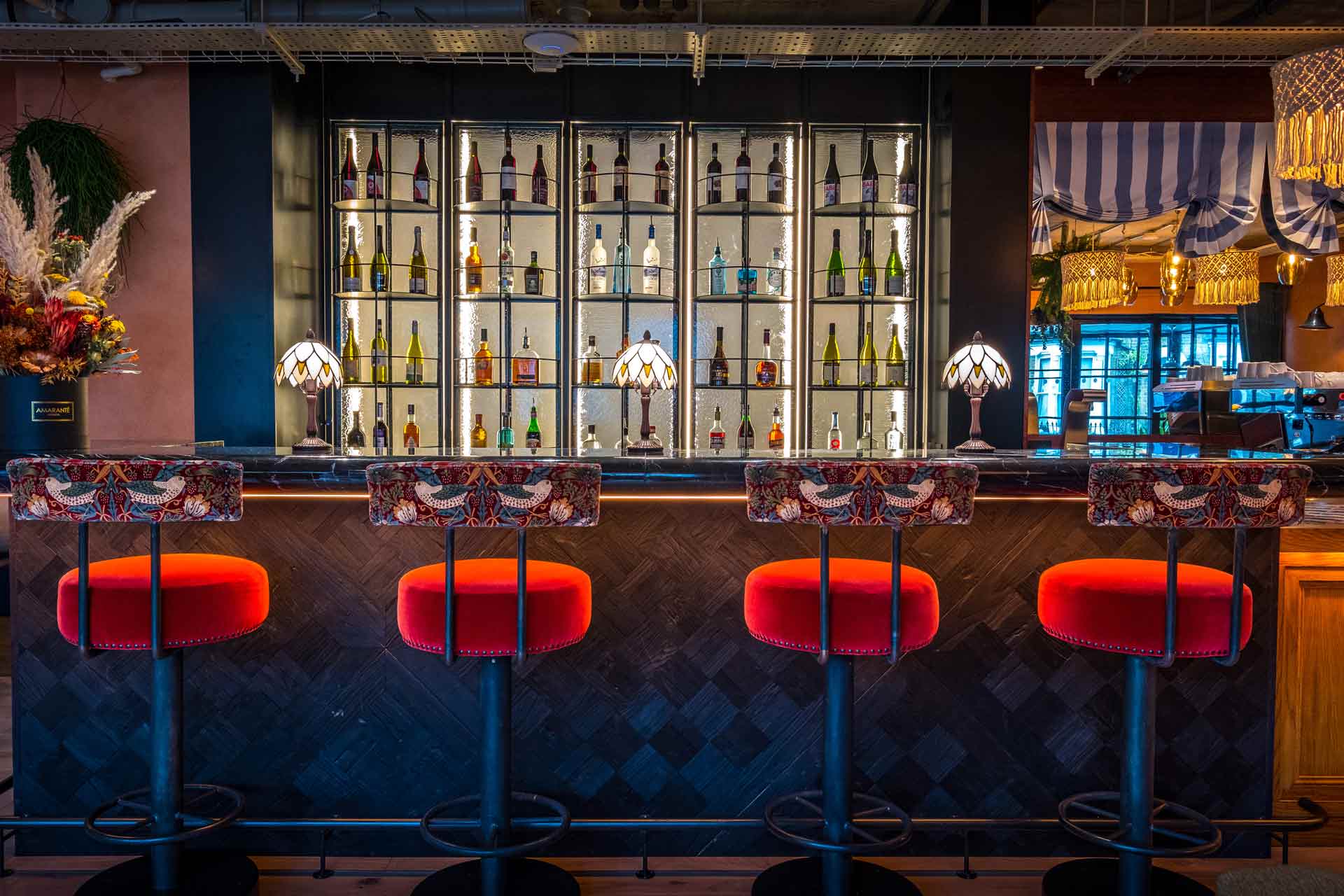 Chiswick Is Home To The World's First Whole Life Net Zero Hotel
---
Chiswick, west London, is home to room2, the world's first 'whole life net zero hotel'. The hometel concept merges home and hotel stay experiences while encouraging guests to embrace a sustainable lifestyle during their stay and beyond. Is this a glimpse at the future of ecotourism in the UK capital?
Room2 Chiswick, A Life Net Zero Hotel
The hotel is forecast to use 89% less energy per m2 compared to typical UK hotels, and is the first hotel in the world to fully account for its entire carbon footprint, hence the 'whole life net zero' standing. So, what does this actually mean? Embodied and operational carbon have, and will be, rebalanced throughout the entire hometel's lifecycle. All emissions associated with the hometel's production and construction, materials used, operations, maintenance, refurbishment, and including the eventual clearance of the building will equal zero. (Read more on the Room2 website, here.) It is worth noting that this net zero is in part achieved using carbon offsetting schemes, which we've explored in more detail in our piece 'what is carbon offsetting, and does it work?'.
Sustainable Design Choices
Eco conscious design elements include reclaimed terracotta floors in the lobby, covered in locally sourced plants (inspired by Kew Gardens greenhouses), reclaimed pendant lights and an entrance area paying homage to William Morris's iconic Red House, with 100% natural exposed concrete slabs and handmade tiles. Each of the 86 rooms have been crafted in collaboration with local artisans, from bespoke marbled print wallpaper to handcrafted mirrors, and loose bespoke furniture manufactured within 10 miles of the property and made with Forest Stewardship Council timber. The corridors are also lined with carpets made from plastic fishnets collected from the ocean. The interior designer House of Dre says:
'The exposed concrete slabs, bricks and blocks bring an unfussy informality which is key to the room2 brand. The hardness of the shell is interspersed with fresh pops of arabescato marble and striped fabrics. Anchoring the space, the reclaimed antique Elm bar front was inspired by the ancient Japanese yakisugi process, creating a dark visual style and uniquely tactile feel. It's about bringing a roughness and a realness to a commercial space that is akin to a domestic environment.'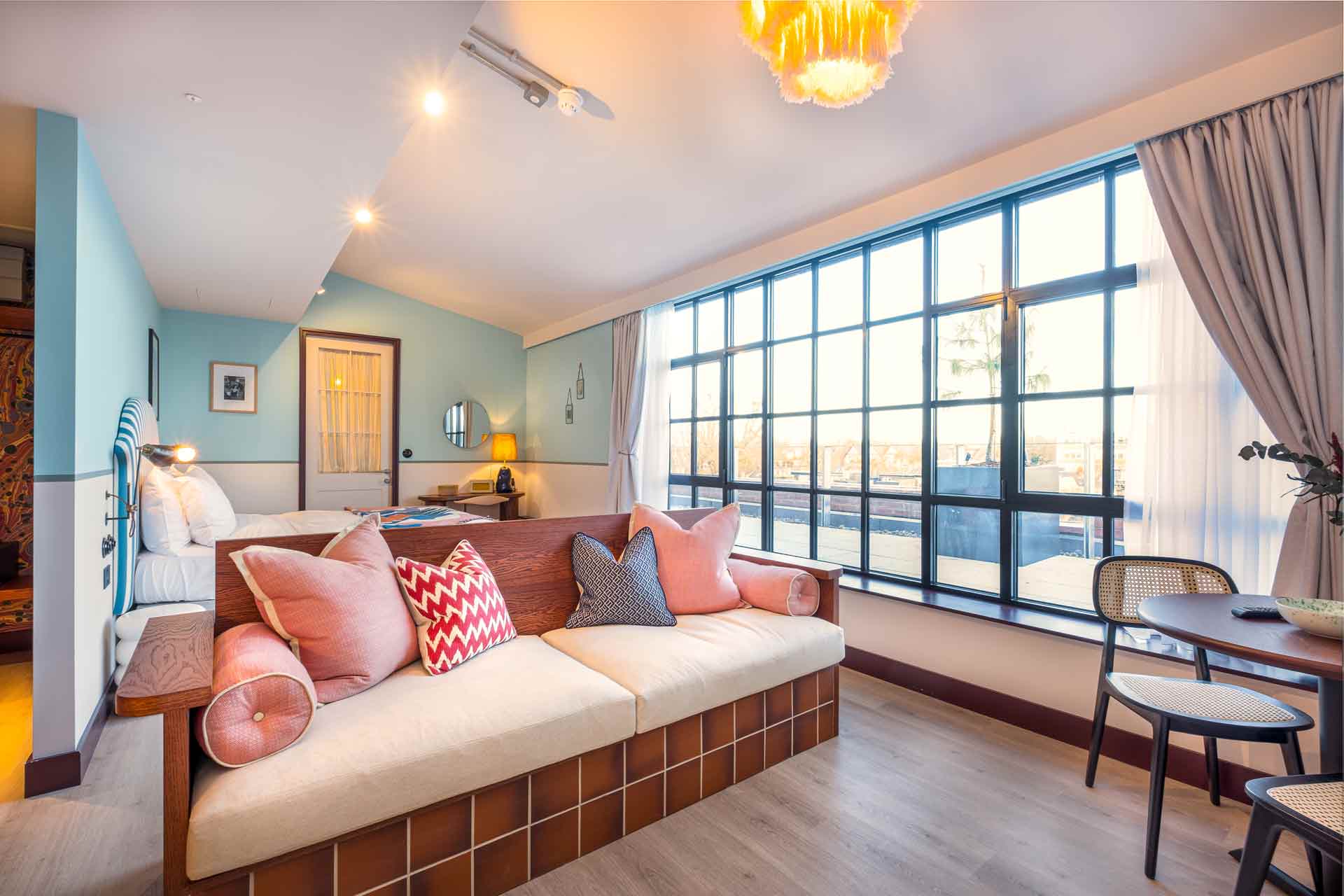 Energy Conscious
In addition, room2 Chiswick uses energy efficient lighting, occupancy sensors across the building, solar panels and ground source heat pumps, which convert 100% of the energy needed for heating, cooling and hot water. Other initiatives include the use of a blue roof, which can hold up to 50,000 litres of rainwater to reduce localised flooding and a green roof, home to soil and wildflowers to increase biodiversity and absorb CO2. It is also zero waste to landfill, and one of the first hotels to separate food waste from mixed packaging in custom-made in-room recycling bins.
Blending home and hotel concepts, rooms will feature fully equipped kitchenettes, mattress menu and full 24-hour stay. room2 allows guests to personalise their visit and personalise stays from a night to a month or more. There will also be an on-site laundry room, gym with Peloton equipment, and an independently run café by day and cocktail bar by night with locally sourced organic food, coffee, and wine.
BOOK:
Rooms at room2 Chiswick start from £129 per night for 2 people staying in a snug room. For more information, please visit room2.com/chiswick.
READ MORE
Hot New UK Hotel Openings / The Best Luxury Eco Staycations For 2022