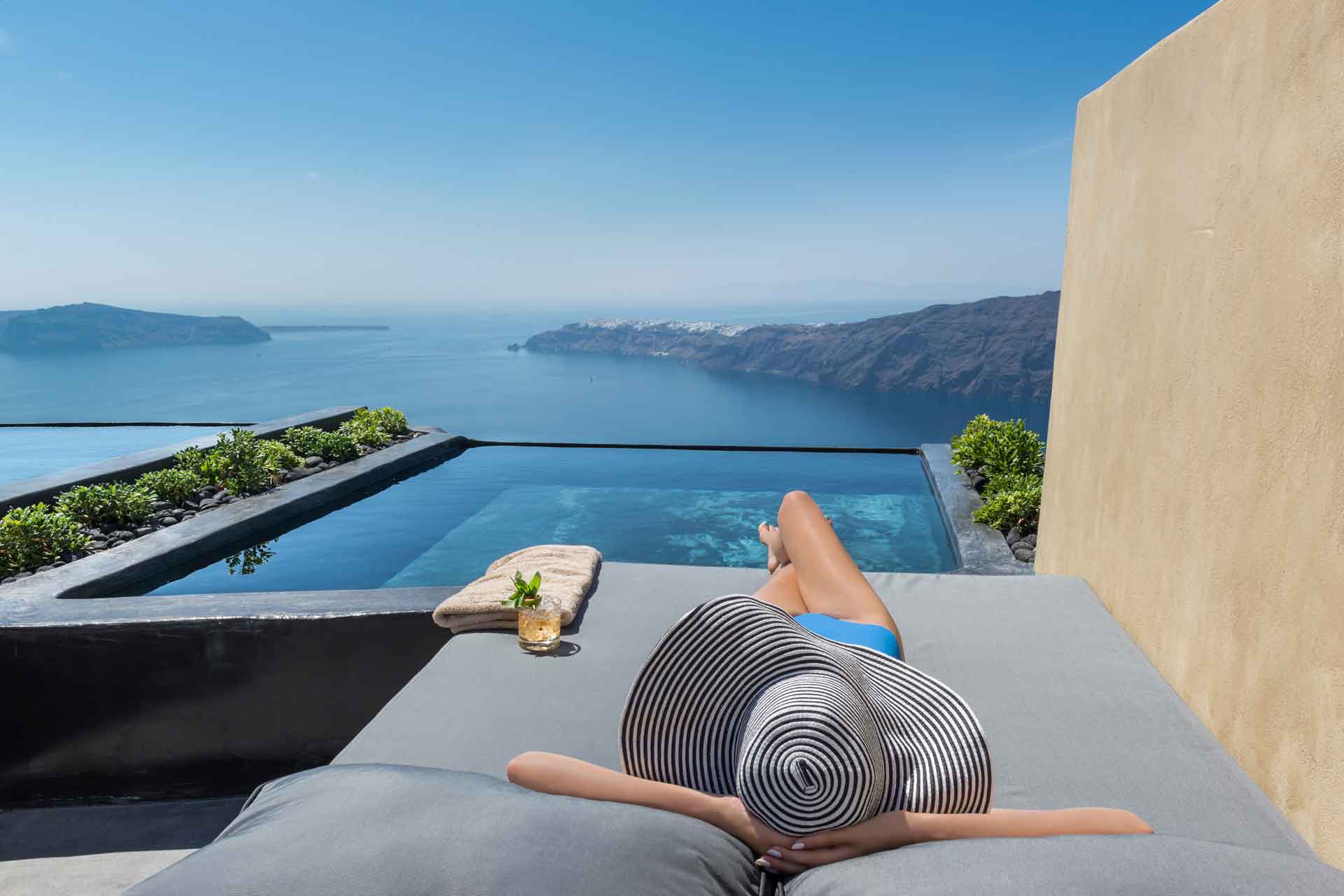 Santorini, But Make It Zen: Andronis Concept Wellness Resort Review
Can you really find calm on the busiest Greek island?
The best things in Santorini, as in life, are free. The views. Spectacular during all hours of daylight, the sunsets are famous beyond Greece and around the world, drawing 2million visitors a year and 10,000 a day in the summer months to this volcanic isle. The views are free, but space from which to enjoy them comes at a premium, which is why choosing the perfect hotel on Santorini is no small task, especially if you want to escape the crowds. Enter Andronis Concept wellness resort, where the views are not only superlative, but space and peace to enjoy them is also guaranteed.
Read the Country & Town House Responsible Tourism Guide
Andronis Concept Wellness Resort, Santorini Review
STAY
Far from the crowds and parties of Oia and the visiting cruise ships (of which there are a relentless stream in peak season) of Fira, Andronis Concept sits on the outskirts of Imerovigli village, on the caldera's most romantic and exclusive coast. The resort features 28 suites and villas, most of which boast breath-taking sunset views, with more space than many of the surrounding luxury hotels, all of which picked this spot for the superior views. As you look out to the Aegean sea, to your left is Skaros Rock and Fira below it to the south, and ahead to the right sits the northern peninsula with the bright lights of Oia. Every inch of this stretch of rock is covered with signature white buildings and the occasional blue topped church, the evening lights setting off your sunset suite views perfectly.
Andronis has done things a little differently for Concept, one of four outposts on the island. This secluded, stone-coloured building has been crafted to resemble natural caves, with high, imposing walls and cool black polished floors providing a welcome alternative to the white-washed buildings across the island. The glossy steps cleverly navigate the property built across one hell of an incline, as you'll notice should you hike past it on the coastal path.
We stayed in a Finesse suite, which sat across two floors with a spacious, cave-like bathroom featuring an impressive, black-clad rainforest shower that created an experience akin to showering in a volcanic cave. A volcanic cave stocked with luxurious Greek spa products and natural sponges, that is. Most terraces house appealing infinity plunge pools overlooking the aforementioned views, perfect for a sunset swim or cooling off from the relentless summer sun. Our Theatro suite had the added bonus of an extra terrace, with views wrapping both sides of the island so that early birds could enjoy sunrise views or sunset dips with equal privacy. The property's main pool is perfectly situated for a sunrise swim, too, and is right next to the gym if you're taking the wellness aspect of the hotel seriously.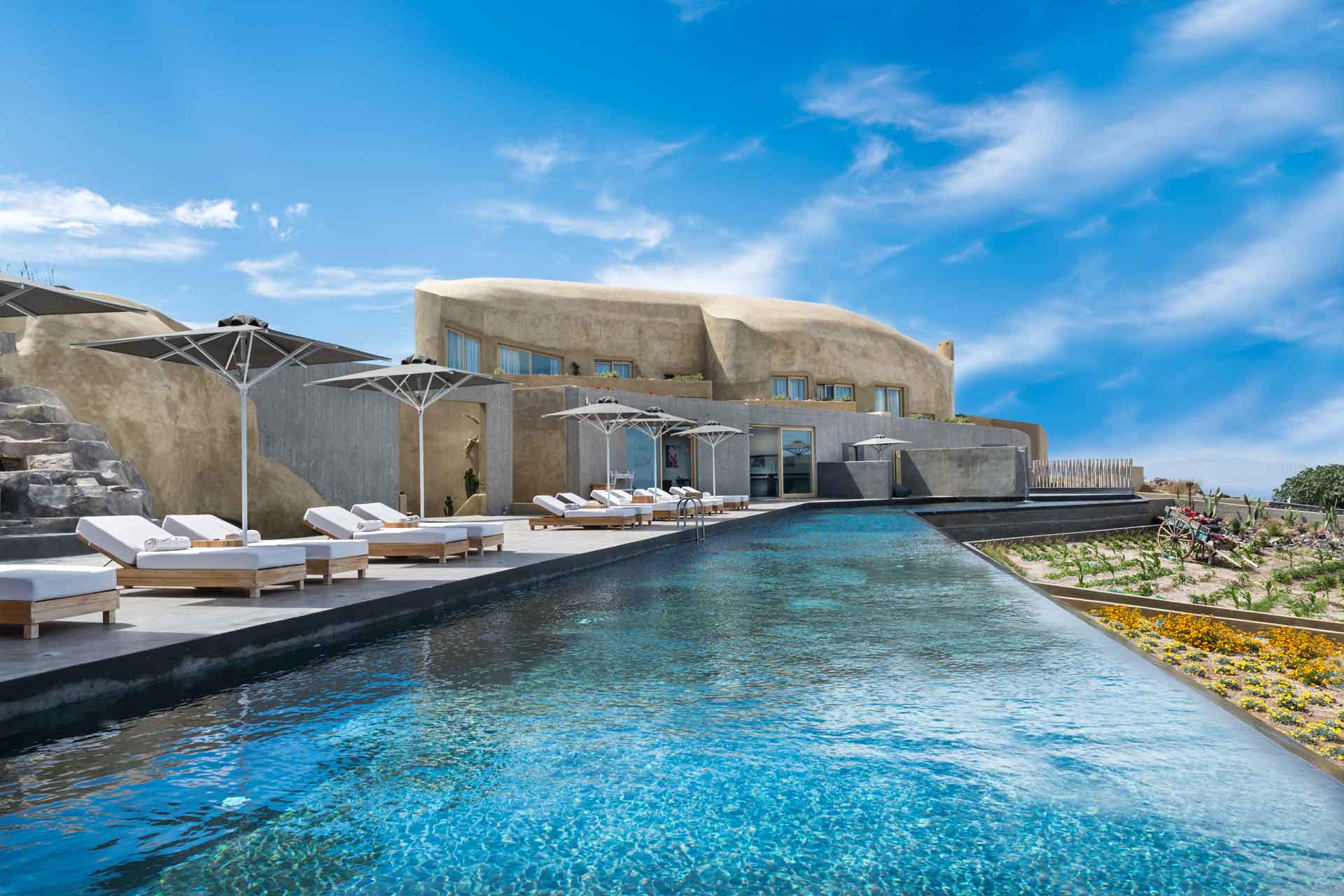 DO
For those that prefer a more relaxed approach to wellness, pursuits involving the Santorini coastal views are not to be missed. Andronis Concept offers a full wellness programme of reasonably priced classes that include strength sessions and aerial yoga. Dip your toe in with the complimentary classes, twice-weekly yoga takes place in a lofty tower studio with the vest views in the house; closing your eyes even for one savasana seems a crime.
The island's famous Fira to Oia hiking path is one of Santorini's biggest draws aside from the sunsets, and the mid-section that plays host to Andronis Concept is one of the quietest and prettiest stretches. Rise by 8am to tackle a section (or the whole thing) before the crowds arrive or the heat becomes an obstacle. Guided Cladera hikes are run by the hotel twice-weekly if you'd rather go with a group, or have questions to ask along the way,
Elsewhere, boats, museums, dining, drinking and shopping all appeal (check out our Santorini guide for more ideas) but if it's wellness you're checking in for, your last stop should be the Kallos spa, another cave-like creation that brings a sense of instant wellbeing, intensified further by the outstanding treatments. Check in for the famous pampering foot treatment the day after your hike, alongside a full-body massage to leave feeling rejuvenated and refreshed.
EAT
Keep your eyes peeled for gastronomical collaborations at on-site restaurant Throubi. We visited at the same time as Dutch Masterchef Jonathan Zandbergen, executive chef at Michelin Starred Merlet in Schoorl. His innovative tasting menu displayed an evolving array of flavours from across the globe, enjoyed while watching the sky turn from blue to pink to orange over the sea. Breakfast at Throubi is an equal delight, with a menu spanning four pages of tempting choices. The Greek pie is an indulgence you shouldn't resist, to be enjoyed alongside a Greek coffee, sipped slowly per the locals' warnings. There are plenty of healthy options if you're determined to check out feeling fresh and restored, although one Santorini sunset should prove sufficient spiritual sustenance to provide a complete reset.
Across the island, Andronis' three other outpostings have outstanding gastronomical offerings, including the famous Lycabettus, often described as one of the most beautiful restaurants in the world thanks to its stunning dining balcony. An evening shuttle bus runs from Concept the Oia if you'd like to explore that side of Santorini during your stay.
THE FINAL WORD
It's easy to forget you're in one of Greece's most popular hotspots from the peace and quiet of Andronis Concept's suites and villas. Only the whipping Santorini winds can break the sense of calm that permeates throughout. No matter, the best views on the island from your private roof terrace will be what really blows you away.
BOOK
Rooms from £455 per night including breakfast | Pick from 28 luxury heated pool suites and villas across seven types of rooms, the Cosy Suite, the Wet Allure Suite, Finesse Suite, Fabulous Suite, 2 Bedroom Suite, 3 Bedroom Suite and 4 Bedroom Suite | andronis.com