After weeks of filming in freezing Blighty, Sarah Parish soared off to Marrakech to soak up some Moroccan sun.
A Sunny Escape
Freezing, bitter, biting, arctic… glacial? I just can't find the right word to describe the type of bone numbing cold you feel while enduring a night shoot in Bolton during January. And my latest job, season two of Bancroft, saw me working 10 weeks of them straight. By the end of the shoot I was so lacking in Vitamin D I was pretty sure I was on the verge of getting rickets. So, when the offer of four nights at the beautiful Es Saadi Marrakech Resort in Morocco was offered up I jumped at the opportunity. Stepping off the plane from a damp and drizzly England to the clear blue skies and perfect temperature of Morocco was an instant tonic. I forget how short the flight is and with our plane landing 45 minutes early it felt like no time at all.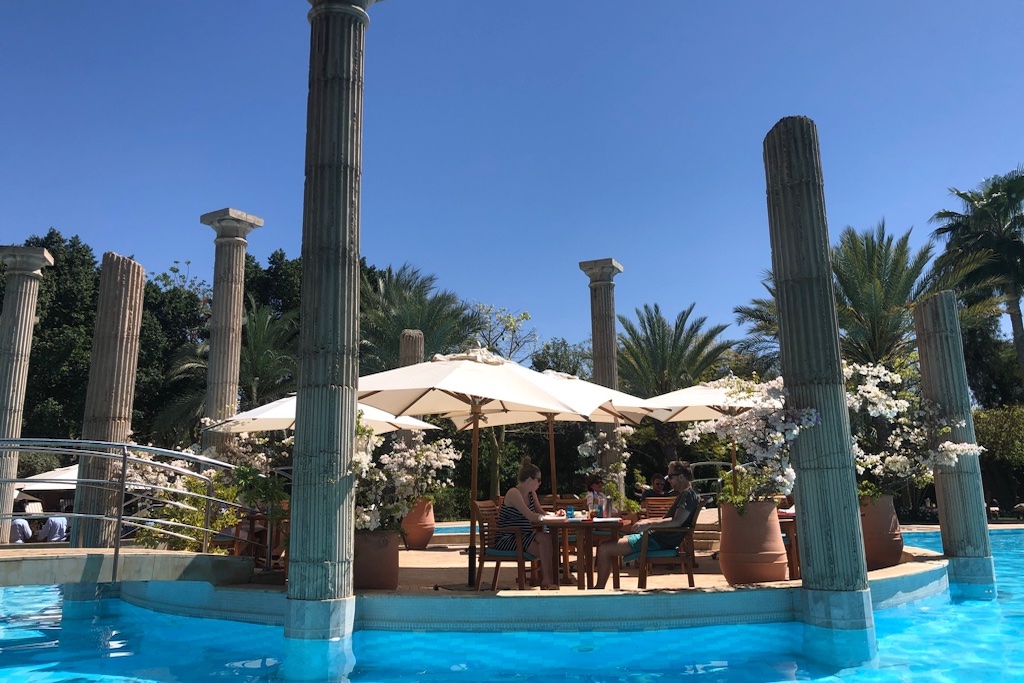 After a 10-minute drive we arrived at what can only be described as a little corner of paradise. Set in eight hectares of private gardens lush with palm trees, banana trees, orange trees and delicate Marrakech roses lies the jewel that is Es Saadi Marrakech Resort. A sweeping entrance hall leads you through the Palace to the outdoor pools, one heated to a generous 28 degrees and the other more refreshing but equally inviting. Our room was a Junior Suite with a balcony looking towards the ramparts of the old city of Marrakech. A very spacious suite with separate sitting area and beautiful bathroom all decorated with Moroccan influences. The hotel is adorned with original art and sculptures so you can get your daily dose of culture just by walking from one end to the other. It also gives the hotel a very cool modern twist. The grand lobby has a stunning central water feature and a very stylish bar where you can sit and sip your fresh mint tea.
Ensure You're 'Down with your Dirhams'
Now, before I continue, I should say that before you go to Morocco check that you're 'down with your dirhams' (the local currency). There are a few different countries that use the dirham and the exchange rate for each country is vastly different. Jim and I hadn't had the foresight to work that out which resulted in near hysteria every time we had to pay for something!
Our first evening we ate at La Cour des Lions, the stunning Moroccan restaurant in the hotel. By late March it's easily warm enough to eat out on the Terrace and the views over the gardens and the city lights were heavenly. The food is exceptional and the service top notch… And then came the bill… After I'd scraped Jim off the floor, we double checked our dirhams to pounds for the third time and said a silent prayer that we were staying at the hotel on a half board basis!
A day by the pool was just what I needed to forget about our dwindling bank balance and the main pool at Es Saadi does not disappoint. It's huge, with a swim up bar and small central restaurant where you can enjoy a long leisurely lunch with a bottle of blush and a book. It's so idyllic and peaceful in the hotel grounds it's hard to imagine you're just a mile away from the hustle and bustle of the city centre.
While in Marrakech there is an obligatory list of sights to see and right at the top is the fabulous Jemaa el Fnaa and of course, the famous souks. The square is loud, busy, chaotic and not for the faint hearted but the atmosphere is terrific, and you can pick up some great bits and bobs in the souks if you've got a good head for haggling.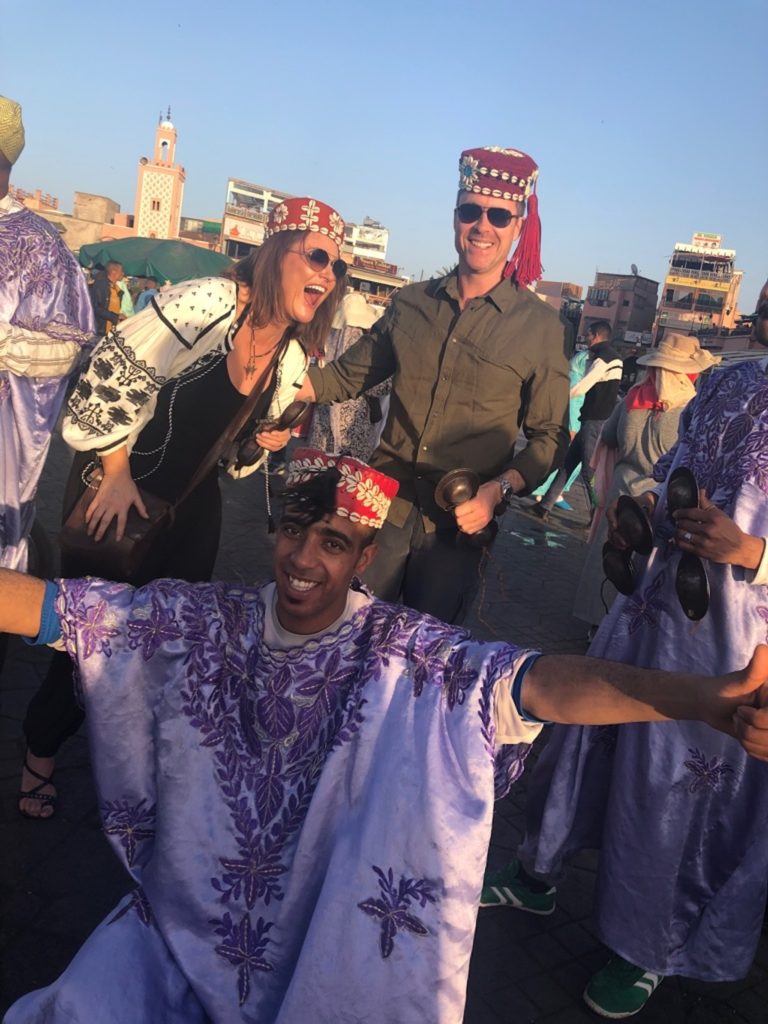 Jim and I got collared by a group of Moroccan castanet players at Jemaa el Fnaa who shoved hats on us and made us dance around the square with them. They offered to take some pictures of us all together with my phone and so I gave them a small tip. As we left Jim logged on to our famous currency convertor only to discover I'd given them £50! If it's any consolation all the pictures were in focus…. Well, most of them.
A Spa Day à la Marrakech
Back at the hotel the following day it was time to check out the spa. It's the largest spa in Marrakech and is kept beautifully. Have a traditional Moroccan hammam there, you won't regret it. There are 12 treatment rooms, a hydro pool, a huge roof terrace to relax on and a vast menu of treatments. You could easily lose a couple of days in there if pampering is your thing.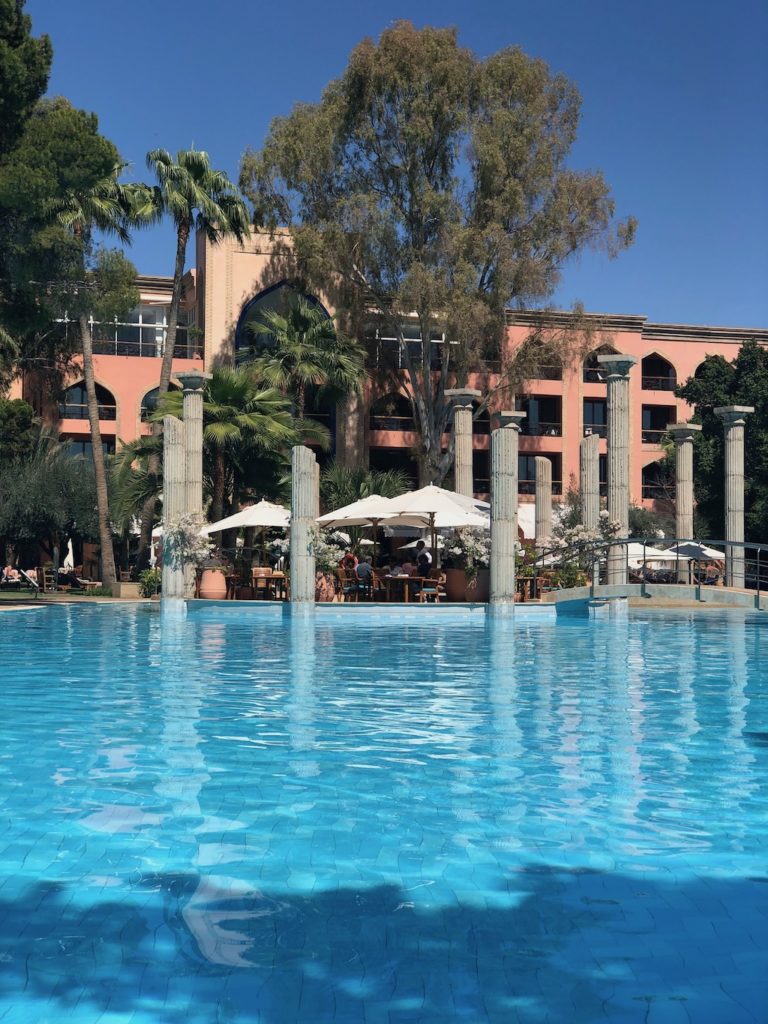 After being scrubbed, pummelled and oiled up we didn't fancy the fast pace of the souks again, so we made our way to the Majorelle Gardens. This delightful tropical garden was planted in the 1920s by the French artist Jacques Majorelle. After his death in 1962 it lay abandoned for many years until Yves Saint Laurent restored it. After he died in 2008 his ashes were scattered in the garden. It's a stunning place full of coconut palms, banana trees and giant bamboo. If you've still got some time to spare after your visit to the garden go to the Yves Saint Laurent museum across the road, you can check out some of his incredible collection.
We ate in the Othello restaurant that evening, an intimate little restaurant inside the hotel that does fabulous seafood and after a few too many wines Jim and I decided it would be a good idea to pop next door to the casino. Es Saadi has a huge casino and nightclub on site so there's no excuse not to place a bet and then celebrate your winnings with a quick boogie. Lady Luck was on our side when we visited and I came out clutching (what I thought was) nearly £1,000 winnings.
A Welcome Realisation
Es Saadi proved to be just what I needed to recover from a tough shoot. It's perfect for a quick romantic getaway and equally good for families who are looking for a longer holiday. It's never easy leaving a place like Es Saadi with its beautiful setting and faultless staff so while we waited for our plane at the airport Jim and I thought we'd treat ourselves to a Japanese meal and a beer. The bill came and we did our usual melt down when we saw the total, but this time Jim had been pushed too far. '£150 for a handful of raw fish and a beer! I'm sorry but I'm not paying this!'. We called the waitress over and proceeded to launch into our disbelief at the price of everything in Morocco and how she must get complaints constantly… She said she had never had complaints before and thought the price was very reasonable. To prove our point Jim got out his phone and showed her our currency convertor. 'Look, It's right here! 750 dirhams is £150!
Long pause.
'Ah,' she said, trying to disguise the beginnings of a laugh, 'you're looking at United Arab Emirates Dirhams sir, they're over three times more expensive than Moroccan ones…'
We paid and left very quickly, haunted by the memories of our extreme haggling in the souk that left one poor seller nearly in tears as we stripped him of his finest fossils for what I now realise was about £10. The coffee I nursed for three hours because I refused to get another for what would have been £4? The look on the door man's face as I fled the casino waving my £270 in his face yelling 'We're rich, we're rich!'.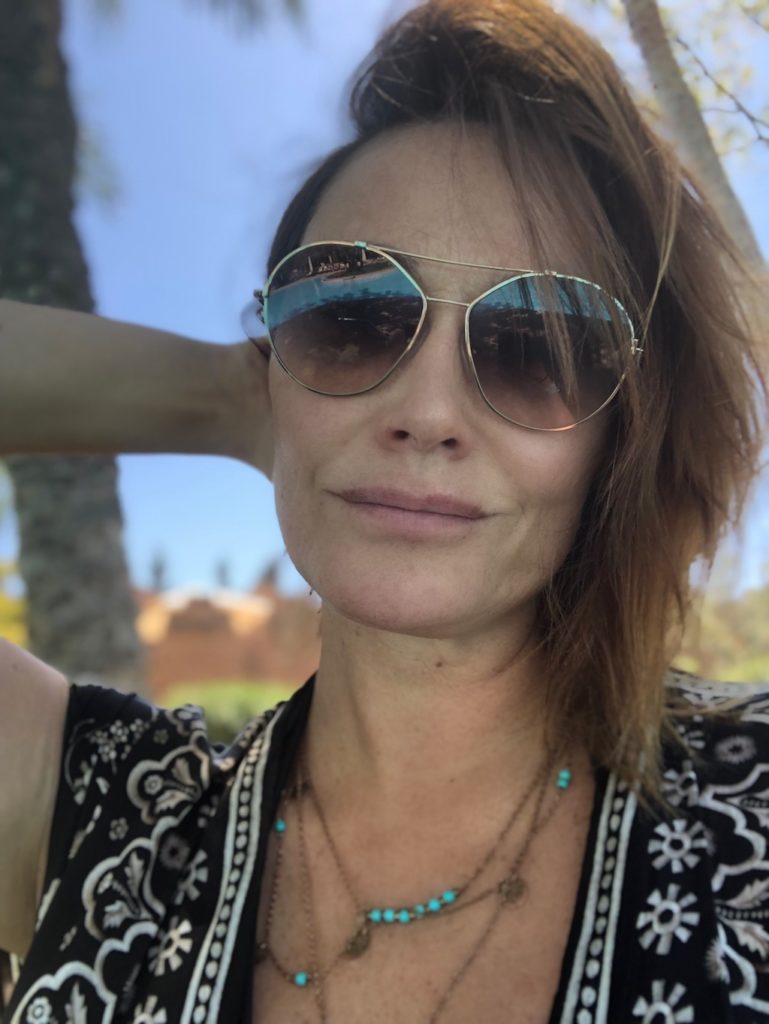 The walk of shame to the plane gave us time to reflect on what a perfect holiday it had been. Beautiful weather, gorgeous hotel, impeccable staff, wonderful city… And surprisingly cheap.
Classic Collection Holidays (0800 047 1064; classic-collection.co.uk) offers four nights at Es Saadi Palace, Marrakech from £938 per person. Price based on 2 adults sharing a junior suite on a bed & breakfast basis and includes return flights from London Gatwick to Marrakech and private transfers. Departs October. www.essaadi.com
---