Positioned in the middle of the warm blue waters of the Indian Ocean just shy of the equator, the 115 islands that make up the Seychelles are known as one of the world's most glamorous tropical holiday destinations. Will and Kate famously honeymooned at the exclusive North Island in 2011, and since then, a crop of exciting uber-luxe new properties have entered the scene and steadily raised the bar on this high-spec destination with heart-fluttering natural scenery and wildlife.
About ten hours away via direct flight, the far-flung Seychelles isn't exactly just a hop, skip, and a jump away. So make the most out of your trip by visiting several atolls, not just the main island of Mahé, as each treasure island has plenty of secret gems to discover. Nicole Trilivas tells us how to live it up like royalty in Seychelles this season…
The C&TH Guide to the Seychelles
WHERE TO STAY in the Seychelles: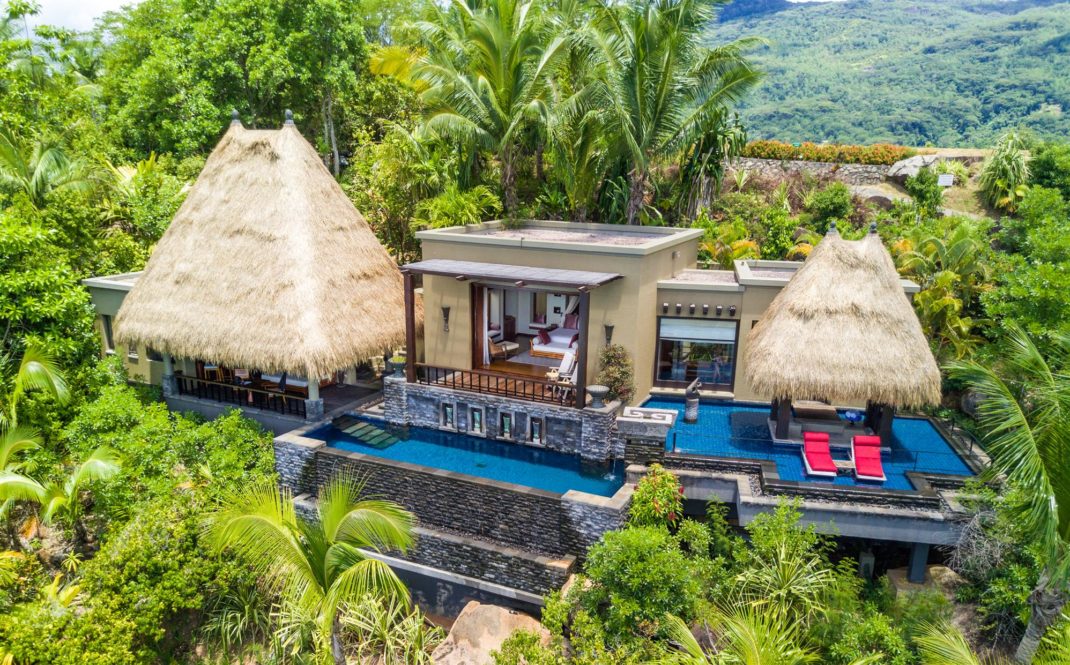 All international flights land on the main island of Mahé. Start or end your trip with a few nights in the ultra-lavish boutique all-inclusive, Maia Luxury Resort & Spa. Expect intensively private villas, decked out with infinity pools and sunken outdoor tubs; dreamy views; Hermès toiletries; and butlers armed with dewy bottles of Veuve Clicquot (yes, premium champagne is included in the all-inclusive menu.) With genie-like powers, your 24-hour dedicated butler will be more than happy to arrange everything from a private beach barbeque for two to a moonlit massage on the helipad. Visits to the serene open-air spa, a veritable Garden of Eden behind hand-carved wood doors, commence with offerings of cool tea and a sarong and include the most divine Balinese-inspired treatments with essential oils collected from Maia's lush, never-ending gardens.
Located on a private island in the Seychelles' remote and less-visited Outer Islands in the Amirantes Bank atoll, Four Seasons Desroches (which opened in 2018) is a six-kilometres-long sandy, level, coral island teeming with beaches and forests of towering palms swaying in the coastal breezes. Beachside Robinson Crusoe-approved villas are hidden throughout the property with breezy interiors boasting a beachy chic vibe (think: hand-woven baskets, geo-patterned flat-weaved rugs, and palm-leaf print fabrics). Branded bikes are dolled out for exploration, of which there is plenty. Get up early to do one of the yoga classes held on the private airstrip (there are two dedicated Four Seasons flights a day from Mahé). On clear nights, the private airstrip is also the site of a pop-up stargazing bar, where you can sip creative craft rum cocktails while marvelling at the glittering Milky Way from swanky lounge beds.
With faultless ecological credentials and high-flying style, Six Senses Zil Pasyon arrived in the Seychelles in 2017 on the private island of Félicité. Félicité Island has the kind of scenery you travel to the Seychelles for: there's massive granite boulders, crystal waters, and hill after hill of wild jungle. Smart villas dressed in natural woods and polished pops of ocean blue or sunshine yellow, disappear into hills. Some have impossibly views (Oceanfront Villas) and others, a jungle cocoon of privacy (Hideaway Villas). Keep an eye out for fruit bats flying overhead, as you soak in your private infinity pool. For meals, flip a coin (a custom designed one will be left on your bed at turn-down) to decide on in-villa dinging or a feast at the all-day Island Café. Ask your GEM (guest experience manager) to book you sunset drinks on the Pasyon deck for what may be the best sunset spot on the whole island. Also, the spa, on its granite monoliths with a refined design of glass and natural wood, is simply otherworldly.
WHAT TO EAT in the Seychelles:
Ocean Kitchen, at Six Senses Zil Pasyon, is the only meat-free restaurant in the Seychelles. At this open-air restaurant lashed by sea waves, there's no menu to worry about: just enjoy the freshly caught fish like red snapper or tuna garnished with fresh herbs from the on-site organic garden.
For land-lovers who need a bit of meat, set sail for The Lighthouse at Four Seasons Desroches. The only spot in Seychelles serving dry-aged beef, the never-frozen Galician rib eye drizzled in a sticky teriyaki-style sauce is good enough to make you moan aloud. Also, desserts—like a deconstructed mouth-tingling lemon tart and tangy mango coconut délice—should not, under any circumstances, be skipped. Ask for a table outside, under the lantern-festooned takamaka trees.
Adventurous eaters should venture out for a taste of the local Creole fare. Try Chez Plume and gorge on plates of shark chutneys and octopus curries, staples of the Seychellois cuisine, and highly companionable with icy bottles of SeyBrew lager.
WHAT TO SEE in the Seychelles:
Vallée de Mai Nature Reserve on Praslin Island is a protected forest and UNESCO World Heritage Site teeming with rare, endemic coco de mer palms, which produce the world's biggest nut. Nuts can weigh around 30 kilograms, but their size isn't their only notable feature: their shape brings to mind a woman's buttocks (seriously).
After checking out those seductively shaped nuts, pay a visit to another titan of the natural world, the Aldabra giant tortoise. At the Tortoise Sanctuary at the Four Seasons Desroches, you can pick up and feed baby Aldabra tortoises, and you can also pet and scratch the heads of the full-grown adults—they like it, we promise. These endemic creatures can live up 200 years, and on Desroches you can find tortoises around 120 years old.
WHAT TO BUY in the Seychelles:
The Seychelles isn't exactly known as a shopping destination, but if you're looking to bring back an utterly unique souvenir, then try shelling out for a coco de mer nut (which is much lighter once it's dried out for sale). Buying one of these nuts is no easy task because they require a government seal and export license. (They're also costly, at several hundred euros a pop.) Skip any back-alley dealings and avoid buying poached products by shopping at a respectable, eco-friendly shop, such as Laboutik, the Six Senses' in-house boutique.
WHAT TO DO in the Seychelles:
Beach, beach and more beach: With aquatic scenes straight out of The Little Mermaid, snorkelling and/or scuba diving is a must in the Seychelles. Most resorts have all the necessary gear and guides. Mahé's Anse Louis beach is an ideal spot for snorkeling.
Beyond the beach, be sure to do some hiking. Morne Seychellois National Park in Mahé is good for a bit of land-based scenic adventure; try the Anse Major Hiking Trail, one of the most beautiful hiking routes. Also, check out the nature reserve of Aride Island, the northernmost granitic island in the Seychelles, which gives you insight into what life was like on the island archipelago before humans settled there.
When you've had enough of all those healthy activities, absorb a bit of culture by trying the local rum—these islands were once the domain of pirates, after all. The most famous brand is Takamaka Rum, distilled, aged, and blended at Mahés Trois Frères Distillery. For a real treat (and haven't you earned it?)—try the ultra-smooth, eight-year-old Takamaka St Andre variety.
HOW TO GET to the Seychelles
Rather than trying to cobble together your own itinerary (a jigsaw puzzle of international and domestic flights, plus internal car and boat transfers), leave it to the experts at Elegant Resorts to plan a bespoke dream trip:
Stay 3 nights at Four Seasons Resort Seychelles at Desroches Island on a breakfast basis, 4 nights at Maia Luxury Resort and Spa on an all-inclusive basis and finish with 3 nights Six Senses Zil Pasyon on breakfast basis from £10,395 per person. Price includes economy flights from London Stansted, all internal return transfers, shared flight to Four Seasons Resort Seychelles at Desroches Island, a private car to Maia and a private helicopter to Six Senses Zil Pasyon and UK lounge passes. Offer is valid until 31 October 2019. For further information, please contact Elegant Resorts Reservations on 01244 897294 or visit www.elegantresorts.co.uk
DISCOVER MORE TRAVEL
The Best Resorts in the Maldives: The C&TH Guide / Euro Zone: The Hottest Summer Breaks in France, Greece & Spain / 5 Last-Minute Summer Holidays for the Spontaneous Traveller
---