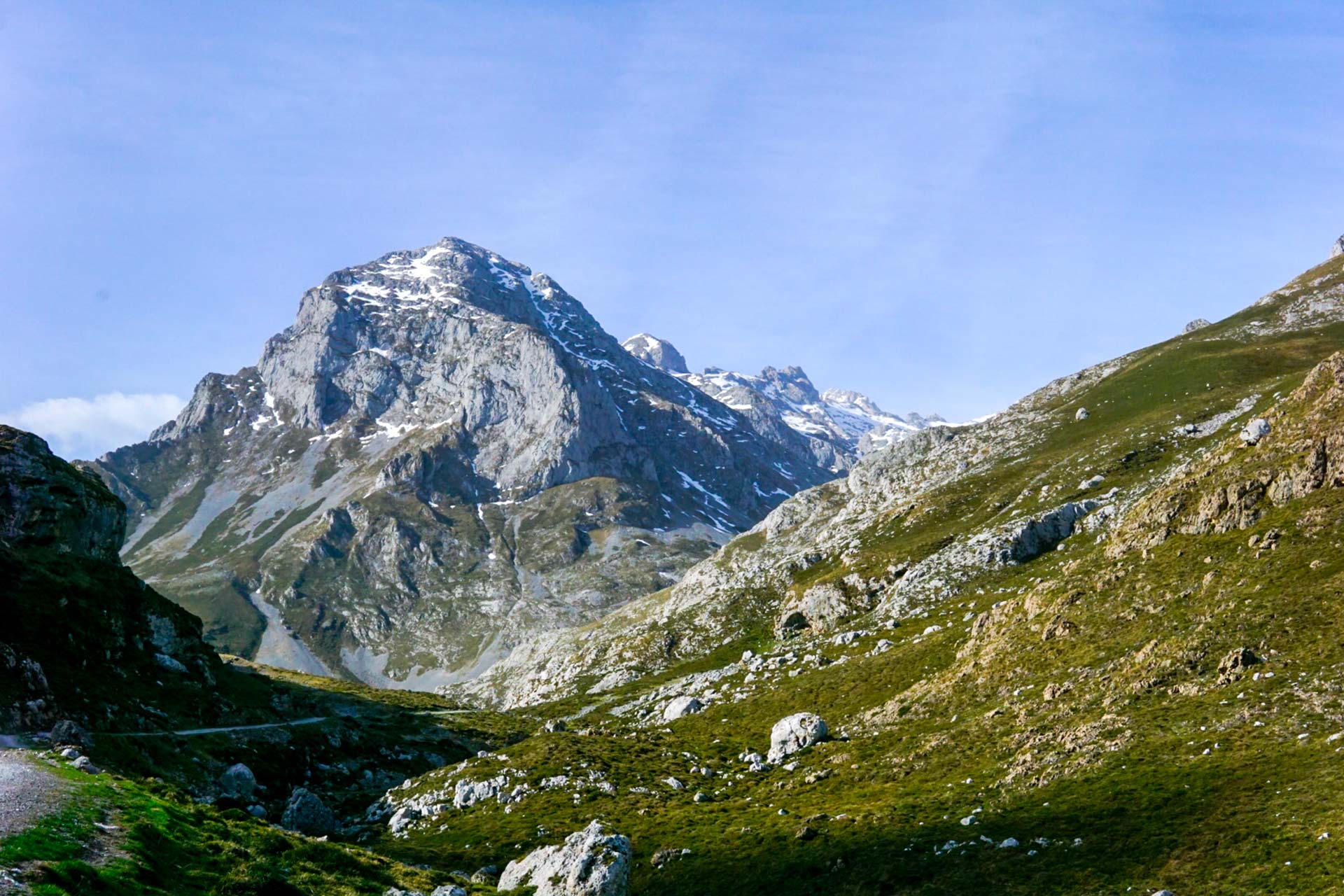 Review: Visiting Asturias & Cantabria, Spain, The Slow Way
Tómalo con calma
Northern Spain is green and biodiverse – the way we experience it can be green, too. Tessa Dunthorne embarks on a slow travel trip around Asturias and Cantabria.
Review: A Slow Trip Around Spain
'We are very poor in money, but very rich in nature,' our tour guide, the wild man Fernando, tells us, one hand on the wheel of his 4×4 and another clutching a pair of binoculars – gesticulating wildly, no concern for the steep cliff drop-off only a hair to the right of our vehicle. This man lives in the forests of Asturias, rearing his own sheep on cragged, hilly pasturelands, and with a heightened awareness of the world he occupies; today, he tours us around an environment he loves and knows so well, in a bid to spy just a glimpse the elusive chamois, the goat-antelope. I clutch the armrest of the car, but in truth, I am on the edge of my seat still, captive by the words with which he paints the natural world. We turn into a corner, and just like that, a herd of fourteen appears, joyfully leaping up juts of rock and grazing.
The valleys of the Picos de Europa national park are sublime. The rugged mountainous landscape which rolls into lush, green pastures – and then into mystical Bonsai woodlands, just as quickly becoming bubbling streams and glorious waterfalls – is protected by Spanish law. The Spanish have a sense of the wealth of nature they possess (Spain is one of the most biodiverse regions in Europe) and they guard it zealously. Rightfully so. Because if your back garden hosted brown bears, wolves and the endangered Iberian lynx, you would protect it, too. But they're delighted to share it with you, if you're willing to slow down and take it in mindfully. 
Mindful travel is a big focus for today's Spanish tourism. It's a country not unfamiliar with the effects of climate change; an increasing number of wildfires in the south of the country mean many Spaniards have experienced the changing environment firsthand, no longer an abstract notion. But there's an awareness that, given tourism makes up nearly 15 percent of the national GDP, it's not going anywhere. So, instead, it's becoming more responsible. Simply put: the Spanish are doing tourism right (and right by the planet).
What's sprung from this is a staggering and diverse range of tourist activities that centre nature. And these are unusual. The Spanish tourism board doesn't just suggest a mooch by the beaches (although there are plenty and these are beautiful), or a hop from delicious tapas bar to tapas bar. Rather, it suggests soaking up and savouring a region by understanding what life is like there. 
And whether it's a 4×4 tour of a national park with Fernando, or a step into an artisanal anchovy factory, these little stops become enriching experiences because you get the chance to soak up a region in a completely different way: off grid and from the voices of its residents. It's the antithesis of a package holiday – rather, experiencing Spain like this is a way of creating a patchwork tapestry of experiences which take a few days, maybe weeks, upon return to really unwind and evaluate. 
This is how I end up in the green and lush Northern Spain, then, experiencing Fernando's slightly dodgy driving. Somewhere along the journey, I express distress about our home biodiversity to the wildman. Fernando turns to us. 'The British don't have biodiversity. But who cares about borders? You can have Spain.' So, the invite is clear: share in their nature, break bread with the Spaniards – we can still have travel, and it's a more loving, responsible kind. 
Slow Travel Spain: How To Get Involved
Getting There
You're not limited to flights – Cantabria is easily reachable over water. The Portsmouth to Spain route is served by Brittany Ferries, and while the trip can take anywhere from 20 to 36 hours, the actual experience on-board quickly becomes a fun part of your overall holiday experience. Graze at one of three restaurants and cafés, explore an on-board art exhibition, or take a slower moment to stand on deck and watch pods of dolphins leap from the water with glee. 
Don't fancy a boat trip, though? You'd still be responsible for half the carbon emissions if you flew only one way. The route is also served well by train: jump on the Eurostar to Paris, stop for a spot of lunch, and then it's an easy ride to Bilbao from there.
Stay
Stay in a Parador. Traditionally, these were old-school inns, where bleary-eyed travellers could grab a beer and a bite before kipping overnight as a lodger; these days, the Paradores network is a state-run collection of luxury hotels, housed in converted historic buildings. 
In Cantabria: The Parador de Limpias occupies the summer palace of King Alfonso XIII, so guests stay in an opulent setting. Rooms are big, modern and sport huge beds, and most offer pretty views into a nearby thicket – in the summer, this promises to be a cool place to escape the Spanish sun. The restaurant downstairs sits in the building's extension, where you can look out through a glass wall at the grounds while enjoying Cantabrian specials (including the freshest fish caught just down the road). There is a seasonal pool, in addition to a large tennis court. €100-235/night, paradores.es/es/parador-de-limpias
In Asturias: The Parador de Cangas de Onís sits on the bank of the Sella, and is a spectacular sight. The warm stone-clad building is a converted Benedictine monastery, originally built by Alfonso I in the eighth century, and roaming the hallways you have the sense that you might discover a secret nook or a hidden room at any moment. The bedrooms are wonderfully designed – you can perch atop the windowsill and watch the river bubble along, or collapse on a comfortable canopy bed – and the bathrooms offer huge tubs to soak in. The restaurant downstairs offers Asturian regional foods. Make sure to try the cider, as this is a local special. €110-280/night, paradores.es/es/parador-de-cangas-de-onis
Do
The Paradores network runs an activities programme that you can arrange with the hotel concierge – at an exceptional price. Ecologically-minded travellers might want to opt for the 'naturaleza para los sentidos' offer, which is a collection of nature-focused activities. Cangas de Onís visitors can meet the wildman Fermando by plumping for the 'Chamois, King of the Park' drive, which is €50 an adult. Those who want to relax might be intrigued by forest bathing (€50/adult), whereas those who want a high-octane afternoon of fun should try their hand at sheepdog herding (€8/adult, €4/children). For information about availability, see paradores.es/en/nature-senses