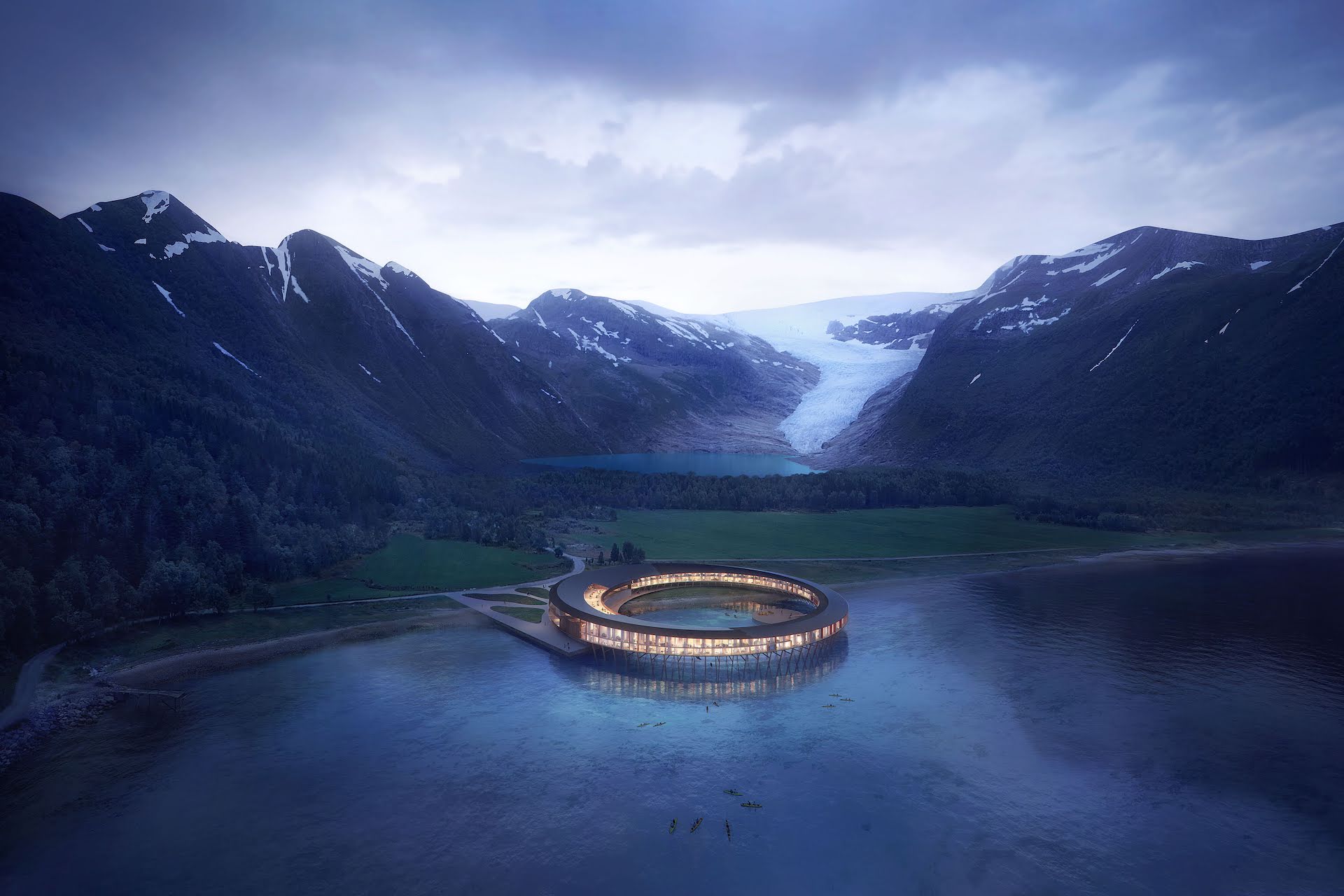 Behind the Scenes at the World's First Energy Positive Hotel
Norway's new Svart hotel is pushing the boundaries of what's possible for our health, homes and hospitality
When it opens in 2023, Svart in Norway will not only be the world's first energy positive hotel, but also a design lab for technological innovation, spearheading the kind of leaps that will transform not only hospitality but how we live and build our homes going forward. Amy Wakeham delves into the vision behind this ground-breaking new hotel. 
Behind the Arctic Ambition of Norway's Svart Hotel
Somewhere in Norway's Arctic Circle, perched above a glittering fjord at the foot of a majestic glacier, is a hotel that might very well change the way we travel forever. Or at any rate there will be soon – because said hotel is not yet built. For now the crystal-clear water is imbued with possibility.
When it opens in 2023, Svart will be the world's first energy-positive hotel, a destination that not only offers travellers all the usual tenets of high-end hospitality, but also hopes to inspire its guests to learn more about conservation, climate change and preserving the surrounding polar region.
It's the project of Miris, a Norwegian real estate company that offers building solutions for reducing energy consumption, with the ultimate goal of helping the world reach carbon neutrality. Designed by architects Snøhett, Svart is its flagship project: a glass-fronted, doughnut-shaped building that will be built from prefabricated capsules in Holandsfjorden fjord, balanced on stilts. The venture has been developed alongside local residents and government, following strict building principles that will minimise the hotel's impact on the landscape and environment.
Zero Waste, Zero Emissions
Ultimately (within five years), Svart aims to produce more energy than it uses, through inbuilt solar panels that cleverly soak up the bountiful amounts of solar radiation bounced off the nearby Svartisen glacier, Norway's second largest. And as well as being off grid, the goal is zero waste. This all sounds very impressive, but focusing on the hotel's individual aspects is kind of missing the point, says Ivaylo Lefterov, hotel development director at Miris. The real innovation, he explains, comes from combining all the elements – the prefabricated building, the solar technology, the heat provided from humans moving through the hotel – into one.
'What we're trying to provide is a very holistic approach, allowing [the hotel] to breathe and live,' says Ivaylo. 'So the building becomes a living organism, whereby it supplies the energy that is needed to operate it, as well as the heat, the waste management and the water, plus the shelter and comfort that visitors need. And then we, as humans, also contribute energy into the process [to heat the hotel]. That's what makes it unique. Nobody has ever combined it all together before to make a hotel that's totally off grid, completely independent and a breathing organism in itself.' The hotel's energy reserve will also power the boats that are needed to transport either guests or produce from the sustainable on-shore farm where many of the ingredients used in the hotel's four restaurants will be grown.
A Holistic Approach to Health and Hospitality
Wellness is another area of innovation for Svart's developers. On arrival, guests will have a one-to-one consultation with a health concierge and will be given wearable technology to track their daily habits, which will then inform a bespoke programme of treatments and activities to support, strengthen and optimise mind and body. 'We can show you that by just changing small habits of your day-to-day routine, you can actually improve your lifespan, your health, your diet and your overall wellness,' explains Ivaylo.
Treatments will take place in Svart's 1,000 sq/m indoor-outdoor spa, and will include massages and facials using sustainable, locally sourced products, sound healing, reflexology, cryotherapy and transformative health and nutrition coaching. These will run alongside a range of stimulating outdoor activities, from ice climbing on the glacier to wild foraging, and yoga sessions under the midnight sun.
Completing the picture will be Svart's education centre, where guests can learn about the technology used to create the hotel, as well as about waste management, glacier protection and sustainable farming. In fact, raising awareness about sustainability and the environment will run through all areas of the hotel. It's about educating visitors says Ivaylo, 'but not in a boring, lecturing kind of way – we want to make people aware through their activities'.
It's an ambitious project, and one that's set to stretch our idea of what a hotel is capable of. 'We like to think of ourselves a little biteas disruptors,' says Ivaylo. 'We're trying to get the industry to think like us.'
The Race to Net Zero
But Svart isn't just about pushing the boundaries of hospitality, it's also a big experiment for parent company, Miris – a learning curve for new technology that will be applied to all its future real estate projects, with the aim of driving towards that urgent Net Zero goal. The building represents a new beginning rather than an end in itself, and there's an open invitation for sustainable tech companies to come and try out their products at the hotel, whether that's in food production, water preservation or solar technology.
'We're trying to utilise the building itself as a design lab for many different technologies in the future,' says Ivaylo. And these new technologies won't just be for the hospitality industry but could influence how we live and build our homes and cities in the years to come. 'It's a hotel but it's [also] so much more than that. It's a think tank for various different options for the future.'
For now, all that exists is a pristine Arctic fjord, surrounded by steep mountains and picturesque valleys. But the future of how we holiday – and perhaps the answer to the carbon neutral future we're so desperately searching for – lies right here, just waiting to be uncovered.
Svart will open in 2023. svart.no
Eco-Friendly Tech To Invest In Today