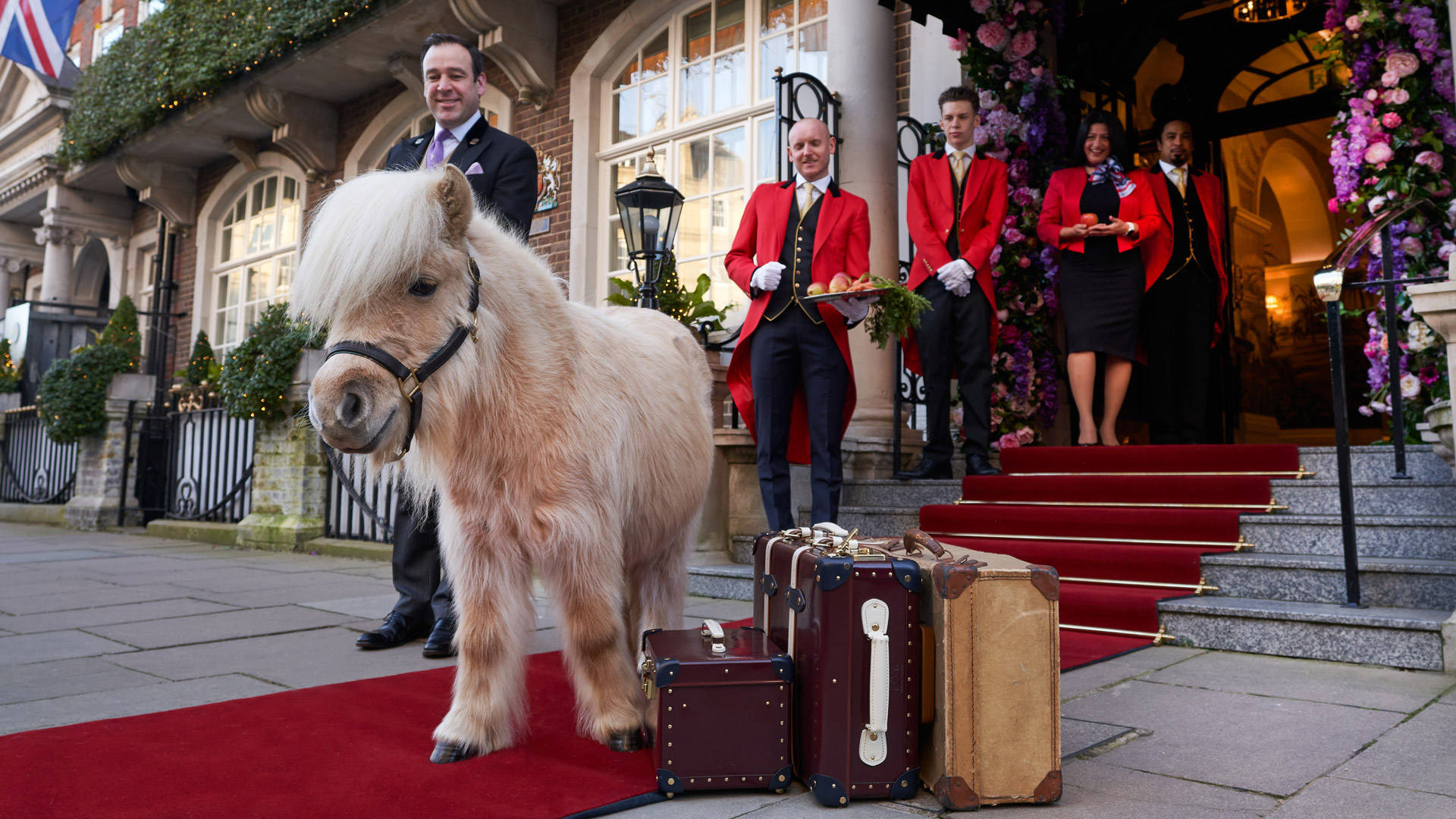 London's The Goring Hotel Welcomes an Unlikely Guest
---
Teddy the Shetland will be kicking back at the luxury hotel this summer
As the hotel industry celebrates being back in full swing, The Goring has a little something extra up its sleeve.
The Goring's Strangest Housekeeping Requests of All Time
The luxury London hotel will be welcoming Instagram star of the animal world (with an impressive 156k following) Teddy the Shetland as its 'pony in residence' for just over two weeks this August (16-31 August). The adorable 'international heartbreaker' – as stated in his Instagram bio – will be accommodated in a top-quality stable designed and constructed by Monarch Equestria, located in The Goring Garden, one of the largest private gardens in the capital.
Teddy is guaranteed to fit right in; the dashing Shetland is in fact already a Goring family member, owned by CEO Jeremy Goring's cousins, Alice and Molly Goring. And the quintessentially British destination – currently the only five-star London hotel that is owned and run by its founding family – is no stranger to famous faces. Enjoying the closest proximity to Buckingham Palace of all London hotels, the establishment boasts its very own Royal Warrant, whilst the Queen Mother reportedly used to tuck into a tasty serving of Eggs Drumkilbo in the hotel's dining room from time to time.
'Teddy is our most famous family member and his forthcoming residency is creating enormous excitement here,' says Jeremy Goring. 'I can confirm that chef Richard, Fernanda our head housekeeper, and all of the team are busily preparing his favourite home comforts, and readying the red carpet for what will be our most important state visit for over a year.'
But the revelry won't stop there – The Goring has also announced the launch of a brand-new limited-edition Teddy the Shetland afternoon tea for guests to enjoy. Think indulgent pony and horseshoe-inspired treats, polo mint-infused scones, mini apple tarts, and Teddy's favourite: carrot cake, of course. Whether you delight in the delectable spread on a picnic rug in The Goring's garden or via silver service on the terrace, the choice is yours. And if, like Teddy, you want to move in for a little while, the hotel is offering a tempting overnight package including the tea, breakfast and a Teddy the Shetland memento to take home.
Teddy the Shetland overnight package starts from £585, or opt for the Teddy the Shetland Traditional Afternoon Tea for £50pp. To make a booking contact the reservations team on +44 (0)20 7396 9000 or visit thegoring.com/teddy.
Great British and Irish Hotels Guide 2020/2021 / Hotel of the Week: Broad Street Townhouse, Bath