More than just a first-class ski destination, Emma Whitehair shares how to get the most out of France's oldest ski resort.
Nestled in the foothills of the highest mountain in the Alps – the majestic Mont Blanc – Chamonix is France's oldest ski resort. Steeped in history, the first Winter Olympic Games were held here in 1924 and the elegant Art Deco and Nouveau influences are still reflected in the town's architecture. 
With one of the first ski lift companies to operate in France, and still the highest cable car in the world – taking passengers all year round up to 3842m, for the breathtaking Aiguille du Midi viewing point, Chamonix's appeal goes beyond skiing. With the resort being equally popular for weekenders in the summer as winter – another first for Europe. Especially as it's only an hour or so from Geneva airport (we used Mountain Drop Offs for easy group transfers).
I have found myself in Chamonix a few times over the last few years, but this visit was my first foray on to its snow-covered slopes. Having heard March is a beautiful time of year there, but then again – you never know with snow. I was also told that the skiing is challenging, but we found plenty of long mellow blue runs. With blistering spring skies everyday making for glorious conditions.
For visitors coming to enjoy the Chamonix highlife year round, accommodation options range from classic chalets to hip hotels and even a remote 'refuge'. With the following being our recommendations to experience all three.
Stay
La Folie Douce Hotels
La Folie Douce is the probably the biggest après-ski brand in the world. With outposts in six French resorts, from Val D'Isère where the first bar/restaurant opened in 1981, to  Chamonix where the brand opened its first hotel for the 2018/19 season.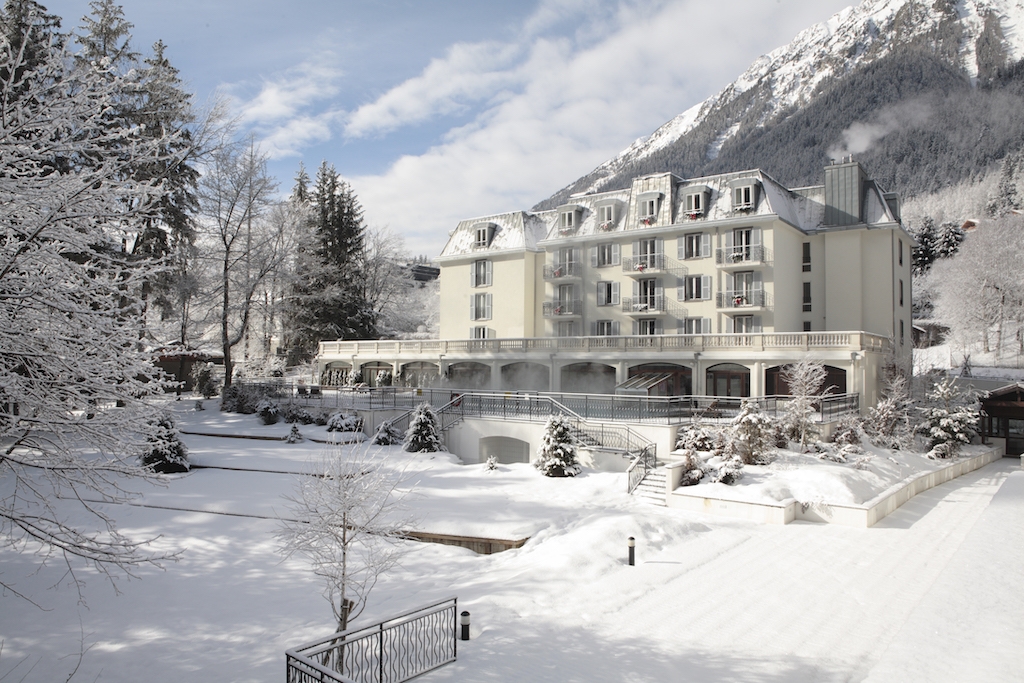 Meaning 'the sweet madness', La Folie Douce, was originally inspired by the club scene of Ibiza, where the founder spent summers. And he was the first to bring DJs and cabaret performers to the apres scene at an altitude of 2000m or more. With outdoor terraces where people dance in their snow boots until the music stops for revellers to find their skis and take the last wobbly run back down the mountain before dark.
Thankfully there wasn't too much of a party vibe when we arrived at the brand's first foray into hotels on a Sunday afternoon (Call me a bore but I'd rather not have the legendary LFD champers sprayed on my designer salopettes). A Gatsby-esque Belle Époque pile, stripped back to its raw concrete bones. Allowing quirky and hipster features to take centre stage, I later learnt this concept hotel might have been (aptly) called 'The Trendy Palace'.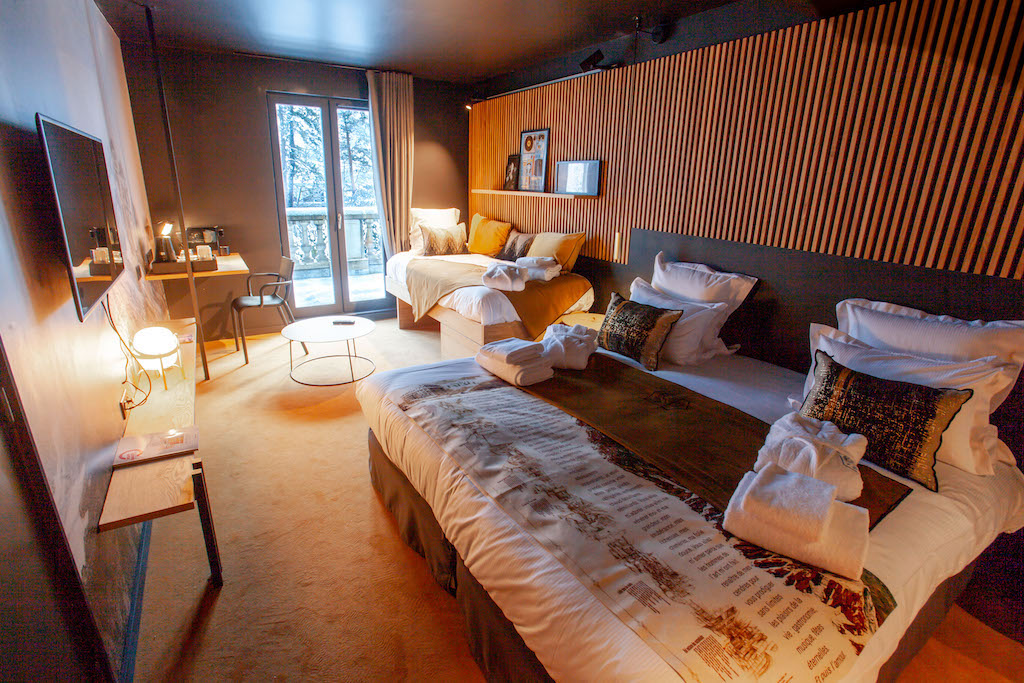 As Chamonix isn't a 'purpose built' ski resort there are no real ski-in ski-out hotels, and La Folie Douce Hotels is the nearest you will get to the slopes. With a little drag lift nursery slope right outside, you still have to take your skis off again for the short walk across the road to the main gondola. No hardship though. And with the ski shop/storage room in the hotel's lower ground, you can kick off your boots and pad straight to your room in socks. Which is my preferred kind of ski in ski out anyway.
Rooms start from as little as €37 per night (admittedly for bunk beds, but still..) and judging from ours, are bijou and uber modern. With de rigueur matt black hardware and bare bulb pendant lighting, the shower is within a stylish metal paned glass box room, with optional privacy curtain. Note to self: try to get hold of some of the Bespoke Maison Margiela 'Chamonix 1971' products – for its delicious woody/chesnut-y fragrance.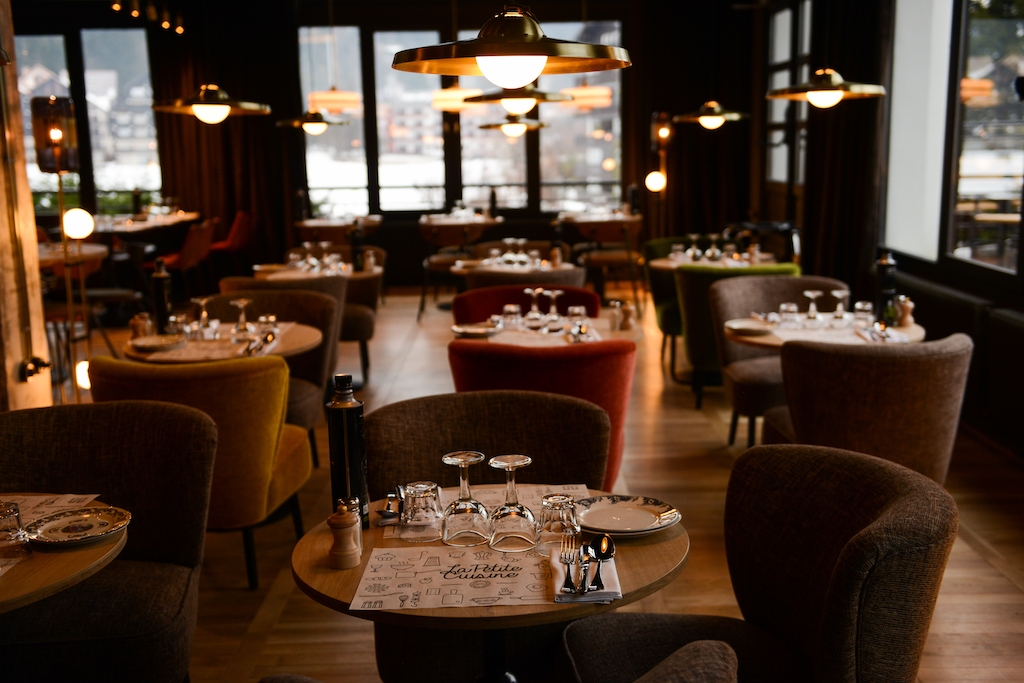 Numerous dining options include Le Mayen for savoyard specialities such as the delicious truffle and cep fondue served with crisp green salad. And La Petite Cuisine for brasserie cuisine, an epic dessert trolly/table, and where the impressive breakfast offering is served. One of those buffets that tempt you into trying a little of everything. From creamy scrambled eggs to stewed apple with pancakes.
BOOK IT: lafoliedoucehotels.com
Collineige, Chalet Valhalla
With properties ranging from serviced apartments in the heart of the town to cosy, tucked-away cottages and large luxury chalets – Collineige is a specialist Chamonix only Chalet company. Set up 35 years ago, by Colleen  Olianti, one of the loveliest hosts we've encountered, who takes 'personal service' to a whole new level. Actually appearing like some kind of fairy godmother – just when needed.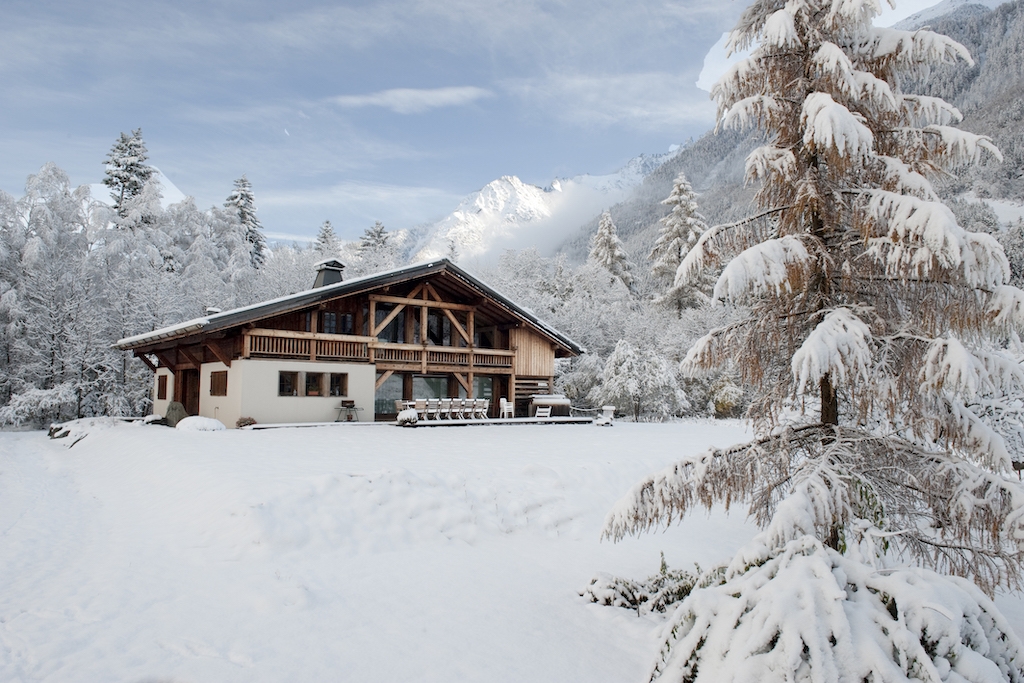 The Collineige chalet we stayed in is named after Valhalla – the majestic hall ruled by the Norse god Odin, where those who die in battle go. According to viking mythology anyway.  A row of god heads overlooking the lounge from wooden box frames nod to the property's namesake. With the chalet offering the kind of classic Savoyarde style comfort perfect for lounging after a hard day battling the black runs of MontBlanc.
Bask in the warmth of a fire from huge cosy sofas, while taking in epic views of the mountains from wall to wall patio doors. Or take to the Le Corbusier chaise longue on the mezzanine balcony for the same view with a side of solitude. All with a huge moose head watching proceedings.
Our group were served a continental breakfast, with those delicious bakery bought buttery moist on the inside crunchy on the outside croissants.  Which I devoured with one too many Nespressos. Only later learning that one can make requests for any kind of breakfast to be whipped up by the resident chef. With the same going for dinner, where my mostly vegetarian, sometimes pescetarian requirements inspired cured beetroot gravadlax, followed by juicy mushrooms stuffed with quinoa and parmesan. Along with sweet potato gratin and plenty of fresh salad. Light but satisfying, a welcome change from the usual heavy mountain fare.
Our room was quaint and traditional, with a bath rather than a shower (although there are rooms available with shower too). And much to my eco approval – large bottles of L'Occitane products in pump dispensers, for those (like me) trying to avoid single use plastic. Notable mention goes to the exceptionally high quality soft and silky sheets. However it's worth noting that the floorboards under the bed are a bit creaky. And what with the open plan chalet, perhaps bear in mind if you are wanting a "romantic" mini break. Although you'll probably want to save your energy for an early morning start to catch the freshly groomed slopes. first lifts with your ski guide. Ask for the charming Sébastien when booking via the Chamonix Ski School. You're welcome.   
BOOK IT: collineige.com
Terminal Neige Refuge Montenvers
If the idea of spending the night high on Mont Blanc appeals, but you don't fancy braving the sub zero temperatures. A night at Montenvers is for you. The adventure starts with taking the quaint little red cog train the short trip through the forest and up the mountain. Which is the only way to get there, unless you're a skilled climber or off piste skier. Then stepping off you are greeted by Mer de Glace – a dramatic ocean of ice covering over 7km, at 6725 feet above sea level, facing the the Mont Blanc summit. The largest and longest glacier in France, with the nearby 'refuge' allowing guests to continue to enjoy the epic views in comfort and style. Perched above the head of the glacier with the pinnacles of the 12,400ft Aiguille des Drus as a backdrop.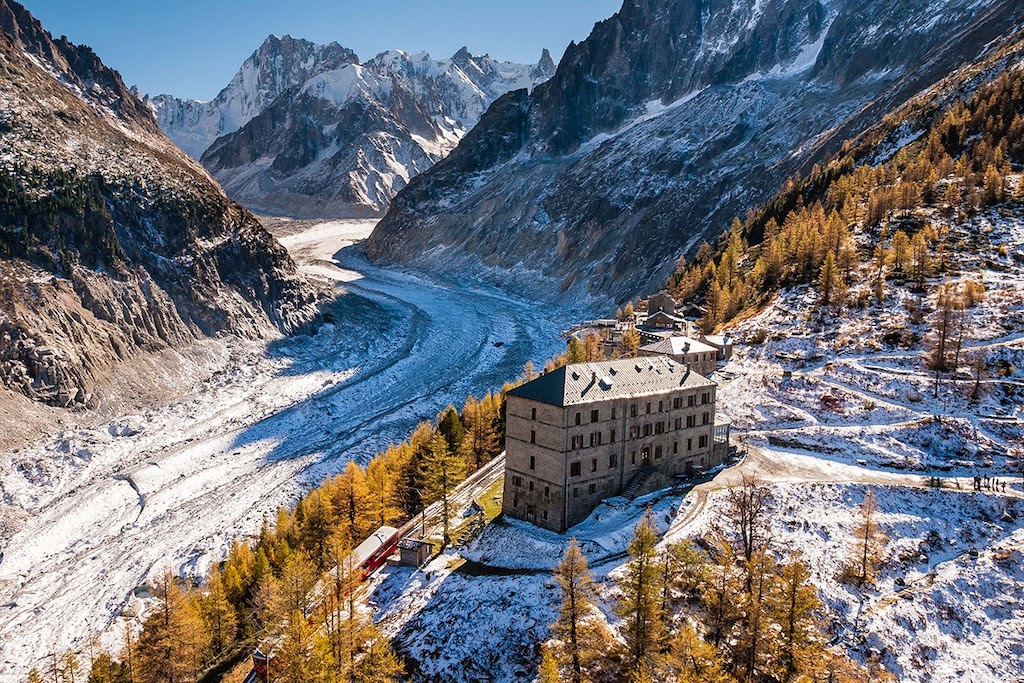 With 17 modern rooms, suites and dormitories the newly refurbished hotel is hip, in an industrial meets rustic kind of way. While maintaining the original bones of the 1880s granite building, and referencing its heritage with design details such as pendant lighting hanging from climbing ropes and vintage leather travel trunks as bedside tables. Mountain memorabilia and crystals are openly displayed on the landing for guests to interact with, and rooms are named after some of the most famous artists and writers in the world who have visited the glacier. Such as Byron, Goethe, Victor Hugo and Mary Shelley. With Shelly featuring the location in her gothic masterpiece – Frankenstein.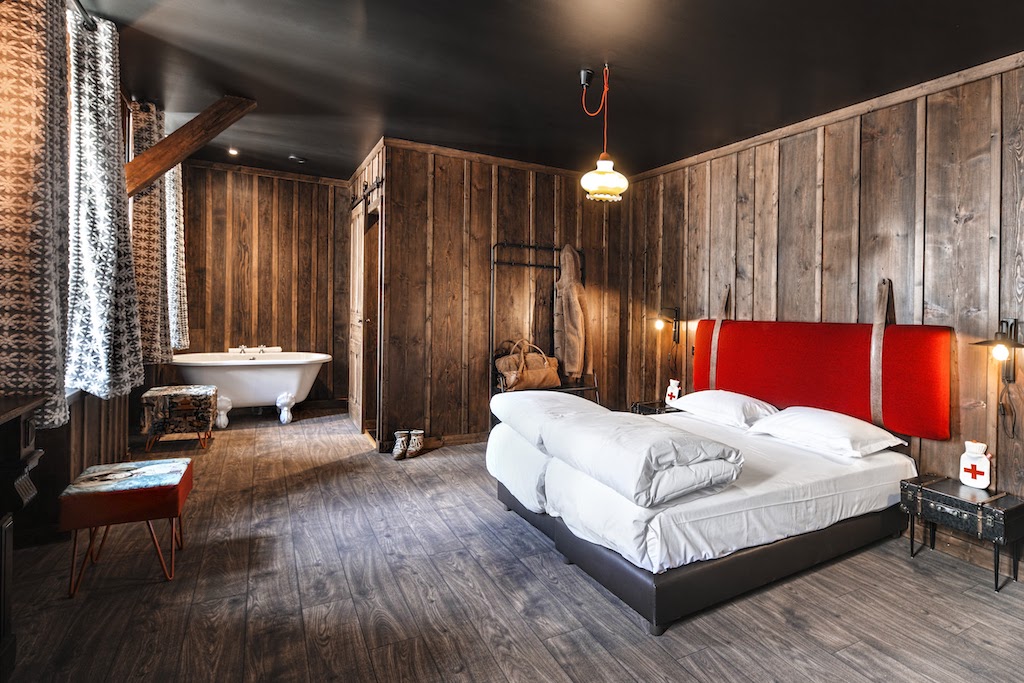 When the last train heads back down to town, it's just the Montenvers guest left on this remote hideaway on the mountain. The perfect writers residence, romantic mini-break or simply a night away from it all, where you can lose an evening playing board games in front of the roaring fire. The wind howling outside, sideways snow blasting the windows. Or at least it was the night we stayed.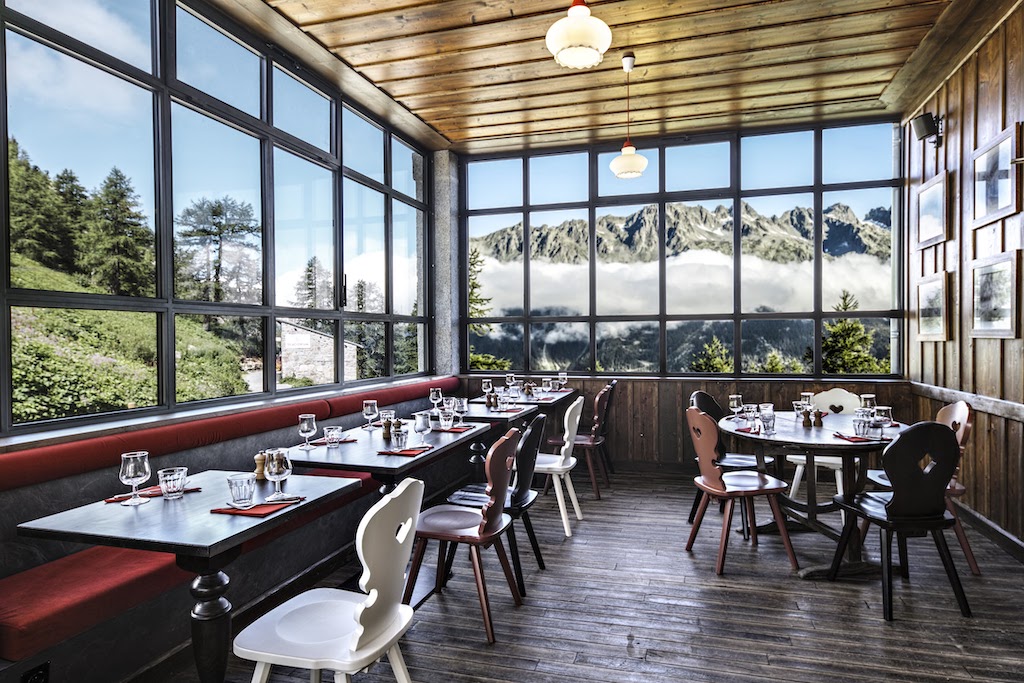 The hearty mountain fare served at Montenver is the kind of thing your grandma used to make. If your grandmother was an exceptional cook that is. The chicken was unrecognisable from the flabby meat soften served these days. Clearly a very happy chicken, with lean meat, cooked to perfection with a crispy skin. Served alongside rich cheesy mash and a cast-iron cocotte of winter root vegetables in broth that can be mopped up with freshly cut bread and local butter. Simply devine.
BOOK IT: montenvers.terminal-neige.com
While You're in Chamonix…
QC Terme

I've visited my fair share of spas, but seen nothing like this before: 3,000 square meters with 30 different experiences. A multi-sensory journey of water wellness and an infinity pool with views of the Bossons Glacier.
The first offering in France from the largest Italian wellness tourism group, QC Terme has all the spa experiences you can think of, and reimagines more. Check out the most incredible otherworldly Himalayan salt feature in the Salt Rooms – where you can benefit from dry salt therapy, which uses microparticles of salt to promote overall wellness and alleviate symptoms of respiratory and skin conditions. And how about watching wellness film in the cinema sauna. Or try the face gym for how to videos for facial exercises.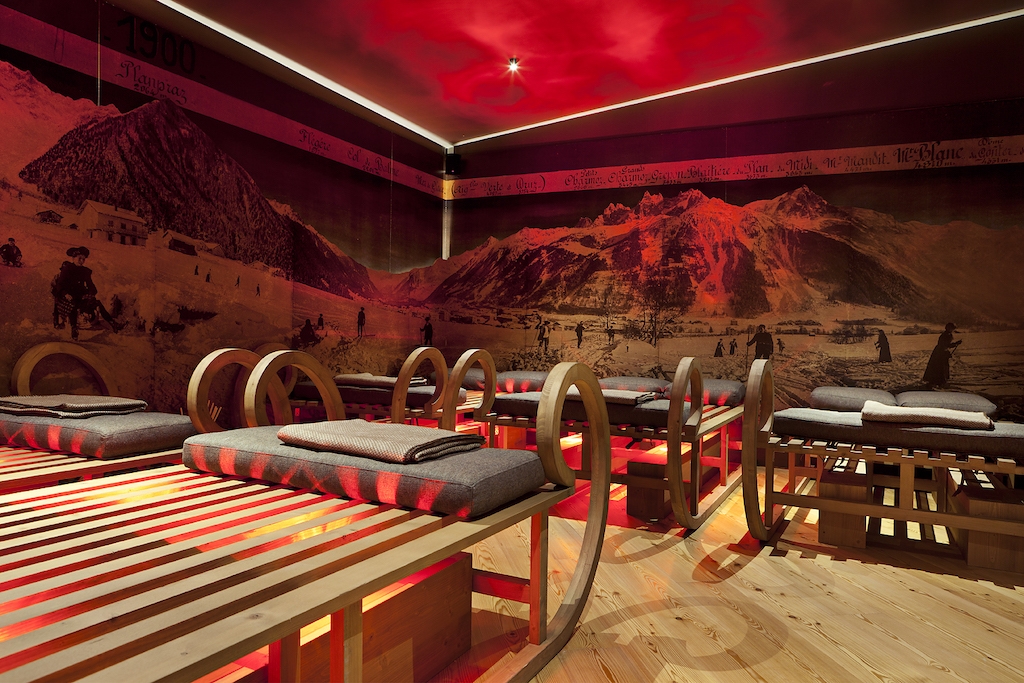 A spa that echoes the philosophy of ancient Imperial Rome, which placed water at the centre of satisfying body and spirit . This is my kind of apres.
BOOK IT: qcterme.com
We were guests of The Chamonix tourist office, for more information visit chamonix.com
DISCOVER MORE
The Weekender: 48 Hours in Mallorca
---