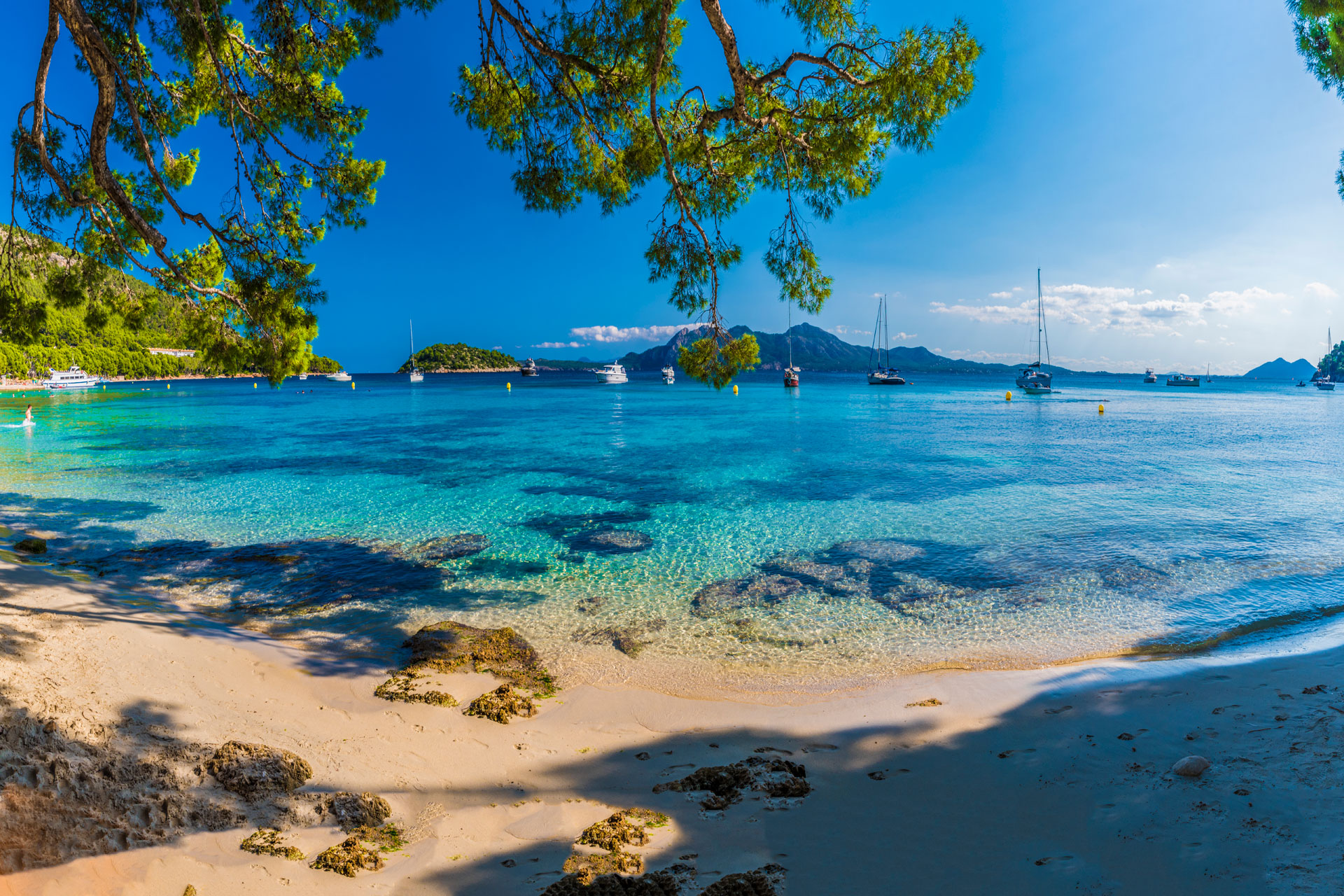 Weekender: 48 Hours in Mallorca
---
A guide to the glittering Balearic island
With its crystalline waters, pretty hill towns and rich history, it's no wonder Mallorca remains one of the most popular holiday destinations in the world.
Whether you're a foodie, explorer, or sunbathing devotee, the island caters for all types of traveller, and its idyllic beaches are a certified crowd pleaser. It's a large island – more than five times the size of its siblings Menorca and Ibiza – and there's an abundance of things to do, see and eat. Luckily our handy guide is here to help you get the most out of the beautiful Baleriac jewel…
Stay, Mallorca
Jumeirah Port Soller Hotel & Spa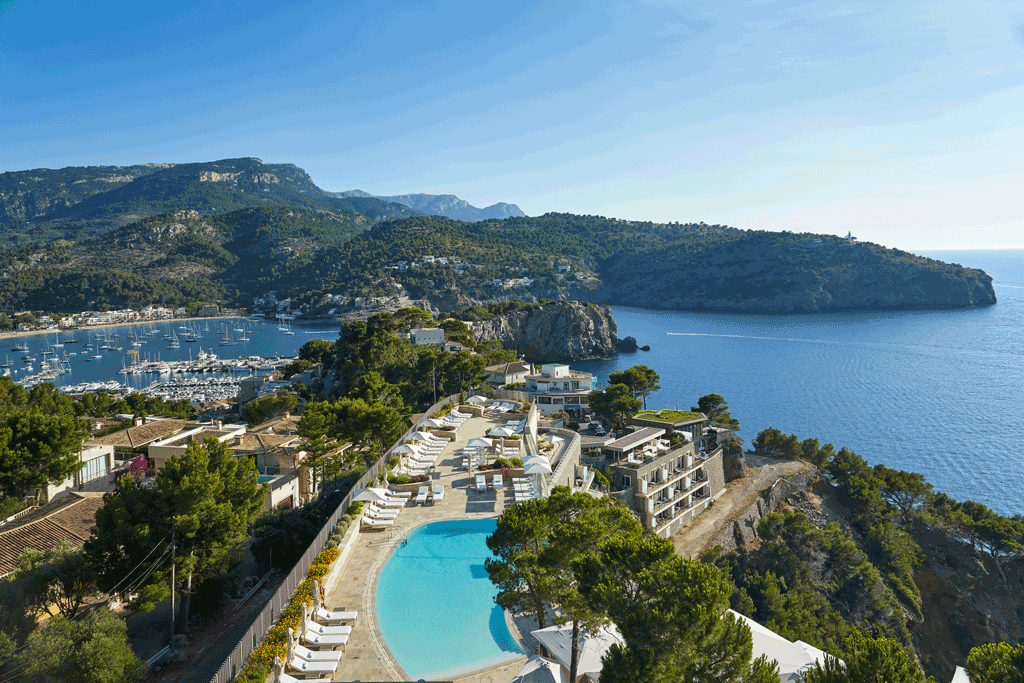 Perched on a cliff overlooking the idyllic fishing village below, Jumeirah Port Soller Hotel & Spa boasts some of the most dramatic views on the island. From the hotel's many viewing points – which includes the infinity pool of dreams – The Mediterranean has never looked so blue, glittering and far-reaching. Not only this, but on the other side you have the Tramuntana mountains, skirting the length of Mallorca's northern coast. All 121 rooms overlook one or the other, many with balconies and terraces which serve as perfect private spots for catching the sunset.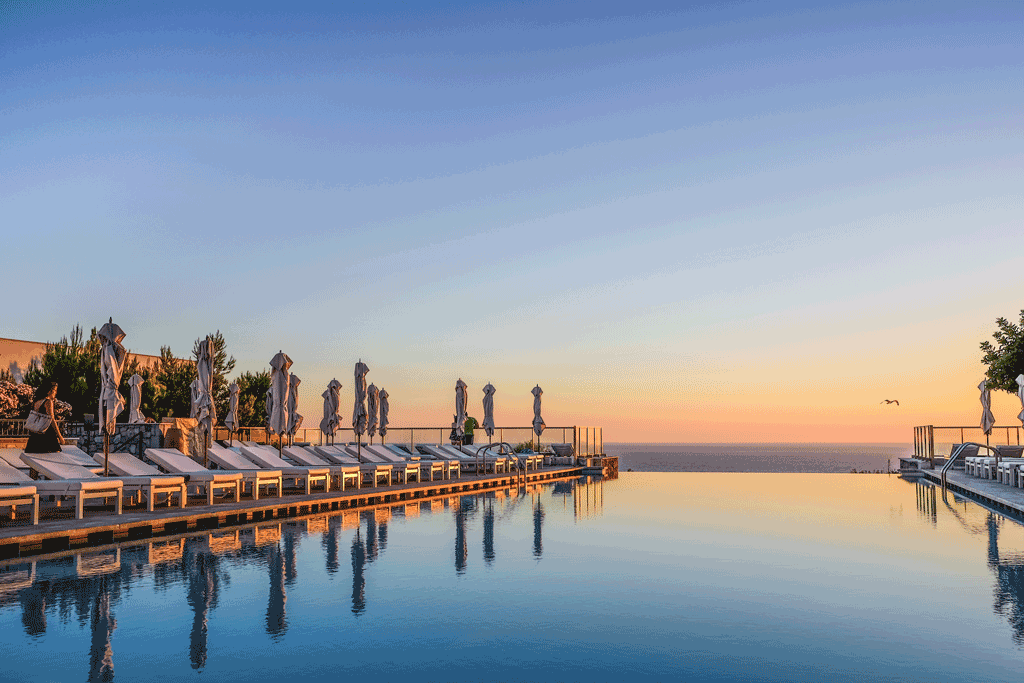 Throughout the hotel there's a palpable sense of tranquility. A botanical garden staircase meanders through the centre with bedrooms flanking either side, and up towards a restaurant, adults-only infinity pool (there's a family pool elsewhere), and large sea-view terrace complete with day beds. But perhaps the most peaceful spot is the award-winning Talise Spa, featuring a Hammam, salt room, glass-fronted sauna, sizeable gym and the pièce de résistance: a thermal outdoor pool looking out to the mountains, reminiscent of the spas of Switzerland. Food-wise you'll be spoilt for choice, as there are three top end restaurants on-site. Go to Es Fanals for a true gastronomic experience – the tasting menu is particularly impressive, a five-course extravaganza with wine pairing, which changes weekly. For spectacular views, it doesn't get much better than Cap Roig Brasserie, named after the famed local red fish. Open for breakfast, lunch and dinner every day, they offer a really good breakfast buffet in the mornings followed by freshly prepared seafood, salads, paella and tapas, often running barbecues in the evenings. And last but certainly not least is the Sunset Lounge: the best place to watch the golden hour turn into dusk, serving premium sushi and cocktails amid relaxed settings. Across all of these – and throughout the hotel – service is second-to-none, with welcoming, friendly staff there to cater for your every whim. The port and beach is around a 15 minute walk down a steep hill (a little longer on the way up!) but there's also a complimentary shuttle service to whizz you up and down for ease. An utterly delightful place to stay.
Book it: A superior room starting from EUR450 per night on a B&B basis when booked through jumeirah.com. Other room category prices can be requested. Alternatively book a package deal through Best At Travel: from £1440pp (September 2019) or £2277pp (August 2019) for 7 nights stay in a Deluxe Room on B&B basis including easyJet flights.
Villa Infinitum, Port d'Andratx
Staying on the west side? Villa Infinitum in Port d'Andratx might just be the most beautiful villa on the island. From its prime hillside position, the villa boasts views which can genuinely be described as jaw-dropping – and these only get better as you head upwards. The villa is set across five floors, with five king-sized bedrooms, an infinity pool, indoor spa, open plan living area and billiards room. But the crown jewel has to be the glamorous roof terrace, complete with a Jacuzzi-style pool, outdoor kitchen space, and 180-vistas of the Mediterranean and Tramuntana mountains beyond. Interiors are chic and minimalist, with floor to ceiling windows throughout flooding the residence with Spanish sunlight. All bedrooms are front-facing, meaning no matter where you're sleeping you'll wake up to picture-perfect sea views. These are particularly spectacular from the master suite: a huge, airy space with a freestanding bath, rainfall shower and walk in wardrobe.
These luxurious settings are more than matched by the service. Owner Nick Bampton describes Villa Infinitum as a "votel" – a cross between a villa and hotel. You'll wake up to an impressive breakfast spread each morning, and guests can book bespoke in-house services, such as private catering from Marc Fosh trained chefs, wine tasting, yacht trips around the island and spa treatments from at-home beauty booking service Ruuby. A private cellar containing every type of alcohol under the sun is restocked each week for guests, with the option to pre-order particular tipples ahead of your visit.
Book it: Take exclusive use of Villa Infinitum year-round starting from €18,000 per week based on 10 sharing. This includes daily breakfast, daily maid service and a dedicated villa manager to assist with housekeeping and additional services. Minimum stay of seven nights. For further information or to book, please visit infinitumvillas.com or call +44 (0) 7471 935741.
Park Hyatt, Canyamel
If you're looking for more than a beach-and-crash break, opt for the luxury of the shiny new Park Hyatt nestled in the tranquil valley of Canyamel on the far east of the island, the group's first resort in the Mediterranean. A 15-minute walk to the beach (or ten-minute ride on one of the hotel's bicycles), it's also perfectly situated to explore the nearby old town of Alcúdia; or for impressive hillside hikes straight from the front door. The quaint and cosy Mallorcan village styling contrasts with the luxurious rooms (complete with valley-view bathtubs) and four excellent restaurants. The on-site Serenitas Spa is one of the most attractive spa spaces in the Mediterranean. Hugging the coastal cliff of Cap Vermell, the treatment rooms overlook the valley, with breathtaking mountain views dropping into the Mediterranean Sea. A pretty zen space for a seriously relaxing massage.
Book it: Doubles at Park Hyatt Mallorca start from approx €300 during the winter months (from €640 peak season), including breakfast. 
Eat, Mallorca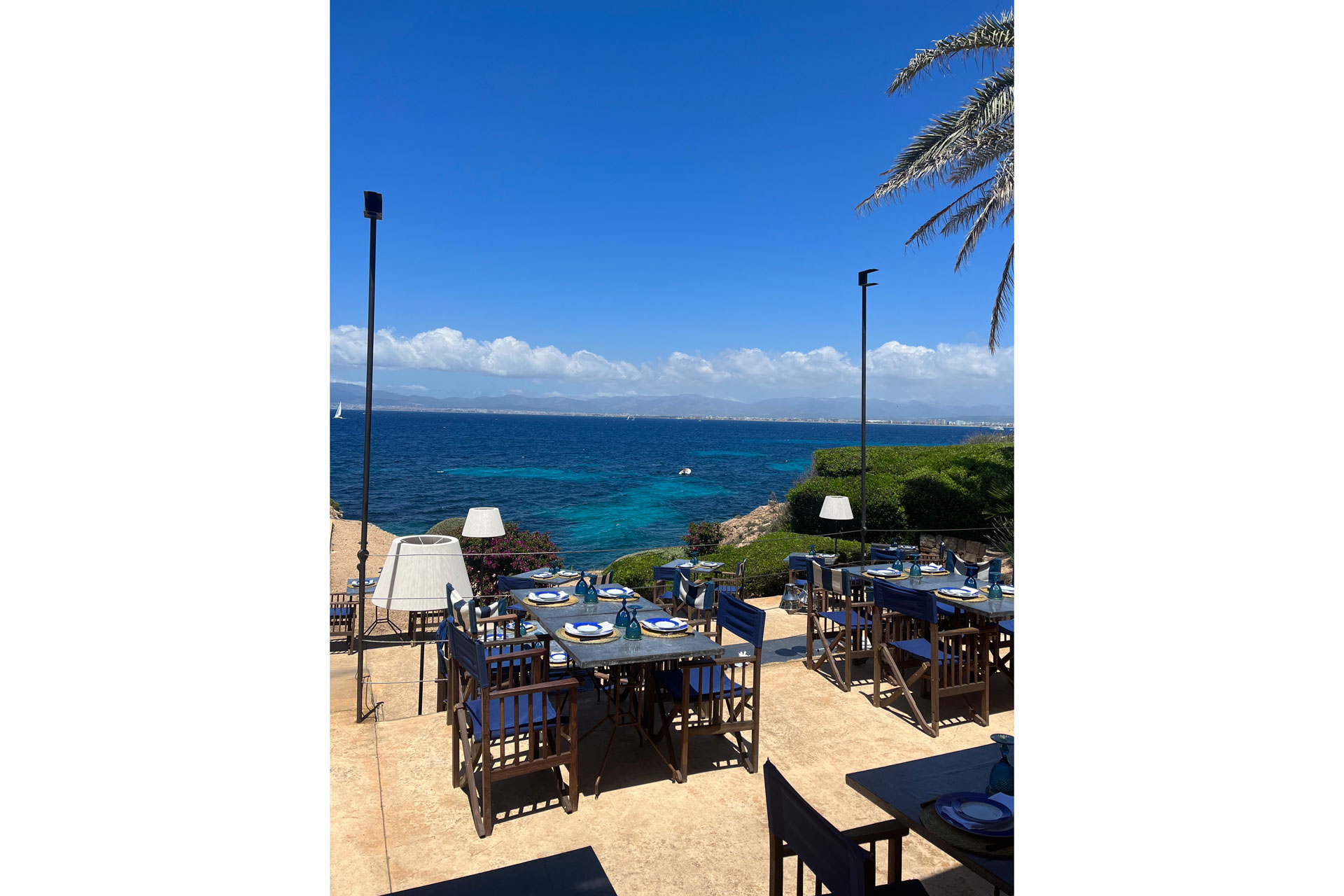 Undoubtedly one of the most special places to dine on the island is the Sea Club restaurant at Cap Rocat, a secluded hotel set on a former 19th-century military fortress. One of two eateries at the hotel, the Sea Club is a relaxed, al fresco spot overlooking the ocean, with deck chairs, wicker table mats and blue tableware adding to the seaside ambience. It's the kind of place you could while away hours sipping rosé and soaking up the fresh sea air. Mediterranean fare is the focus, with a mixture of paella, fresh fish and meat dishes to choose from. For starters, the burrata is a must– served here with a particularly delicious aubergine tartare and cilantro pesto. There's also steamed rock mussels, beef carpaccio, and a selection of savoury tarts. For the mains, fish is the natural choice: think flambéed Majorcan red prawns, seabass baked in salt and squid with onion confit, paired with a couple of side dishes, such as sautéed potatoes and roasted tomato confit. Everything tastes wonderfully fresh, service is understated yet slick and the setting is unrivalled.
On the east coast the larger hotels like the Park Hyatt draw the biggest dining crowds, and the Tapas Bar is the perfect place for cocktails and excellent sharing dishes. All ingredients used in the classic Mallorcan cuisine are organic and sourced from farms and fishing ports nearby. Good luck making it past the fourth course though – it's hard to stop at a couple of bites of each of the countless plates. 
There are several excellent wineries on the island (Bodega Ribas is the oldest and known for its excellent house white based on Mallorcan grape Prensal), but for a tasting with a difference, ask the locals for any olive harvesting dates. If you can coincide your trip with the first Aubocassa harvest of the season (and wangle an invite from the family), you'll be treated to a wine and olive oil tasting, watch the liquid gold (or vivid green) being made, and then be treated to a sumptuous menu of at least a dozen courses.
For a cafe/restaurant with an all-day brasserie feel, drop into one of the Cappuccino chains spread out at different luxury ports across the island where you could as easily sit with a post-dinner cocktail and a book as you could go there for a healthy breakfast with freshly squeezed Zumo de Naranja. There's a never-ending playlist of easy-listening background music, the drinks are top quality and the decor is divine. Your saviour when you need to dump all your bags when shopping in Palma, the Cappuccino nestled within Palma's backstreets has a courtyard that is a suntrap and the staff won't mind if you spend an afternoon there taking in the beautiful surroundings (and trying cocktails from their impeccably crafted cocktail menu!).
La Hacienda is the epitome of cosy dining. Order from their menu of top quality steaks, and vegetarians, fill up your plate with the eclectic salad bar and let your food go down by the toasty fireplaces. For a simply divine and top quality steak, make your reservation at La Hacienda and prepare to waddle home afterwards.
Over on the west side, hotel and award-wining restaurant Villa Italia in Port D'Andratx is one of the best places to eat. Its prime waterside location means delicious, fresh fish, which you can enjoy alongside glorious port views. In the north, the charming seaside town of Port Sóller is filled with lovely waterfront restaurants overlooking the yachts, including Kingfisher and Es Passeig.
Do, Mallorca
Visit a Mallorcan Finca & Olive Grove: Jumeirah Port Soller Hotel & Spa has introduced a number of visitor experiences to its offering, ranging from sunset boat trips to helicopter rides to gin tasting. One of their newest and most charming is an intimate tour of a traditional olive grove: Finca Son Moragues, located around 30 minutes drive from the hotel. You'll learn about the estate's history and the olive oil production process before sitting down to a traditional Mallorcan lunch in a rustic farmhouse, featuring local meat, marmalades, bread, cheese, red wine and of course plenty of olive oil.
Take a boat trip: The best – and most glamorous – way to get a feel for the island as a whole is by boat. Charter a yacht for the day from the Port d'Andratx harbour and sail out to Sant Elm, a lovely fishing village, where you'll can enjoy lunch at pretty waterside restaurant Es Raor. Next stop: Dragonera Island, an uninhabited, dragon-shaped island with a water preserve for waterfowl and lizards.
See, Mallorca
Beyond the beautiful scenery of the Serra de Tramuntana and the major sites of the capital such as the Palma Cathedral La Seu, for a more tranquil weekend explore the hidden gems to the north. Sóller is a beautiful old town in the heart of the 'valley of oranges'. From the impressive Sant Bartomeu church to the tram chugging its way through town, it's a beautiful place for a laid-back lunch. While you're in the area, pop to the idyllic village of Deià, which English poet and novelist Robert Graves put on the map when he built his home there in 1932, and more recently featured on BBC's The Night Manager, starring Tom Hiddleston. Eat at fish restaurant Ca's Patro March, where Hugh Laurie's dastardly Richard Roper dines his entourage (+34 97163 9137). The island's beaches are also well worth a visit, particularly for a sunrise or sunset stroll. Playa de Muro is popular with visitors while locals recommend Cala Mesquida in Artà for its picturesque sand dunes.
Buy, Mallorca
It's lovely to stroll around the small markets in towns such as Felanitx, Mallorca. Located in the south east of the island it's around a 40-minute drive from the Park Hyatt and the perfect place to blend in with the locals having a lazy Sunday stroll or a coffee in the square. Look for brightly coloured pottery, baskets and fine Mallorcan linens among the usual market fare. There are several seriously interesting (and teeny tiny) galleries and potteries in this gem of a town, so do try and squeeze in a visit between hikes and spa treatments. 
Out of season Mallorca
The cooler months are perfect for outdoor activities, and there are several great hiking routes for all abilities. If you're based on the west side of the island, explore the World Heritage Site of Serra de Tramuntana by bike or on foot, or set out on a coastal route straight from your hotel. There are several excellent golf options, including Pula (where Rafa Nadal can often be seen practising his swing), Son Servera and Capdepera.
While the off-season scene is on the rise, expect many of the big restaurants (and some hotels) to be shut if you travel in spring, autumn or winter, especially if you're headed away from the capital. British chef Marc Fosh's eponymous one-Michelin-starred restaurant in Palma is open all year round and worth a visit for his exceptional Mediterranean dishes using only the freshest local produce (marcfosh.com). Zaranda in the luxe Castell Son Claret hotel on the west coast is the only restaurant on the island with two Michelin stars. Beautiful, locally caught seafood is at the heart of the menu.
READ MORE: