It's unlikely that the spooky pink lighting and masked mannequins will provide you with much R&R.
Ideas about self care- what the words mean, the process entails and the act represents, are more spoken about today than ever before. Juno Calypso contributes to our dialogue on the topic by placing under the microscope the kingpin institution of self-care: beauty salons. Her installation, 'The Salon', suggests ways in which standards of beauty, as well as its treatments, which are meant to make women 'feel good', bear a more complicated significance. Beauty is a source of judgement, but equally: it is met with judgement when enacted.
'Why do we need to take care of ourselves – what's damaged us in the first place?' -Juno Calypso
Your Weirdest Spa Experience Awaits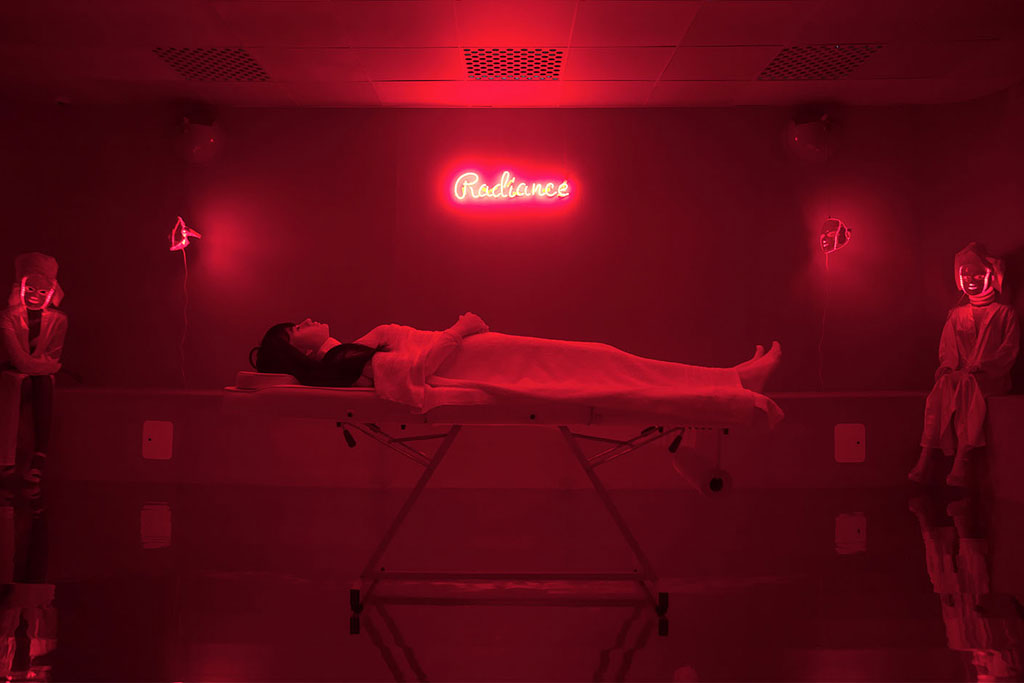 In the basement of Covent Garden's Galeria Melissa, Juno Calypso details familiar vignettes of beauty with sinister touches. A video installation from the filmmaking team GERIKO speaks to the role of technology in today's beauty realm. Among the immersive elements of the exhibition is a 3D rendering of the artist's own body. Viewers can also try on masks and take selfies in mirrors.
The artist recalls the process of creating the body mould with a grin:
'The process takes three hours and you have your whole head cast completely. You can't see or speak, all you can do is move your hands to do a thumbs up or thumbs down. Your whole head is covered in this heavy, hot mud rock. I never thought I'd use myself for the model, but I thought, I can't put someone else through that process.' -Juno Calypso
14 of the Best Current Exhibitions in London
Free admission, until mid-April, Galeria Melissa 43 King St, London WC2E 8JY, open 10:30 – 7:30 pm except on Sundays- 12:00 – 6:00.
What's on this week in the town? And in the country? Check out our culture diaries before you fill in yours. 
---