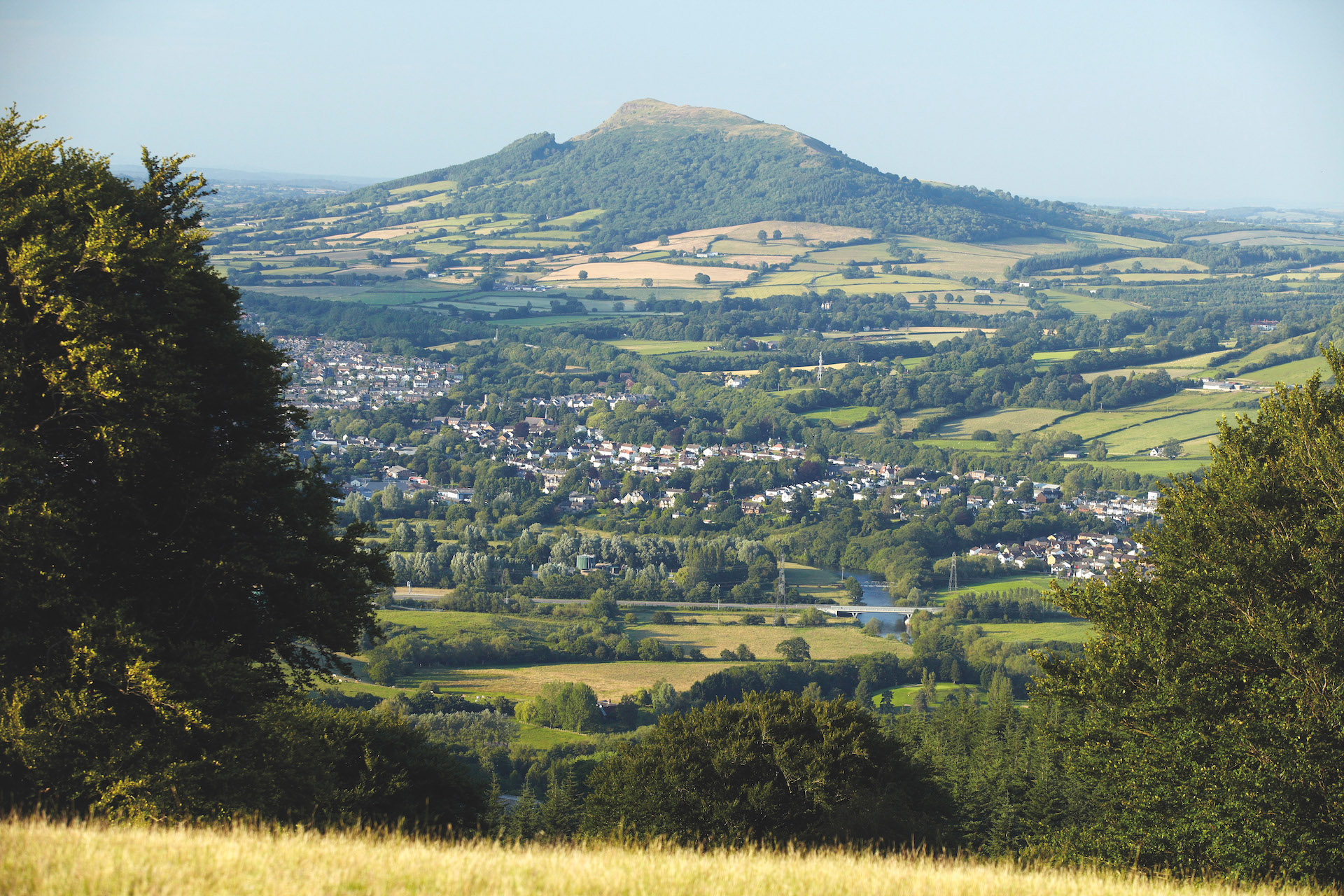 Let's Move To… Abergavenny
---
A foodie, cultural hub in the beautiful Black Mountains
C&TH's Property Editor, Anna Tyzack, heads to the Black Mountains to explore the popular market town of Abergavenny.
Some of the starriest skies in Britain can be admired over the town of Abergavenny in Wales. It's a part of Britain where time seems to move more slowly; the streets are lined with independent shops selling produce from local hill farms, which still practise age-old farming methods.
'For centuries we've been putting back what we take away,' explains Keith Powell, a seventh-generation local hill farmer and vet. 'Now people are realising it's actually quite forward-thinking to live like this – it's economically viable and sustainable.'
It's no surprise the area is attracting artists, creatives and entrepreneurs keen to live a simpler life in rural Monmouthshire. Creative director and influencer Lydia Pang has moved to the area with her designer/maker husband, Roo Williams, and according to Keith several of the local estates have been quietly purchased by high-flying Londoners looking to raise their children in space and fresh air. 'They're low-key about it, though,' he says. 'No electric gates or flashiness and they're based here most of the time.'
The Brecon Beacons which flank Abergavenny have long been a popular second-home destination. They're London's closest mountain range; it takes just two and a half hours to drive from the capital to the town and trains from London Paddington take roughly the same time. But it's the pandemic that's made it a hotspot for those looking to move permanently to the country.
'Covid has forced people to review their lifestyle,' explains Heather Cook of local estate agents Fine & Country. 'If you can work from home several days a week Abergavenny makes sense. You have stunning walks and endless space, yet it's easier to reach [from London] than the West Country.'
The town's cosmopolitan vibe suits London tastes, with classy cafés, useful independents and no less than three top-notch butchers. There's also a vibrant local restaurant scene with a number of gastro pubs and Michelin-starred establishments, such as the Walnut Tree at Llanddewi Skirrid.
And while it's always been tricky to book accommodation during Abergavenny's annual food festival, the town is now sold out all summer. 'The Brecon Beacons has become somewhere everyone is gravitating to,' confirms Heather.
Ellen Hinton opened Little Green Refills, a sustainable shop and café, with her business partner Beth Oram earlier this year and believes the Abergavenny area is ideal for raising a family. 'It's a lively market town surrounded by mountains, rivers, biking trails and a canal. Post-lockdown, parents value these things more than ever,' she says. Locals are increasingly passionate about protecting the natural environment, she adds, giving an extra dimension to community life. 'I've been so excited to see families coming in to stock up on pasta and rice with their Tupperware and glass jars. There's a new way of doing things and people here seem happy to embrace it.'
Local schools are a further impetus for those leaving larger cities. There are three good primaries in the town, Gymraeg Y Fenni, Cantref and Llanfoist Fawr, as well as a popular comprehensive, King Henry VIII.
It's a half-hour drive to independents like the two Haberdashers' Monmouth Schools for Girls and Boys (aged 3-18), two of the ten best independents in Wales, according to The Sunday Times' Parent Power guide. The highly-rated co-eds Hereford Cathedral School, Christ College Brecon (for boarders), and Hereford Sixth Form College are also within reach.
Such is the demand this year for family houses in the area that agents are witnessing a buying frenzy, observes Heather. 'Prices are holding up as there are more buyers than supply; we're going to best and final offers in properties both in town and in the surrounding countryside,' she notes.
It's still possible to buy a period cottage on one of the best streets in town for £375,000, and a country house with a few acres sells for £650,000. Prices are rising, though. Heather recently sold a house with outbuildings for £1.5 million, while at the top of the market Knight Frank is selling Great Campston, an eight-bedroom Georgian house with barns and 275 acres, a few miles from Abergavenny, for £4.5 million.
Meantime, having lived off-grid for the past ten years, in a house built using materials found on his farm, Keith recently introduced television presenter Ben Fogle to the Black Mountains – and to his charity Stump Up For Trees, which aims to plant a million trees on unused bracken banks around Abergavenny, to offset carbon and improve biodiversity. 'Sustainability is just something you can keep doing forever – it's quite simple really,' he says.
Keith finds it easy to see why London families are heading to Wales. 'It's really beautiful here, really quiet and the communications are excellent,' he says. 'And there are so few people that if you wandered around the Black Mountains stark naked, you'd be unlikely to scare anyone.'