Let's Move To Jersey
---
Discover ivory beaches and palm trees just 30 minutes from London
With its white sand beaches, turquoise ocean and sunny climate, it's hard to believe Jersey is just a 30-minute flight from London. The island, which is nine miles long and five miles wide, regularly tops charts as the sunniest place in Britain.
Thinking of Moving to Jersey?
'It gets a bit wet in winter but it's never as cold as northern England,' says Tessa Hartmann, a brand consultant who moved to Jersey from Glasgow six years ago. 'We're enjoying quintessential island living – there's almost no crime, the roads are quiet and the lifestyle feels more Mediterranean than British. It's bright here, even on a dull day, which is so uplifting.'
It was on a 24-hour business stopover that Hartmann and her husband discovered Jersey. They were toying with a move to the Middle East, but as they touched down in Jersey it felt as though they were arriving in the Maldives. 'I'd always been longing to live among palm trees and there was a palm tree as we stepped out of the airport,' Hartmann explains.
They sold up in Glasgow and relocated their marketing and public relations business to St Helier, Jersey's picturesque capital. Soon afterwards they bought a house near Gorey, a pretty fishing village with an historic church and castle. 'In Glasgow I spent my life in the car driving the kids around but here everything is so close and so easy,' Hartmann says. 'There's such a community spirit, which was a blessing during lockdown – farmers leave honesty boxes for Jersey potatoes outside their farms and fishermen sell their catch of the day from the side of the road.'
Jersey, the largest of the Channel Islands, is perhaps better known for its tax advantages than its balmy climate or close-knit community. The island's government describes it as 'tax efficient' – the maximum income tax is 20 per cent and there is no capital gains or inheritance tax. Brits can relocate to Jersey as a high net worth individual, as a company employee or to start up a business (see below for details). According to Hartmann, securing a business licence was straightforward, and the process of relocating was relatively stress-free. 'I had no idea how to find a GP or where to get my hair done but the islanders were so helpful,' she says. 'And it was the same with getting our children into good schools.'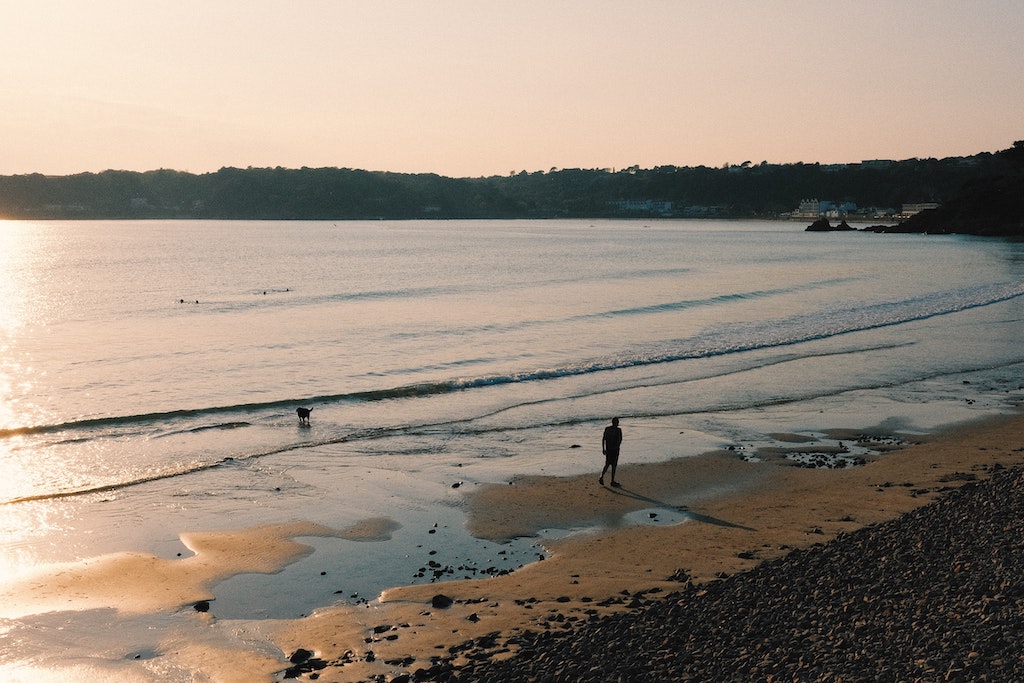 For families, Jersey's education system is a major draw. There's a wealth of good private and state schools for children of every age. Popular prep schools are St George's and St Michael's, while secondary schools, Jersey College For Girls  and the all-boys Victoria College are highly regarded, as are Beaulieu, a Catholic girls' school and De La Salle College for boys.
'The schooling on Jersey is fantastic,' confirms Geri O'Brien of Savills. 'And it all feels so safe – they get on the school bus in the mornings and play on the beach after lessons have finished.' The island also enjoys a world-class healthcare system, a wealth of health clubs and gyms and an enviable restaurant and bar scene. Hartmann recommends booking a table on the terrace at the Oyster Box in St Brelade's Bay  or lunch at Longueville Manor, a country retreat two minutes from St Helier. 'We've very lucky – there are so many restaurants and bars,' she says. 'In summer and winter people head to the Royal Yacht Hotel in St Helier after work'.
It's a myth, according to O'Brien, that everyone living on Jersey is super rich, since alongside local islanders there are also plenty of graduates employed by top law firms and companies such as PwC, a mix that ensures a dynamic community of people living normal lives. 'It attracts young financial talent, top surgeons and specialists in every field: where else can you pop out in your boat after work?' asks O'Brien. 'There are no language barriers,' she adds, 'it's the same currency as Britain and yet there are also really big tax advantages for those who want to utilise the opportunity.'
That said, property on the island is expensive – akin to London prices for those relocating. A basic one-bedroom apartment with no parking will cost around £300,000, while prices for three-bedroom semis start at around £575,000. 'For £800,000 you'll get a nice place, but it won't be a gorgeous house with a huge garden,' O'Brien concedes. Five-bedroom family homes start at £1.3m to £1.4m, stretching up to £12m for mansions with sea views. 'It's still worth noting that 96 per cent of the market is under one million,' she points out.
The island is made up of 12 parishes, each of which has a different feel. Those looking for privacy tend to steer towards country houses and restored farmhouses with sea views, a few miles from the coast, while the flashiest houses are on the south-west coast. 'There's been a flurry of activity for homes around £3m in this part of the island,' O'Brien continues. 'Buyers at this level will probably spend another million or two making the property exactly how they want it.'
There is also increasing demand, according to Margaret Thompson of Fine & Country Jersey, for turnkey homes in the west of the island. Top Jersey developer and lifestyle concierge DiCasa, recently completed four sumptuous residences for high-net-worth buyers, which will be sold fully furnished. The company takes care of every aspect of clients' relocation – including finding the right car, school, healthcare and private charter jet.
In the wake of the pandemic, Thompson is convinced that Jersey will only become more popular, attracting those who value community, space and easy access to Britain and Europe. 'We have a warm climate, clean beaches and friendly people,' Thompson says. 'And you'll pay less tax.' The best of all worlds, surely?
Jersey and Tax
Jersey is a self-governing Crown Dependency with its own fiscal and legal system. Residents pay tax on income (maximum 20 per cent), goods and services (usually 5 per cent) but there's no capital gains or inheritance tax. The standard rate of corporate income tax is 0 per cent, with exceptions for financial service companies (10 per cent tax rate), utility companies (20 per cent tax rate) and large corporate retailers (varies depending on the profits, maximum 20 per cent). Company income from property or property development is also taxed at 20 per cent. There are also extra reliefs you can claim, which increase your tax exemption threshold. For full details see gov.je
Read more:
The Best Places To Eat in Jersey / Best Country Homes on the Market Right Now