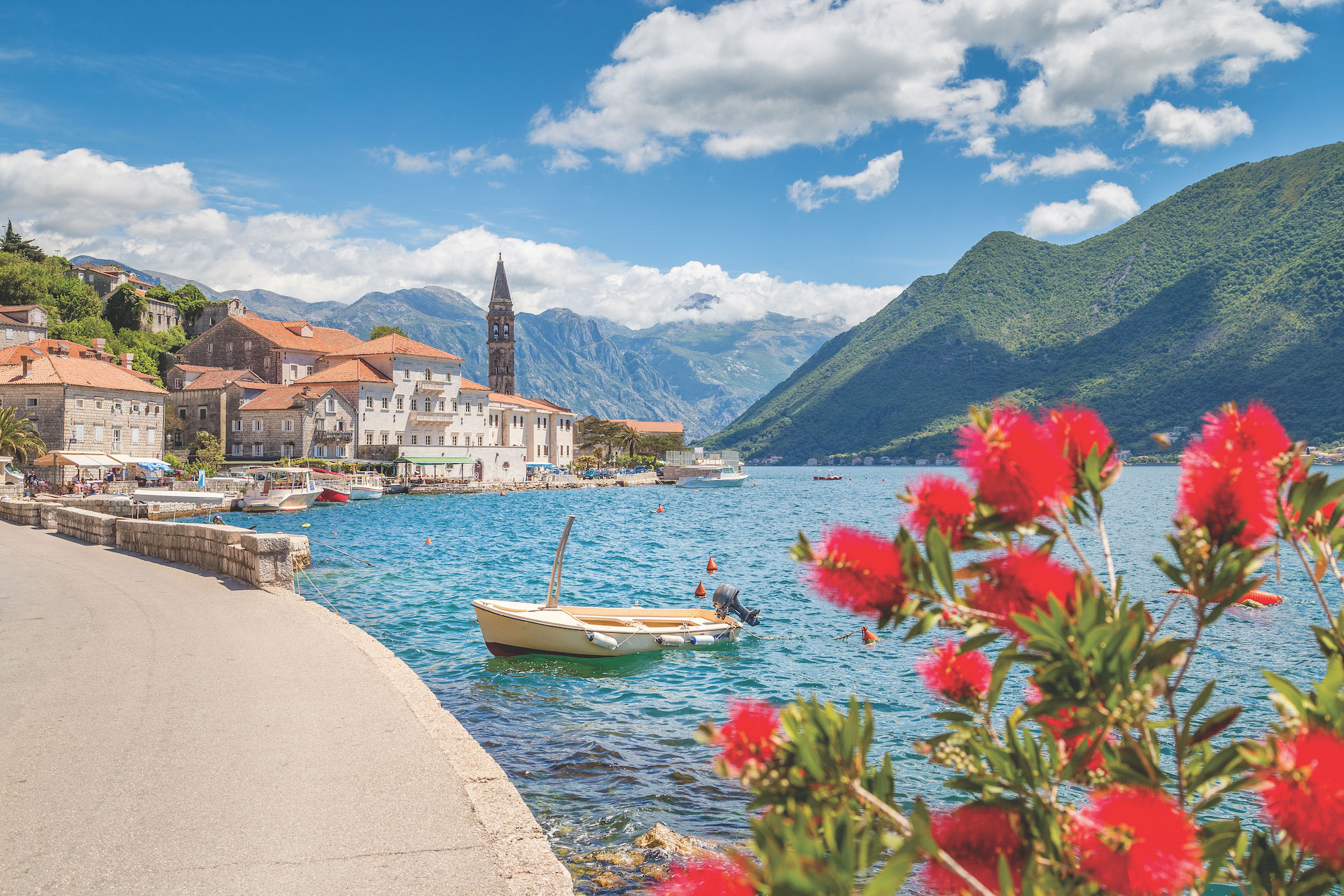 Let's Move To… Montenegro
---
Searching for sustainable homes on the sublime Adriatic coast
Discover a new life on the sublime Adriatic coast in Montenegro.
In the Bay of Kotor in Montenegro, the beachfront restaurants look out over glassy aquamarine waters to a backdrop of olive groves, medieval villages and dramatic mountains. The sun shines for more than 300 days a year, the sea is warm enough for an October dip and the local Adriatic cuisine is simple with a strong Venetian influence – fish, seafood and pasta.
'It's like Ibiza before Ibiza became popular,' says Michael Ward, who bought a second home on Kotor Bay nearly 20 years ago. 'Vast swathes of the coast are still undeveloped, which means there's so much green space and when you swim or sail you're in pristine water.'
Unsurprisingly, this Balkan country, which is about the size of Northern Ireland, has recently been drawing a steady stream of British second-homers in search of a Mediterranean way of life, but amid unspoilt surroundings. 'Montenegro's slow evolution into tourism has worked in its favour,' Michael continues. 'The government has put in place a stringent planning regime to ensure new developments are always buffered by green zones – there is never going to be the overdevelopment found in the south of Spain.'
Sustainability is the buzzword when it comes to new-build homes and large parts of the country have been designated as national parks and nature reserves. As a result, the coastline – save some monstrosities around the town of Budva – still looks much as it did when Michael and his wife Amra began restoring their tumbledown house in the village of Prčanj. There were only two other British families on Kotor Bay at that time and English wasn't widely spoken; but they fell so deeply in love with Montegnegro they ended up staying, setting up a property company, MoHo, and educating their children at local schools. 'It felt undiscovered back then and in many ways it still does,' he says.
Yet Montenegro's wild coastline has also caught the eye of some of the world's most luxurious resort brands including The Chedi on Luštica Bay, Aman on the islet of Sveti Stefan and One&Only which is opening its first European resort at Portonovi this summer, an ultra-luxury 113-room retreat with private beaches and yacht moorings.
Meanwhile Porto Montenegro, a new-build marina and luxury development at Tivat, attracts global superyachts such as Black Pearl. 'The area still has a provincial feel yet it's also increasingly cosmopolitan,' Michael says. 'We have one of the largest open-air clubs on the Adriatic, which attracts the biggest-name DJs on the European club circuit and the likes of [Russian oligarch and industrialist] Oleg Deripaska are mooring here.'
The stretch of coastline from Budva to Kotor Bay, a Unesco World Heritage Site and Europe's southernmost fjord, is the most popular destination for British buyers. Here prices are still up to up to 50 per cent cheaper than in traditional Mediterranean hotspots. Four-bedroom eco-houses, surrounded by gardens with a pool and sea views, cost less than €1m near Tivat – unheard of on the Côte d'Azur (see ecosmartinvest.com). Luxury resort apartments on the coast cost from €290,000, while it's also possible to find older, traditional properties to develop.
MoHo has overseen the redevelopment of a former olive mill on the Luštica coast, and a property in a 15th-century hamlet overlooking Porto Montenegro. It's working on a modern development of sustainable four- and five-bedroom villas in a prime spot above Kotor Bay, priced from €1.8m, and a six-bedroom villa on the Luštica Peninsula, overlooking the Adriatic. 'The coastline is effectively one giant neighbourhood and you can go from one extreme to the other in 15 minutes – from a medieval town to a cutting-edge modern marina,' Michael says.
What to do in Montenegro…
The downside for British investors is accessibility. British Airways currently flies to Podgorica, the capital, from July to mid-September, while Easy Jet flies to Tivat on Kotor Bay from June to October. You can reach the Montenegrin coast via Belgrade in Serbia, which has flights to Tivat, or by flying to Dubrovnik in Croatia, which is just over an hour's drive from Kotor Bay. There's also a stunning 12-hour rail journey from Belgrade to Bar. None of these routes make it an attractive weekend option – although some would say this is a bonus.
Montenegro is on track to become an EU member in the next four years and for British buyers an added incentive is the chance to obtain European citizenship for the whole family, thanks to the citizenship- via-investment programme – but it's only until the end of 2021. Applicants must invest a minimum of €350,000 (a property investment of €250,000 plus a donation of €100,000 to the country). As well as offering visa-free movement to Montenegro, the scheme offers entry to countries including the EU Schengen area, Russia and Turkey (for more information see henleyglobal.com).
Michael expects to see prices grow over coming years as more British buyers decide to base themselves in Montenegro for part of the year. The country enjoys affordable living costs, one of the lowest corporate and dividend tax rates in Europe (nine per cent), and also offers excellent healthcare and international schooling.
At weekends Michael drives half an hour into the mountains for lunch at a traditional family restaurant, and his children, who are now teenagers, enjoy the nightlife on the coast. But mostly it's the low stress, outdoorsy way of life that keeps the family staying on, along with the stunning scenery and Mediterranean climate. 'Montenegro offers a really healthy, balanced lifestyle,' he confirms. 'And it's extremely friendly and welcoming – around 50 per cent of locals now speak English.'
Lord Byron described Kotor Bay as 'the most beautiful encounter between land and sea', and while Michael still returns to Britain for holidays, he doesn't like to leave for too long.
'I miss the drama and beauty of the place,' he says. 'That's what hits us every time we step off the plane. We just take a big breath in.'