Let's Move To… Hungerford
---
Escape the city for greener pastures...
Crossrail brings this country town within reach of downsizers, says Anna Tyzack
For those looking to live in proper countryside, within commuting distance of a desk in the City, the West Berkshire market town of Hungerford has become something of a hotspot. 'It's a quiet, rural area with dark skies at night yet perfectly accessible from the capital,' explains Nick Loweth of Knight Frank in Hungerford. 'And when Crossrail comes to Reading, the commuting opportunities will be even speedier.'
The promise of Crossrail has prompted a new wave of London leavers to the area – those who'd previously found the one-hour commute from Hungerford station to Paddington a beat too far. They'll find a vibrant community of locals in Hungerford, surrounded by authentic countryside, picturesque villages, and even their own ancient feast, a Hocktide knees-up known as Tutti Day.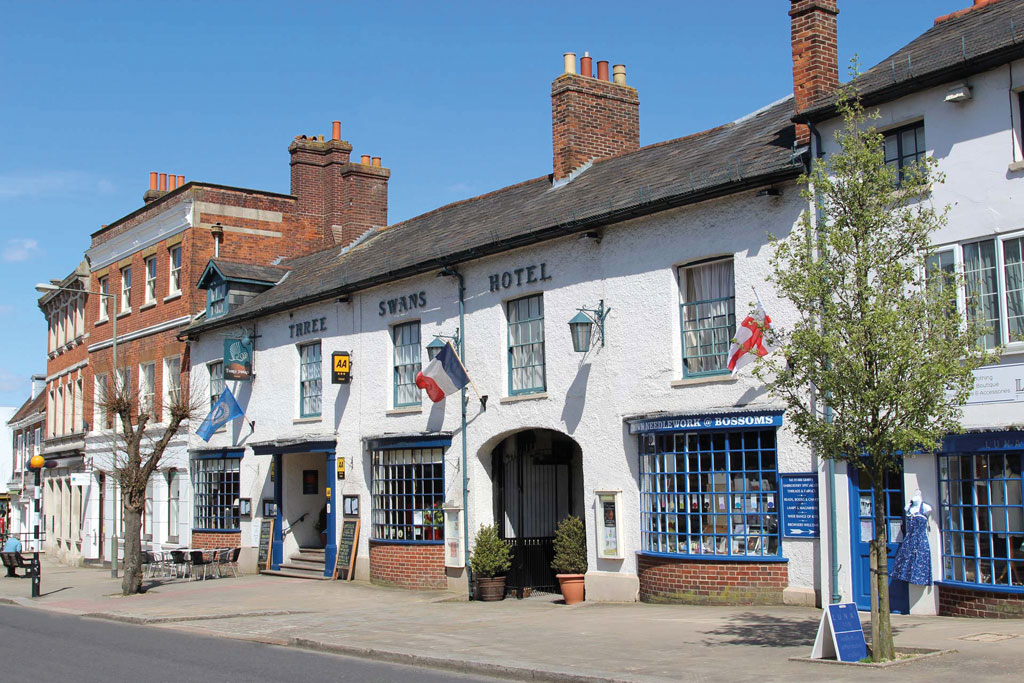 According to Knight Frank, London leavers now account for more than 30 per cent of property purchases. 'It used to be the poorer cousin to Marlborough, but its shops and restaurants have become significantly better over the past ten years,' says Tom Hudson of property finders, Middleton Advisors. 'Yet it still feels like a big village, surrounded by parkland and a common with cattle roaming over it.'
Located on the border of Berkshire, Wiltshire and Hampshire, the town is well placed for excellent shoots, extensive cycling routes and racing at Newbury and Barbury Castle. 'There is so much on your doorstep to keep you busy at the weekend,' Loweth says. 'And access to the M4/M3/A34 makes it easy to get around.' There's a Waitrose in Newbury and useful independent shops (and lots of antiques shops) in Hungerford itself – Bridge Street is known locally as 'the Bond Street of Berkshire'. In every direction there are revered local pubs serving excellent food, including the Harrow in Little Bedwyn, the Three Tuns in Great Bedwyn, and the Dundas Arms on the canal at Kintbury. Culturally, Hungerford has its own film club and historical society, and hosts a literary and arts festival each year.
There's also exceptional schooling, with good state primaries in Hungerford and the surrounding villages and numerous prep schools nearby, including Pinewood, Cheam, Farleigh, Thorngrove and Horris Hill. Local public schools include Bradfield, Marlborough College and St Mary's Calne, while Eton, Sherborne, Winchester and Wellington College are all within an hour and a half's drive.
The many handsome period properties within walking distance of the station make Hungerford an attractive proposition for London downsizers. 'You can pop back into town to watch the cricket or go to the opera, or stay to enjoy a pub lunch in a beer garden with a stunning backdrop,' Hudson says. A four-bedroom house on one of Hungerford's prime streets costs from £750,000, with the larger family houses selling for over £1.5m.
Families tend to look for properties in villages within a few miles of Hungerford, such as in Kintbury to the east, which also has a train station, Eddington to the north and Ham or Shalbourne to the East. 'Kintbury is stuffed with professional couples living a rural life yet working in London,' Hudson says. The string of villages to the north-west of the town, along the banks of the river Kennet, are also highly sought-after, such as Ramsbury and Chiltern Foliat. Five-bedroom family houses with a couple of acres cost from £1.5m, while the largest country houses sell for more than £5m.
Two years ago Jess Chatham and her husband Gareth sold their home in Fulham and bought a barn conversion in the hamlet of Hamstead Marshall, a few miles from Hungerford, where her parents live. 'The commute was tiring for Gareth initially but he soon got into the swing of it and the children settled in well to their prep school,' Jess explains. She works from home but travels to London regularly for meetings, returning in time to pick up her two children from school. Life is less frenetic in West Berkshire, she says, yet every bit as social – a number of their London friends have moved to surrounding villages and they've made new friends through their children's school.
It's on Sunday evenings, however, that Jess and Gareth most appreciate their move out of London. 'We used to be stuck in traffic on the M4, returning home from my parents' house or from staying with friends in the country,' she says. 'But now we sit out on the terrace with a glass of wine watching the stars, wondering why we didn't make the move sooner.
When in Hungerford
Pub lunch
The Bear is a Hungerford institution. greenekinginns.co.uk
New frock
Mojo & McCoy has fans all over the West Country. mojoandmccoy.com
Decent cuppa
Grab a book from award-winning Hungerford Bookshop (hungerford bookshop.co.uk) and read it over a flat white at Eliane. elianesmiles.com
Sunday stroll
Walk east along the towpath of the Kennet & Avon Canal to the hamlet of Kintbury and its riverside pub, the Dundas Arms. dundasarms.co.uk
New Barbour and wellies
Roxtons on Bridge Street is an excellent country sports emporium. roxtons.co.uk
Date night
The Woodspeen is a Michelin- starred restaurant and cookery school. thewoodspeen.com