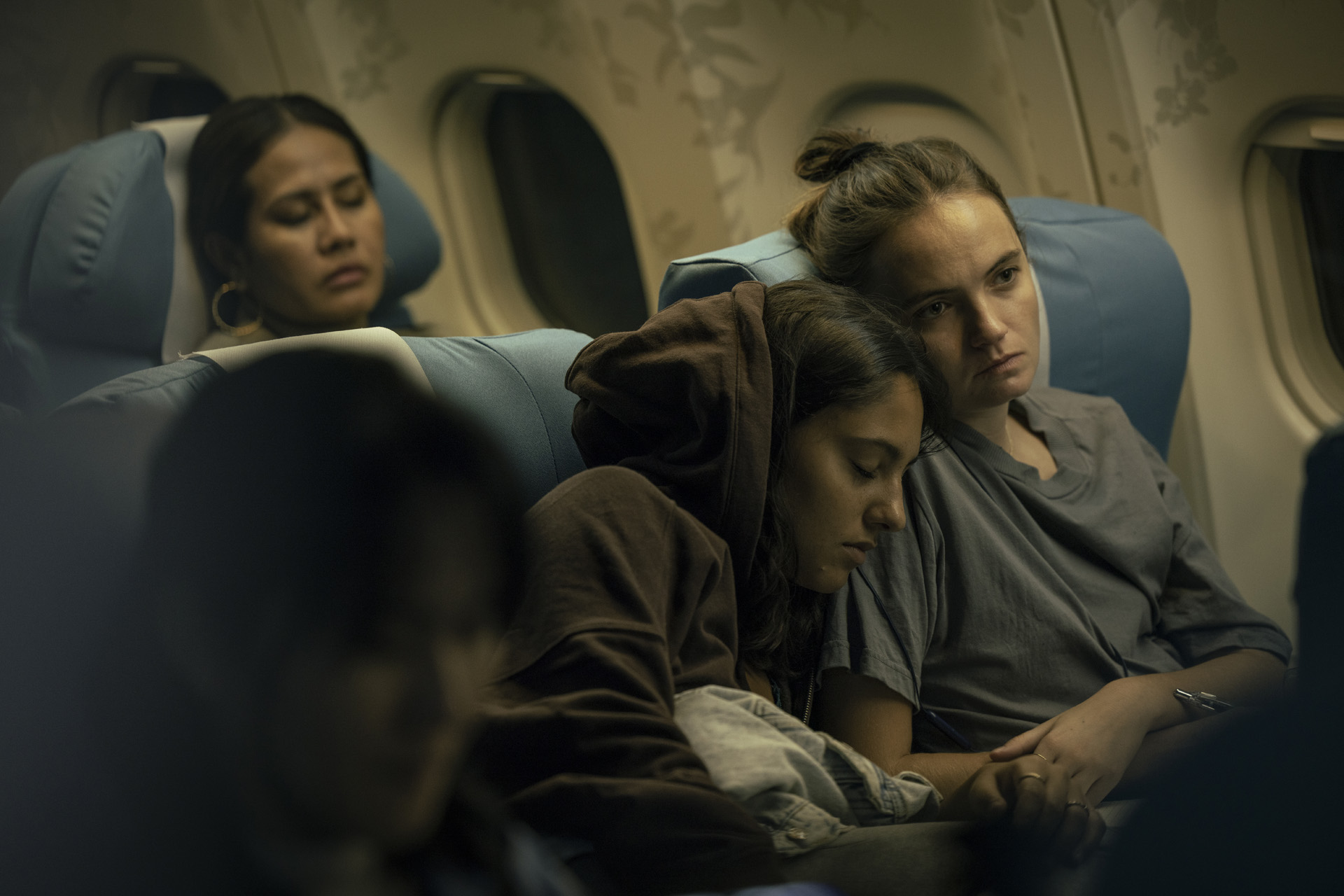 'The Thing I Enjoyed Most About Filming Was The Relationship Between Us': Abigail Lawrie & Rhianne Barreto on No Escape – Interview
No Escape is streaming now on Paramount+
'A sisterhood, for me, is being completely honest: being allowed to be messy and gross and ugly and selfish with the person you're closest to,' says Rhianne Barreto. 'It's not always a healthy relationship, but it's a valued one.' Streaming now on Paramount+, No Escape stars BAFTA Scotland Award Winner Abigail Lawrie opposite Rhianne, playing best friends Lana and Kitty who are on the run from their lives in the UK. Transporting viewers to the tropical oceans of South East Asia, the friends find refuge on a romantic yacht called The Blue, crewed by a team of enigmatic young people harbouring dark secrets that are slowly revealed. What's it like to film such a twisty series? And how did it feel to be transported to the other side of the world to film it? C&TH sits down with Abigail and Rhianne to chat all things No Escape, filming in Thailand, and the real friendship that was born from the fictional one.
No Escape
: Interview With Abigail Lawrie and Rhianne Barreto
Hey guys, how's life going at the moment?
Abigail Lawrie: It's good! I had a birthday party on Saturday, which was really fun. It was Las Vegas themed. How are you, Rhianne?
Rhianne Barreto: I'm good. I don't know if I'm allowed to say this yet, but I'm starting filming on something. So I'm just filming, working, doing this. Life is good.
Good! How would you describe No Escape in your own words?
Abigail: I would say that No Escape is a thrilling saga with lots of twists and turns, lots of people harbouring lots of secrets, set in a beautiful place. 
Rhianne: But at the heart of it is a love story.
Abigail: Between two girls. Two best friends.
It's based on a book of the same name by Lucy Clarke. Had either of you read the book before you read the script or got the role?
Rhianne: We were advised not to, just because they said it was so different to the script. I think sometimes you can get a bit confused about what they're planning versus what they've written. We met Lucy Clarke, who is just a goddess and had the best chat about our characters. We were so on the same page tonally and spiritually. We were just swimming in the sea and talking to her.
Abigail: Yeah, she came out to visit when we were filming and she was just so excited and so supportive of everyone. And we swam in the sea with her, we met her family. She was great. But no, we hadn't read the book. But I think I would quite like to read it now.
Rhianne: I read her other book. And I was just nose in a book, Hermione Granger. You couldn't peel me away!
Abigail, you play Lana – what is she like?
Abigail: Lana is someone who is initially quite hard to read and keeps a lot of things to herself. She can be quite insular, and she's more of an introvert, I'd say, maybe than Kitty. But she's someone who is very loyal. She's very fearless, I think, in a lot of ways that I didn't initially realise. She's someone who cares a lot about the people that she loves – i.e. Kitty. She's very loyal. She's very level headed.
And Rhianne, you play Kitty – can you describe her for us?
Rhianne: Kitty is messy. She's quick to her feelings. If she feels angry, she is angry. Everything beams out of her. That was quite exciting for me to play – someone that was allowed to be a bit messy and honest and raw. It was fun!
Was it easy to access those character traits compared to who you are as people?
Abigail: I think so. There were definitely moments where I wanted to be a bit wild. I was jealous of you [Rhianne], just because you're so different. But then I do think, as the series goes on, you see different sides to both of them, which was really great to play. They go on such a journey. There are definitely parts of Lana that I can identify with, for sure. But we're also very, very different. Also, I think the shoot mirrored the show in that we spent so much time together and got to know each other so well, that it was easy to play best friends.
Rhianne: Oh my god, it was – because we were. I mean, I hope we were, otherwise it was just me chasing you around. [laughs] It was the easiest part of the job, working with Abigail.
How would you describe the fictional friendship?
Rhianne: Codependent! I'd say it's more of a sisterhood than a friendship. You're allowed to be, with family, a little bit more raw and rude and brutal, and I think that is mirrored in the show. When we have arguments, it's like a war. That's just fun to play – to play someone that's not being held back.
Abigail: Yeah, Lana and Kitty can be their truest selves around one another.
Would you describe your real friendship, away from the show, as best friends now?
Abigail: Aw, yeah! Besties!
Rhianne: Yeah, I would describe Abigail as one of my best friends! We didn't know each other before, although we had a mutual friend. But it was just a joy to get to know you [Abigail]. And I think we, in the same way that Kitty and Lana did, when one person was losing their mind – as you do over the course of six months; you do just go through such a range of emotions – we'd hold the other person up. And when the other person was having a hard time, it'd be the other way around. We seesawed each other's emotions.
Abigail: We're a good team.
How does it feel to lead the series with this sisterhood at the fore?
Abigail: That's what I liked the most about it, and enjoyed the most about filming it, was the relationship between us. And we tried to enhance that in the writing.
Rhianne: Yeah, there's a moment where I'm crying, and I said to Abigail, 'you should tell me I look ugly when I cry', and she did, and they kept that in.
Abigail: Yeah, and then little bits where we look at each other and laugh – we thought a lot of that would get cut, but it looks like they kept a lot of it in.
Rhianne: Yeah, because I think friendship is just being rude. A sisterhood, for me, is being completely honest and being allowed to be messy and gross and ugly and selfish with the person you're closest to. It's not always a healthy relationship, but it's a valued one.
Abigail: And things go so wrong for them. It just gets so dark, that I think it was really important at the beginning to build that foundation of love, and really care about one another, but also have a laugh together no matter the circumstance.
How did it feel when you got the role?
Abigail: Everything happened so quickly. So it was amazing, but also like, woah. I didn't really have time to process.
Rhianne: I did. I had too much time to process it. I was cooking in my fears. I mean, it did also feel quick, because it was like, 'OK, go to Thailand for six months.' That's always going to make you feel like you've got no time. Like, how do you prepare for that?
How did you prepare for the role?
Abigail: Well, to be honest, I didn't do too much prep before I got to Thailand. But then when we got there, we had about three weeks before we started filming – which is quite rare on TV. So we all got to know each other. We did a sailing lesson.
Rhianne: We went for dinner! On the first night, we all got dressed up and went for dinner.
Abigail: We were all so young and naive! We just did a lot of rehearsing. I remember, we would sit and go through the scripts.
Rhianne: We would go through the scripts together! So cute. I researched a bit about the foster care system. I cared a lot about costume. There was a really good costume designer called Andrew, who was a dream to work with.
What was the experience like in Thailand? 
Abigail: We were there for so long! A lot of it was really amazing and such a once in a lifetime experience. We got to go to places that people dream of going to.
Rhianne: Yeah, I would never have gone to the random islands we went to.
Abigail: Yeah, but it was a long shoot, and by the end of it, everyone was completely knackered.
Rhianne: It was exhausting. Have you ever been on the sea? Sea air really takes it out of you. Flipping hell. We slept good.
Any memorable moments or funny stories from filming?
Rhianne: We went on a few nights out that were really fun.
Abigail: Yeah, we had a lot of fun. And there was a scene where we had to party in a rooftop bar in Bangkok. It's like a split second in the show, but we were filming for a day. It was a fake party, and we played Rihanna and did fake shots. It was fun.
What is the cast dynamic? Who was your favourite person to work with?
Rhianne: We were all pals. It was such an international cast. But it was a lot of me and you [Abigail] doing cockney accents to each other. Just to feel at home. [laughs]
Abigail: We spent so much time together in such close proximity. There were days where we were a bit loopy!
Are you still in touch as a group?
Abigail: Yeah, we have a WhatsApp group! But everyone's in different time zones, and everyone's so busy. But being in touch is good.
Would you like to travel to visit them? 
Rhianne: Oh my god, I'd love that.
Abigail: I would love that. I particularly want to go to New Zealand. I've always wanted to go to New Zealand.
Rhianne: The land of Lorde. I think I'd want to go just to try and meet her.
Expanding from No Escape, do either of you have a most memorable project?
Abigail: I would say one of the jobs that I hold dear to my heart is a film called Our Ladies that was set in Scotland in the 90s. We filmed it ages ago, but because of COVID It took a long time to come out. But that was really special, because it was the first time I made a film in Scotland, which is where I'm from, and also it was the first time I worked with a group of young women who were all so amazing. And we're all still mates now. It was just really special.
Rhianne: Mine is a film called Share. It's an A24 film, bought by HBO, and it was my first job in film and a leading role. I had to do an American accent and learn basketball, and it was about sexual assault. It was just really tough and brutal, and the most profound experience I've ever had playing a character. I met people that will come to my wedding. I don't even want to get married, I'm just using that as a marker for friendship. Family, almost. And I worked with some incredible people. It's a pretty harrowing story, but it was really powerful to be a part of.
Who has been your favourite actor to work with in the past? Other than each other!
Rhianne: Genuinely Abigail, but I'll also say on Share, I worked with an actor called JC McKenzie. He played my dad. And he is absolutely loopy. The goofiest goof. He works with Scorsese all the time – like, in every Scorsese film. They love him. He taught me so much about being alive, being a good actor and being nice to people on set. He let me stay in his house in New York. I love him. He's like my second dad. How about you, Abigail?
Abigail: Well, other than Rhianne, I worked with an actress called Genevieve O'Reilly, who played my mum in a show that I did over a number of years called Tin Star. I learned so much from her. She was sort of like my mentor. She was just so kind, and she's so amazing what she does, but also lovely to everyone on set. I really admire her. We went through such a huge period of our lives together because it was such a long show. So we really bonded.
Do you have a dream role?
Rhianne: I want to play a Jim Carrey-esque, Ace Ventura woman.
Abigail: Yeah, I want to do something funny and kooky.
Rhianne: Something unhinged, where no one tells me I'm too much. They're all like, more!
Abigail: I want to do a play. But something big and loud and wild. Maybe a musical.
Rhianne: Yeah, we want to be in a musical together. We could do Chicago!
What's something you don't want to do or would like to do less of?
Rhianne: Anything that I've already done. I want to be shocked. Scared. I want to feel like I literally can't do it, and then have to do it.
Abigail: I'm the same. I'd quite like to do something different. But I'm also just open to lots.
Any roles in the pipeline that you're excited about? (If you're allowed to tell us!)
Rhianne: I'm working on something, but I don't know if I can talk about it!
Abigail: Yeah, I'm not working on anything at the moment. But I have a film coming out at some point, I'm not really sure when, I shot in New Mexico during the pandemic. I also did some of Good Omens, which was so much fun to do. That was wild. That comes out in the summer, and I'm really intrigued to see it.
Do you either view do you have a dream director that you'd like to work with?
Rhianne: I'd love to work with Greta Gerwig.
Abigail: Me too.
Rhianne: Full stop. Exclamation point.
Do you get to spend much time at home, or are you constantly on the move?
Abigail: I've spent a lot of time at home recently. It's been really nice.
Rhianne: I don't really have a home. I'm a nomad. All my stuff is in storage because I'm filming, so there's no need to be renting.
What's your relationship with social media like?
Rhianne: Get me off it, honestly. I hate social media.
Abigail: Yeah, I've deleted TikTok because it was taking up a wild amount of time.
Rhianne: I don't have Instagram on my phone anymore, and I'm now on YouTube reels like an old woman.
Abigail: One thing I've gotten back into, which isn't social media, is Wordle.
Rhianne: [laughs] Abigail is a smart girl. She's a brainiac. She needs to be stimulated.
What do you do to wind down from work?
Rhianne: Well, in Thailand, we had lots of massages!
Abigail: We were so lucky. Most of the time we were right by the beach. We'd just roll into the sea.
What's your top piece of advice to people to live life a little bit better?
Rhianne: Delete Instagram. Eat what you want.
Abigail: Yeah, try and get a lot of sleep. My dad always says that sleep is your secret weapon. And as I get older, I realise that that is true. I have equipment. Eye mask, ear plugs, nice pyjamas.
Rhianne: You're a sleep queen.
If you could give advice to your 15 year old self, what would you say?
Rhianne: GCSEs… Oh my god, it literally doesn't matter. I'd say, 'babes, your maths GCSE that you're just gonna scrape a C in? It doesn't matter. It's all going to be OK. More than OK.' Everyone says it and it's so annoying, but the things you worry about at that age is a pebble in the ocean of things that are to come. 
Abigail: Agreed.
Anything fun in the pipeline – professionally or personally?
Rhianne: I'm working on something exciting and fun!
Abigail: I'm going to Cornwall in a couple of weeks with a few of my pals. And I'm just excited for this to come out!
No Escape is streaming now on Paramount+.
Featured image by Nut Jirathit.