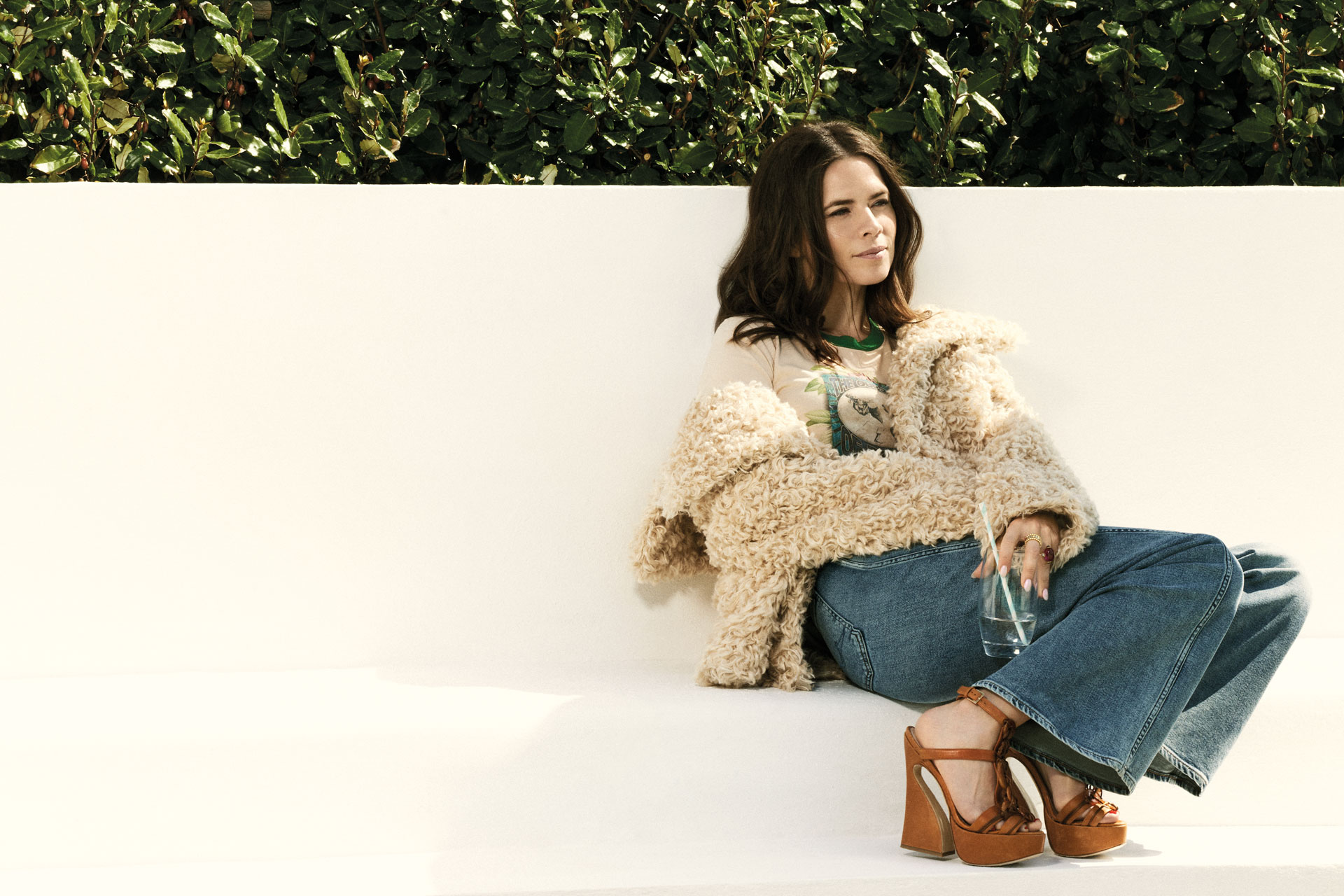 Hayley Atwell On Mission Impossible 7 And Those Tom Cruise Rumours – Interview
All's well with Atwell
Out today, Mission: Impossible – Dead Reckoning Part One has already set a new box office record for the franchise, grossing a whopping $7 million USD during its preview screenings on 11 July. With a starring role in the hotly anticipated film, we revisit Lucy Cleland's exclusive interview with Hayley Atwell, who told us why working with Tom Cruise was a love story, but not as you know it… 
All's Well With Atwell: Exclusive Interview With Actor Hayley Atwell
I first spied a now 41-year-old Hayley Atwell across a room ten years ago. She was sitting, as was I, contemplating yet another bowl of broth at a detox clinic in Austria. I was there for a pre-wedding blitz; she in preparation for her role in the TV adaptation of William Boyd's Restless and needing to feel 'on top form' for the physicality of the role. Next day, I left a note on her table with my email asking her if she'd ever do a cover shoot with us. She kindly obliged. Rereading the interview that went with it, Hayley told me she had her sights set on becoming one of Hollywood's leading ladies. Well, Hayley, boom. Squaring up to the world's biggest movie star, Tom Cruise, in one of the world's biggest franchises, Mission Impossible, is quite possibly as Hollywood as it gets.
Ten years later, my interview with Hayley takes place on Zoom and we talk for the next hour and a half about working in a pandemic, early nights, books she's reading (Birnam Wood by Eleanor Catton), the art of being useful, and, of course, Tom Cruise. But if you think she's about to spill the beans on the on-off love affair you may have read about in the tabloids (they categorically were not romantically involved, confirms Hayley – and besides, the day after our interview her current boyfriend, music producer Ned Wolfgang Kelly, announced their engagement on Instagram), think again. There's undoubtedly love there, but one based on, yes, indubitable on-set chemistry, but also great teaching, huge generosity and gargantuan awe for the man who, she says, probably knows more about film-making than anyone else in the world. More of which later. 
Hayley Plays Grace In The New Film
In Mission Impossible 7, Hayley plays Grace, the second character on the call sheet after Ethan Hunt (Cruise's hero that he's reprising here 27 years after his first outing) in a film so big they had to split it in two. Dead Reckoning Part One (out this July) is four years in the making and promises more thrills and spills than ever before (including Tom's most daredevil stunt yet – you can see a behind-the-scenes video of it on YouTube – it's mindblowing), but also – you sense thanks to Hayley's involvement – more emotion, nuance and comedy (although no one has seen the final cut yet – at the time of interview, it's still unfinished). 
Grace was an undeveloped character in the minds of Tom and McQuarrie (affectionately called McQ by the cast), when Hayley was called to audition. But, whether consciously or not, it seems to be a role created just for her – and definitely by her. Like me, McQuarrie had first spied Hayley, this time on stage in The Pride, ten years ago. 'He took me out for dinner afterwards and said, "There's this thing that you have and this thing that you do and I want it in my movie. I don't know what it is, but I want it."'
That thing, it transpired, was 'connection', believes Hayley. He saw in her an ability that 'allowed the audience to experience something for themselves that they related to in some way'. What this means for Mission 7 is that Hayley, Tom and McQuarrie could play with the character of Grace over and over again, filtering scenes through the lens of the camera to see what instinctively landed best for the movie-going audience. 'I can understand why a lot of actors wouldn't like not working with a script and changing things on a daily basis,' smiles Hayley, 'but I loved the freedom they gave me to discover Grace for myself.' After all, there was no way Hayley was coming in as an archetype. Not for her the 'femme fatale, the ice queen, the damsel in distress'. 
Entering Mission Impossible 7 Undaunted
The past ten years have consolidated Hayley's knowledge of what drives her. Whether it's as Isabella in Measure for Measure at the Donmar (2018), Peggy Carter in the Marvel movies or Margaret Schlegel in the TV miniseries of Howard's End (2016), what she's looking for 'is the moments of connection with an audience and collaborating with people as opposed to a particular genre or a particular medium or even a particular size of the film.'
This confidence (much of which she puts down to her theatre work of being able to play scenes in front of audiences night in, night out, each performance different), also allowed her to come into the 'ensemble' Mission franchise undaunted. 'I know how I work, I know what I'm capable of and I know that I tend to quite courageously allow myself out of my comfort zone to try different things.'
It is, though, Tom and Hayley's natural chemistry that will bring sub layers to these next two Mission movies. Naturally, every big stunt action beat is hit, but 'the really fun, spontaneous way' in which they worked together, 'and how that lands on camera for the audience' let us 'discover the comedic side of Ethan Hunt, which is new. We also discovered that the more Grace plays cat and mouse, and not in a calculating way, but by accident sort of embarrasses him, the funnier he becomes and the audience like her.' Not being a huge Mission fan myself, Hayley's involvement really makes me want to see this film.
Working With Tom Cruise And Chris McQuarrie: 'They Are Both Real Visionaries'
And now to Tom Cruise and Chris McQuarrie – so tightly entwined that they too could write their own love story. They've worked on four Missions, as well as Tom's projects Jack Reacher, Valkyrie, Edge of Tomorrow and, of course, the blockbusting Top Gun Maverick. They already have post-Mission plans to work together on a project that is 'more and more about emotion and real emotional experiences,' as told by McQuarrie in his 2022 interview on the Light the Fuse podcast. 
According to Hayley, 'They are both real visionaries, their technical understanding and their knowledge of film is extraordinary – especially in the way they continue to study with what is very much a beginner's mind.' She goes on to explain how they posit themselves as students of film-making and are humble to what works and what doesn't, rather than enforcing their will upon it. 
How does she think they are able to put themselves in the audience's seat and disassociate from being Tom Cruise and Chris McQuarrie? 'I asked Tom about this a couple of weeks ago [April 2023], when we were shooting in the Arctic [other locations include Rome, Norway, Abu Dhabi and Yorkshire]. And he said, "I keep looking, keep looking. What is looking back at it? What is this developing that third eye that's going, okay, if I don't know these people and I don't know this world and I just sit back and I see what the frame is communicating with me, what do I feel?" And so I think that comes from being very present, but it also comes from the humility to really be confronting with himself.'
These are not words that you'd automatically equate with the Tom we know and love from the silver screen. Humble, conscious, present, a student. It makes you begin to view him quite differently. 'I suppose it's rare because, you know, we are operating on such a high level of stakes in terms of the size of this movie and the fame that he [Tom] already has. But I think that's where I see a lot of his courage as a human being – he retains that sort of childlike wonder, which has a wisdom to it, which is, "I don't know, and I don't know what I don't know". And to quote Socrates, "Wisest is he who knows he does not know."'
Safety First On Set: Stunts And Car Tricks
Working on set with Tom and McQuarrie was essentially hugely liberating and creative for Hayley. 'I felt very safe with them both, so I could try things and be like, I can't fail because I'm safe. They allowed me to be more, I suppose, instead of me feeling shut down and therefore just doing the best I could in the limited kind of way that I was delivering it. Instead of feeling shamed for that and assuming that's the only take I could give, they're like, "Okay, how can we make her feel freer, safer? Let me ask the question directly of what she needs in this moment."'
And when you're doing the kind of stunts required for Mission, that safety can be a matter of life or death. It's no secret that Tom does all his own stunts, but here Hayley too stepped up to the plate. 'Tom's mantra is "don't be safe, be competent", so if you trained well, and if you trained right and if the training also incorporated injury prevention and rest, then your body is capable of doing things. And so I think I took that very much as a mindset into my training as well. What could I do to add to this franchise that hadn't been seen before and do it safely and competently?' 
The answer was drifting – a driving technique where the driver intentionally oversteers, with loss of traction, while maintaining control of the car. For Hayley, apparently, it came 'quite naturally', although not without the odd hairy moment. A drifting scene in Rome, for example, where the light was fading, there were paps around and it had started to rain, could have been a close call. Hayley had Tom Cruise in the passenger seat attached to her by a handcuff, 'which is someplace that metaphorically and literally Tom would never want to be, is in the passenger seat if someone else is, you know, driving.'
After 20 minutes of car stunts including umpteen 360-degree spins, when Hayley finally stopped and stepped out of the car, the crew burst into applause. 'Afterwards McQ took me out for lunch and he went, "Tom has just put his life in your hands in this moment."'
And Those Rumours? Platonic Love Is Extraordinarily Powerful, Says Hayley Atwell
That safety mattered too when rumours inevitably started circulating in the press about their romantic involvement. 'I felt like if I ever was worried about it, I could talk to him [Tom]. And I know that he would've said, "People say whatever they want to say, but you know who you are, I know who I am and I want you to feel safe in this environment." 
It feels like there's love in safety. 'What I feel is the truly extraordinary power of platonic love, which seems to be sometimes under-represented. And my love for Tom, my love for McQuarrie, my love for the process of this [Mission], and also the people who they keep very close to them and who are very present on set, has a wholesomeness to it. That for me, I just found so beautiful, so, yeah, I can freely say "I love this group of people."'  
So there is a love story, just not the one we may have salivated for. But Hayley found her Hollywood ending just the same. 
Hayley Atwell: Leading Lady In An Exclusive Fashion Shoot
Fashion Director Nicole Smallwood
Photographer Rachell Smith