Meet Andrew Gemmell, the Royals' Favourite Filmmaker  
---
Filmmaker to the stars Andrew Gemmell, is now recording family histories to pass on to the next generation
Interview: Andrew Gemmell, the Royals' Favourite Filmmaker
'I tell people to think of me as a six-foot four fly on the wall,' laughs Andrew Gemmell, as he describes his impressive 25-year filming career, capturing the private moments of some of the world's most recognisable faces.
Since his first wedding in 1991, he's caught on camera the nuptials of everyone from Rod Stewart to Princess Eugenie, becoming the Royal family's filmmaker of choice at the same time. And it's not just weddings he's called in for either; he's also filmed Elton John's stag do, Nelson Mandela's book launch, Romeo Beckham's christening… he really has seen it all.
Given the roster of names in his little black book, and the events he's witnessed (and recorded), you'd think Gemmell would be everyone's favourite dinner party guest. But he's built his reputation on absolute discretion – and won't be spilling anyone's secrets anytime soon.
'They trust me because they know that none of our footage is ever going to make its way into the papers,' says Gemmell. 'Every take that I've ever got is sitting in an archive stored and safe, and out of prying hands.'
That said, some people still like to try their luck. 'The Sun offered me a million pounds for one frame of something I'd just filmed,' he recalls. 'The event was very highly publicised, and they were desperate for anything from the inside.' He said no.
Gemmell's career as a filmmaker started when he was still a teenager, when he'd hire a video camera for £10 a day and record local golf tournaments. Tragically, his father died when he was 18. His mother bought him a camera of his own with the life insurance money, which he then used while at Durham University to film student events, slowly honing his skills by trial and error. By the time he left education, Gemmell had already booked his first wedding.
He then spent three years training as a stockbroker in the City, before leaving it to concentrate fully on filmmaking in 1994. His big break came when Sir Geoffrey Shakerley invested in his fledgling company; his wife, Lady Elizabeth Anson, has been the Queen's party planner since the 1960s, and gave him and his camera entrée into the highest echelons of society. 'We went from doing 10 or 20 weddings a year to 200,' explains Gemmell.
In the decades since, shooting films has taken Gemmell all over the world, from the tops of mountains to isolated desert islands. Sometimes, this would be a complex operation involving him, several cameras, and a drone.
'I was asked to go to the Bahamas for a wedding, and everything was on the beach,' he remembers. 'I had to travel in a tiny boat out to this small island with all my kit, and then on my own try to operate five cameras, all in high winds, too. It was complicated, but beautiful.'
Another time, he had to hang off the side of a skyscraper to film the launch of the Gherkin in 2003. 'I don't do heights very well. So, I found a man who's actually the cameraman for Bear Grylls to do it instead.'
But after a quarter of a century of high-octane weddings and adrenaline-fuelled shoots, Gemmell's next move is going to be on the more low-key side ­– although that's not to say there might not be some drama involved.
He's launching The Family Film, documenting family memories and recording them on film to be handed down from generation to generation. His inspiration for this is very personal: 'Both my parents died quite early on in my life, and there's so many things I don't know about them,' he says.
'How we speak, how we walk, our voices are lost so quickly after we die. Film offers a different dimension to being able to remember somebody. I just wish there was any footage of my dad. A friend found 10 seconds of him walking and talking at her wedding – that was so precious to me.'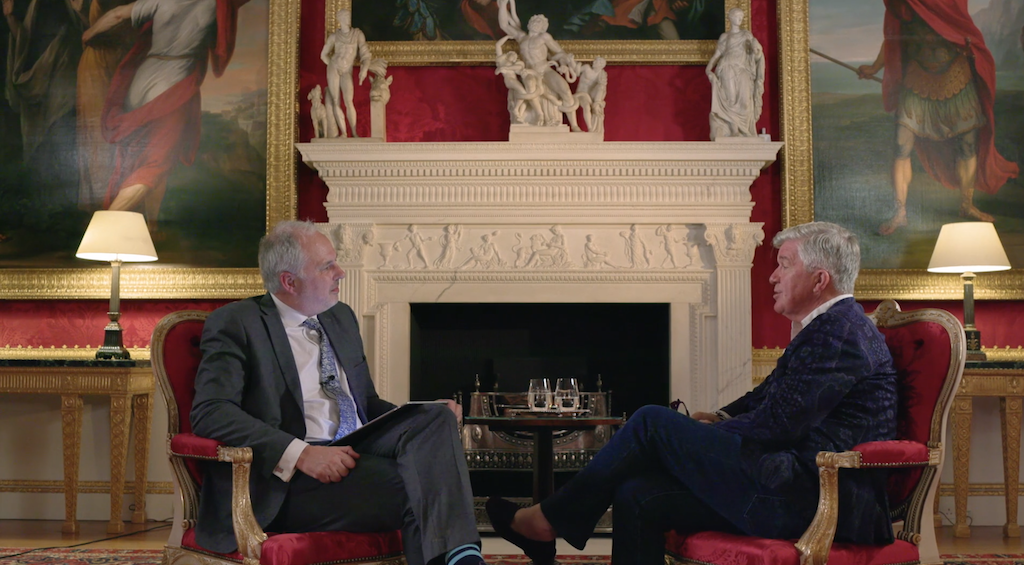 As about 50 per cent of the process of The Family Film is research, he says that, despite the social distancing measures we're currently having to act on, now is actually the perfect time to get started.
'It's about lifting and extracting everything that is known about the history of how a family came to be, as told by grandparents and parents, and then interweaving their stories between all of them.' These are then mixed with photos and home videos and turned into a film that will stand the test of time. 'Nostalgia is such a strong emotion that when you look at an old photo from 20 or 30 years ago, it just unlocks that part of the brain that actually holds amazing stories,' says Gemmell.
And it's incredible what forgotten tales and anecdotes come out. So far, he's had a family discover their mother was once asked out on a date by Jeremy Corbyn, and another that theirs was serenaded by Chris de Burgh. If the families hadn't sat down with Gemmell to discuss their memories, those stories might never have been recorded.
'Several thousand years ago, families passed memories downward through stories,' says Gemmell. 'And then people wrote down stories. And these days there's the option to take photos and film. But the issue is, unless it's curated and stored properly, it all ends up in a digital wasteland.'
One person I hope takes this advice is Gemmell himself. He must have thousands of juicy stories stored away from being a fly on the wall for so many years. Let's just hope he gets them down in concrete form soon – for when all the NDAs run out.
Price on application, thefamilyfilm.co.uk