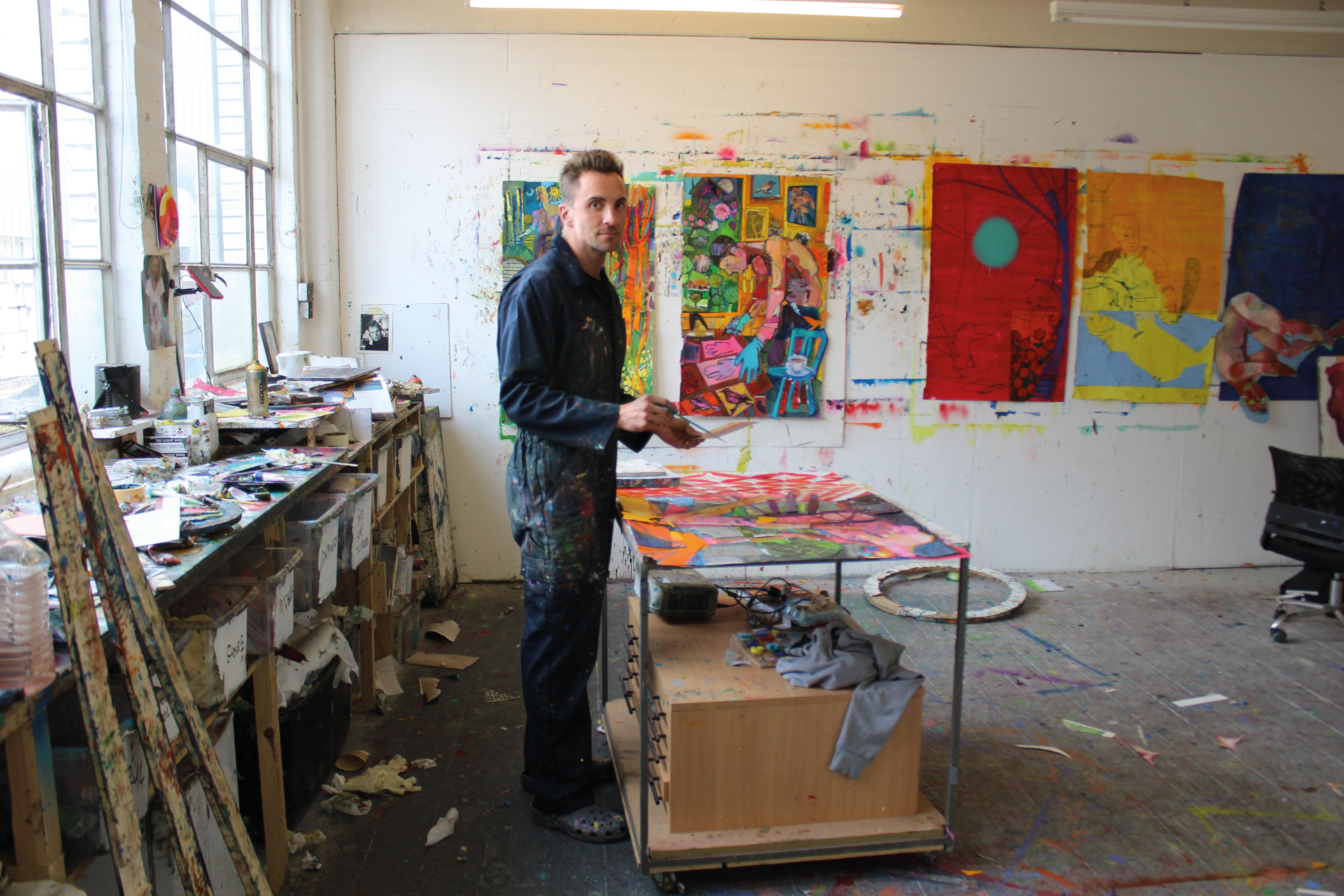 Meet The Artist: Andrew Salgado
'I connect with music and literature more than art, actually'
Caiti Grove talks safety, synchronicity and song lyrics with Andrew Salgado.
Artist's Studio: Andrew Salgado
It all began in a low-key fashion. 'My mum called it "stitch 'n' bitch" – it was me with a group of women chain smoking in a basement. I would learn how to paint watercolours,' Andrew Salgado recalls, as he remembers early art classes with neighbour Beth Gaffney, a water colourist celebrated in his home of Saskatchewan, Canada.
Sixteen years ago, Andrew moved to London to attend Chelsea College of Art. He has painted a graphic rainbow of dreamlike works ever since, and today is widely regarded as one of the leading figurative painters of his generation. 'I am Canadian, but when I go back [to Canada] I notice things, it's more idiosyncratic. The UK feels like home – I even think in pounds!'
In his east London studio, Andrew struggles to find us both a chair. 'I don't sit down, I don't take breaks – I'm fairly diligent,' he says, laying out a roll of paper over an armchair for me, before he dashes out to get us coffee. His work hangs all around the walls. 'I gravitate towards the ones that want to be resolved. If it's wet or dry, hot or moist, it will change my paint colours. I let the painting take me where it wants to go.'
Oil paints and palettes sit next to photographs of Andrew's parents and niece alongside other lucky charms. An elephant from his late grandmother's collection, a toy rooster made for his mother by her father all sit on the windowsill. 'They're like shamanistic conduits – I am open to energies when I leave myself open to synchronicity or coincidence, nature or music, that's where I get my sweet spot, where my art has found its voice and purpose.
He continues: 'I listen to music all day and read for a few hours each evening – I connect with music and literature more than art, actually.' A signed Tori Amos poster is up on the wall. 'I've been a fan of her work since I was 13, I find it really invigorating. This quote I love from her first single, "my heart is sick of being in chains". I really responded to those semantics, the struggle of coming out at a time when it wasn't so supported… Lots has changed in 20 years.
In front of us, a six-foot wide canvas shows a naked man in a hammock on the shore of a lake. A cat sits underneath him, its tail curling up around his feet. A sun is about to set in the distance. 'To me this is safety. The trees are hugging him and the cats are cradling him,' Andrew explains.
His work for recent solo shows is purely positive – there is no black cloud looming over the hammock. 'Another line I love,' Andrew smiles, 'Is in Bjork's Big Time Sensuality: "It takes courage to enjoy it". It's not realistic to create from a place of pain or anguish all the time.'
A new genre for this bold artist is collage, a genre that lends itself to playful quips: a cereal box becomes a bike wheel and the top of a paint tube becomes a nipple. 'I start by cutting stuff out for an hour. The process pushes aside that inner voice, "Is this good enough?" Turning 40 has played a large part in the re-evaluation of importance – I feel fortunate to be here.'
What's On
Andrew Salgado is exhibiting at Contemporary Art Now, Ibiza, 12 to 16 July 2023. contemporaryartnow.com
Image: Caiti Grove