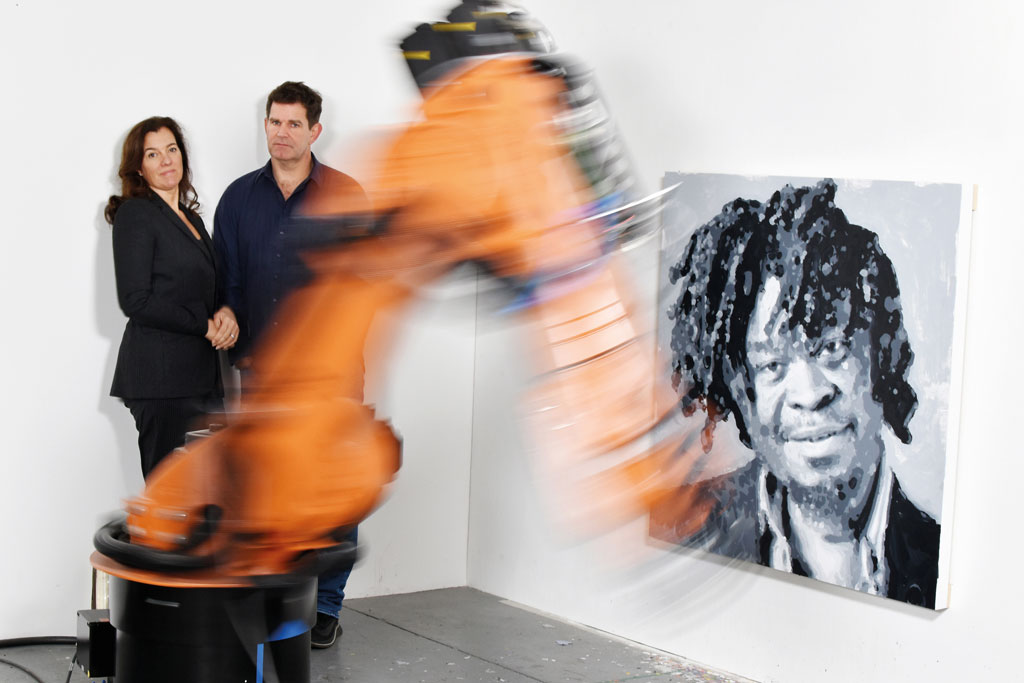 Artist's Studio: Rob and Nick Carter
---
Caiti Grove visits the husband-and-wife team pairing art with cutting-edge robotics. 
Yoko Ono: 17 hours, 24 minutes, 45 seconds and 7,048 brushstrokes. Andy Warhol: 15 hours, ten seconds and 6,210 strokes. Louise Bourgeois: 15 hours and three minutes. These are the meticulous calculations of Heidi, a one-tonne robotic arm usually found on car production lines. For the past two and a half years she has painted portraits of great artists under the direction of her human masters, Rob and Nick Carter. The accompanying exhibition, Dark Factory Portraits, is at Ben Brown Fine Arts until 17 April.
An artistic duo, as well as a married couple with two daughters, they merge digital ingenuity and nostalgia, technology and tradition. A programmer in Panama hones Heidi's skills. 'The results are really accurate – within a tenth of a millimetre,' says Rob. 'She knows exactly when to pick up the right paint and the correct brush – and the difference between the precision needed for say, eyes, and the broad brushstrokes for a jacket or whatever.'
The project had an intriguing genesis. Rob and Nick saw a BBC programme on technology and automation. On the website, a search engine offered to estimate the percentage chance of any job's redundancy through machine technology in the next 10 years. Rob remembers laughing at the process. 'We entered our jobs – artists – and imagined we were safe. But it came back with a three per cent chance of takeover. "How can you automate an artist?" we thought.' It made them consider the possibility of art as a mechanical process. They investigated the scope for robotised creativity, and after much exploration in the world of industry they discovered Heidi.
The resulting portraits are as sci-fi as the rest of their artistically innovative portfolio. They plucked Van Gogh's sunflowers from the frame and recreated them in bronze. They installed Jacob de Gheyn II's painting from 1600 in Berkeley Square, nine bronze stumps of oak trees scattered across the grass. Their Transforming Still Life Painting has appeared at The Frick Collection in New York – the first contemporary work to appear there. 'We flew out to the private view,' Nick recalls. 'And it was really extraordinary because our work appeared alongside Rembrandts and Caravaggios… As you walked through you'd spot Girl with a Pearl Earring and The Goldfinch, and so on.'
They moved on to the Dutch Master floral works, only to discover these originals were pretty much artificial from the outset. 'We loved the fact these paintings appear exquisitely realistic,' Nick says. 'Yet lots of the floral arrangements couldn't be real because the flowers came from different seasons and yet they've put them all together in a kind of believable conceptual bunch of flowers that could never exist in nature.'
Their entire concept, and its execution through modern technology, challenges our understanding of what art essentially is. Like Damien Hirst's many assistants, Heidi makes us question the works' authenticity, and demands us to define it in terms of concept rather than means of production. Until now, the creative world has always needed the warm flesh and blood artist, journalist, teacher… the list goes on. What now does the future hold and what will our role be in it?
Following a residency in Saint-Paul de Vence in the South of France, Rob and Nick Carter are hosting an exhibition at De Buck Gallery. The show continues their fascination with AI and robotics, displaying new works made with their two robots using innovative methods. A series of full-colour Robot Paintings are presented as mirror image diptychs, inspired by their explorations of the Saint-Paul de Vence area. 3 September – 1 October 2022
READ MORE: