Art Exhibitions In London To Check Out Right Now
Where to get your culture fix in the capital
From the Tates to the Royal Academy and the galleries of Mayfair and the Barbican, London is bursting with exciting art exhibitions at any time of year. Here are the shows not to be missed.
London's Best Art Exhibitions Right Now
Like Paradise
Curated by the renowned Ekow Eshun, this dynamic group exhibition draws together a range of exploratory natural landscapes by artists of colour, from Frank Bowling to Julianknxx, Hurvin Anderson to Jade Montserrat. Focussing on figures of colour within scenes of nature across painting, photography, film and ceramics, Like Paradise rewrites narratives of countryside – from which people of colour have historically been excluded – transforming the natural world into a site of hope, renewal and liberation.
View this post on Instagram
Details: 5 October–5 December 2023 at Claridge's ArtSpace (Brook Street, London W1K 4HR). claridges.co.uk
A Trans Arrangement of The Painted Space
Coinciding with Trans Awareness Week (13–19 November), A Trans Arrangement of The Painted Space will bring a collection of work by up-and-coming artist Erin Holly, offering a critical exploration of interior environments, their connection with the politics of space and inclusion, contemporary social categorisations, and most pertinently, Holly's journey with her identity and understanding of embodiment.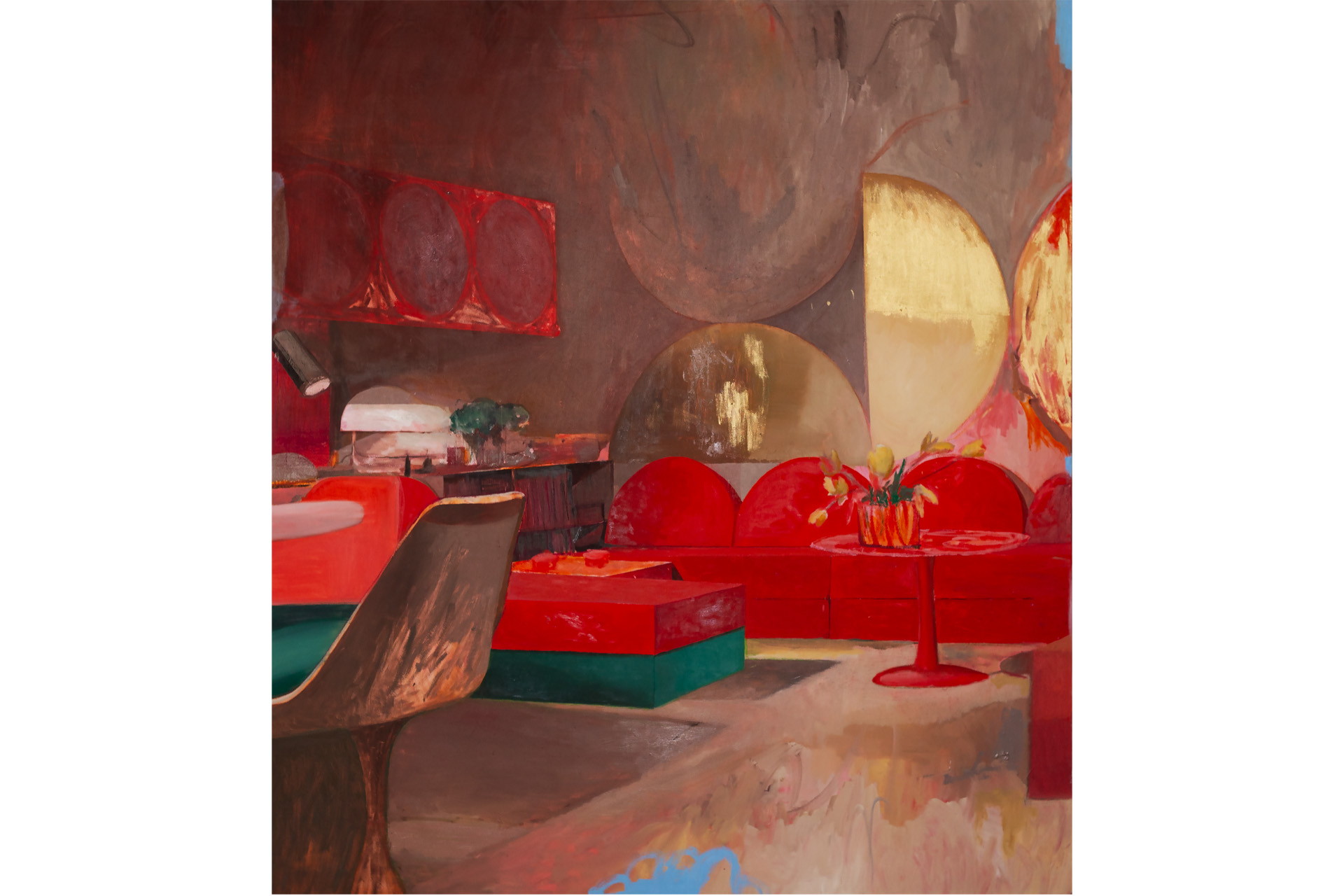 Details: 16 November–9 December 2023 at JD Malat Gallery. jdmalat.com
Surrealism and Witchcraft
This group show embraces spooky season and traces the evolution of the witch through art history. With 10 women presenting work inspired by surrealism, the exhibition explores how women have long employed Surrealist practices to liberate the creative potential of their subconscious minds.
Details: 16 November–20 December 2023 at LAMB Gallery (32 St George St, London W1S 2FJ). lambgallery.com
Hiroshi Sugimoto: Time Machine
Featuring work produced across the past five decades, Time Machine will feature selections from all of Hiroshi Sugimoto's photographic series alongside lesser-known pictures to highlight his innovative, conceptual, philosophical and playful approach to the nature of representation and art, time and memory.
Details: 11 October 2023–7 January 2024 at the Hayward Gallery (Belvedere Road, London SE1 8XZ). southbankcentre.co.uk
Claudette Johnson
At once intimate and powerful, Claudette Johnson's drawings of Black women and men have made her one of the most significant figurative artists of her generation, pushing the boundaries to create the most authentic renderings of her sitters for over 30 years. Expect to see monochrome works in dark pastel contrasted with vibrant colours in gouache and watercolour.
Details: 29 September 2023–14 January 2024 at The Courtauld Gallery (Somerset House, Strand, London WC2R 0RN). courtauld.ac.uk
Capturing The Moment
Head down to London's Tate Modern to see the work of some of the world's most iconic artists and photographers – from Lucien Freud to David Hockey, Andy Warhol to Alice Neel – drawn together under an exploration of the relationship between painting and photography, considering how the brush and lens continuously shape each other.
Details: 14 June 2023–28 January 2024 at the Tate Modern (Bankside, London SE1 9TG). tate.org.uk
The Credit Suisse Exhibition: Frans Hals
Presented with Credit Suisse, Amsterdam's Rijksmuseum and Berlin's Gemäldegalerie is the largest exhibition devoted to Frans Hals' work for more than 30 years. Over 50 of the Dutch artist's works are gathering at the National Gallery from across the globe, from Toronto to Texas to the Wallace Collection down the road. The latter is one of Hals' best known paintings, The Laughing Cavalier, which has sat in the Wallace Collection since the 1870s and is on loan for the first time for this exhibition. After its London debut, the exhibition will travel to Amsterdam and then Berlin.
Details: 30 September 2023–21 January 2024 at the National Gallery (Trafalgar Square, London WC2N 5DN). nationalgallery.org.uk
David Hockney: Drawing from Life
Staged for just 20 days before the pandemic forced the closure of the National Portrait Gallery (which then stretched into a three-year period of closure for refurbishment and redesign works), David Hockney: Drawing from Life will return to the Gallery in 2023, championing the artist's work across six decades, particularly in the intimate portraits of five sitters – his mother, Celia Birtwell, Gregory Evans, Maurice Payne and the artist himself – in pencil, pen and ink, crayon, photographic collage, and digital iPad art. In its 2023 rendition, visitors can also expect the debut of a selection of new portraits created between 2020 and 2022.
Details: 2 November 2023–21 January 2024 at the National Portrait Gallery (St. Martin's Place, London WC2H 0HE). npg.org.uk
Taylor Wessing Photo Prize
After a three-year hiatus, the annual Taylor Wessing Photo Portrait Prize will return to the National Portrait Gallery at the end of 2023, showcasing the work of both celebrated professionals and talented amateurs. Read all about this year's exhibition here.
Details: 9 November 2023–25 February 2024 at the National Portrait Gallery (St. Martin's Place, London WC2H 0HE). npg.org.uk
The Life Of Forms
A playful exploration of movement, flux and organic growth as represented in sculpture is coming to The Hayward Gallery in early 2024. Nineteen international artists spanning 50 years of contemporary art will explore the likes of a dancer's gesture to the breaking of a wave, from the flow of molten metal to the interlacing of a spider's web, spotlighting how things ooze, undulate, blossom, erupt and sprawl – and the unique ways this flow can be frozen in art.
Details: 7 February–6 May 2024 at The Hayward Gallery (Southbank Centre, Belvedere Rd, London SE1 8XX). southbankcentre.co.uk
The Time is Always Now: Artists Reframe the Black Figure
In Spring 2024, the National Portrait Gallery will welcome visitors to its major exhibition of the season: The Time is Always Now: Artists Reframe the Black Figure. Gathering the work of 22 22 leading African diasporic artists working in the UK and USA, the exhibition will explore the depiction of the Black form within portraiture from 2000 to the present, considering and celebrating figuration as a means of illuminating the richness and complexity of Black life.
View this post on Instagram
Details: 22 February–19 May 2024 at the National Portrait Gallery (St. Martin's Pl, London WC2H 0HE). npg.org.uk
Unravel: The Power and Politics of Textiles in Art
Woefully underexamined in art history, textiles weave through our everyday lives, from stitching to weaving, braiding to knotting. Opening in February 2024, Unravel: The Power and Politics of Textiles in Art will shine a light on contemporary artists keeping these tactile processes alive, exploring the transformative and subversive potential of textiles to challenge power structures, transgress boundaries, and reimagine the world around them.
Details: 13 February–26 May 2024 at the Barbican Art Gallery. barbican.org.uk
Discover Degas & Miss La La
In 2024, the National Gallery's free-to-attend 'Discover' series will centre Degas' 1879 painting Miss La La at the Cirque Fernando, a landmark impressionist painting starring circus artist Miss La La, or Anna Albertine Olga Brown. The exhibition will reveal new information about her life and career, while taking a closer look at Degas' painting and his preparatory drawings of Brown in motion.
Details: 6 June–1 September 2024 at the National Gallery (Trafalgar Square, London WC2N 5DN). nationalgallery.org.uk
Vanessa Bell: A Pioneer of Modern Art
One of the leading artists associated with the Bloomsbury Group, Vanessa Bell was one of the 20th century's most cutting-edge artists, and this focused display will be the first devoted to The Courtauld's collection of her work. Visitors will see Bell's masterpiece 'A Conversation', as well as the bold, abstract textile designs she produced for the Omega Workshops, led by influential artist and critic Roger Fry, which aimed to abolish the boundaries between the fine and decorative arts.
Details: 25 May–6 October 2024 at the Courtauld's Project Space (Somerset House, Strand, London WC2R 0RN). courtauld.ac.uk
Monet and London: Views of the Thames
World renowned as the leading figure of French Impressionism, Monet is best known for his depictions of French landscapes – but some of his finest paintings were made in London. Across three stays in London, Monet depicted extraordinary views of the River Thames as it had never been seen before, full of evocative atmosphere, mysterious light, and radiant colour. He displayed them at his dealer's gallery in Paris in 1904 and longed to show them in London a year later, but plans fell through and the paintings were never subject of a dedicated UK exhibition – until now.
Details: 27 September 2024–19 January 2025 at the Courtauld's Denise Coates Exhibition Galleries (Somerset House, Strand, London WC2R 0RN). courtauld.ac.uk